Case Study: Buy And Renovate To Create Equity In Your Next Home
Posted by Joe Manausa on Monday, March 30, 2020 at 5:51 AM
By Joe Manausa / March 30, 2020
Comment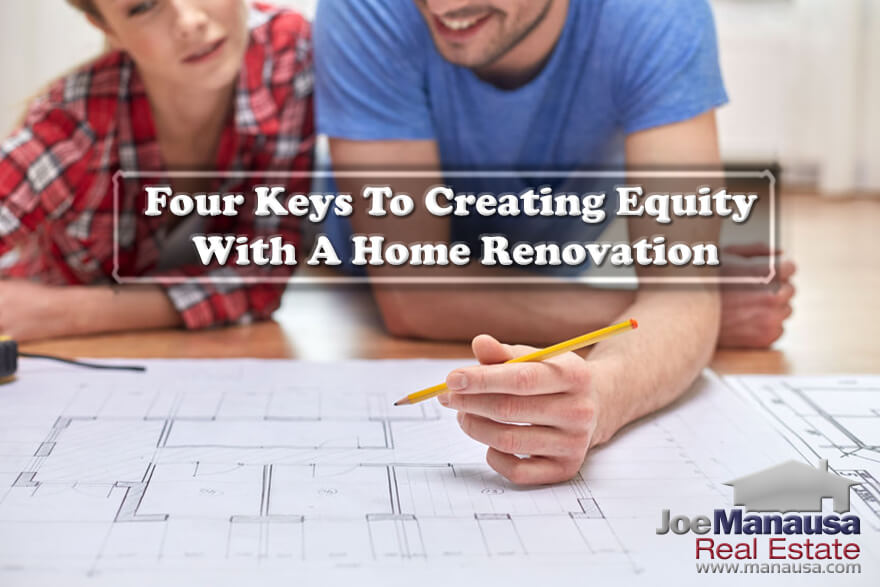 The inventory of homes for sale is tight, so we have encouraged our homebuyers to broaden their home searches with some creative thinking.
Some buyers are in a hurry and need to move right away, so they need to focus on turnkey solutions that will allow them a quick turnaround. But most people planning on buying a home today have time on their side and could benefit greatly from today's case study.
Family Desires Home In Great Location (Under $800K)
Don't worry if today's case study doesn't apply to your price range, the principles shown below will apply to just about every home in Tallahassee. I chose a price so that we could look at a few real-world examples.
We'll start with a quick search of the homes that can be purchased and renovated while maintaining a budget of less than $800,000.
Potential Renovation Projects For Sale
The listings shown above are not necessarily all good renovation projects, they merely popped up in my search for specific types of homes (age, location, size, and price).
I know I can't buy a $1M home to renovate with an $800K budget, and I am also not looking for something "unique" like a country estate in another county. As you will see below, there are four keys for me to follow to ensure that I create equity with my purchase and renovation.
Four Keys To Creating Equity With A Home Renovation
Great Dirt - First and foremost, above all other points, the home you want to renovate must be sitting on the right piece of land, in the right location. So what is "right?" Right means the land will add value. It means that the market has overly punished the home for a condition that has no bearing on the value of the land. Today, some of the best examples of "great dirt" can be found in and near Midtown Tallahassee.

Great Bones - If the whole goal of buying a home to renovate it to create equity, then the structure of the existing home must be suitable for relatively low-cost improvements. It's rare to be able to profitably add vertical space in a home, so the floorplan and foundation must be such that "new" space added is not significantly expensive. For example, this home has a wrap-around porch, meaning there is over 1,000 square feet that can be added without having to add new/more roof. This is the perfect example of "great bones."

Low Cost - This point is fairly obvious, but it is one of the keys. In order to buy a home for creating equity, it must have a price tag that is reflective of the work that it requires. I'm always amazed at home sellers who know their homes need $100K of work who price their home $100K below its renovated value. Buyers are not going to take on a project if there is no benefit for doing so. If a home needs work, there must be a margin that includes the cost of the work PLUS a benefit for the buyer who undertakes the work.

Positive ROI - This one ties into the previous point. Buyers should not take on a project solely for the purpose of making a home more valuable, rather it must make the home profitably more valuable to make good sense. The profit does not have to be a lot (as the benefit will include a nearly perfect finished product home in an excellent location), but buyers should not pay for the opportunity to renovate.
The two case studies below are perfect examples of homes that can be purchased and renovated to create equity.
Speak To A Local Expert!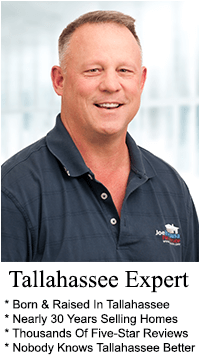 Joe was born and raised in Tallahassee and has been selling real estate for over 30 years.
Let us show you how to use our local knowledge of Tallahassee and the current state of the housing market to your advantage, ensuring you the best deal possible when selling or buying a home.
His past customers speak volumes (you will see Joe's past-customer reviews after you submit the form) on why you should hire Joe to be your real estate agent.
Talk to us today about helping you negotiate a better deal, with better terms, when selling or buying your home. You'll be glad you did!
Case Study: Home Renovation In Tallahassee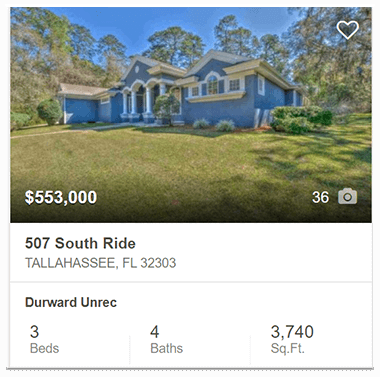 Our first home to consider (remember, our case study is using an $800K acquisition budget) is a short sale which can be purchased for $553K, perhaps even lower.
Why is this home so perfect for a profitable renovation? Let's take a look at our four keys to creating equity with a home renovation:
Location (great dirt): The property at 507 South Ride has "location" in spades! Nearly two acres of land (In MIDTOWN!!!). What? How is this even possible. It won't be long until the land alone will be worth close to the current asking price.
Bones - This home has solid bones! It's a custom-built Arthur Rutenberg Mediterranean style home which is very popular today and will very easily allow for more ground-floor additions to make this home just perfect for its next owner.
Low-Cost - The short sale on this property makes this home a great buy based upon cost because the buyer will need to work things out with the existing lender. This "lack of ease" means equity for the buyer. All you must do is jump through a few hoops, be patient, and then you'll own the home below market value.
Positive ROI - If I purchased this home, I would do very little to it. I would modernize the floor and wall coverings, update some of the appliances, and I would do a little modification of the existing floorplan. This home is a home run for ROI do to the very low cost of acquisition.
If you would like to discuss this home further, please let us know.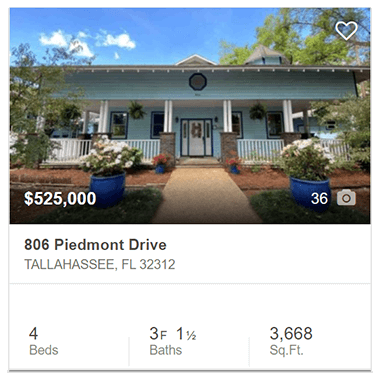 Our second home to consider is an arms-length sale that just hit the market a few days ago.
Just like the first property, this home sits on a large piece of land in an A+ location, well-inside of I-10, along the Thomasville Road Corridor.
The backyard contains a tennis court that was built more than 30 years ago, so it either needs a bit of reconditioning, or it needs to be removed for a backyard renovation. This home is priced to remedy this.
Location - The property at 806 Piedmont Drive is right in the heart of the north section of Midtown Tallahassee. Just over an acre of land and the land is flat, high, and dry. When we say "buy the dirt," it's properties like 806 Piedmont Drive that we're using as examples.
Bones - This home was built by an architect for his own personal use. This means that the layout is well thought out and expansion is not going to be as costly as it would be on a typical home in Tallahassee. This is the home mentioned earlier that has a wrap-around porch that will make expansion so easy.
Low-Cost - This home has been priced to reflect what today's $800K buyer will want in the finished product. The kitchen can easily be doubled in size (due to that wrap-around porch), and I would redesign the entire backyard to include an outdoor kitchen, spa, and pool area.
Positive ROI - There is not much that is needed on the inside of this home, and most of the work will be relatively inexpensive (versus building a home today). Floor and wall coverings, ceilings all need to be modernized. The kitchen should be expanded and the backyard needs to be converted to a mini-resort. All of this can be done and the whole project can be kept well below the $800K budget.
If you would like to discuss this home further, please let us know.
Your Local Expert In Tallahassee
Regardless of your budget, I hope you see that buying a home to renovate to add equity is possible. It allows you to find the right location and to turn that great dirt into added value. Fortunately, today's market does not seem to value a prime location as we have seen in the past, but I am confident that those days will return. The HGTV Effect will not last forever.
Do you have further questions on the Tallahassee real estate market? If so, you can leave a comment below, give us a call at (850) 366-8917, or drop us a note and we'll give you the local information needed to ensure a successful, smooth transaction.
As a local born and raised in Tallahassee with a focus on customer service, I promise you'll find great success when working with Joe Manausa Real Estate, just as have our past customers. You can read thousands of their reviews reported on Google, Facebook and Zillow right here: Real Estate Agent Reviews Tallahassee.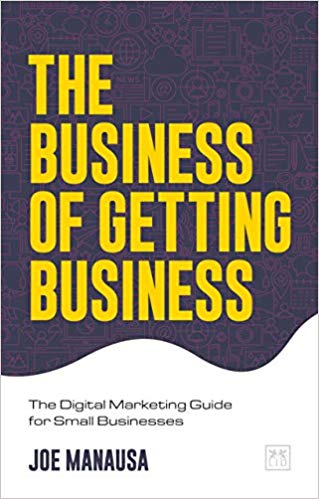 Have you heard about my new book "The Business of Getting Business?" It's a comprehensive guide for small businesses to help them make the move to digital. For those of us who want to survive and thrive in a world where large corporations are taking over, it is a must-read. It's also the perfect guide for how to sell a home in the digital age. You can find it on Amazon (UK) for immediate delivery, or you can go to Amazon (US) to reserve a copy at a pre-US published rate.

Think all REALTORS are alike?
Read what people are saying about working with Joe Manausa Real Estate! You can see thousands of real customer reviews reported on Google, Facebook and Zillow at this link: CLICK HERE FOR REAL ESTATE AGENT REVIEWS.