Annual Home Sales Rise In Tallahassee
Posted by Joe Manausa on Monday, February 4, 2019 at 5:54 AM
By Joe Manausa / February 4, 2019
Comment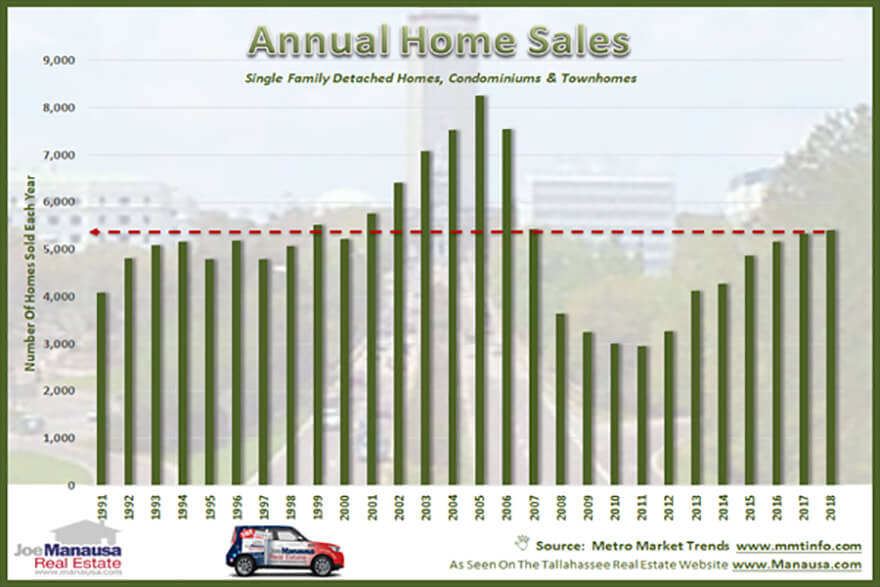 The final home sales figures are in from 2018.
As you will discover in this report, the news, for the most part, is encouraging, though there is cause for concern as well.
Home Sales Rise In 2018
The number of home sales (single family detached homes, condominiums, and townhomes) in 2018 rose 1.4% over the amount posted in 2017, representing the 7th consecutive year of increasing home sales. Furthermore, the number was the highest recorded since 2007.
The red-dashed line in the graph above shows how 2018 compares with each previous year, and it clearly shows that there were 8 previous years where more homes sold in Tallahassee than did in 2018. This should rest the fears of our readers who might have concerns that Tallahassee is over-selling its reach as we saw during the housing market bubble.
Those high-selling years included speculative buyers who were only buying to flip the properties for a profit, and thus creating artificial demand that builders were happy to oblige with new properties being built at record paces. None of that is going on today, and we actually have an inventory shortage.

NOW WHAT DO YOU DO?
Yes, you failed to sell your home. But that does not mean you have a home that is tough to sell, it just means you started off without having the right plan. By following the guidance in this booklet, you can get your home sold and move towards the goal which you were seeking when you first put your home up for sale.
I promise if you read this booklet cover to cover and follow its advice, you will not fail again. Tell us to whom and where you would like us to send our 60-page booklet for home sellers.
Home Sales Details
When we further explore all home sales in the past year, we find
New Construction: 461 units (down 9%)
Residential Resales: 4,950 units (up 2.5%)
Single Family Detached: 4,364 units (down 1.1%)
Condo/Townhome Units: 1,047 units (up 13.3%)
Average New Home Price: $386K (up 25%)
Average Resale Price: $200K (up 6.2%)
Annual Home Sales Findings
After looking at the numbers from 2018, I am encouraged by the sustainability of our growth. The population of Leon County is growing slowly, but it is growing. This means that over time, we should generally expect more homes to sell each year (more people = more people moving). The fact the current rate of home sales is still lower than eight previous years leads me to conclude that there is plenty of upside remaining in our market.
I am also encouraged by home value recovery in the existing homes. Too many homeowners were trapped in a home that was worth less than their mortgage, but we are now seeing values return to levels last seen just after the peak of the housing market. While there remain a ways to go to reach previous highs, every percentage tick upwards frees more families to move if they desire.
I have cause for concern for sky-rocketing prices in the immediate future. Builders are not replacing the dwindling inventory as their costs have shot up too high to be able to meet the demand of the majority of buyers. Half of Tallahassee bought a home below $225K last year, yet the average cost of new construction is approaching $400K. I believe new construction costs are going to drag existing home values higher at a faster rate.
Last year, we saw home values rise at a rate exceeding 10% in numerous neighborhoods, and we expect that to spread due to high demand and declining inventory. Unless mortgage interest rates shoot significantly higher to slow demand, real estate appreciation in Tallahassee might become out of control at prices below $500,000.
Stay Informed Of Changes In Tallahassee Housing
The easiest way to keep in touch with what is happening in the Tallahassee real estate market is to subscribe to our weekly newsletter. Unlike most newsletters that are filled with generic information and cheesecake recipes, ours provides a one-page update on an important trend in Tallahassee each week. You can receive it by email, read it in two minutes, and then go about your day with the knowledge that even most Realtors do not possess. Subscribe to the Tallahassee Real Estate Newsletter today, you'll be glad you did.
Get Our Free Market Update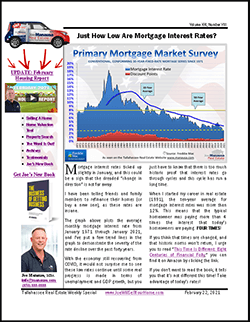 Other buyers, sellers, lenders, and real estate agents have this critical information, and now you can too!
Get immediate access to our most recent newsletter.
Let more than 30 years of experience work for you with charts, graphs, and analysis of the Tallahassee housing market.
Each Monday morning we send out a simple, one-page report that provides a snapshot of the Tallahassee housing market. It only takes 2 minutes to read, but it gives you better market intelligence than most real estate agents possess. Just tell us where to send it below!