If You Don't Buy Your Home Now, You'll Hate Yourself Later
Posted by Joe Manausa on Wednesday, August 13, 2008 at 9:12 AM
By Joe Manausa / August 13, 2008
Comment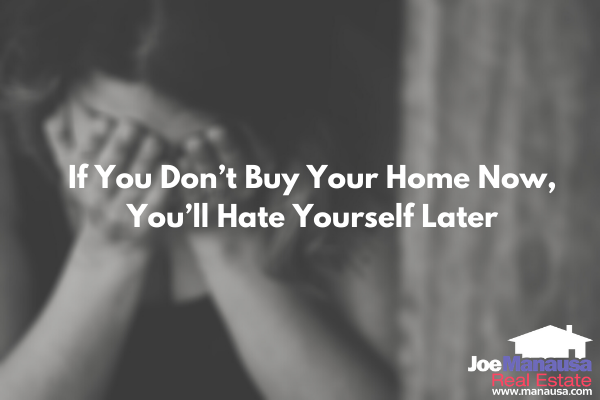 Special occasions occur in life at various times, and when they are acted upon in a timely manner, they can change our destiny. I believe now is one of those times. The "perfect storm" of economic events and global opinion has created a small window of opportunity for us regular people to take advantage of something normally only available to the financially advantaged.
Five Reasons Why Now Is The Time To Buy A Home
With everybody apparently declaring the great depression in housing underway, I have to report the contrary point of view. There are many things that are making this market look poised for a historic change and I think you might agree with me once you consider these five reasons why now is the time to buy a home.
1. Interest Rates Are Still Near Historical Lows
Interest rates have been low for so long that people believe that these are normal rates. This is Wrong. Today's rates are low and will ABSOLUTELY rise in the future. With most of us more concerned about our monthly mortgage payment than we are about the cost of the home, interest rates are critical!
If you study the history of mortgage rates, you will see a cycle. Just as in any market, the money markets see the ups and the downs. But I think that we are in a period of time that is about to see extraordinary cycle adjustment (meaning rates rising very fast, very soon) for several reasons.
The U.S. Dollar is weak and the Fed needs to make it stronger. Soon. Like maybe after an election...
When the Fed raises its rates, the mortgage markets will follow this time
The mortgage market is in a mess. Fannie Mae and Freddie Mac have been given more rope, but ultimately the mortgage industry is going to tighten lending requirements and will raise margins to sustain profits.
When all markets try to correct, they unfailingly "over correct." Think about it, we have seen a cycle of low interest rates for a very long time. How will the market correct this? You have to consider that the market is due for a very long cycle of high interest rates!
2. Prices Are Down Below Cost
The most important valuation factor in housing values (like any other commodity) is market opinion. The value of a home is based upon what somebody is willing to pay for it today, regardless of what it cost to produce that home.
However, the market generally seeks a value that is close to "cost."
If homes are selling for amounts greater than cost, then market suppliers bring more homes to the market to take advantage of the profit that exists.
If homes are selling at or below cost, then market suppliers are no longer motivated to bring more homes to the market until the profit returns to the market.
We are now seeing homes that are on the market for sale, for prices that cannot be replicated ever again. We would need to see a collapse of the local economy and wages reduced by significant margins before we could produce homes at the prices being found in our market today. While this is not true for the highest price ranges, it definitely is true at and above the median price point (and certainly below the median price point).
3. Short Sale Opportunities Are Booming
This is one element of the opportunity window that many home buyers do not understand. While the purpose of this article is to discuss the opportunity (not to explain the short sale process like we have done in other articles), the key here is to understand why short sales are such great opportunities for buyers that can make a quick decision and then have the patience to go through a long closing cycle.
Short sales give patient buyers huge opportunities due to the indifference of many sellers in a short sale position. They have to get rid of their home and they will not receive any money at closing. Don't you think they'll sign just about any offer (there's nothing in it for them either way, right?)?
The lack of coordination of the banks is staggering right now. With so many loans in default, they cannot handle the scores of loans they are trying to resolve. A patient buyer who makes a wise offer can get a home that will be an instant asset.
4. Tallahassee Is Growing - Ultimately We Need More Homes
I have read reports that say Tallahassee has grown twice as fast in 2008 than we normally do. So what does this mean? It means that whether that growth is people renting homes in Tallahassee or people buying homes in Tallahassee, more housing will be needed. If we build homes at a slower rate than our growth, I believe it is natural to assume that we will have, at some point, a shortage of homes. This is all part of the natural housing cycle, supply and demand. Think how smart you'll feel in ten years when you own a home in-town in Tallahassee, and other people have to drive thirty miles to find a home that a typical family can afford.
5. The Media And The Experts Are Now All Negative On Housing
All the wisest investors in history have always been contrarians. If everybody is saying you need to buy, they sell. If everybody is saying you need to sell, they buy. If the markets are mixed, the keep their hands in their pockets and only take advantage of special opportunities.
In 2008, we have seen everybody jump on board the panic train. Prices have plummeted below cost in many cases and inventory levels make it a ripe time for buyers to pick out a special house to hold on to for many years. Are you going to be a lemming and follow the tail of the herd or are you going to seize the day (Carpe Diem for Mrs. Hall, my high school Latin Teacher)?
Home Ownership In America Is Still Near An All-time High
More Americans own their homes today than ever before (plus or minus the last two years). I think this is going to change. More people are going to be forced to rent due to the increased tightening of the mortgage markets. Rents will rise dramatically in the future due to increased demand for rental properties as well as increased costs of money, sticks, bricks, and labor. Nobody is going to be able to live cheap (except those who are wise enough to buy today and lock into low interest rates). So, what does the prudent buyer do right now?
Consult with a successful, intelligent, blogging real estate broker
Consult with a successful, intelligent, blogging mortgage broker to determine capabilities
Review all options with real estate broker and identify potential windfall opportunities in the market
Subscribe to the Tallahassee Real Estate Blog to stay abreast of more sage wisdom
---
As a reminder for those who subscribe to the Tallahassee Real Estate Blog by email, some embedded pictures and videos might not be appearing in your email and you might need to click the title header to go to your browser where all will be visible.
Keep checking out the Tallahassee Real Estate Blog every day for updates that include charts, graphs, and analysis of the Tallahassee real estate market.
If you like this Article then please subscribe to my blog through a full RSS feed, or you can
. You will be able to stay informed about the happenings in the Tallahassee Real Estate Market. You can also subscribe to this blog and have it delivered by Email.
Joe Manausa is a real estate investor and the Broker and Co-Owner of Joe Manausa Real Estate. He can be reached via e-mail through the Tallahassee Real Estate Website or catch his latest writings on the Tallahassee Florida Real Estate Blog , or by calling (850) 386-2001.
Please Do Us A Small Favor
We work very hard to produce daily content for our long-time readers and first-time visitors. We provide this information for free, hoping to earn your respect and trust and the right to one-day help you when selling or buying a home. Can we get your help spreading the word about our blog?
If you like the content, would you please like it or share it using the Facebook button at the beginning of the post? This simple action will be greatly appreciated! THANK YOU!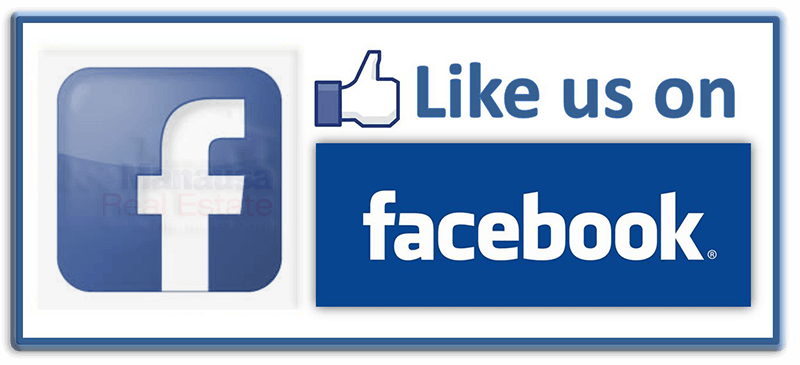 Also like us on Facebook at https://www.facebook.com/joemanausarealestate/
Your Local Expert In Tallahassee
When moving to, in, or from Tallahassee, you will fare better if you work with a local expert. We are here to help. If you have further questions on the Tallahassee real estate market, you can leave a comment below, give us a call at (850) 366-8917, or drop us a note and we'll give you the local information needed to ensure a successful, smooth transaction.
As a local born and raised in Tallahassee with a focus on customer service, I promise you'll find great success when working with Joe Manausa Real Estate, just as have our past customers. You can read thousands of their reviews reported on Google, Facebook and Zillow right here: Real Estate Agent Reviews Tallahassee.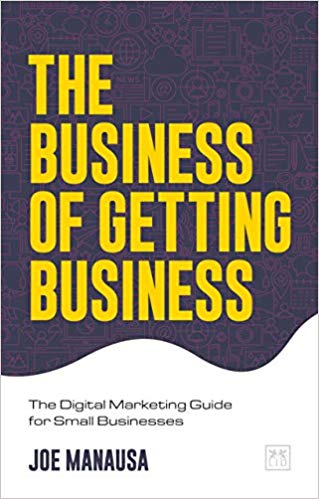 Have you heard about my new book "The Business of Getting Business?" It's a comprehensive guide for small businesses to help them make the move to digital. For those of us who want to survive and thrive in a world where large corporations are taking over, it is a must-read. It's also the perfect guide for how to sell a home in the digital age. You can find The Business Of Getting Business from each of the trusted retailers below.

Think all REALTORS are alike?
Read what people are saying about working with Joe Manausa Real Estate! You can see thousands of real customer reviews reported on Google, Facebook and Zillow at this link: CLICK HERE FOR REAL ESTATE AGENT REVIEWS.