Zillow Insights: 5 Graphs That Reveal the US Housing Market in 2023
Posted by Joe Manausa on Monday, May 8, 2023 at 6:00 AM
By Joe Manausa / May 8, 2023
Comment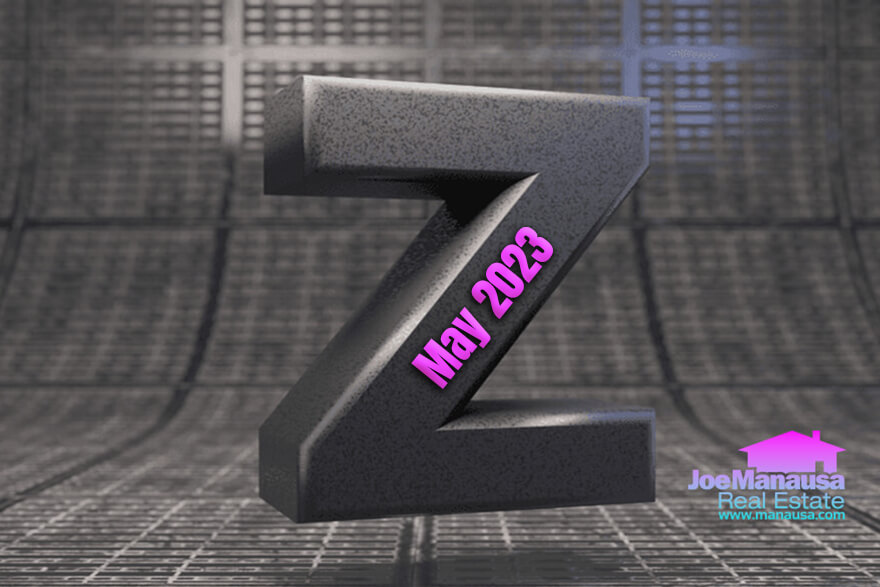 Are you curious about the current state of the US housing market?
Zillow has just released new data that provides valuable insights into the changes taking place in the real estate industry. But that's not all - we've got something even more exciting for you!
Our team has analyzed the data and created five graphs that go beyond Zillow's report, providing an unparalleled view of the current housing market conditions. And one of these graphs offers a unique perspective on housing market pricing that you've never seen before.
Don't miss out on this chance to stay ahead of the game and understand what's happening in the real estate world!
Are Home Prices Heating Up?
As of late, prices in the housing market are showing signs of a rebound, indicating that demand is returning.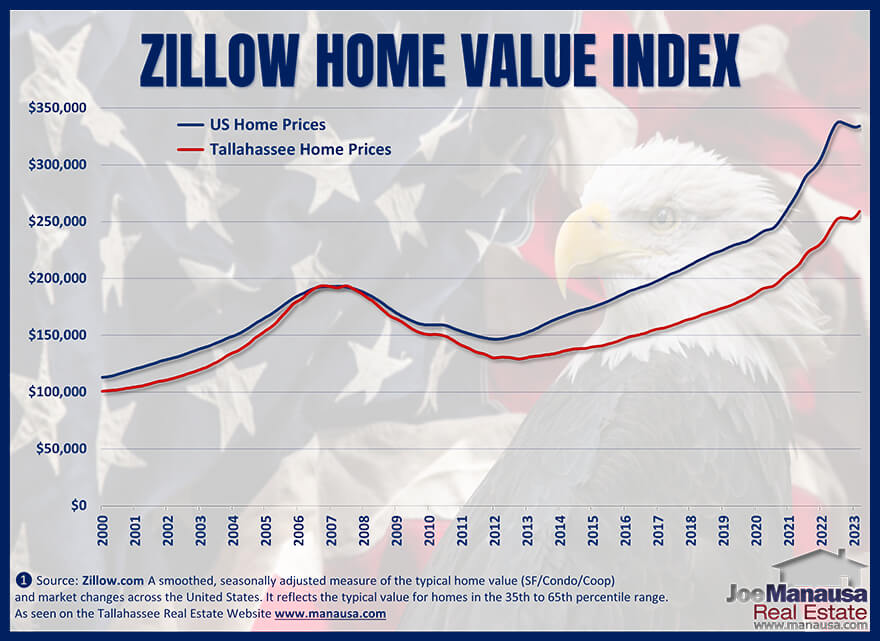 This uptick is likely due to dips in mortgage rates and alternative financing strategies becoming available. Existing home sales are negatively impacted as inventory levels are much lower than pre-pandemic levels. The low inventory levels are mainly due to existing homeowners being "trapped" in their homes with low mortgage rates, making it challenging for them to move to homes with higher mortgage rates coupled with higher home prices.
The low inventory is expected to continue influencing prices in the housing market, making it challenging for buyers to transact in the foreseeable future. Even as we move further away from the era of 3% rates, existing homeowners will eventually become less attached to their ultra-low monthly payments, and new listings will gradually fill the market again.
Unfortunately, new home construction is decreasing, so overall inventory will remain limited. As a result, prospective buyers waiting for prices to become more affordable will be sorely disappointed in the future.
A better plan for people desiring a new home includes exploring alternative financing options, such as down payment assistance or buying their rate down. Unfortunately, buyers in today's low-inventory market will have difficulty encouraging sellers to help, as sellers often deal with more than one offer on their homes.
Keep Up With New Trends In Tallahassee!
Get The Tallahassee Real Estate Newsletter
Don't be the one that doesn't know what's going on when you sell a home or buy a home in Tallahassee.
Other buyers, sellers, lenders, and real estate agents have this critical information, and now you can too!
Get immediate access to our most recent newsletter.
Let more than 30 years of experience work for you with charts, graphs, and analysis of the Tallahassee housing market.
All Price Points Move Higher (AGAIN)
As the spring home shopping season continues, entry-level shoppers should anticipate a more challenging market.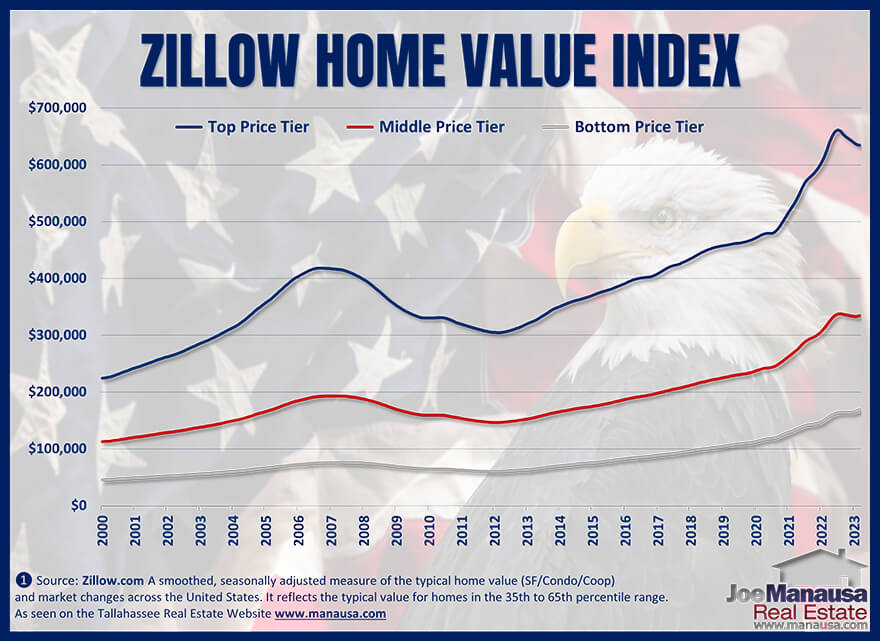 This spring shopping season, entry-level homebuyers should brace for a tighter market than those shopping for middle and upper-priced homes. In March, the bottom third of the home price distribution saw a 9.5% annual appreciation. Since last year, home values for entry-level homes have experienced the most annual appreciation in most markets.
Before the pandemic, it was typical for low-tier homes to be comparably down faster than middle and top-price-tier homes, but the pandemic accelerated that growth. This means buyers who were not ready or able to take advantage of historically low-interest rates two years ago will find themselves in a significantly more expensive market with less purchasing power. For some buyers, this means they cannot enter the market at all. For others, it means setting their sights on homes they might never have considered owning.
Top-priced homes rose by just 1.3% over the past year and appear poised to hit an annual decline. Before the housing bubble, home builders could produce new homes in all three tiers (or at least the top two tiers in most markets). But with increases in the minimum wage and inflation, builders can no longer deliver homes in the bottom tier of home prices so we must anticipate further growth in the neediest segment of the housing market.
Home Price Growth Not Equally Distributed
When we segment the market into three home price tiers, the home affordability crisis gains some clarity.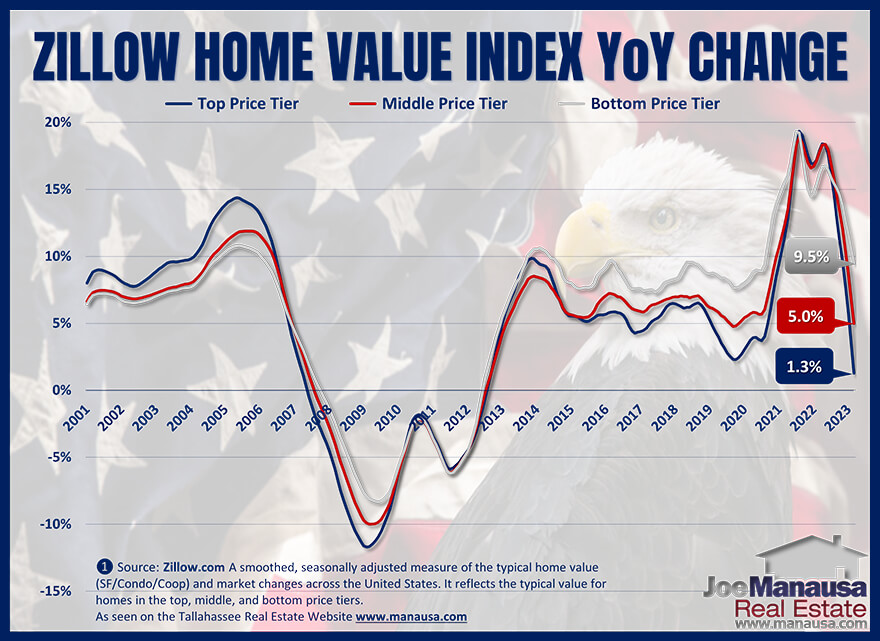 Nationally, prices for entry-level homes have increased by 9.5% year-over-year, with Tampa, Richmond, and Charlotte seeing over 60% appreciation from pre-pandemic levels. In Tampa, I know of two recent law school graduates who are getting married and looking for a home, and they cannot find anything within their budget. If two young attorneys combining their salaries cannot afford a home, what does that tell you about housing affordability?
On the other hand, top-tier priced homes only increased by 1.3% over the past twelve months. High mortgage interest rates are equally affecting the supply of homes across all price tiers. New listings for bottom, middle, and top-tier homes are comparably down. However, middle and top-tier shoppers are experiencing fewer bidding wars compared to pre-pandemic years.
Spring Brings Momentum to Housing Market
Though home sales are down more than 30% compared to last year, it is the time of year when we expect the highest demand from buyers.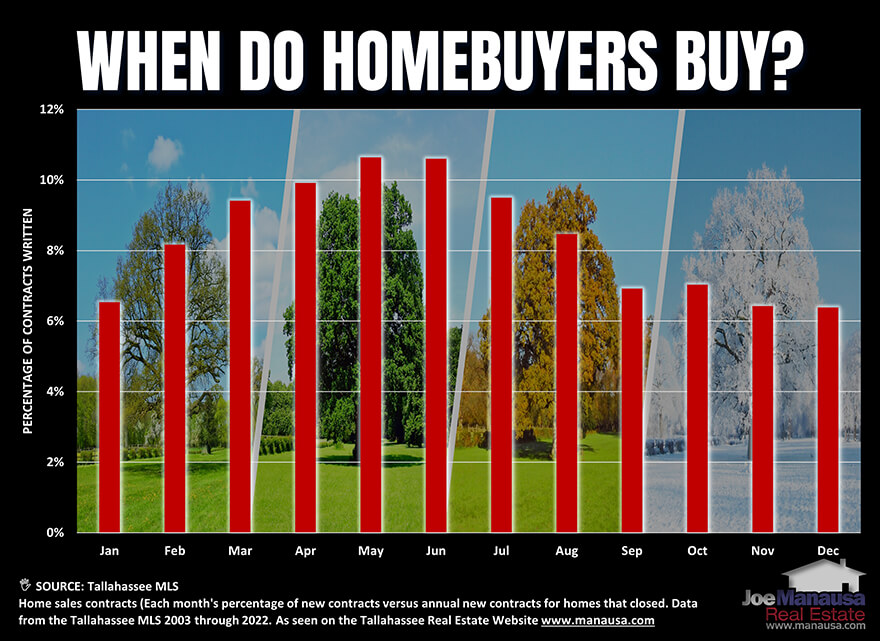 This graph shows the percentage of annual contracts by month, measuring the decision dates of buyers rather than closing dates.
The housing market experiences more activity at certain times of the year, which is referred to as "seasonality." We are currently in the most active time of the year, which typically spans from March through July. This five-month period typically sees about the same number of contracts as the seven months of August through February.
The traditional seasonal patterns in the housing market were disrupted in the previous three years due to COVID, plunging mortgage interest rates at the end of 2020 and throughout 2021, and rising interest rates in 2022 after the first quarter. It's as though there was a conspiracy working against seasonality in the housing market. Despite this, we expect to see the usual seasonal uptick in buyer activity through July in 2023.
What Is Holding Back Home Sales?
I anticipate that there will be robust buyer activity in May 2023, but I expect the number of homes sold to be considerably less than last year. The current supply of available homes for sale is inadequate to support a significant recovery, so we are relying on homebuilders to increase inventory and bolster the market.
Unfortunately, homebuilders face the challenge of delivering homes that the market can afford. Unlike low-inventory periods in the past, the current era faces an epic disparity between the cost of new and used homes, with new homes averaging nearly double the price of existing homes.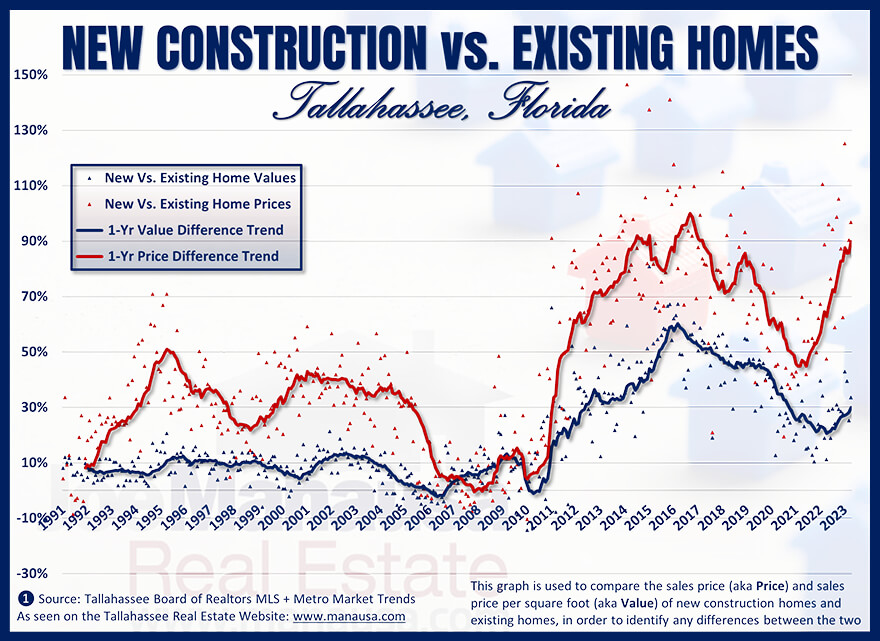 By way of example, in Tallahassee, our median existing-home price is $255,000, while our median new home price is 93% higher at $492,000. Simply put, we need a bunch more $255K homes, but the median builder home is priced at $492K.
Understanding The Home Affordability Housing Crisis
Though the graph above was created from the Tallahassee real estate market data, it parallels what you will find in most other local US housing markets. The numbers might be a little different, but the relative difference between new and used home costs is very real.
The picture this graph paints is very clear. The average cost difference between new and used homes (measured in price per square foot, shown in blue) was typically below 10% for the thirty (30) years ending in 2011. Today, the difference is three times greater.
Higher housing prices resulted from communities making it harder to develop land for housing. To bring infrastructure up to date, communities required developers to pay for past shortcomings from previous developers, which means that current developers had to factor in additional costs to their budget. These costs extended beyond just the increased demand that new homes would place on the system.
We've also seen the largest growth in the minimum wage over the past five years (Florida saw the minimum wage grow by more than 75% in a five-year span). On top of that, the NIMBY movement challenged most new developments in the works, adding even more costs due to cancellations, disapproval, or reductions in unit density. Most US metropolitan areas have made housing unaffordable with 30 years of poor policy and poor decision-making.
The shortage of housing supply is a persistent problem that cannot be ignored. If left unaddressed, it will intensify inequality between those with access to affordable housing and those without access. Addressing this issue requires active and concerted efforts at the local level. If you want to be a part of the solution for affordable housing, it starts in your own backyard. Get active in your community and let your elected officials know that you care and you are paying attention to what they are doing.
There are a lot of people who endorse Joe for the job of selling your home, from Barbara Corcoran (Star of ABC's Shark Tank) to Preston Scott (host of Tallahassee's top daily "Audio Magazine," as well as the thousands of happy customers Joe has helped in the past. Listen why!