Unlocking Zillow's Latest Housing Trends And Forecasts
Posted by Joe Manausa on Monday, February 20, 2023 at 6:00 AM
By Joe Manausa / February 20, 2023
Comment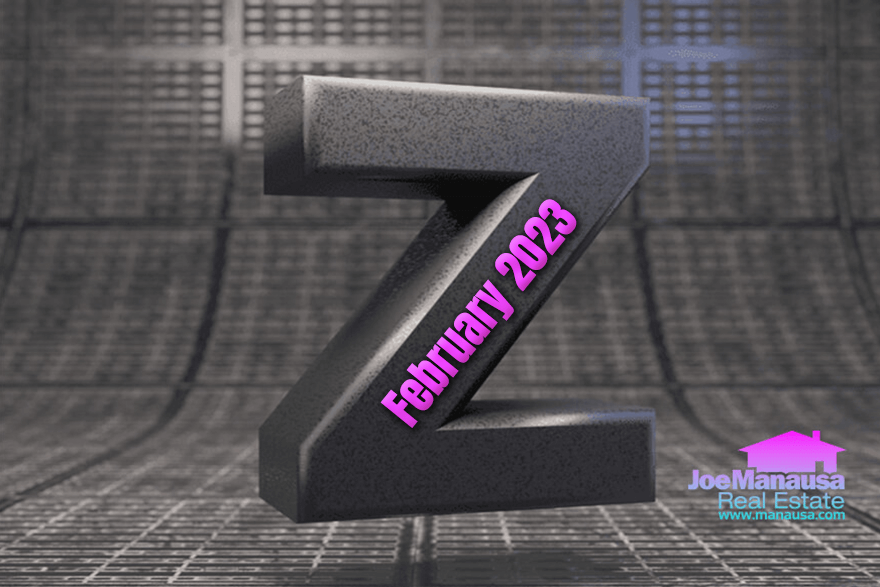 Are you tired of conflicting reports about the housing market? Look no further!
Zillow, the real estate giant with a wealth of timely data on the housing market, has shared its extensive data that we have used to generate our monthly housing market update.
Buckle up for a clear and concise report on the US real estate market, and discover the truth for yourself with today's Zillow Housing Market Update.
Numerous Metrics Required To Forecast Housing
If you want to understand the current housing market, relying on just one metric can be misleading and potentially inaccurate. While metrics such as home prices or inventory levels can give you a general idea of how the market is doing, they do not provide a complete picture of the complex and multifaceted housing market.
For example, home prices may be rising, but that does not necessarily mean that the market is healthy or that it is a good time to buy or sell. A rise in prices could be due to a shortage of inventory, low-interest rates, or high demand in certain areas. It could also indicate a speculative bubble that could burst at any moment.
In addition, other metrics such as housing starts, building permits, mortgage delinquency rates, and foreclosure rates can give valuable insight into the market. By examining multiple metrics, you can get a more comprehensive understanding of the housing market's trends, challenges, and opportunities.
For instance, if housing starts and building permits are declining while prices are increasing, it could signal a potential shortage of housing supply in the future. Similarly, if mortgage delinquency rates and foreclosure rates are rising, it could be an indication of financial stress among homeowners and potential risks for the overall market.
Overall, understanding the housing market requires a holistic approach that considers multiple metrics and data points. By doing so, you can gain a more accurate and nuanced understanding of the market, which can inform your decisions whether you are a homeowner, homebuyer, or real estate investor.
Today's report quickly examines 11 key metrics Zillow tracks, delivering a very solid housing market update.
Homebuyer Activity Continues To Slow
This graph reports Zillow's estimated number of unique properties sold each month, and it shows a 16-month trend has formed.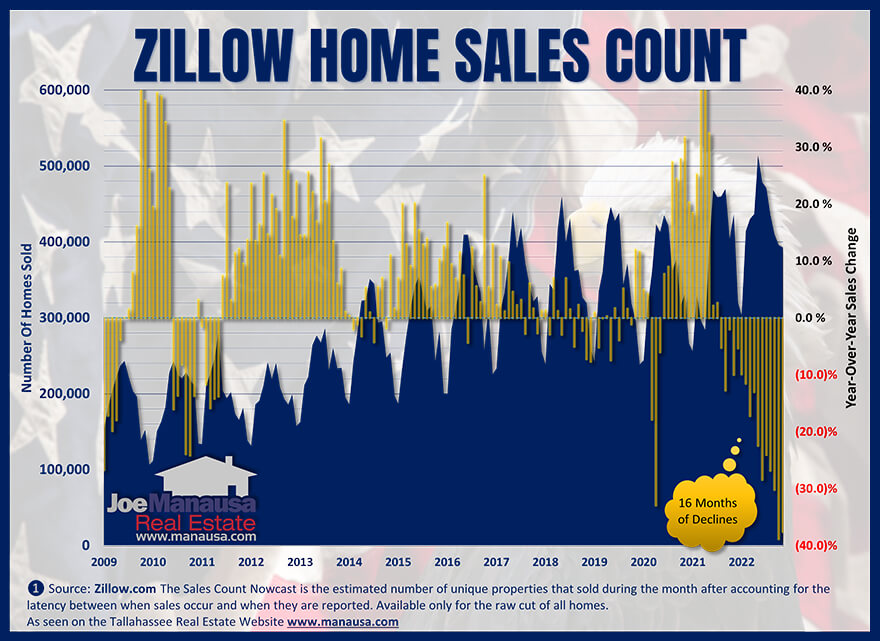 The blue bars plot the number of homes sold, while the yellow bars plot the year-over-year change in sales. When the yellow bars rise about the horizontal axis, unit sales grew. When the yellow bars fall below the horizontal axis, unit sales fell.
Sales through December 2022 show that home sales declined in the US for sixteen months. Year-over-year sales are an important metric because it removes the influence of seasonality by comparing the same months each year. For example, the number of homes sold in December 2022 was 38% fewer than in December 2021.
Though this graph only contains data since 2009, it's important to point out that the peak of home sales seen on the graph is far lower than the number of homes sold during the housing bubble formation from 2004 through 2006. I point this out as a reminder to our readers that recent years were not filled with the irrational exuberance of amped-up new investors that propped up the market more than fifteen years ago.
So why have home sales slowed for sixteen straight months?
Changing Mortgage Interest Rates Impact Demand
This graph plots the average 30-year fixed mortgage interest rate since 1971, where the most recent months shed light on one reason for the decline in home sales.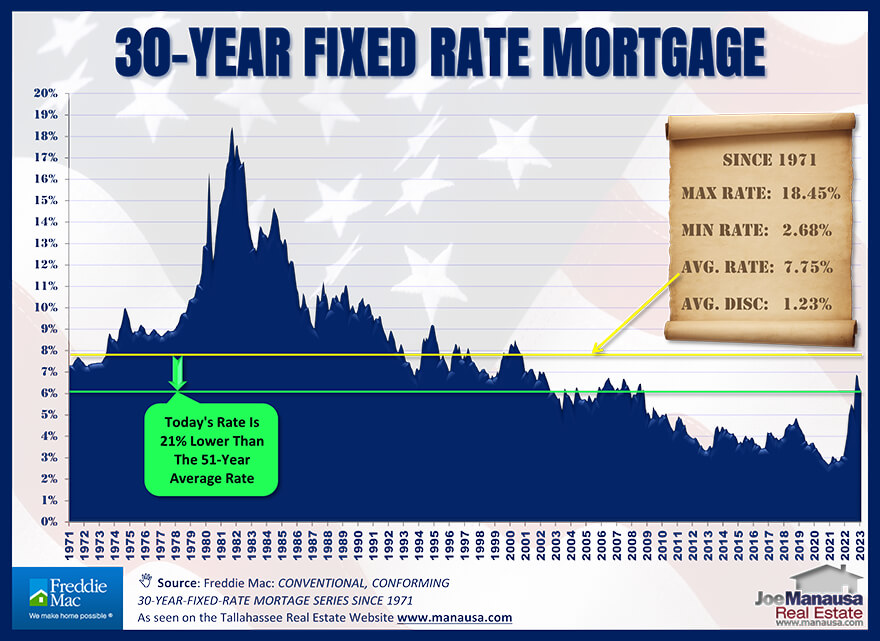 When I was preparing this graph in mid-February, I checked the Mortgage News Daily website, and it reported that the current rate was 6.8%, while the one-year-ago rate was 4.08%. Interest rates are 67% higher than a year ago, but I'm concerned about its recent rebound higher.
The average lender could offer 5.99% on a top-notch conventional 30yr fixed mortgage loan just two weeks ago. Today, that same lender would be closer to 6.8% (an increase of more than 13.5%).
This is an incredibly abrupt move at almost any other time in the past several decades. The only reason we're not freaking out is that this sort of volatility has been common at times over the past year. Moreover, the most recent highs saw rates well into the 7% range, so if we're still in the 6's, rising rate headlines don't have a ton of shock value.
So don't be shocked, but do be aware that rates are quickly closing in on 7% again.
But you must wonder, are rising mortgage rates the only culprit behind the cooling housing market? Think again. Shockingly, home sales started plummeting months before rates hit 3.3%. Home sales started to slide when mortgage interest rates were at record lows, so we cannot solely blame the current housing market woes on mortgage interest rates. In fact, home sales fell for six straight months where mortgage interest rates were below 4%, so there has to be more to declining home sales than just an increase in mortgage interest rates.
Readers who remember the housing collapse in 2006 might be concerned that the supply of homes for sale is rising out of control. That happened in 2006, as builders were in full production mode while buyers were expelled from the market when the government changed lending requirements. Declining demand and rising supply created the bubble that sent home prices plummeting. Is that what we should expect in 2023?
The next few graphs reveal another primary cause of declining home sales and expose the potential answer for the stability of home prices. Remember, one metric alone does not explain future moves in housing, we have to take in numerous data to get a clearer picture.
The "Real Deal" On The Inventory Of Homes For Sale
The latest inventory report reveals a striking contrast between current and past real estate markets. Unlike in 2006, the number of unique listings available each month since the start of 2019 has taken a dramatic turn. Read on to discover the eye-opening details.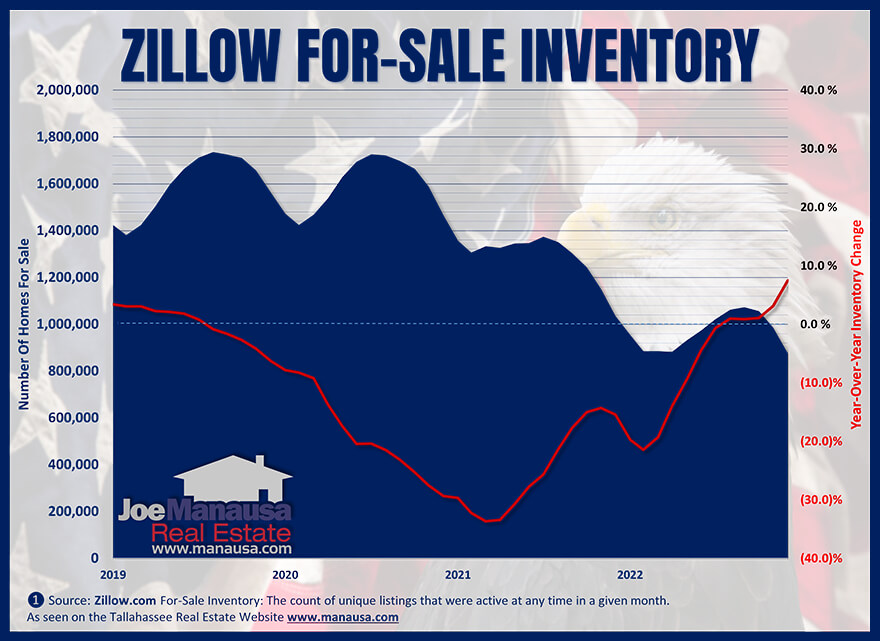 In the graph above, the blue field plots the number of homes available each month, while the red line measures the year-over-year change in inventory. Look where the red line crosses the dashed-blue line in August 2019 and August 2022, when the market shifted from inventory growth to inventory reduction and then back to inventory growth.
There has been much talk about a rapid increase in inventory, but the actual 8% increase in listings is relatively small when compared to the over four million listings during the years of the housing bubble. Today, we have well-below one million homes listed, which is a stark contrast.
Those who expect the inventory to rise rapidly as sales plummet are not accounting for the source of new listings. With new construction inventory far lower than historical norms, we must rely on discretionary sellers to fulfill our inventory needs.
The problem with expecting inventory growth is that most discretionary sellers are discretionary buyers too. When a buyer opts out of the market due to affordability, it also means a discretionary seller is leaving.
Thus a buyer leaving the market results in a seller leaving the market in more than 50% of the cases. The move-up and move-down buyers have slowed, so inventory growth is not as many have anticipated.
Monthly Inventory Of Listings
This graph offers an alternative perspective on the quantity of listings in the last four years, providing insight into the decrease in inventory volume.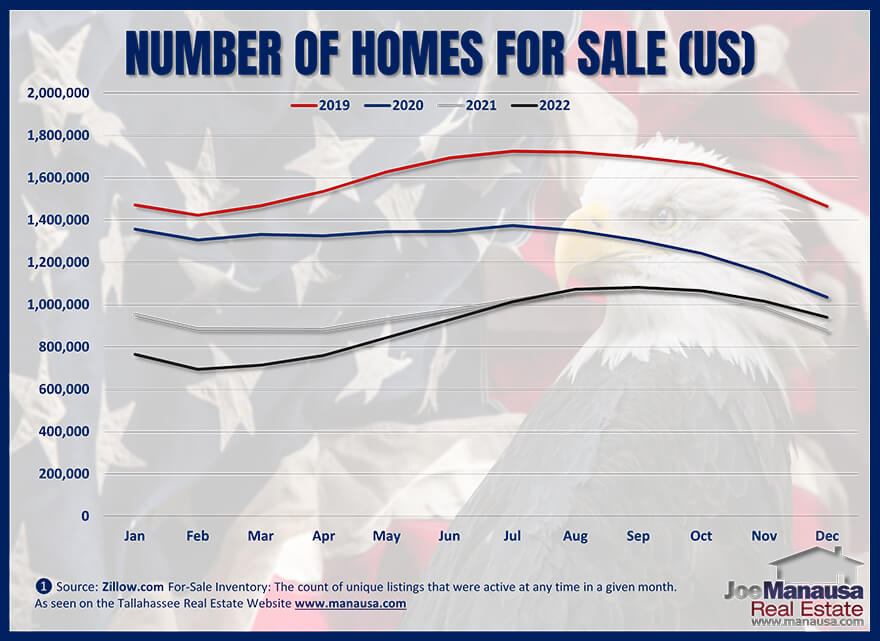 The graph above displays the black line, indicating last year's monthly influx of listings, and compares it with each of the three previous years. It's worth noting that there were only slightly more listings than in 2021, with the number of homes available for sale being 7% lower than in 2021, 9% lower than in 2020, and a significant 36% lower than in 2019. It's essential to remember that the inventory was also scarce in those years, so it's not that we have fewer homes than normal; fewer homes were available in very lean years.
Today, the number of listings is far lower than in recent years, and all four years shown were sellers' markets, where the number of listings was far too few for the demand in the market. Demand will have to go far lower to create the supply and demand dynamic that will cause home prices to fall for an extended period. There will be markets with declining home prices because they have declining populations. Still, most US housing markets have a supply void that has slowed buyer activity, even when mortgage interest rates were below 3%.
Incoming Inventory Still Too Low
This graph plots the number of new listings entering the market each month for the past four years, and today is slower than ever.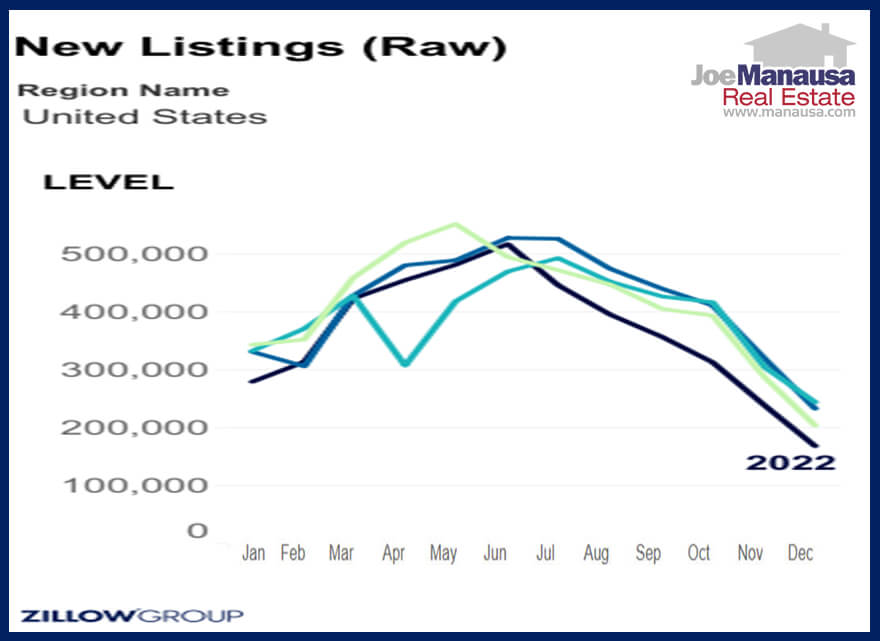 Although many national news media outlets predict a home price crash, the inventory is decreasing. The supply needs to exceed demand to witness a significant decline in prices. However, the graph reveals that the supply decreases at a similar rate or even faster than the demand. Therefore, it is safe to say that there is no indication of a growing supply issue at this time.
In fact, due to the scarcity of supply, there will be added pressure on home prices. So, as of Zillow's most recently released data, it is reasonable to conclude that home prices will not decline significantly in most local US housing markets.
Home Price Growth Is Slowing
Let's look at what Zillow reports about the median US home price.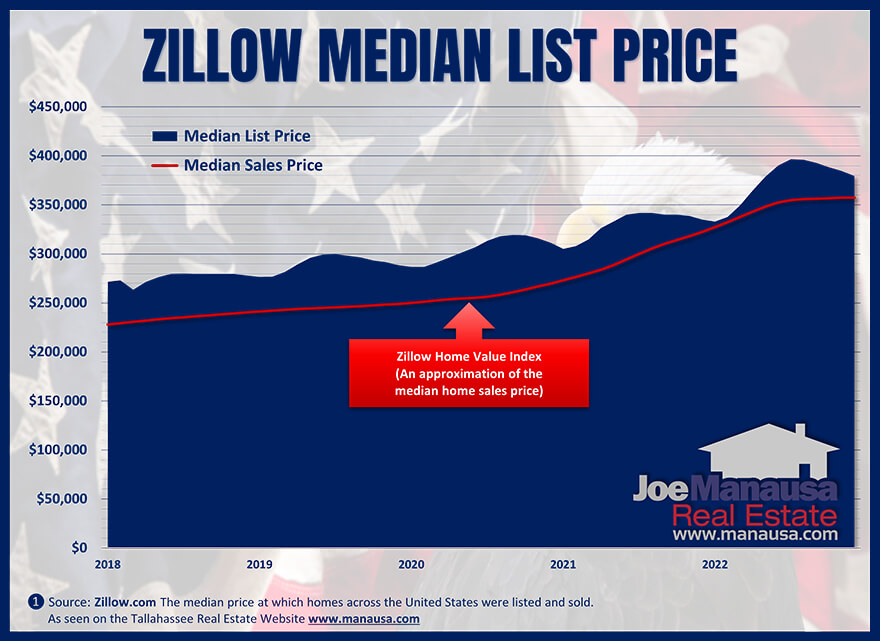 The blue field in the graph shows the median list price, while the red line shows Zillow's estimate of the median home sales price during the same period.
The blue field shows a seasonal pattern on the median list price, with prices starting low at the beginning of the year, moving higher during the summer, and then falling slightly towards the end of the year. I'm seeing reports of "list prices dropping." Of course, they are! The median list price falls at this time every year! Where were those reports in the last six years when asking prices declined in the latter part of each year?
This graph reveals two things. First, home prices generally rise, so it makes sense that end-of-year asking prices are higher than at the beginning of the year. Second, sellers who tried too high of an asking price earlier in the year ultimately reduce their prices to get sold before the end of the year. Remember, a homeowner can ask any price they like, but to get sold, they have to meet the market at the right price.
The red line shows there is no actual inner-year cycle for prices; home prices generally rise. The median home sales price had been rising faster for the past few years, but the declining number of sales has flattened to where prices are growing at more "normal" rates (the average home price growth over the past 80 years is 5.2% annually).
Additionally, one must remember that with higher rates, home affordability falls. Does the slowing growth rate of the median home price mean that home value growth is receding, or does it mean that buyers are purchasing cheaper homes?
Zillow Expects Slower US Home Home Price Growth
This graph estimates the median home price in the US by considering the typical price for various types of homes, including single-family homes, condominiums, and co-ops.
But this graph is unique because it focuses on the middle third of the market, analyzing homes that fall between the 35th and 65th percentile. By examining this range of properties, the graph accurately reflects the median home price over time, giving you unparalleled insight into US home prices.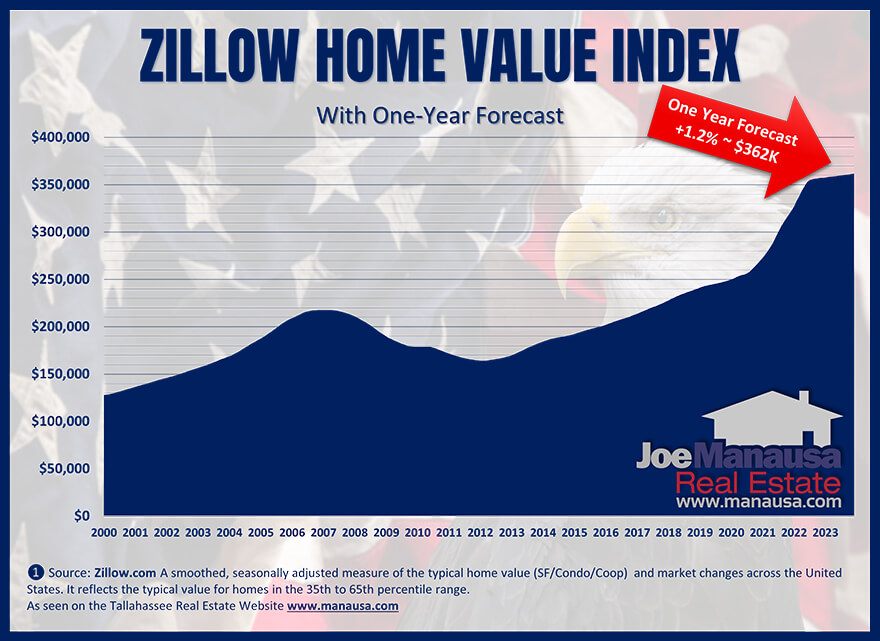 If you look closely at this graph, you'll see that Zillow has reported home values from 2000 through 2023 because their dataset includes past data plus a forecast that home values will rise 1.2% over the next twelve months.
Just as a reference to how conservative Zillow's estimate has become, it estimated 17.3% annual growth back in January last year.
Zillow's Home Value Index sheds light on the alarming decrease in home affordability. According to Zillow's estimates, the median home price has surged by over 118% since February 2012, with an annual growth rate of 7.5%.
Comparing the rate of home price growth over the past two years to the rate during the housing bubble paints a concerning picture. The steepness of the slope highlights the acceleration of the increase in prices, which is a cause for concern in terms of the affordability of homes.
But Zillow is not the only real estate platform predicting home price growth.
CoreLogic Is Bullish On Home Prices Too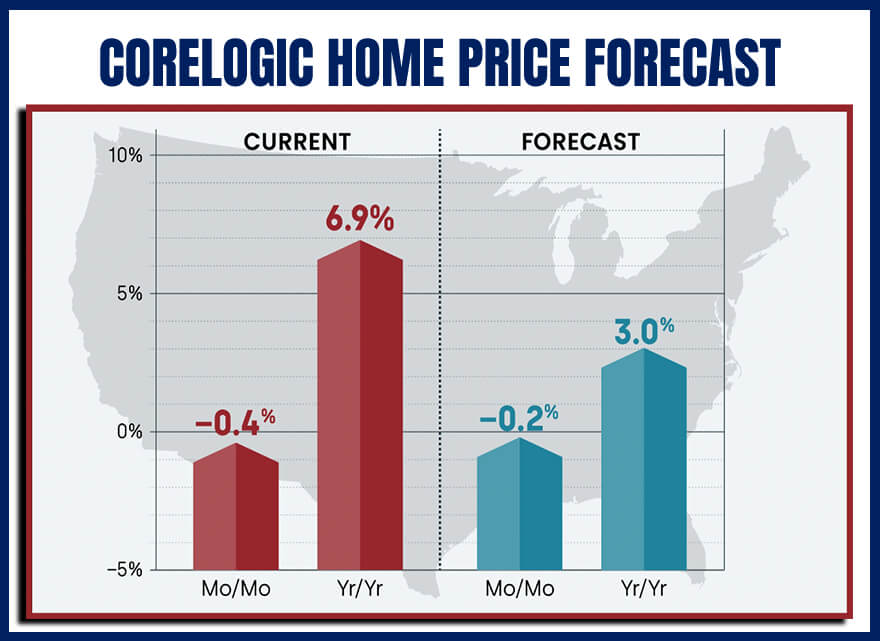 CoreLogic, another national real estate web portal, believes home prices will grow by 3% over the next year, nearly triple Zillow's growth forecast.
One must always remember that the supply and demand dynamic for homes is the key driver for the change in home prices. It does not matter that we have observed a historic run-up in prices. Instead, we must be concerned about the low production of homes that has created this problem.
The abysmally low supply of homes for sale has caused home prices to soar, and as we will see in our next graph, home prices are growing in 98.9% of the markets in Zillow's report.
Home Prices Falling "Everywhere!" ???
Are you one of those people who are rooting for falling home prices? Well, hold on to your seats because you're in for a shock! This graph reveals that reports of falling home prices should be limited to just 10 cities!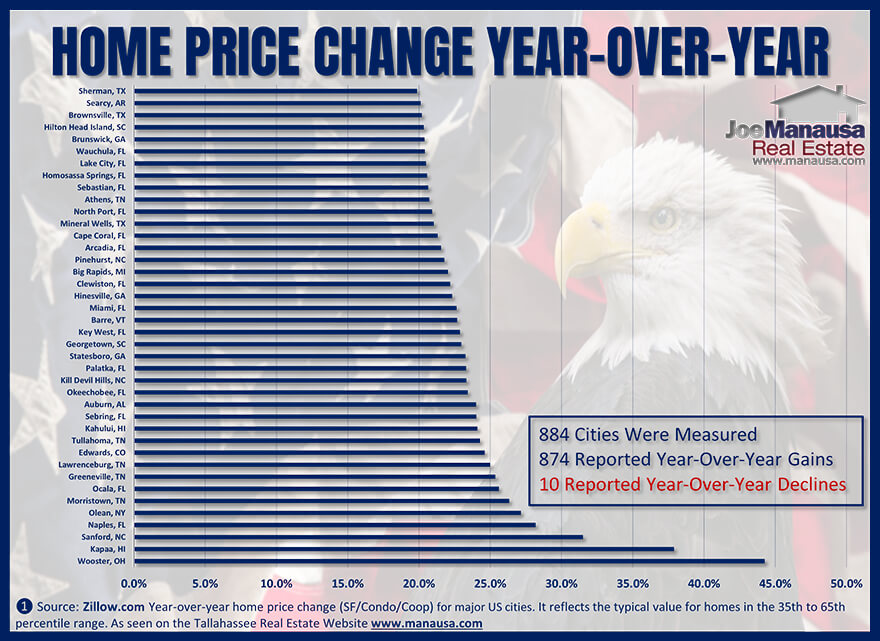 Of the 884 cities reported by Zillow, 874 posted growth in home prices for the past twelve months. Only ten markets reported declines:
Garderville Ranchos, NV

Down 1/3rd of 1%

Red Bluff, CA

Down 1/2 of 1%

Carson City, NV

Down 1/2 of 1%

Fernley, NV

Down 2.3%

Grants Pass, OR

Down 2.7%

Shelton, WA

Down 2.9%

Coeur D'Alene, ID

Down 4%

Boise City, ID

Down 4.2%

Fairbanks, AK

Down 8.5%

Minot, ND

Down

10.1%
Zillow has reported an 11% year-over-year increase in home prices in the US since December 2021, but it's understandable that some of our readers may have heard different news. To delve deeper into the issue, let's explore why there are conflicting reports about declining home prices.
Month-Over-Month Home Prices: Growing In 57% Of US Markets
The following graph highlights the US markets that have experienced the highest month-over-month change in home prices.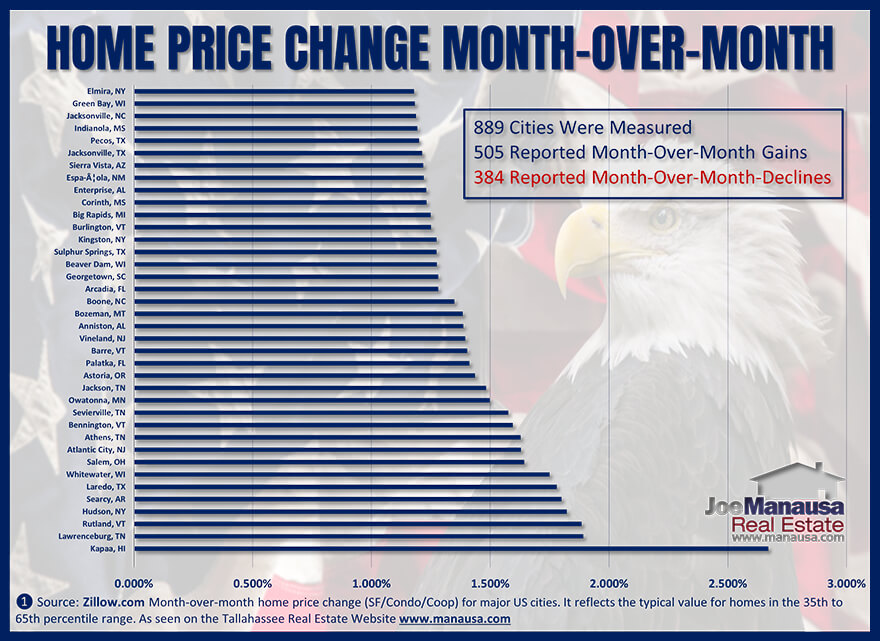 Of the 889 cities reported by Zillow, 505 (57%) posted growth in home prices in December, while 384 markets (43%) reported declines. Perhaps this is why we're inundated with reports of declining home prices.
If you've been following my recent reports on US home prices, you might have noticed that median home prices typically increase in a staggered manner throughout the year (or decrease in declining markets). It's premature to identify a trend in price changes after just a few months, as doing so would have resulted in reporting declines in each of the past five years, despite the fact that median home prices were actually on the rise during those years.
It is clear that the rate of growth for home prices is coming down, but it remains too early to say that we expect home prices to fall annually in most US housing markets. With nearly 99% of markets reporting annual gains and 56% showing monthly gains, the market is clearly appreciating.
When you see reports calling for a 30%, 40%, or even 50% decline in home prices, you have to wonder what data leads them to that conclusion. It seems to me that most reporters are suffering from recency bias and each could learn a lot from the video shown below.
Rents: The Litmus Test For Home Prices
Our final graph in today's report plots the change in the median rental rate. We use the change in rents to affirm or refute reports on the overall supply of homes in the US. When supply is low (in both the for-rent and the for-sale markets), both prices and rents rise. The opposite is true when supply is high. So when rents and prices move in the same direction, it often means a supply imbalance.

In the graph above, the blue area measures the monthly rental rate index (median rent), while the red line plots each month's year-over-year percentage change. Pay close attention to the rapid growth shown in red.
After peaking at more than a 17% annual growth rate in February, rents have "only" grown by 7.4% over the past twelve months.
Just as the inventory of homes for sale declined, so too has the number of homes for rent. People who must move today have no good choice between buying versus renting a home. The cost for each has exploded higher, though each is rising slower than the rates observed at the beginning of the year.
How is this for perspective? In December, the median rental rate of $1.981 was 25% higher than the median rental rate of $1,585 recorded two years ago in December 2020. This is important to understand because it is not just home prices that have become unaffordable but also rental rates. I often receive comments from viewers on our YouTube Channel saying they are waiting for home prices to fall. I certainly understand the sentiment, but I have to wonder, where are they living while they await home price declines?
Are they waiting in a rental property where their lease renewal will be 25% higher than two years ago? Or are they waiting in a home they own? If they are right and home prices drop, won't the home they own drop too? This means they'll sell cheaper to buy cheaper! So what's the point in waiting? That's the trouble with trying to time the housing market; either way, you'll pay more.
The fact that both rents and prices are moving higher together confirms that the supply of homes in the US is insufficient to house our growing population. Overall, when supply is insufficient to fulfill demand, prices rise. Until we see significant output from US home builders, we anticipate rising prices (and rents). There will be markets where the supply of homes outpaces demand, but overall, the US housing market remains undersupplied.
A Home Affordability Crisis
Home affordability is a pressing issue today. When people get priced out of the "for sale" market, they can no longer turn to the "for rent" market, as they will be priced out of that too!
When home prices crashed after the housing bubble, rents kept moving higher. That was a sign that we failed to interpret correctly, as it was a signal that despite the large inventory of homes for sale, there were not "too many" homes built in America.
The imbalance in housing inventory was caused by a sharp drop in demand for homes that were for sale. This drop in demand was partly due to the government's intervention in the housing market. The government made it much harder for borrowers to qualify for loans, which meant that only the wealthiest buyers could afford to buy a home.
The government was concerned about the housing market getting out of control, so they raised the bar for loan qualifications to unprecedented levels. As a result, many would-be buyers were forced to rent instead. The demand for rental properties increased, rental rates continued higher, even as home prices fell.
Loan qualification standards are not an issue today. The entirety of the housing crisis lies on the inventory side, so local governments must work to solve the lack of shelter problem. Many think that mortgage interest rates are to blame, but we must concede that rates are still low (21% lower than the fifty-year average).
Inventory issues will not go away silently. We have not built enough homes in the past fifty years, and much of the blame rests on the shoulders of the NIMBYism movement. Opposition to smart, controlled development must be quelled, and we must find solutions to increasing the number of properties to house our growing population. The problem is simple to define but very difficult to cure. It will take a level of leadership that most elected officials do not possess.
If you're concerned about the high cost of housing in our country, there are steps you can take to help fix the problem. One important action is to contact your local elected officials and express your dissatisfaction with the soaring prices of homes and rentals. Make it clear that the root of the problem is a lack of supply and that a different approach is needed to address the housing shortage in America. By doing so, you can help bring attention to this issue and encourage leaders to take action that will benefit the community.
If you have thoughts on the limited housing supply in America, please share them in the comments section below.