A Wild Ride With Zillow: An In-Depth Look at the US Housing Market
Posted by Joe Manausa on Monday, June 26, 2023 at 6:00 AM
By Joe Manausa / June 26, 2023
Comment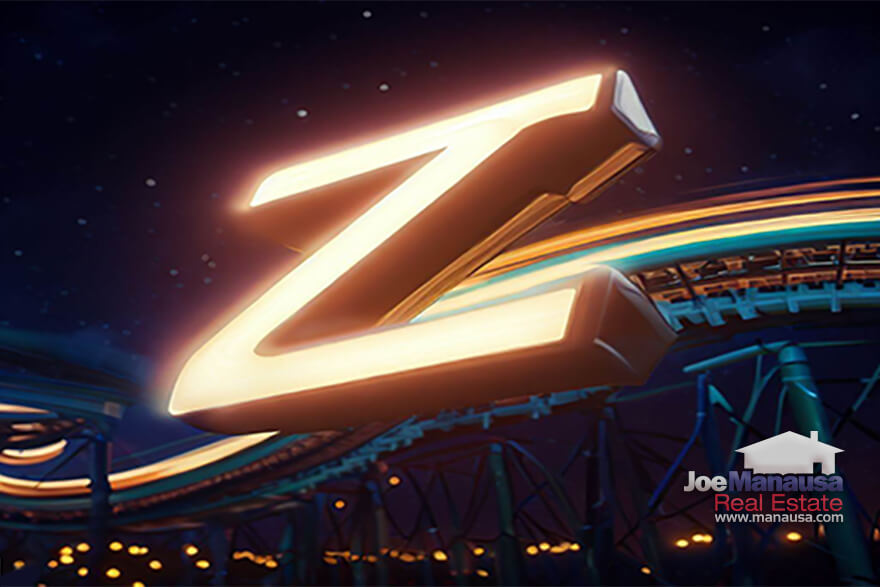 Is the rollercoaster ride of the US housing market leaving you dizzy? Are you trying to piece together the whirlwind of headlines screaming about plummeting sales, surging prices, and record-low supplies? Look no further. In our comprehensive analysis, we cut through the noise to deliver a clear, data-driven perspective of the real estate market that you won't find elsewhere.
Leveraging an array of data from Zillow, we've crafted a compelling narrative that breaks down the complexities of the housing market into digestible insights. From the uneven impact of bedroom count on appreciation rates to the unprecedented surge in rental costs, our report offers an in-depth look into the forces shaping the current housing landscape.
As you journey through our eight meticulously designed graphs, you'll gain a deeper understanding of the major trends and intricacies of the housing market. So whether you're a homeowner, a prospective buyer, or a curious observer, this article promises a valuable exploration into the twists and turns of the housing market. So, buckle up and prepare for a data-driven deep dive into US real estate.
Home Sales Continue To Decline
Our first graph estimates the total count of distinct properties sold each month, considering the delay between the actual sales and their official reporting. This data is exclusively accessible for the unprocessed dataset encompassing all residential properties.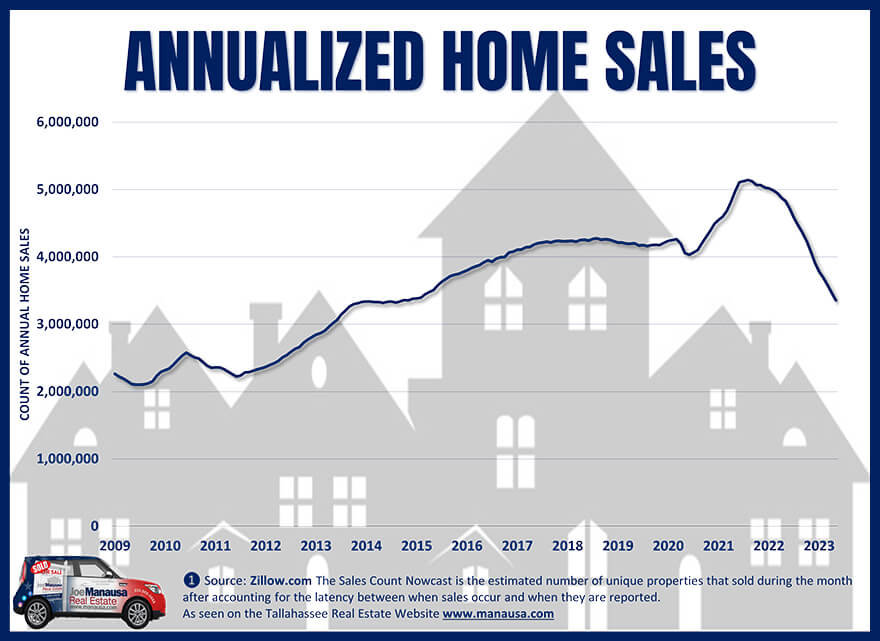 In a dramatic shift, home sales have experienced a substantial drop of approximately 35% since 2021. This precipitous decline correlates with the average 30-year mortgage rate's leap from a modest 3.22% in January to a staggering 7.08% by the end of October. This nearly 400 basis point (or 4%) increase in under a year effectively more than doubled the cost of borrowed funds for prospective homebuyers.
This drastic upswing in borrowing costs has put homeownership out of reach for many, leading to the current downturn in sales. The rapid escalation of mortgage rates has unequivocally sent shockwaves through the housing market, causing potential buyers to pause and reassess the feasibility of their homeownership dreams.
Are Home Sellers Cutting Prices?
While news of home sellers cutting prices at record rates often makes headlines, Zillow's data paints a different picture.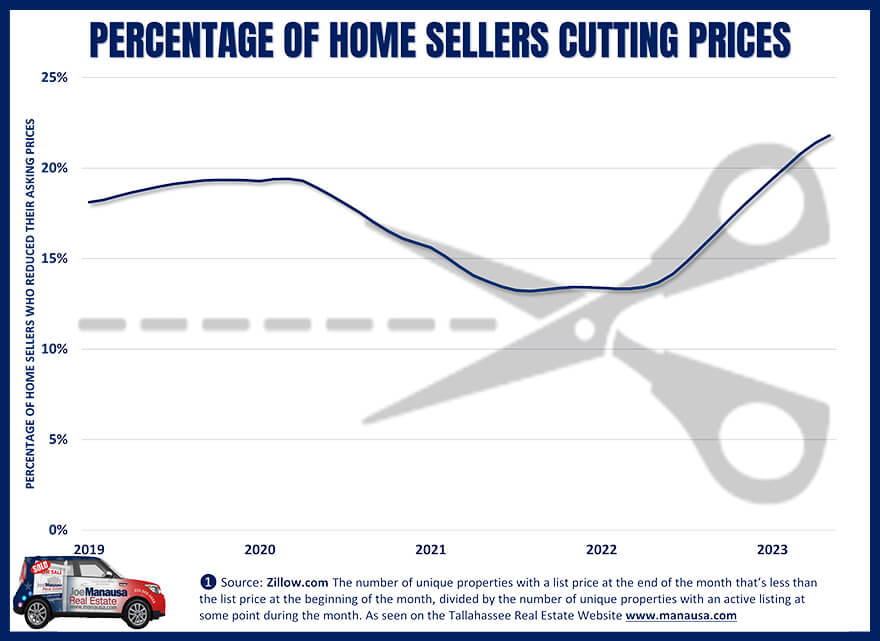 However, it's essential to note that there are lingering questions surrounding the validity of such data. This skepticism stems from the tendency of some agents to manipulate listings, making them appear brand new each time they drop a price. This practice has the potential to distort the true picture of price reductions.
While these flaws cast a shadow of uncertainty over this data's reliability, price reduction remains a focal point of discussion in the housing market. According to the available data, the rate of price reductions is slightly elevated compared to pre-pandemic levels. But given the data's potential inconsistencies, this trend should be cautiously approached. A comprehensive understanding of the housing market requires analysis beyond surface-level price reductions.
Home Prices: From Peak To Floor & Floor To Peak
The next two graphs segment the market by the count of bedrooms in each housing unit.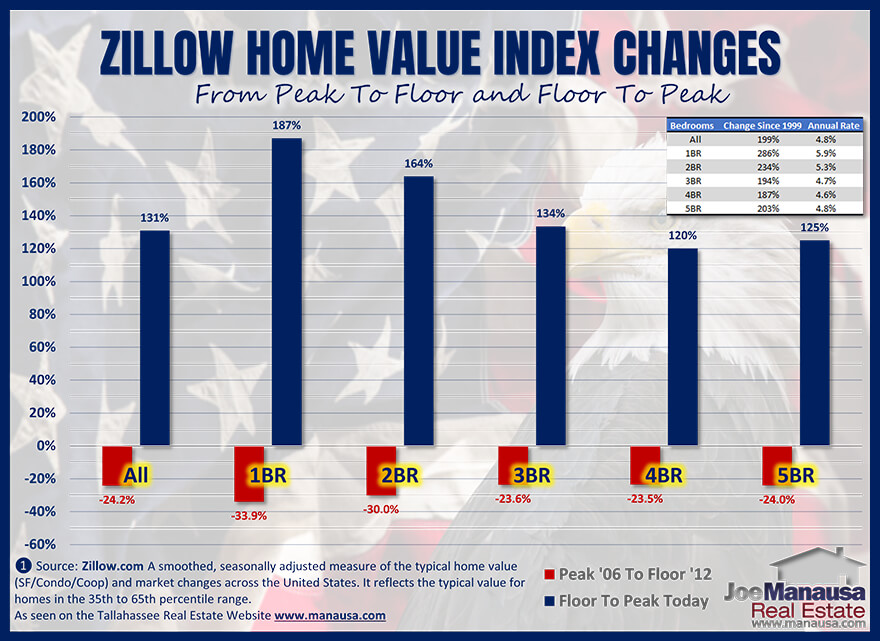 Over the past 17 years, the fluctuation in home prices has been anything but uniform across different types of homes. In particular, homes with fewer bedrooms have exhibited significantly higher price volatility than those with three or more bedrooms.
During the market downturn, homes with one or two bedrooms were hit the hardest, suffering losses of over 30% from peak to floor. This stark drop surpassed the broader market's decline, underscoring the acute vulnerability of these smaller properties during economic downturns.
However, the story took an interesting turn during the recovery phase post-2012. The same smaller homes that experienced substantial losses during the downturn outpaced the broader market during the recovery. This dramatic swing from the floor back to peak levels reveals a dynamic resilience in this segment of the market, suggesting that smaller homes can offer lucrative investment opportunities during periods of economic recovery.
Number Of Bedrooms Impacts Appreciation Rate
The number of bedrooms in a home has proven to be a significant factor influencing the rate of home price appreciation. Zillow's data, which allows us to delve into home price trends since 2000, segmented by the number of bedrooms, underscores this relationship.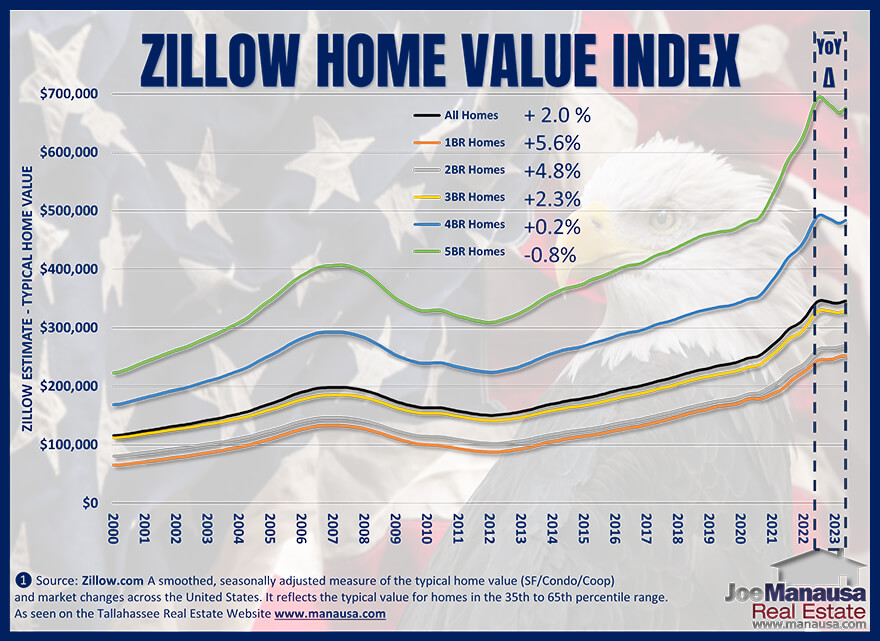 Over the past year, overall home prices have experienced a modest growth of 2%. However, this appreciation rate has not been applied uniformly across all segments. Smaller homes have taken the lead, showcasing the fastest rates of appreciation. These smaller residences are seeing a surge in demand, perhaps due to affordability concerns or changing lifestyle preferences, increasing their value.
In a surprising twist, five-bedroom homes have defied the overall trend. Instead of appreciating, the value of these larger homes has slightly fallen by nearly 1%. This anomaly suggests that the market for larger homes may be softening, possibly due to shifting buyer preferences or demographic changes. This divergence in trends based on bedroom count demonstrates the importance of considering a property's specific characteristics when evaluating its potential for appreciation.
Keep Up With New Trends In Tallahassee!
Get The Tallahassee Real Estate Newsletter
Don't be the one that doesn't know what's going on when you sell a home or buy a home in Tallahassee.
Other buyers, sellers, lenders, and real estate agents have this critical information, and now you can too!
Get immediate access to our most recent newsletter.
Let more than 30 years of experience work for you with charts, graphs, and analysis of the Tallahassee housing market.
US Home Prices - 133 Years
Fears of plummeting home prices have become common in contemporary media narratives, particularly on social media platforms such as YouTube and Twitter. However, such fears often reflect a lack of historical perspective or, in some cases, a deliberate attempt to instill apprehension for other purposes.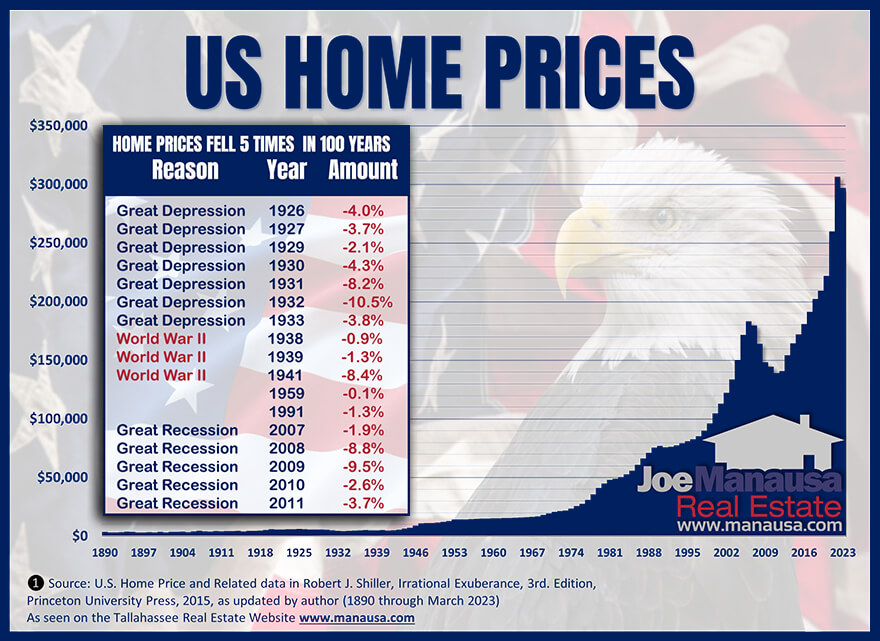 Indeed, some commentators may genuinely believe in an impending crash, but this belief often stems from recency bias. Over-emphasizing recent events or trends can skew our understanding of broader patterns. Taking a long-term view of the housing market is essential to counteract this bias.
Looking back over 133 years of home sales data (this graph was not built with Zillow data) provides a more nuanced perspective. A thorough examination reveals that home prices generally tend to rise over time. Over the past century, significant declines in home prices have been relatively rare, occurring only during the Great Depression, World War II, and the Great Recession. Only two other single years witnessed modest declines of 0.1% and 1.3%, respectively.
Home prices did not fall during the 1960s, 1970s, or 1980s – an uninterrupted 32-year run of appreciation. It's intriguing to consider what the commentary of today's YouTube real estate evangelists would have been like leading up to this period. Recency bias following the declines during World War II could have potentially led to misplaced predictions of a housing market crash like we are seeing today.
Despite the occasional downturn, the historical trend of the US housing market is one of resilience and growth. It serves as a potent reminder that the past is a vital guide to understanding the potential trajectories of home prices and a valuable tool to counteract the effects of recency bias.
Most Markets Report Year-Over-Year Home Price Gains
A broader perspective emerges when we delve deeper into the dynamics of home prices nationwide. Zillow's data tracks home prices in a sample of 568 metropolitan areas, offering a detailed view of trends across different markets.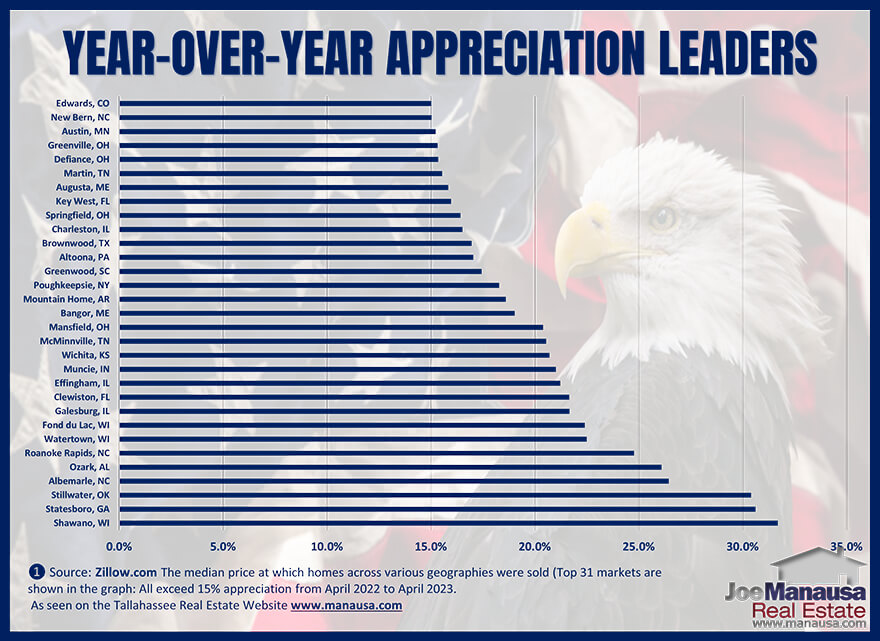 While there are markets where home values are experiencing a decline, they represent the minority. The dominant trend across the nation is one of year-over-year home price gains. In fact, a substantial 77% more markets are reporting home price increases compared to those experiencing declines.
This pattern indicates that despite localized declines, the overall direction of the housing market remains upward. In light of this, the rising home prices are merely reflecting the broader inflationary trend. Real estate is not immune to the forces of inflation. In fact, as a tangible asset, real estate often appreciates in value during inflationary periods.
Thus, while rising home prices are destroying home affordability, it should not be surprising. Houses are part and parcel of the economic environment and another manifestation of the inflationary pressures we're experiencing across the board.
Supply Of Homes Remains Near Record Low
An equally significant factor contributing to the dip in home affordability is the persistently low supply of homes for sale.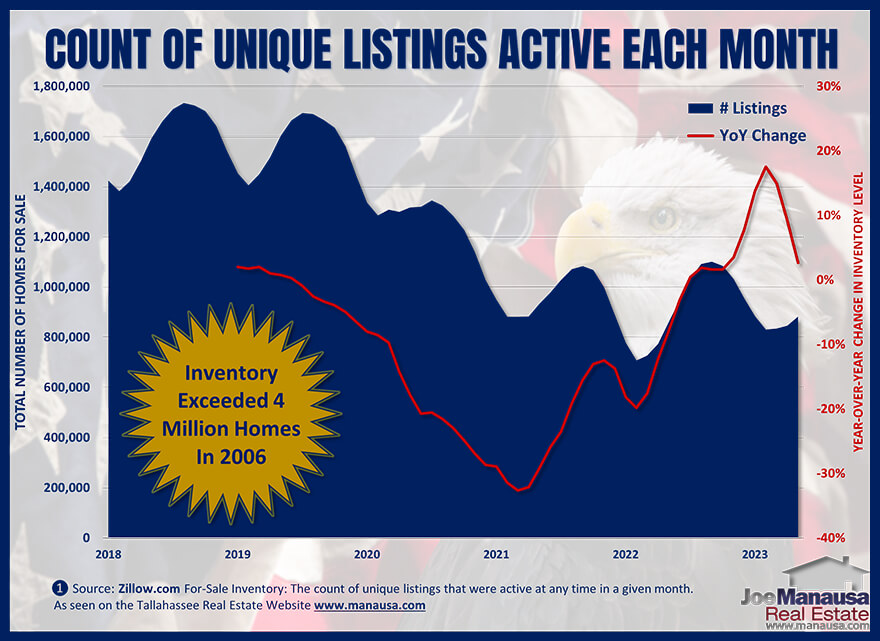 Currently, the inventory of available homes in the US hovers just above the all-time low recorded last year. This scarcity is not solely a result of reduced demand; it's also a reflection of a decade-long trend of under-building.
Starting from around 2010, homebuilders have been constructing fewer new homes than the market requires. Consequently, most of the homes listed for sale are not newly built but existing homes whose owners wish to relocate.
The surge in mortgage interest rates last year led to a significant drop in the number of buyers. However, it's essential to understand that these prospective buyers were also potential sellers. Many of these individuals intended to sell their current homes as part of their relocation process.
Thus, the housing supply took a hit when rising mortgage rates deterred these individuals from entering the market. Not only were there fewer buyers but there were also fewer sellers. In over half of the cases, a lost buyer also meant a lost seller. This phenomenon further exacerbated the already low housing supply, contributing to the current affordability crisis in the US housing market.
Zillow Reports Rents Soaring
Our report's final graph highlights the dramatic resurgence of rental rates.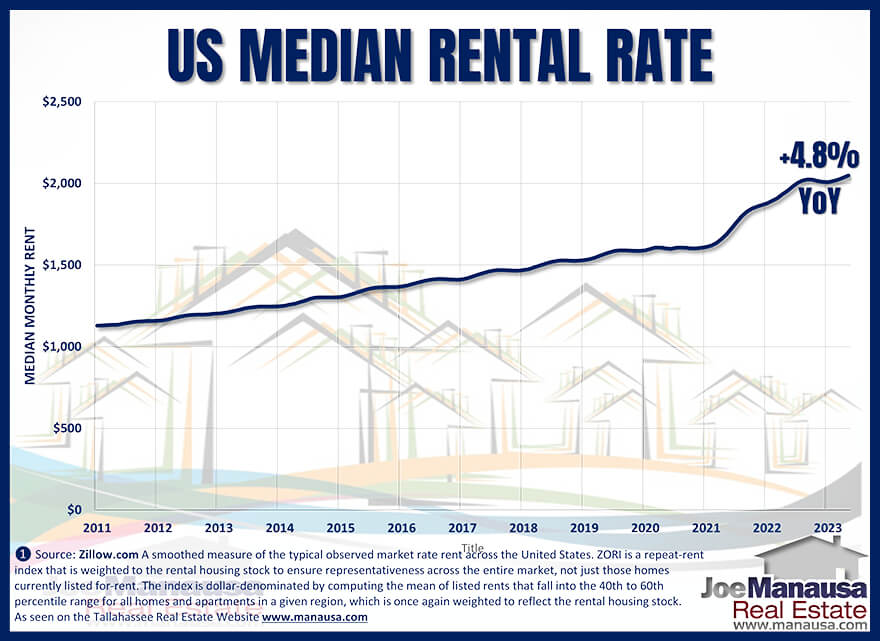 Before the onset of the COVID-19 pandemic, rents had been rising steadily, increasing at an annual rate of 4% over the 100 months that ended in April 2020.
However, the initial stages of the pandemic brought this growth to a near standstill. As the US implemented eviction moratoriums, the growth rate of rents slowed to a mere 1.4% per year during the first 12 months of COVID.
This situation has since reversed dramatically. Over the subsequent two years, the growth rate of rents has skyrocketed to nearly 12% per year! This explosive growth underscores the profound supply shortage that the housing market is currently grappling with.
The shortage of available housing is not just pushing home prices upwards; it's also driving rents to new heights. These synchronized surges in both home prices and rents serve as a clear validation of our concerns about the housing market's severe undersupply. As things stand, the lack of available homes continues to exert considerable upward pressure on both home prices and rental rates.
Navigating today's housing market is no simple task. The combination of surging prices, plummeting supply, and soaring rents underscores the exceptional dynamics at play. Amidst these forces, understanding the value of a home – whether you're buying, selling, or simply holding – is more important than ever.
With the housing market experiencing such tremendous fluctuations, having an accurate, up-to-date evaluation of your home's value can empower you to make informed decisions. Through platforms like Hombot, you can access real-time data and analytics, offering insights into your home's value, the state of the local market, and broader national trends.
As the data suggests, smaller homes have been the frontrunners in appreciation, while larger homes seem to lag slightly. The majority of markets are reporting gains in home prices year-over-year, a clear reflection of the inflationary pressures permeating the economy.
Meanwhile, rental rates are skyrocketing, further illustrating the acute supply shortage that the housing market is facing. As home prices and rents continue to climb, staying informed about the market's evolving dynamics becomes ever more crucial.
Despite today's housing market's many complexities and challenges, it also presents opportunities. You can navigate this landscape effectively by staying informed, understanding the value of your property and your equity position, and considering the broader market trends. Check out Hombot for a free home valuation and stay ahead in this ever-changing market.
There are a lot of people who endorse Joe for the job of selling your home, from Barbara Corcoran (Star of ABC's Shark Tank) to Preston Scott (host of Tallahassee's top daily "Audio Magazine," as well as the thousands of happy customers Joe has helped in the past. Listen why!