Will A Foreclosure Wave Crash The Housing Market?
Posted by Joe Manausa on Monday, October 25, 2021 at 5:53 AM
By Joe Manausa / October 25, 2021
Comment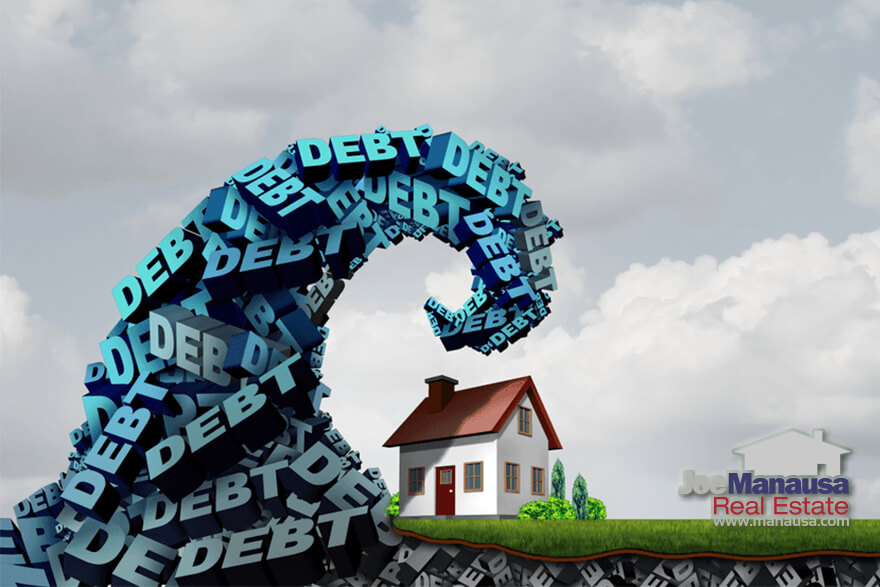 Over the next three to six months, there will be a lot of people reporting on, speculating about, and even heralding a wave of foreclosures that will be hitting the fiery hot housing market.
Many claim the foreclosure tsunami will be the cause of a new housing bubble, yet I believe they are a little short-sighted and I have some evidence that suggests this will not be so.
Currently, the market for distressed properties is tiny, as you can see by the few listings on the market today.
Distressed Properties For Sale In Tallahassee
Foreclosure Wave Exposed
Foreclosures And A New Housing Bubble
The Federal Government placed a moratorium on Foreclosures during the beginning stages of the COVID pandemic that (kind of) came to an end at the end of September. I say "kind of" because there are many lenders that extended their own version of the moratorium through the end of the year.
On top of that, there were millions of homeowners who took a voluntary forbearance period where they were allowed to stop making mortgage payments and agreed to have the accumulated interest pushed to the end of the loan period.
So in a nutshell, there are several million loans in the US that fall into one of these two categories, and many have said when these homes hit the market, we're going to see a repeat of the housing bubble. Of course, they made/make these claims without an understanding of the overall market.
Get Our Free Market Update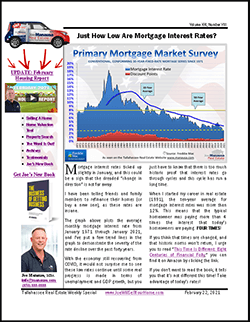 Other buyers, sellers, lenders, and real estate agents have this critical information, and now you can too!
Get immediate access to our most recent newsletter.
Let more than 30 years of experience work for you with charts, graphs, and analysis of the Tallahassee housing market.
Each Monday morning we send out a simple, one-page report that provides a snapshot of the Tallahassee housing market. It only takes 2 minutes to read, but it gives you better market intelligence than most real estate agents possess. Just tell us where to send it below!
Equity In The Housing Market
What these incorrect reports fail to grasp is that home values are rising due to low supply, so most of these homes have appreciated 20% or more since the beginning of the pandemic.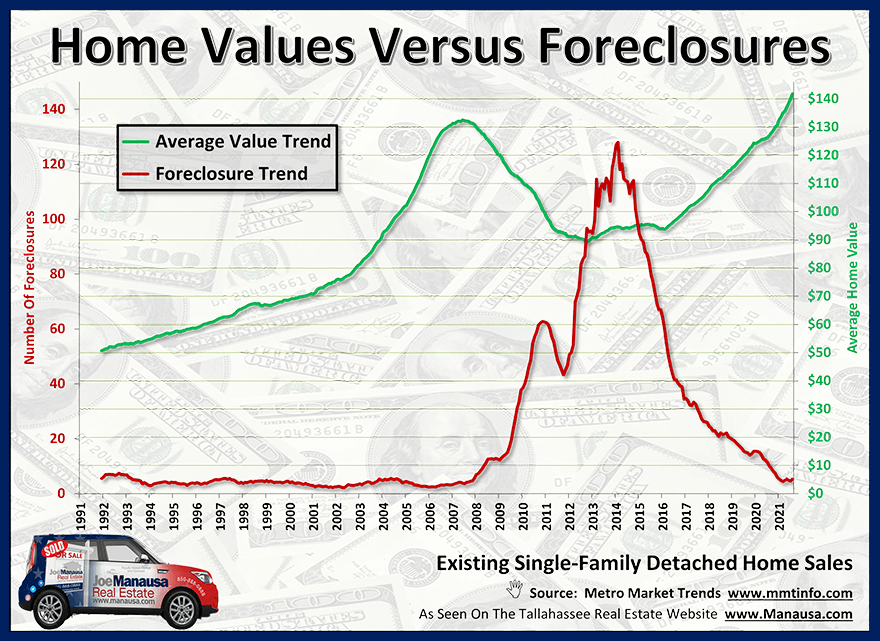 In the graph above, we compare home values versus foreclosures for the past thirty-one years. Home values are plotted in green, while the number of foreclosures sold is plotted in red.
In 2008, the market was oversupplied with homes, and values were falling. The millions of foreclosures that entered the market after 2008 only added to the glut of supply and furthered depreciating values. Contrast that will today, where the lack of homebuilding has created a void in the supply side of the market, causing home values to rise.
The current number of potential foreclosures will (might) come with most of these properties having far more equity than debt, so the homes can be sold on the open market allowing the owners to satisfy the debt on the properties.
When you combine low supply with high equity and even moderate demand, you have all the ingredients you need to see home values continue higher, regardless of the foreclosures that will arrive.
Could a new housing bubble form? Yes. It would require mortgage interest rates to soar higher, killing demand, homebuilders escalating new construction, and then the foreclosures hitting the market causing an oversupply.
Will a new housing bubble form? Nobody knows for sure, but the pressure on the Fed to keep rates relatively low to help the recovering economy thrive makes it far less likely. People are getting their jobs back, lenders are motivated to rework loans for those that are delinquent, so right now, the odds are in favor of no new bubble.
If a new bubble were to form, we will see it coming. Subscribe to our newsletter and you'll get regular updates on movement in the housing market. Simply put your name and email address in the form above, and then confirm (by email) that you would like to receive our newsletter. It comes every Monday morning and you can unsubscribe any time that you like.
How Fragile Is The Housing Market?
Your Local Expert In Tallahassee
When moving to, in, or from Tallahassee, you will fare better if you work with a local expert. We are here to help. If you have further questions on the Tallahassee real estate market, you can leave a comment below, give us a call at (850) 366-8917, or drop us a note and we'll give you the local information needed to ensure a successful, smooth transaction.
As a local born and raised in Tallahassee with a focus on customer service, I promise you'll find great success when working with Joe Manausa Real Estate, just as have our past customers. You can read thousands of their reviews reported on Google, Facebook and Zillow right here: Real Estate Agent Reviews Tallahassee.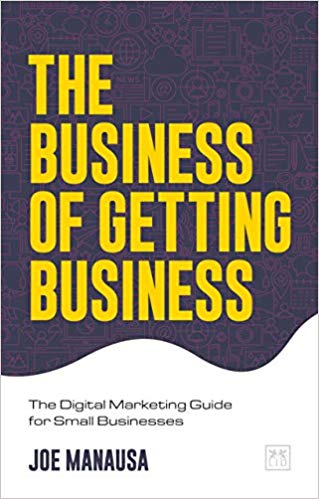 Have you heard about my new book "The Business of Getting Business?" It's a comprehensive guide for small businesses to help them make the move to digital. For those of us who want to survive and thrive in a world where large corporations are taking over, it is a must-read. It's also the perfect guide for how to sell a home in the digital age. You can find The Business Of Getting Business by clicking on any of the trusted retailers below.

Think all REALTORS are alike?
Read what people are saying about working with Joe Manausa Real Estate! You can see thousands of real customer reviews reported on Google, Facebook and Zillow at this link: CLICK HERE FOR REAL ESTATE AGENT REVIEWS.