What's For Sale In Tallahassee
Posted by Joe Manausa on Wednesday, July 9, 2014 at 10:47 AM
By Joe Manausa / July 9, 2014
Comment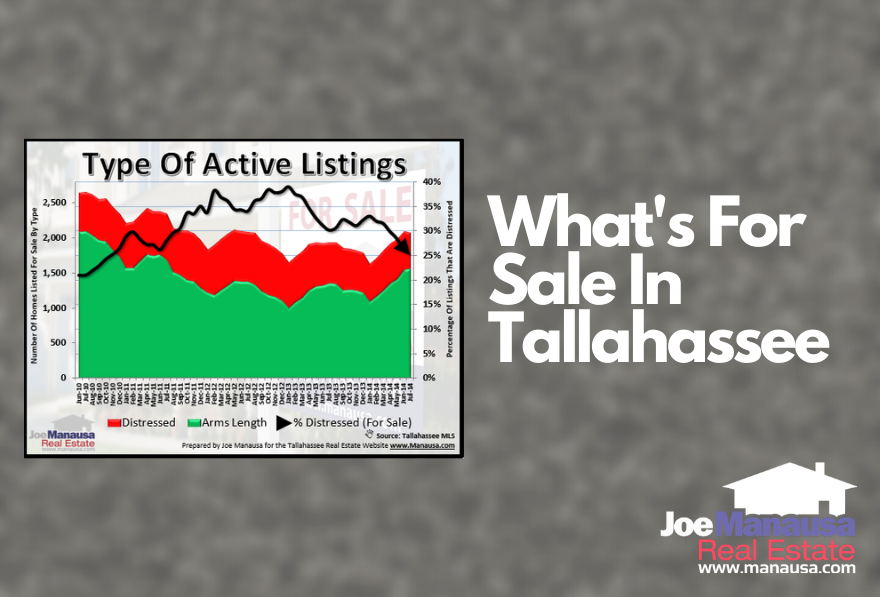 If you have been thinking about buying a home for more than just the past few months then it is likely you have noticed a big change in what's for sale in Tallahassee.
The inventory has been evolving from one glutted with short sales, foreclosures, and bank owned properties to a market filled with fewer homes and a declining inventory of distressed properties.
In other words, the Tallahassee real estate market is making its way back to "normal."
A Picture Of What's For Sale In Tallahassee
Long time readers of the Tallahassee Real Estate Blog know that I believe in charts and graphs. They provide a picture of what is happening in the market, and knowledgeable users can gain an advantage when selling a home or buying a home by knowing more about their surroundings.
Today's real estate graph contains a simple breakdown of what's for sale in Tallahassee. It divides the market into 2 separate segments:
Distressed Properties - Short sales, foreclosures, and bank owned properties (shown in red below)

Arms Length Properties

- Homes being sold by equity owners who are seeking full market value and do not need approval to sell from a third-party (shown in green below)
Currently, the distressed properties "only" represent 25% of the current homes for sale in Tallahassee. That is the lowest we've seen going back four years, and it appears to be a trend that is continuing lower.
Home Buying Opportunities
There will always be "deals" for homebuyers, but I think the properties that we have seen sold in recent years will always be remembered as the best time to buy a home in Tallahassee.
Even today, homes are selling at prices that are far below the level for which they could be rebuilt. This "discount to cost" does not mean much in a market glutted with too much inventory, but when we grow beyond the current supply, future supply will be produced at levels that far exceed "cost" today.
Why Replacement Cost Should Matter To Homebuyers
I produced this video several years ago to remind our local investors how to play it safe. It demonstrates a process to include a safety net when making a real estate investment decision.
We are still in a "buy" cycle in the Tallahassee real estate market, but today's graph suggests that we might be moving beyond it in the coming months (or years). When you factor in the likely change coming for mortgage interest rates, my recommendation is for those homebuyers who have been sitting on the fence to get into the market and make your selection.
If you would like to know more about what's for sale in Tallahassee, just drop me a note and we can schedule a time to show you a smarter way to buy a home.
Please Do Us A Small Favor
We work very hard to produce daily content for our long-time readers and first-time visitors. We provide this information for free, hoping to earn your respect and trust and the right to one-day help you when selling or buying a home. Can we get your help spreading the word about our blog?
If you like the content, would you please like it or share it using the Facebook button at the beginning of the post? This simple action will be greatly appreciated! THANK YOU!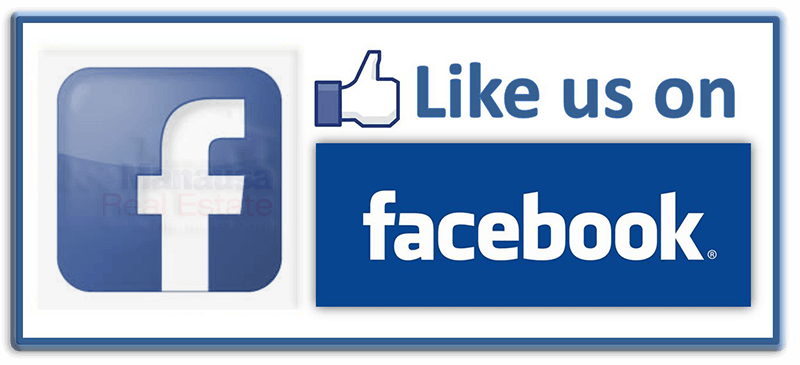 Also like us on Facebook at https://www.facebook.com/joemanausarealestate/
Joe Wrote The Book On How To Sell A Home Today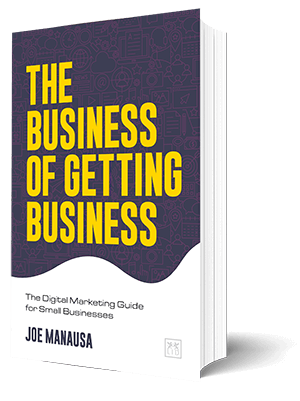 "Location, location, location' is no longer a competitive advantage. Digital marketing and going direct to consumer have made all geographical boundaries obsolete. The Business of Getting Business is a must-read modern-day survival guide for any local business to get to the next decade. Local businesses are on death ground.
They can either take a stand and re-invent themselves by embracing the digital frontier and have a chance to survive the overwhelming odds of digital direct-to-consumer capabilities that have erased all local and national business distinctions, or they can choose business as usual and accept certain death.
The Business of Getting Business is the critical survival guide for those that choose to dig in and fight."
– Anthony Noto, CEO, SoFi and former COO, Twitter
Get the book that explains it all, in a manner that is understanding to all, even technology neophytes. It's available on Amazon, a trusted source for consumers.

Think all REALTORS are alike?
Read what people are saying about working with Joe Manausa Real Estate! You can see thousands of real customer reviews reported on Google, Facebook and Zillow at this link: CLICK HERE FOR REAL ESTATE AGENT REVIEWS.