What Is A SELLER'S MARKET In Real Estate?
Posted by Joe Manausa on Thursday, September 3, 2020 at 5:17 AM
By Joe Manausa / September 3, 2020
Comment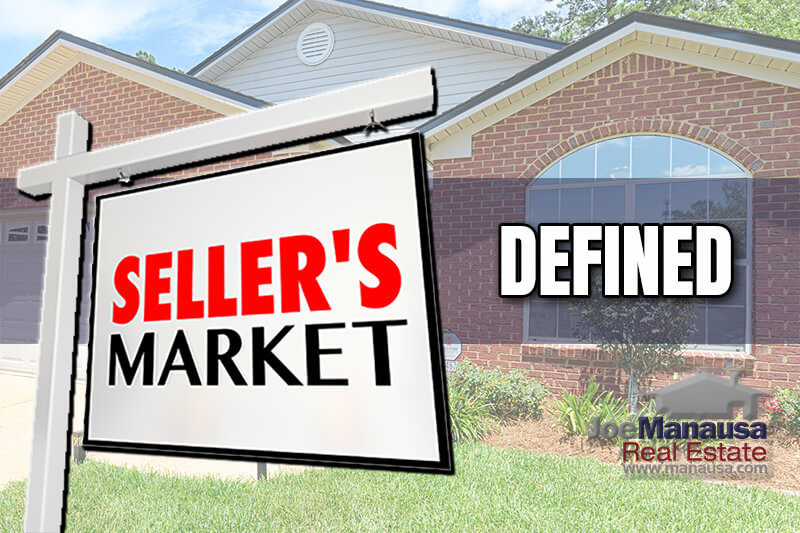 What is a seller's market in real estate?
You might have heard that we have a huge seller's market right now in real estate. Do you know what that means?
This real estate frequently asked question comes up from time to time when somebody asks "how is the market." They want to know if its a buyer's market or a seller's market. Is now a good time to buy a home?
I have prepared this article, including a short video, to demonstrate the conditions that make this a seller's market, and then we'll show you the numbers and how we actually are able to determine the number of buyers and sellers in the housing market.
The definition of a seller's market in real estate is not complicated. It means there are more buyers than sellers in the market. But how do we measure the number of sellers and buyers in the market?
Seller's Market Explanation Video
Supply And Demand Continuously Change
The real estate market is unique in that there is not a dominant party in the market. By way of comparison, in the automotive industry, there are only a handful of producers so they have more control over the supply-side of the market.
In real estate, there are tens of thousands of new home builders in the US, and this decentralization means that there is far less order and control of the production of new homes. Thus, the market has a tendency to over-correct itself.
Home Building Cycle
Homebuilders earn a living by building homes, and financial pressures push them to want to continue building. This lag to respond to market changes means that the cycle changes in real estate are extended and therefore fairly predictable. We know that the market will go from an extreme, to equilibrium, and then to the other extreme, before coming back to a balanced market.
When buyers get very active, perhaps because the local population is growing or mortgage interest rates drop, we often see a decline in the number of homes for sale in the market. The increased demand is not immediately acknowledged by new home builders.
If this continues for a good period of time, local builders begin to take notice and they start building homes at a faster rate. The increased demand during this cycle brings more home builders into action.
They build more homes, sell more homes, and then build even more. Typically, this goes on until we see the demand for homes flatten out, and then fall when the stimulus that had excited buyer demand either goes away or diminishes in value to buyers.
The builders who do not adequately monitor the supply and demand for homes continue to build and the market becomes saturated with new homes. This shift where sellers outnumber buyers is called a buyer's market.
Because there are so many players involved in the housing market, we tend to see cycles where we go from a seller's market to a balanced market, and then to a buyer's market. Some home builders go out of business.
The remaining builders slow the production of new homes until the supply of homes for sale is reduced. This reduction typically runs long enough to take the market to equilibrium, and then back to a seller's market. And then it all happens again. Does that make sense?
The ebb and flow of the market always have us moving back and forth from a buyer's market to a seller's market and back again. So what is a seller's market?
A seller's market is one where there are more buyers than sellers, and our current market happens to be the strongest seller's market I've seen in my 30-year career selling homes in Tallahassee.
Answers To Your Frequently Asked Questions
Current Activity Defines Housing Market Conditions
Take a look at this graph of current market conditions.
It shows the supply of homes relative to the current rate of demand so we call it the relative supply of homes. We measure relative supply in "months of supply," meaning the number of months it would take to consume the current supply of homes for sale.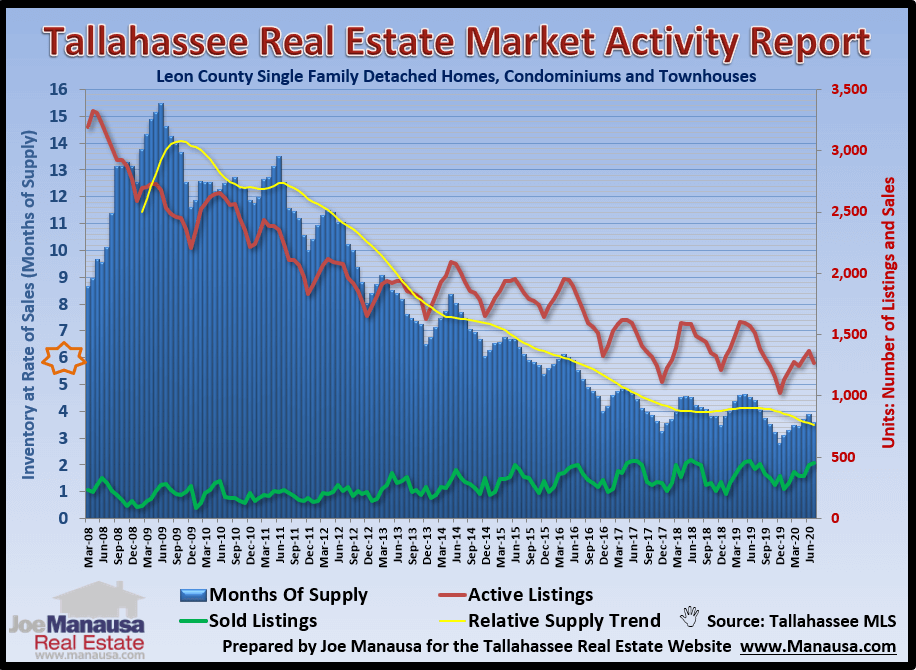 Here we see the green line shows the number of homes sold each month (that's the demand) and the red line shows the number of homes for sale each month (that's the supply). When we divided the demand into the supply, the result gives us the relative supply of homes shown in blue.
Finally, we take the one-year average of the relative supply to remove seasonality and we can see this plotted in yellow. When the market is balanced, we refer to it as market equilibrium.
Most real estate experts consider equilibrium, or a balanced market, as one with 6.0 months of supply of homes for sale. Look at how glutted the market was from 2006 through 2014, where the relative supply of homes peaked at nearly 14 months of supply. We spent very little time at equilibrium and now for the past 6 years, the overall market has favored home sellers.
As I've stated emphatically in recent housing market reports, we need more homes. If you have a home you'd like to sell, the market needs you. If you are a home builder, please get busy bringing more homes.
Market Conditions Impact Buyer Choices And Pace Of Action
Let's take a look at what it is like being a home buyer under differing market conditions.
This graph measures the percentage of listed homes that sold each month. In a balanced market, we would expect 1/6th of the homes to sell each month. When we apply the seasonal effects to the market, we expect about 4 months per year to have higher sales figures, four at normal levels, and then four months will be below average.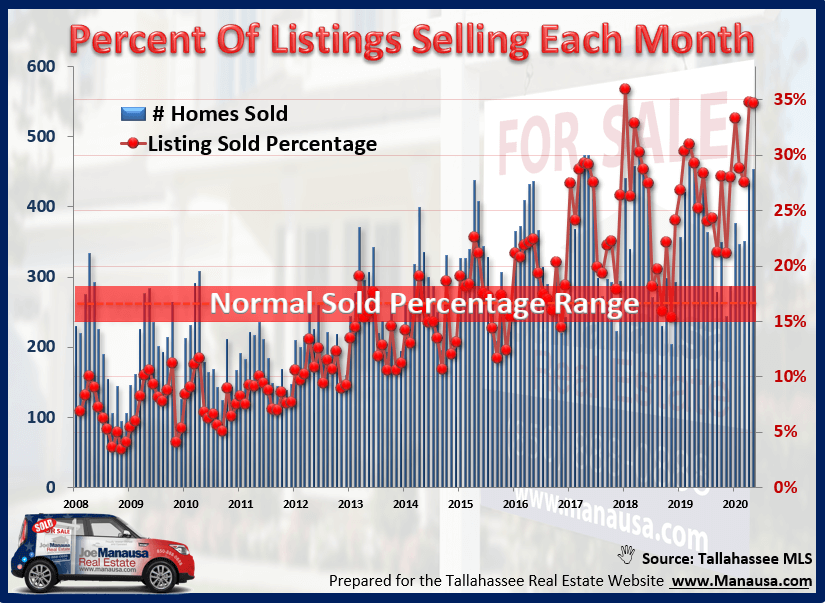 Instead, the huge buyer's market that developed in 2006 resulted in a lower percentage of homes selling each month for nearly ten full years.
As a buyer, you could take your time and examine plenty of homes, knowing that there were far more sellers than buyers in the market.
But now that we are in a seller's market, conditions are completely opposite for buyers. If you don't jump on a good house right as it hits the market, you'll lose it to another buyer.
There are far more buyers than sellers in today's market. Homebuyers need to be prepared to move like lightning when they discover a good listing because it is highly likely other buyers are discovering it too.
The seller's market conditions make it a difficult time to be a buyer, so make sure you have the best help you can get.
The Local Nature Of The Housing Market
Finally, we'll take a quick look at the raw numbers for the market.
Remember, a measure of around 6 is a balanced market, while a lower number is a seller's market and a higher number is a buyer's market. I've identified sellers' markets in red, balanced market conditions in green, and buyer's market conditions in orange.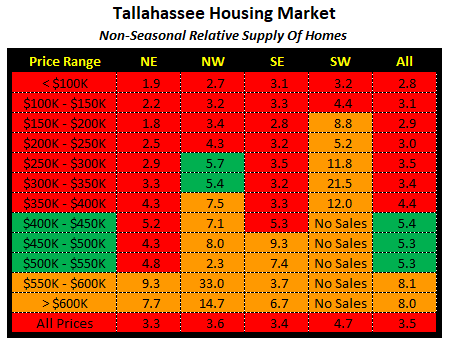 And that is what so is interesting as we have all three markets happening at once.
Overall, we see a seller's market in all four quadrants of Leon County. Overall, homes priced under $400K are in a seller's market, homes priced $400K to $550K are at equilibrium, and homes priced above $550K remain in a buyer's market.
Seeing the data like this should help you appreciate that the market for your home, or the one that you want to buy, is far more local than merely county level or even quadrant level.
You have to analyze the specific neighborhoods around you to determine the market conditions for your home. A good picture of this can be seen in the $400K to $450K price range.
We see a balanced market overall, yet there is no quadrant where the market is balanced.
Northeast Tallahassee is in a seller's market, Northwest Tallahassee is in a buyer's market. Southeast Tallahassee is in a seller's market, and Southwest Tallahassee has not seen any sales in this price range.
So whether you are buying or selling a home, make sure you get briefed on the current market conditions specific to the home you want to sell or buy. It will make a huge difference in how you should approach the market.
So do you have a good understanding of what makes a seller's market? I sure hope so. If you can think of something else I should have covered, please address it in the comments section below. If you got good information from this article, please take a moment to hit the Facebook "Like" button at the top of this post.
Your Local Expert In Tallahassee
When moving to, in, or from Tallahassee, you will fare better if you work with a local expert. We are here to help. If you have further questions on the Tallahassee real estate market, you can leave a comment below, give us a call at (850) 366-8917, or drop us a note and we'll give you the local information needed to ensure a successful, smooth transaction.
As a local born and raised in Tallahassee with a focus on customer service, I promise you'll find great success when working with Joe Manausa Real Estate, just as have our past customers. You can read thousands of their reviews reported on Google, Facebook and Zillow right here: Real Estate Agent Reviews Tallahassee.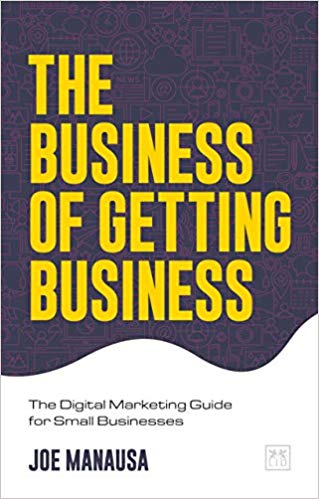 Have you heard about my new book "The Business of Getting Business?" It's a comprehensive guide for small businesses to help them make the move to digital. For those of us who want to survive and thrive in a world where large corporations are taking over, it is a must-read. It's also the perfect guide for how to sell a home in the digital age. You can find The Business Of Getting Business by clicking on any of the trusted retailers below.

Think all REALTORS are alike?
Read what people are saying about working with Joe Manausa Real Estate! You can see thousands of real customer reviews reported on Google, Facebook and Zillow at this link: CLICK HERE FOR REAL ESTATE AGENT REVIEWS.