Should You Wait For Home Prices To Come Down?
Posted by Joe Manausa on Monday, July 26, 2021 at 5:51 AM
By Joe Manausa / July 26, 2021
Comment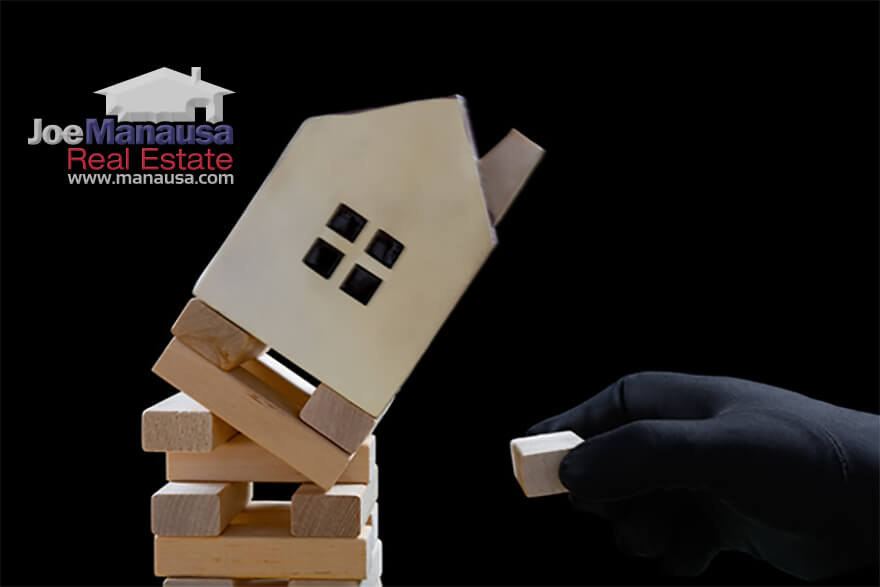 Home prices are soaring, buyers are having to pay above most sellers' asking prices, and the housing market feels just like a feeding frenzy during Shark Week on the Discovery Channel.
You know you want to buy a home, but you also don't want to feel like a fool for buying a home right before home prices come tumbling down. So what do you do?
I have included a list of all the homes for sale in Tallahassee below, and you will find that the majority of homes below the top of the market are already under contract with buyers. The market today is as hot as a July day in Tallahassee.
Homes For Sale In Tallahassee
History Of Home Prices
If you are somebody who is thinking about buying a home but you are waiting for home prices to come down, then this is the article for you.
Winston Churchill once wrote, "Those that fail to learn from history are doomed to repeat it." I suspect he got the idea from somebody else, but that's not the point. The point is that we can gain insight into what is going to happen in our future by studying what has occurred in our past.
So relating to real estate, if you believe home prices cannot come down, you might end up learning a tough lesson if you were to buy a home at the wrong time. And if you believe that home prices must come down, you too might learn a tough lesson by failing to buy while homes are relatively cheap.
Rather than have unfounded beliefs (in either direction), why not study the past and see what it suggests will occur moving forward? In order to gain the insight that we need, I have gathered eighty years of data on US home prices so that we can examine how home prices have risen and fallen through the years.
History Of US Home Prices
This graph plots 80 years of the average home price in the US.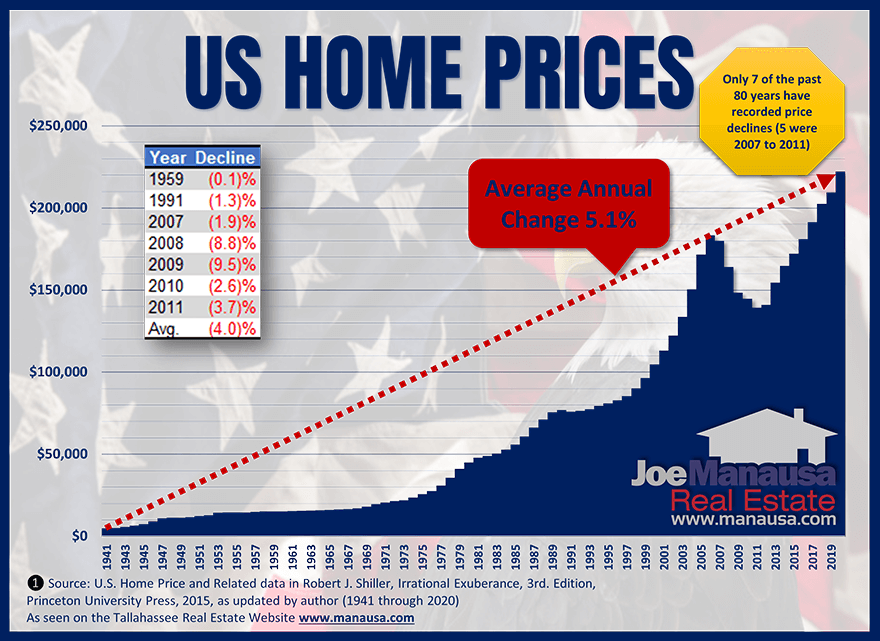 The average price of homes sold in the US has risen 5.1% annually over the past eighty years. As you can see by studying the blue bars in the graph, it has not been a straight climb like the red arrow shows, rather we have seen some ups and downs over time.
In the past 80 years, average home prices have risen in 73 years while declining in just 7 years. In fact, five of the seven declining years were from 2007 through 2011, the result of many causes including significant over-building by us Home Builders.
This graph is very revealing. On average, home prices drop just one year out of every eleven, but in reality, we've seen just three periods where prices have dropped over the past eighty years. Two of the three periods were relatively insignificant (0.1% and 1.3% in singular, stand-alone years), but five of the seven were very significant and impactful.
From 1942 through 2006 (a 64-year span), home prices fell just twice, once for 1/10th of a percent, and once at 1.3%. Take that in. 62 years saw the average home price grow while just two years showed it decline.
History tells us that as a general rule, the average home price is going to rise. If we had social media from 1942 through 2006, how many "YouTube Experts" would have wrongfully called for falling home prices?
So instead of relying on the fear-mongers that get a lot of attention with their shocking headlines, whether it be about runaway prices or plummeting prices, let's evaluate current market conditions and the variables that will ultimately decide where home prices are heading.
Video Tips For Homebuyers
Supply And Demand Determine Price Changes
In all markets, from houses to pork bellies, the supply and demand relationship determines price movement. If you want a quick assessment of where prices are heading for the near future, a quick look at the supply and demand numbers will tell you what you want to know.
The following table shows the relative supply of homes for sale in Tallahassee, and it is similar to what you would find in most US housing markets, though there might be differences at higher price points. The numbers recorded are measured in "months of supply."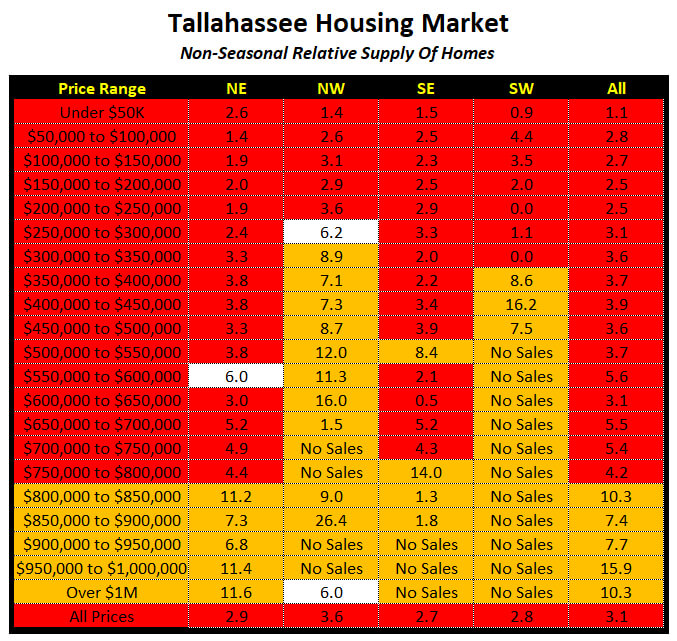 The magic number that we're looking for in the table is 6.0, which is typically regarded as a balanced market. Anything below 6 months of supply of homes is heading towards a sellers' market, and anything above 6 is heading towards a buyers' market.
The red-shaded areas and price ranges are all showing sellers' market conditions, and the bottom line for all areas of Leon County is fully shaded red, thus revealing a very strong sellers' market. This means that we expect to see home prices rise for the foreseeable future in Tallahassee (and in most other US markets too).
Market conditions won't turn around overnight, we can see it coming when these numbers start to move in opposite directions. In order to forecast those future moves, then we really must study the variables that impact both the supply and the demand for housing.
These would include population growth, mortgage interest rates, inflation, wage growth, construction costs, mortality rates, foreclosures and distressed homes, and several others though these are the ones most likely to have a significant impact on the housing market.
I have written on each of these on multiple occasions in the past few months, so I will summarize those articles (here is a reading list if you'd like more details) with the following:
Homebuilders have failed to deliver homes that our growing population needs (due to many reasons like the rising cost of land and materials and labor), creating a shortage of homes for sale. This shortage has created pricing pressures. Declining mortgage interest rates have increased demand further exacerbating the supply shortage, causing a run on homes and double-digit appreciation rates. This demand will not likely cool much until mortgage interest rates rise.
Unlike 2005 when the market was rocketing forward, the supply in today's market comes from buyers moving up, over, or around. Were interest rates to spike higher killing demand, it would have a similar result in the supply, because new construction has not been a great factor. A cooling market is not going to leave us with a devastating supply imbalance that needs ten years to be consumed as we saw in 2007.
For readers who want to ask "what about foreclosures and homes in forbearance, I have covered that in numerous articles and videos. I recommend you start with Will Distressed Properties Begin To Dominate The Housing Market Again?.
My Concern For The US Housing Market
Unlike many people who provide regular written and video opinions on the US housing market, I have little concern about a bubble or falling prices in the near future. Most signs point in a different direction.
But I do have a huge concern for what I believe will be a generational change in the housing market. Affordability. Inflation.
Our population has grown and we need more homes. The new homes are costing significantly more than did the old homes. If you think that future construction costs will be lower than pre-COVID construction costs, you are among the minority (though there are some COVID-related spikes that will come back down towards pre-COVID prices).
In a future of higher prices and higher mortgage interest rates, I see a soaring home affordability concern that only wage inflation will be able to address. Right now, we are seeing huge wage inflation at the bottom of the pay scale (by voter mandate in Florida and many other states), but we'll need to see that surge throughout the other pay scale ranges before it begins to aid in the (lack of) affordability of homes.
Right now, home affordability is excellent. Only 5 of the past 30 years have been better. But when rates start to climb as a result of the Fed combatting inflation, home affordability will quickly fall to the "worst year on record." This is my greatest concern for the housing market.
Don't expect home prices to come down, rather expect to see demand plummet and the overall market will see the homeownership rate decline. Many families will simply not be able to afford a home of their own and those who today would be starter-home owners tomorrow will be tenants.
Buy Now Or Wait?
All of the housing market variables point to rising prices. Most of the economic variables seem to point to economic recovery, and thus we should have an expectation of rising mortgage interest rates when the Fed raises the federal funds rate.
Somebody contemplating buying a home should recognize that tomorrow's prices will be higher than today's prices, and he will be borrowing the money for the home at a higher mortgage interest rate than what he would have to pay today.
Buy a home now. Get as much home as you feel comfortable with because it's likely you won't' be able to afford to move up in the future. Lock in your purchase with a 30-year, fixed-rate mortgage loan. We are heading towards a time of high inflation, one great hedge is to own assets that will inflate faster than your cash.
Your Local Expert In Tallahassee
When moving to, in, or from Tallahassee, you will fare better if you work with a local expert. We are here to help. If you have further questions on the Tallahassee real estate market, you can leave a comment below, give us a call at (850) 366-8917, or drop us a note and we'll give you the local information needed to ensure a successful, smooth transaction.
As a local born and raised in Tallahassee with a focus on customer service, I promise you'll find great success when working with Joe Manausa Real Estate, just as have our past customers. You can read thousands of their reviews reported on Google, Facebook and Zillow right here: Real Estate Agent Reviews Tallahassee.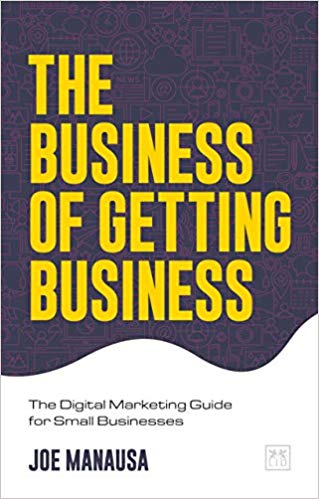 Have you heard about my new book "The Business of Getting Business?" It's a comprehensive guide for small businesses to help them make the move to digital. For those of us who want to survive and thrive in a world where large corporations are taking over, it is a must-read. It's also the perfect guide for how to sell a home in the digital age. You can find The Business Of Getting Business by clicking on any of the trusted retailers below.

Think all REALTORS are alike?
Read what people are saying about working with Joe Manausa Real Estate! You can see thousands of real customer reviews reported on Google, Facebook and Zillow at this link: CLICK HERE FOR REAL ESTATE AGENT REVIEWS.