Outrageous Smoked Turkey On Thanksgiving Day
Posted by Joe Manausa on Thursday, November 28, 2019 at 5:57 AM
By Joe Manausa / November 28, 2019
Comment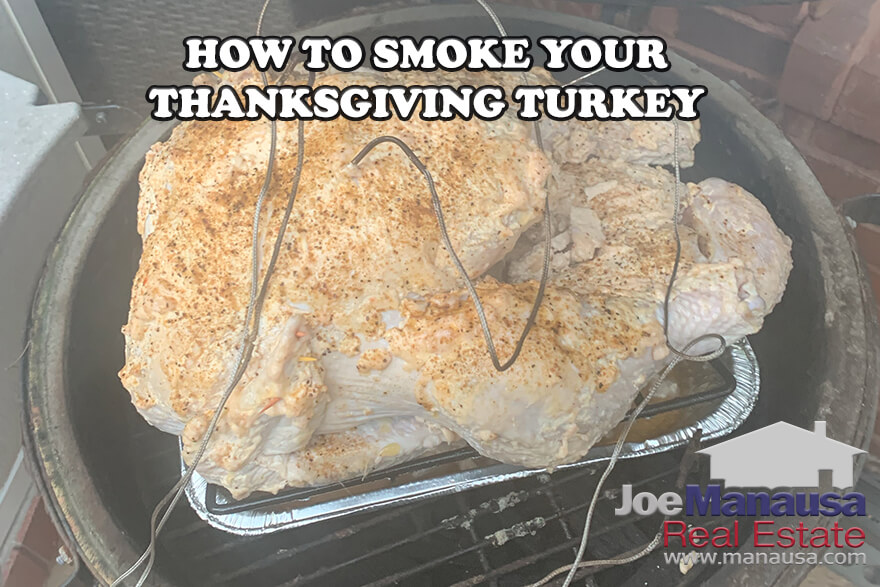 Happy Thanksgiving Day Tallahassee!
I'm often asked why I freely give away so much information about the Tallahassee real estate market, and my answer is always the same. "There are people who want to know."
So in the spirit of giving, I have decided to share my recipe that annually produces the best turkey at the extended Manausa family feast. I'm sure this will please my youngest brother Bo who continually delivers the second-best bird (in a two-bird race).
Smoked Turkey Recipe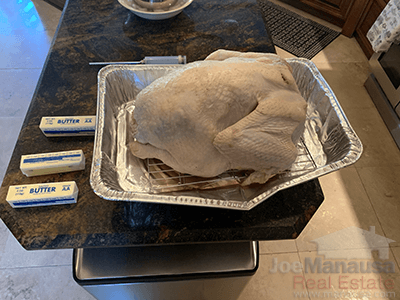 If you follow my recipe, smoking a turkey is a three-step process that is fairly simple to do, but it takes a good bit of time (6 hours or more of smoking) and organization to complete. This year, we're smoking a 22 lb. Turkey so I expect it to smoke for more than 10 hours. Here are the three steps:
Brining: If you like moist turkey, brining it offers some insurance. During a brine, the turkey absorbs extra moisture, salt, and seasoning, and all of this serves to make the turkey more tender and tasty.
Slathering: I searched long and far to find the word "slather" (verb: to spread or apply thickly) to properly define the second stage of smoking a turkey. While many people use a rub on their turkey, my recipe is far more involved and only "slather" properly communicates what it entails. It is during this stage that any last signs of the turkey representing a low-fat, white meat protein source are crushed.
Smoking: Low and slow is the only way to go. LONGER is better for producing a turkey that is so moist and tender that it falls off the bone. For this reason, the turkey spends much of Thanksgiving day on the smoker. A 20+ pound bird could take more than 10 hours on the smoker, so plan your time accordingly.
Subscribe to Joe's Blog
Join 1000's of other subscribers that receive updates each day that we publish a new article. Filled with homes for sale, neighborhood analyses, and all the information home sellers and buyers need to make an informed decision. Just tell us who you are and where you'd like us to send new updates.
Brining A Thanksgiving Turkey
I like to brine the turkey for a day or two for the reasons mentioned above. In order to do this, you either need to have room in the refrigerator to store it for a few days, or you need to prepare a cooler with ice so that no warm-harm comes to the bird before cooking.
There are three key ingredients in brine, the rest are optional and I regularly just wing-those on game day. Those three ingredients include water (not fruit juice), salt, and sugar. Here is my brine recipe for 2019:
In a large turkey bag, bucket, or container large enough to hold your turkey, mix together the water, salt, garlic, pepper, Worcestershire sauce, and brown sugar. Store in a refrigerator, and soak turkey for 2 days before smoking.
2 gallons of water
1.5 cups canning salt
3 tablespoons minced garlic
1 tablespoon ground black pepper
1 tablespoon ground tabasco pepper (from my garden)
1 large onion
¼ cup Worcestershire sauce
1/3 cup brown sugar
Slathering A Thanksgiving Turkey
The act of slathering your Thanksgiving Turkey is one of pure love. It prepares the bird for its fate upon the smoker and ensures that you and your guests will enjoy the best bird you have ever tasted.
The secret to proper slathering rests not only in the recipe but also in the application of the slather. Slather is not something you merely do to the OUTSIDE of the turkey, rather slathering involves injecting and rubbing on the INSIDE of the turkey.
I do not stuff a turkey that is going to be smoked, as I believe the smoke needs access both inside and out. The slathering of a turkey requires two stages, injection, and hands-on rubbing.
Injecting A Turkey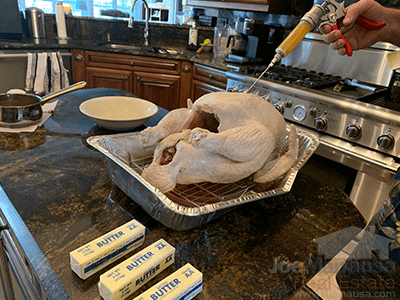 Fry up a pound of bacon over medium heat and remove the bacon once most of the fat has been rendered (it's the fat that we want for the injection). Reduce the heat to low. Add one stick of butter (not margarine, butter), two crushed cloves of garlic, a pinch of red pepper, a pinch of black pepper, a pinch of tobasco pepper and cook for about a minute to cook the garlic.
Strain the mixture to a bowl or container that will facilitate the loading of the injector. The mixture needs to cool prior to injection, so pay close attention to ensure it does not solidify. I often put it in the freezer and mix frequently to get it ready for injection quickly. Do not inject the turkey until it has cooled!
Inject the turkey everywhere. There is enough of this oil to inject every corner of the bird, and we want it to ooze when it is smoking. When in doubt, inject. And then inject once more. When you are sure you have saturated the bird (pardon the pun), it's time for the rub.
Rubbing A Turkey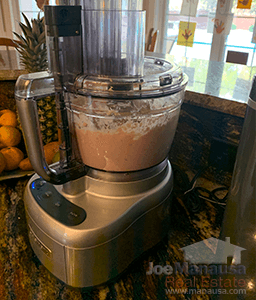 Rub the turkey with bacon butter - Using a sharp knife or kitchen shears, cut an uncooked pound of bacon into small pieces and place them into a food processor. Add several cloves of garlic and two sticks of room-temperature butter (not margarine, butter), and a sprinkling of pepper.
Run the food processor for several minutes, attempting to reduce the bacon and butter to a fluffy concoction of pure joy. You will be tempted to lick your fingers, but remember the bacon has not been cooked. It is important to give it plenty of time, as you do not want shreds of bacon to appear after smoking.
Remove the bacon butter from the processor and rub it inside and outside of the turkey. Starting at the neck end of the turkey, slide your hand between the skin and breast meat to loosen the skin and then rub the bacon button all over the breast meat. Do the same from the opposite end of the turkey, getting the bacon butter under the skin of the legs and thighs as well. Once you have rubbed the bacon butter under the skin, start again but now rubbing it over the skin. Your turkey will thank you.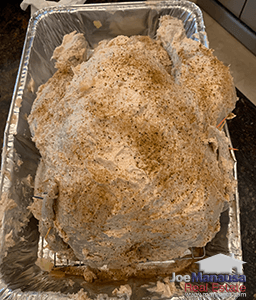 When you have completed the slather, the turkey will look like it is covered with icing. It is a sight to behold, and likely will bring tears of joy to your eyes, knowing how well the bacon butter will treat your bird. There is just one small step remaining before you put your Thanksgiving turkey on the smoker.
Sprinkle your favorite seasoning on top of the bacon buttered bird (something like Tony Chachere's Creole Seasoning is perfect if you do not make one of your own) and then use toothpicks to ensure the wings stay tight to the body (otherwise they cook way too fast).
Smoking A Thanksgiving Turkey
Pre-heat your smoker to the desired cooking temperature of 235℉ or 250℉.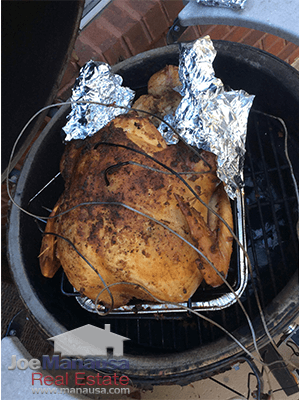 I used a drip pan underneath with two cans of beer underneath the bird in a rack to start. The pan removes drippings away from the firebox, helps the turkey maintain moisture, and it also allows you to make gravy with the drippings.
A turkey over 20 pounds will take a long time to cook. During this time, bacteria might gain an upper hand and spoil your bird. I would suggest that if the turkey weighs over 15 pounds, that you cook it at 250 F.
At 235 F/115 C, your turkey will take 30 to 35 minutes per pound
At 250 F/120 C, your turkey will take 25 to 30 minutes per pound
Place the bird, breast-side up, on the smoker, and use temperature probes if you have them. You'll want to be alert to the wings and breasts cooking too fast. If they begin to race ahead of the thighs, cover them with pieces of foil.
Cook to internal 160° breast, 170° thigh. I do not recommend that you open the smoker to check the turkey very often, especially if you have internal temperature probes that will keep you informed of the progress being made.
Let the turkey rest, covered in Aluminum foil for at least 30 minutes before carving. Carve and enjoy.
If you choose to smoke a turkey in this manner, please let us know how it goes. You can give us a call at (850) 366-8917 or drop us a note and let us know if this is not the best turkey you have ever had!
Of course, we would love to help you during your next move. As a local born and raised in Tallahassee with a focus on customer service, I promise you'll find great success when working with Joe Manausa Real Estate, just as have our past customers. You can thousands of their reviews reported on Google, Facebook and Zillow right here: Real Estate Agent Reviews Tallahassee.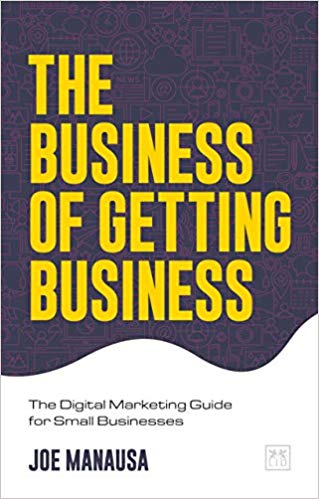 Have you heard about my new book "The Business of Getting Business?" It's a comprehensive guide for small businesses to help them make the move to digital. For those of us who want to survive and thrive in a world where large corporations are taking over, it is a must-read.
You can find it on Amazon (It will be published in Feb 2020, reserve your copy today at a pre-published rate).