Tallahassee Housing Market Health Report September 2019
Posted by Joe Manausa on Monday, September 9, 2019 at 5:52 AM
By Joe Manausa / September 9, 2019
Comment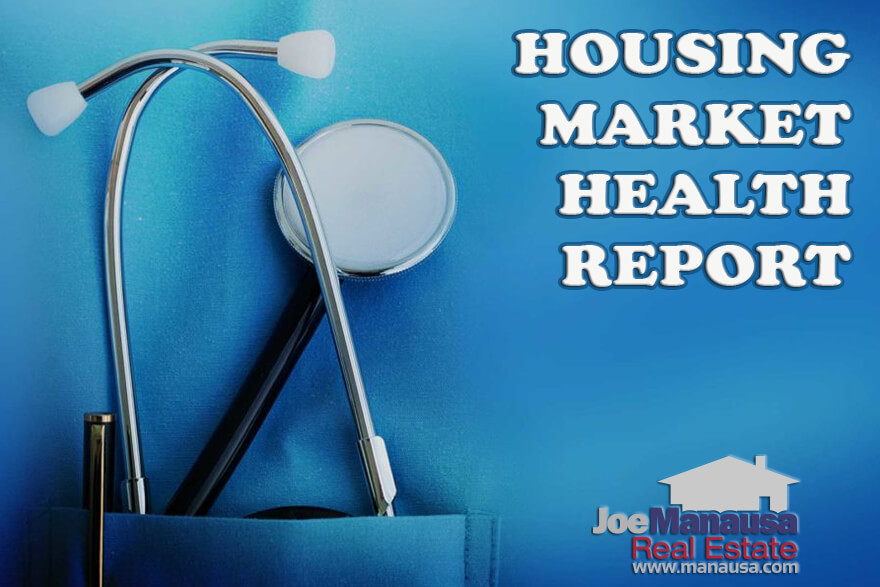 If you are a subscriber to our free real estate market reports, then you know that home sales are slowing down this year when compared to 2018. In fact, our recent newsletters have generated many questions from readers, and most can all be boiled down to this: "Just how healthy is the Tallahassee real estate market?"
Today's report evaluates our housing market with three critical indicators, including distressed home sales, new foreclosures, and then closes with a review of mortgage interest rates.
Year To Date Home Sales
Our first graph confirms our opening statement; the housing market is indeed slowing down.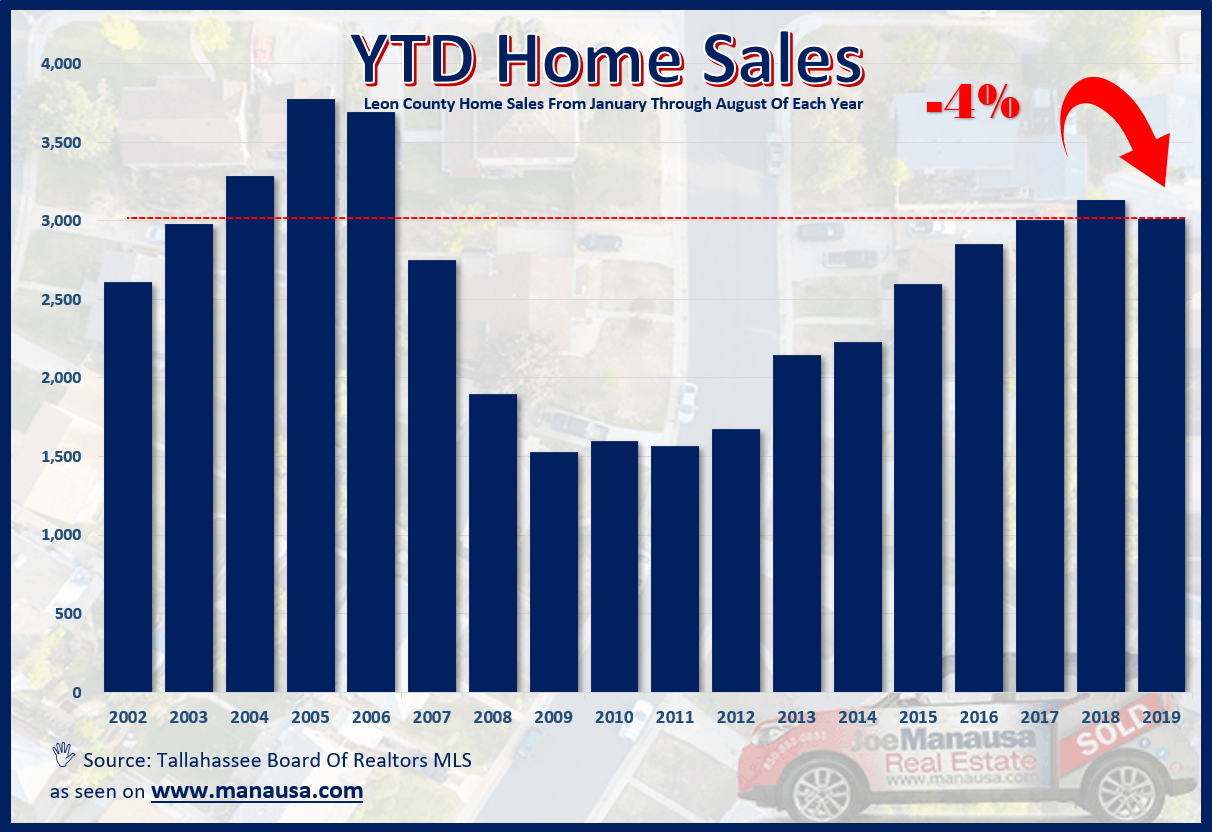 Yes, the number of home sales has fallen about 4% from last year, but the number of homes sold still qualifies as the 5th best year on record over the past 18 years! I would not be too quick to cry about a collapsing market, but it is prudent to keep our eye on this to see if the declining trend continues.
There are other factors that we can monitor too that will likely give us a signal that the Tallahassee real estate market is turning for the worse.
Distressed Versus Arms-Length Home Sellers
One way to see problems creeping up on the Tallahassee real estate market is to track distressed home sales continually. Our graph below shows the active listings in the Tallahassee MLS segmented by type (arms-length versus distressed).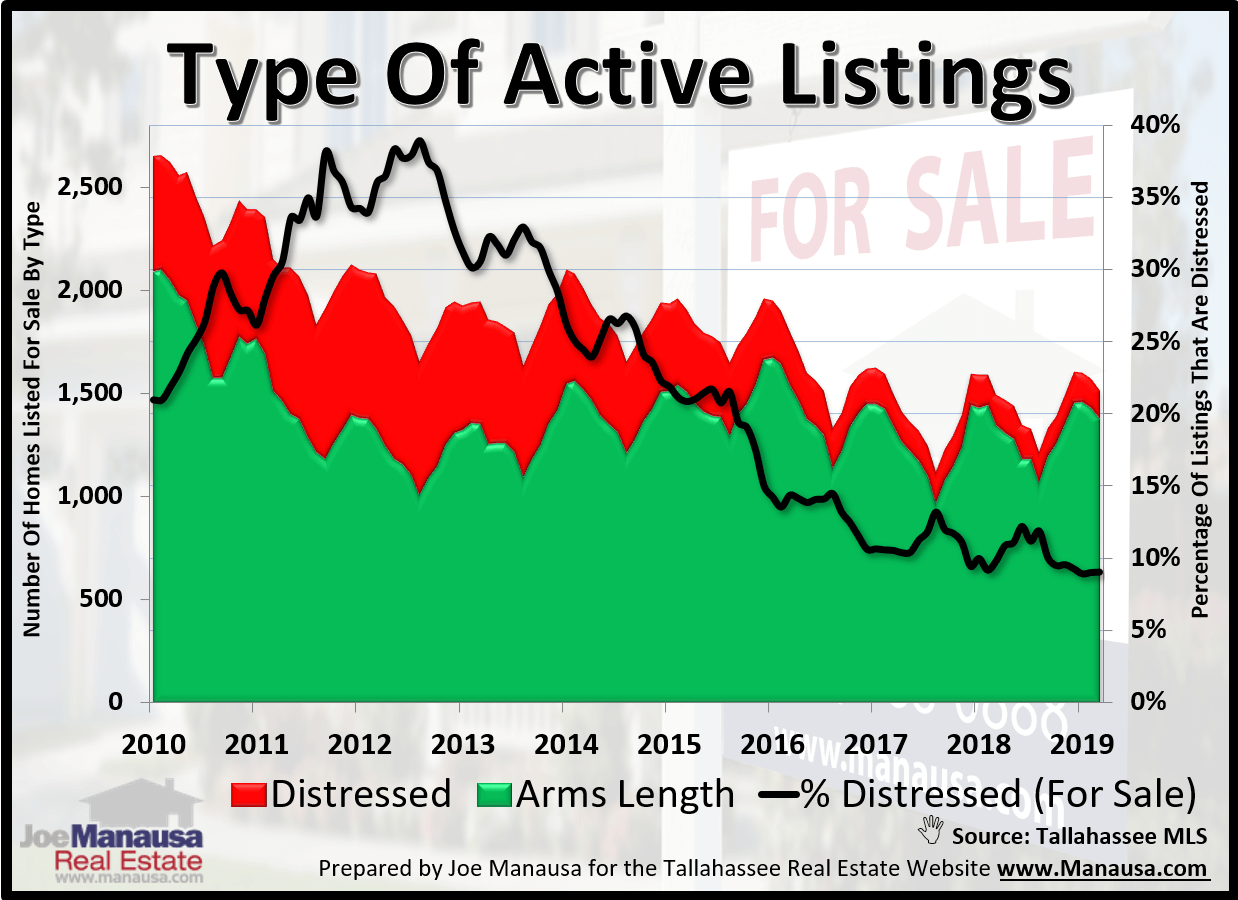 In the graph above, the number of distressed listings is shown in green, while the number of arms-length listings is shown in red. The black line measures the ratio of distressed homes in the market, and we can see it remains a declining trend. The declining trend is a positive sign of the market getting healthier. Currently, 9% of all listings are distressed while 91% are healthy arms-length home sellers.
Two Important Distressed Home Ratios
Another view of how distressed properties are impacting the Tallahassee real estate market is shown below. We call this graph the "Market Health Report" and is compares distressed activities to home sales.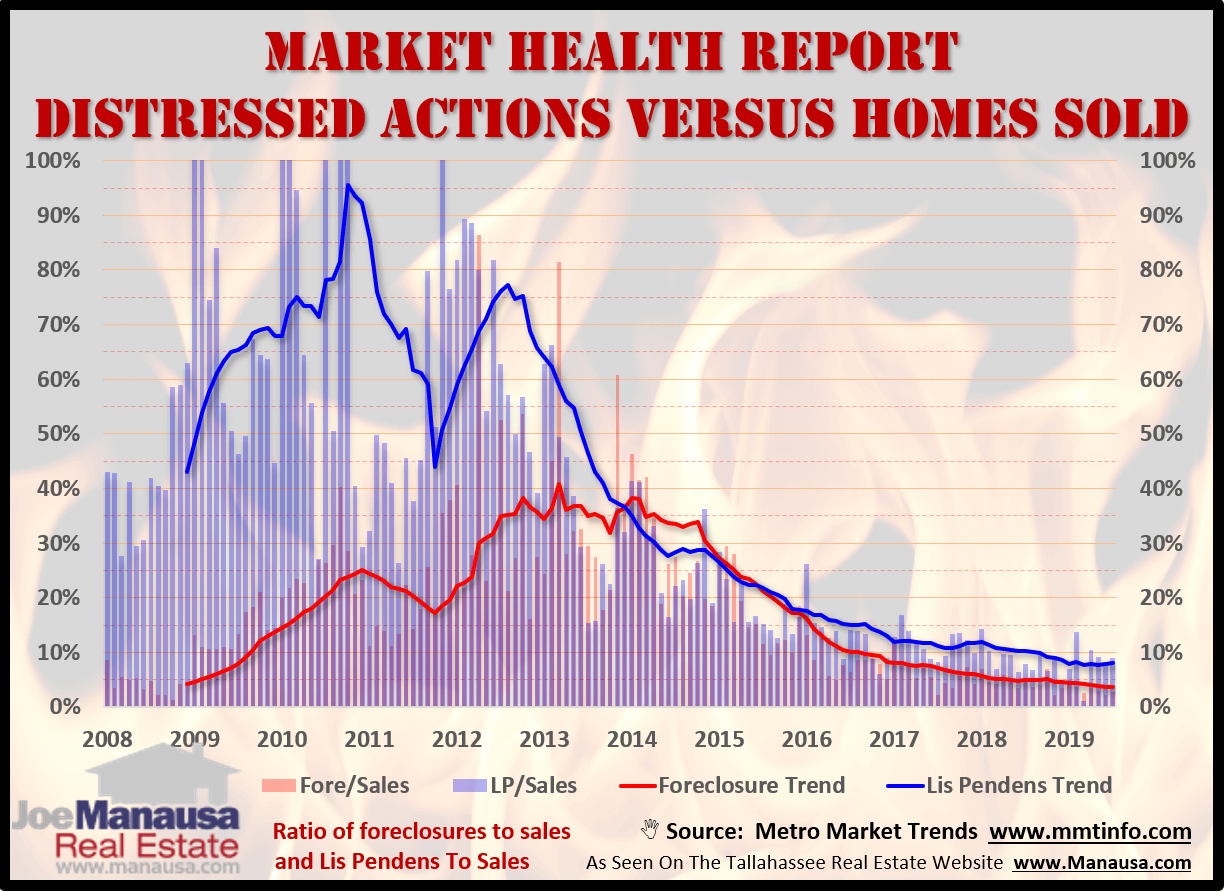 The graph above measures both new lis pendens filings (the start of the foreclosure process) as well as foreclosure sales (when homes are taken from the distressed homeowner by a lender). Both are important, but so too is the relationship between the two, as we will discuss below.
Overall, both the new filings and the foreclosure sales have come down substantially since the collapse of the Tallahassee housing market. The worst point in this graph can be seen at the end of 2010 when 96 lis pendens were filed for every 100 home sales!
From 2013 through 2014, as many as 40 of every 100 home sales were foreclosures. Those were tough times to be sure.
Today, 4 of every 100 home sales is a foreclosure while a lis pendens is filed for roughly 8 of every 100 home sales. As the market continues to gain more equity (because home values are rising), we will continue to see alternatives other than a foreclosure sale when homeowners get in trouble. Right now it appears one-half of distressed sellers can do something to avoid foreclosure.
We've seen the market fall from 96 lis pendens per 100 sales to just 8. Such a decline is a very healthy sign that fewer people are in trouble and is something we'll keep a close eye on in the future.
Keep Up With New Trends In Tallahassee!
Get The Tallahassee Real Estate Newsletter
Don't be the one that doesn't know what's going on when you sell a home or buy a home in Tallahassee.
Other buyers, sellers, lenders, and real estate agents have this critical information, and now you can too!
Get immediate access to our most recent newsletter.
Let nearly 30 years of experience work for you with charts, graphs, and analysis
of the Tallahassee housing market.
Historical Mortgage Interest Rates
Perhaps the most significant non-local factor in the health of the Tallahassee real estate market is the availability of cheap money. As you can see in the graph below, current mortgage interest rates are very near a 50+ year low.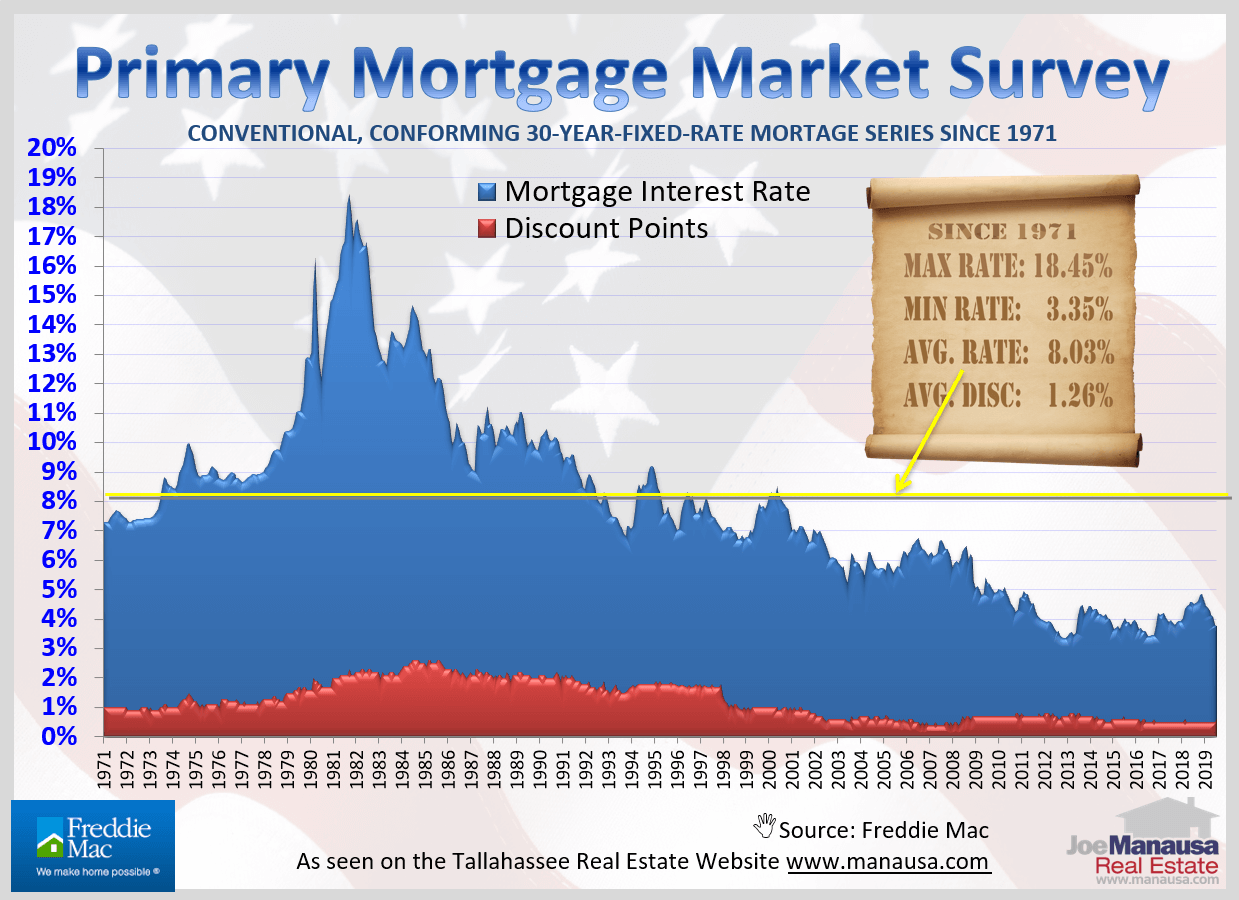 Mortgage interest rates continue to decline, making it more affordable to buy and own a home. Today's rate is less than 1/2 of the average rate recorded for the past 50 years, making today a great time to buy a home or refinance an existing mortgage.
The housing market is slowing down right now, but the health factors that we have reviewed suggest that things are beautiful right now. The number of distressed properties for sale continues to decline, new foreclosure filings are falling, and mortgage interest rates remain below 50% of the historical "normal" rate. Right now, these are all signs of a healthy Tallahassee real estate market.
I hope our Tallahassee Housing Market Health Report has given you the information for which you were looking. If not, you can give us a call at (850) 366-8917 or drop us a note, and we'll help you with your specific Tallahassee real estate needs.
As a locally born and raised Realtor in Tallahassee with a focus on customer service, I promise you'll find great success when working with Joe Manausa Real Estate, just as have our past customers. You can find thousands of their reviews reported on Google, Facebook, and Zillow right here: Real Estate Agent Reviews Tallahassee.
Noto Recommends You Read Joe's Book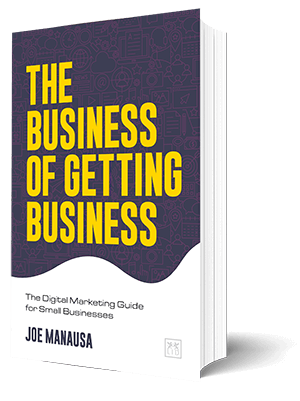 "Location, location, location' is no longer a competitive advantage. Digital marketing and going direct to consumer have made all geographical boundaries obsolete. The Business of Getting Business is a must-read modern-day survival guide for any local business to get to the next decade. Local businesses are on death ground.
They can either take a stand and re-invent themselves by embracing the digital frontier and have a chance to survive the overwhelming odds of digital direct-to-consumer capabilities that have erased all local and national business distinctions, or they can choose business as usual and accept certain death.
The Business of Getting Business is the critical survival guide for those that choose to dig in and fight."
– Anthony Noto, CEO, SoFi and former COO, Twitter
Get the book that explains it all, in a manner that is understanding to all, even technology neophytes. It's available on Amazon, a trusted source for consumers.