Current State Of Supply And Demand For Homes In Tallahassee October 2016
Posted by Joe Manausa on Wednesday, October 12, 2016 at 8:41 AM
By Joe Manausa / October 12, 2016
Comment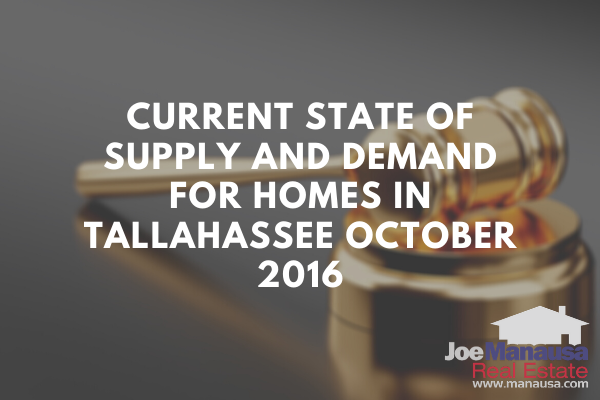 We have been producing supply and demand reports and publishing them on the Tallahassee Real Estate Blog since 2007.
What used to be dire and dark news for homeowners is now good news as the housing market recovery is cruising along.
Today we'll take a look at the current state of the supply and demand for housing in Tallahassee, and use it to forecast the immediate future for home sales.
Supply And Demand For Homes In Tallahassee
In order to prepare a study of the supply and demand for homes, we monitor certain trends in the Tallahassee real estate market.
We look at the current number of homes for sale as this is the supply in the market. We look at the one-year trend of the number of homes for sale, as it allows us to remove the seasonal factors that impact the market throughout the year.
We look at home sales the same way, both the current number of homes sold as well as the one-year trend of monthly home sales.
We then divide the listing trend into the sales trend to determine the "relative" supply of homes (the number of homes for sale relative to the measured rate of demand). This relative supply is report as "months of supply" and we're looking for a number very close to 6.0 months of supply, as that has historically reflected a balanced market (the right amount of homes for sale based upon the current number of buyers in the market).
The following graph contains all this information, and gives us a very accurate picture of the overall supply and demand for homes in Tallahassee right now.
In the graph above, the number of listings each month (red line) and the number of homes sold each month (green line) are shown and reported on the right vertical axis.
The blue columns, measured on the left vertical axis, report the relative supply of homes each month. You can see the seasonal effects in the peaks and values of those blue columns as they move from left to right.
Finally, we remove the impact of seasonality by running the one-year trend of relative supply (blue line, also measured on the left vertical axis) and we can see that in 2009 we were dealing with 14 months of supply (severe buyer's market) and have moved all the way through market equilibrium and are heading towards a seller's market. The current relative supply trend sits at 5.6 months of supply.
What This Supply And Demand Graph Tells Us
My takeaways from this graph include:
The real supply of homes for sale in Tallahassee continues to fall - Fresh new home sellers are entering the market at a sluggish rate right now. I believe this is primarily the result of a significant segment of the market being trapped (sellers who still owe more on their homes than the homes are worth). As home values continue to rise, more and more of these homeowners will return to equity positions and be able to enter the market.
The number of people buying homes in Tallahassee continues to rise - The number of buyers in the market is still lower than what we saw from 2002 through 2007, and yet we now have a larger population than we did back then. Some of the surge market is not going to return, as it was speculative buying from novice real estate investors. But demand should return to historical norms, adjusted to our larger population size, and that means there should continue to be growth in demand for homes in Tallahassee.
The relative supply of homes for sale in Tallahassee continues to fall - At 5.6 months of supply, home sellers are enjoying the best market they've seen since 2007. In other words, if you want to sell your home, you can. And you should expect to sell it fairly quickly. If you enter the market and don't get sold within the first few weeks, you are doing something wrong.
What We Should Expect Moving Forward
First of all, I expect the market to continue strengthening. The number of buyers will continue to rise and homes will go up in value.
Within Tallahassee, we will see demand shift away from Northeast Tallahassee. This is where roughly one half of all home sales occur, and we're going to start seeing a trend reversal at some point. This shift will be fairly small, but it will be one that has very positive consequences for homeowners on the west side of town.
Inexpensive homes on the west side of town will eventually start to pull some buyers from the NE. Will it be next year? ... yes, as this has actually started to happen. 52% of all sales in 2015 were in the NE, while that number has dropped to 50% thus far in 2016.
We will have to monitor the new construction market closely to see how it will impact the mid to upper end price ranges. With the cost of building a home moving higher (as well as heightened local fees and land costs), expect to start seeing the surrounding communities pull buyers away (South Georgia and Wakulla County are two prime examples). Leadership in Leon County thinks they can solve all of our fiscal issues by tacking on fees to homebuilders, but this will backfire for us and to the benefit of surrounding counties.
Move-up buyers should be in a hurry to lock-in mortgage interest rates. Some buyers are missing the boat on this. Here's why: Let's say you own a $200,000 home and want to buy a $300,000 home. And let's say you want to get every penny out of your home but nobody has made you an offer. Should you remain at $200,000, or drop your price to get it sold?
The reality is you need to drop your price. Why? Because holding on to your price will cause your home to not sell until the market catches up to you. So you wait six months and your home finally sells. Did you win? Not likely. The $300,000 house you want to buy is also going up in value. Assuming they appreciated at the same rate, your new house will have increased in price 50% more than you existing home.
Of course, the opposite could very well be true if you are moving-down. It might make sense to hang on to your bigger home until the market catches up, as the smaller home you will move to will appreciate fewer dollars than the one you have now.
These are the types of issues you should discuss with your real estate professional before deciding to enter the market.
Do you have a question relating to housing supply and demand in Tallahassee? Simply drop me a note and we'll get you a response as soon as humanly possible.
Please Do Us A Small Favor
We work very hard to produce daily content for our long-time readers and first-time visitors. We provide this information for free, hoping to earn your respect and trust and the right to one-day help you when selling or buying a home. Can we get your help spreading the word about our blog?
If you like the content, would you please like it or share it using the Facebook button at the beginning of the post? This simple action will be greatly appreciated! THANK YOU!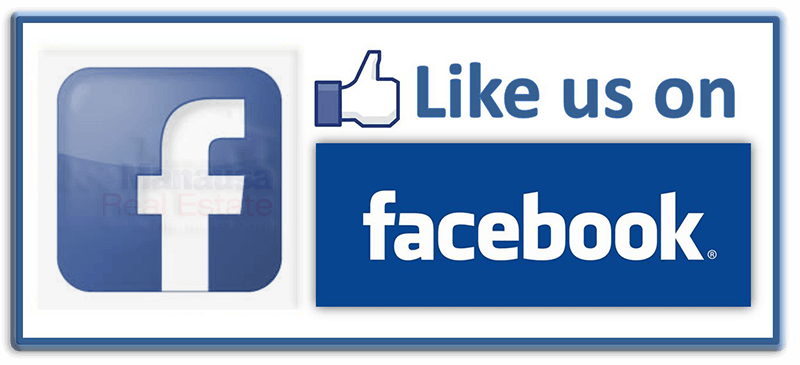 Also like us on Facebook at https://www.facebook.com/joemanausarealestate/
Your Local Expert In Tallahassee
When moving to, in, or from Tallahassee, you will fare better if you work with a local expert. We are here to help. If you have further questions on the Tallahassee real estate market, you can leave a comment below, give us a call at (850) 366-8917, or drop us a note and we'll give you the local information needed to ensure a successful, smooth transaction.
As a local born and raised in Tallahassee with a focus on customer service, I promise you'll find great success when working with Joe Manausa Real Estate, just as have our past customers. You can read thousands of their reviews reported on Google, Facebook and Zillow right here: Real Estate Agent Reviews Tallahassee.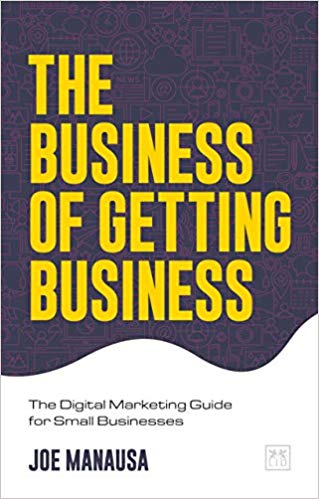 Have you heard about my new book "The Business of Getting Business?" It's a comprehensive guide for small businesses to help them make the move to digital. For those of us who want to survive and thrive in a world where large corporations are taking over, it is a must-read. It's also the perfect guide for how to sell a home in the digital age. You can find The Business Of Getting Business from each of the trusted retailers below.

Think all REALTORS are alike?
Read what people are saying about working with Joe Manausa Real Estate! You can see thousands of real customer reviews reported on Google, Facebook and Zillow at this link: CLICK HERE FOR REAL ESTATE AGENT REVIEWS.