Should You Buy Student Housing For Your College-Bound Child?
Posted by Joe Manausa on Monday, August 14, 2023 at 6:00 AM
By Joe Manausa / August 14, 2023
Comment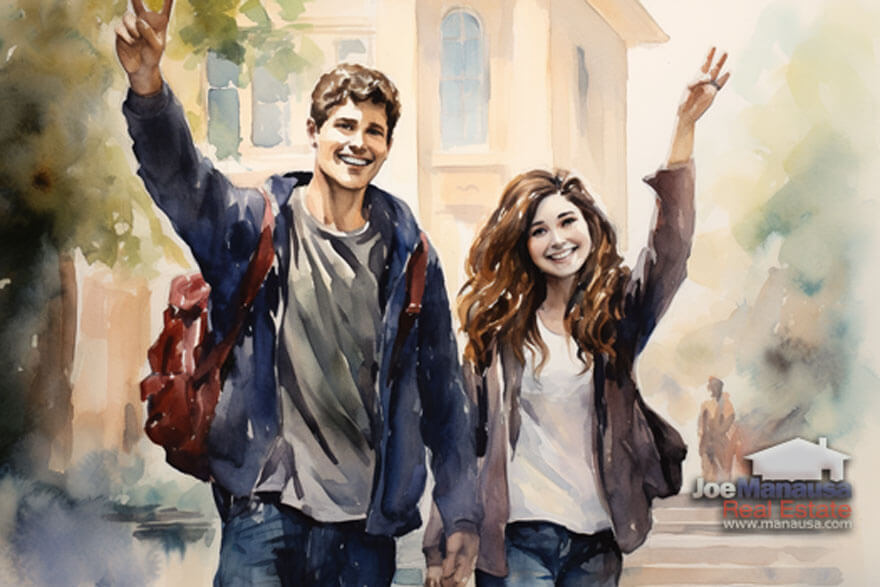 Is turning your college student into a homeowner a wise investment or a financial faux pas?
The debate is as heated as a late-night cram session during finals week. As rental rates near campuses continue to skyrocket, parents are looking for creative ways to offset costs—and buying a house for their college-bound child is one option that's making the grade for some.
But this move isn't just about trading off-campus rental fees for a mortgage; it can be a complex decision with significant financial implications and life-altering lessons.
Read on as we delve into the six compelling reasons why turning your student into a homeowner might be the smartest decision you'll make this academic year—and the four cautionary tales that might have you rethinking this collegiate real estate strategy.
Homes To Consider For Student Housing Purchase
The following list of homes is provided as an example of what you might find around the Florida State, Florida A&M, and Tallahassee Community College campuses.
6 Reasons To Buy A Home For Student Housing
Purchasing a home for a child to use while in college can be driven by various factors. Here are six common reasons I have heard from parents over the past thirty-two years:
Cost Efficiency: Depending on the housing market and the cost of dormitory or off-campus rental housing, purchasing a home may be more cost-effective in the long run. This can be particularly true in college towns where rental prices are often high. Since Wall Street took over student housing twenty years ago, the cost per room for students to rent is through the roof. Also, one should consult with their accountant about the significant tax savings that are generated through owning a home. Without making taxation the subject of this article, consider this: When you spend $1000 monthly on your child's rent, you cannot write it off. But if you "lose" $1000 per month owning an investment home, you can write that off!
Investment Opportunity: Buying property is an investment that typically appreciates over time. Parents might see buying a house as a good investment opportunity, with the bonus that their child can live there while attending school. They can sell or rent it out once the child has graduated.
Control over Living Environment: By owning the property, parents can have more control over their child's living conditions, ensuring it is safe, well-maintained, and conducive to studying. This is especially helpful in schools where on-campus living is limited and typically serves the incoming freshman.
Income Generation: If the house has extra rooms, they can be rented out to other students, generating income that can be used to offset the cost of the mortgage, taxes, maintenance, and other expenses. Try to stick to homes with four or more bedrooms so that your child can generate positive cash flow from the property.
Building Credit and Learning Responsibility: If parents co-sign the mortgage with their child, it can help the child build credit. It also provides a valuable opportunity to learn about the responsibilities of owning a property and managing resources.
Graduate Housing or Future Use: If the child plans to attend graduate school in the same area or work there after graduation, having a house available could save on future housing costs. In addition, siblings or other family members could also use the house in the future.
However, it's worth noting that purchasing a home for student housing has potential drawbacks. The housing market can be unpredictable, and homeownership has numerous responsibilities and costs. Parents should consider all the variables, including their financial situation, the housing market in the college town, and their child's level of maturity and responsibility before making such a decision.
4 Reasons Not To Buy A Home For Student Housing
While buying a home for a child in college can have benefits, there are several potential drawbacks and risks to consider. Here are four reasons why parents might decide not to pursue this option:
Financial Risk: Homeownership is a significant financial commitment. There are upfront costs such as the down payment and closing costs, ongoing costs like mortgage payments, property taxes, home insurance, and unexpected costs from maintenance and repairs. If there's a downturn in the real estate market, you might owe more than the house is worth. While the historically-low supply of homes for sale makes this a very slight risk in 2023, it was a large risk in 2007. To reduce financial risks, ensure that you discuss the overall supply and demand dynamic for homes in the college town where your child will attend.
Responsibility: Owning a home comes with many responsibilities, from maintenance and repairs to dealing with insurance and taxes. A college student may not have the time, skills, or inclination to handle these tasks, and managing them remotely can be difficult and time-consuming for parents if the student is not mature enough to handle the situation. One could argue that "responsibility" could be moved to a "reason for" purchasing a student housing property.
Limited Flexibility: Buying a house locks you into a particular location. If your child decides to transfer schools, study abroad, or move for any reason, you're left with a property in a location that may no longer be convenient. For this reason, I typically advise parents to house their children in the dorms their freshman year; that way, they get a lay of the land before deciding on a location for purchase.
Potential for Distraction: Owning a home, especially if it involves being a landlord to other students, can be a significant distraction from academic and social experiences. Your child might have to deal with issues like collecting rent, handling repairs, or resolving disputes when they should be focusing on their studies. Again, one could see these as reasons for buying student housing, help the child grow up, and be ready for life after school.
It's important to look at both sides of the coin. While buying a property for a child to live in during college has its potential advantages, it's not a decision to be taken lightly. It's important to weigh all the potential risks and benefits and to consider your family's financial situation and your child's plans and responsibilities.
Get Our Free Market Update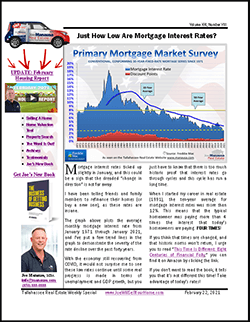 Other buyers, sellers, lenders, and real estate agents have this critical information, and now you can too!
Get immediate access to our most recent newsletter.
Let more than 30 years of experience work for you with charts, graphs, and analysis of the Tallahassee housing market.
Each Monday morning we send out a simple, one-page report that provides a snapshot of the Tallahassee housing market. It only takes 2 minutes to read, but it gives you better market intelligence than most real estate agents possess. Just tell us where to send it below!
What is the Best Next Step?
In the complex real estate and college financing world, purchasing a home for your student-child can offer an intriguing blend of investment, cost savings, and life lessons. However, as we've also seen, it's a path laden with potential pitfalls and financial risks that could complicate your family's college journey rather than simplifying it.
Like every major financial decision, there's no 'one-size-fits-all' solution. Each family, each student, and each real estate market brings a unique set of variables into the equation. It's important to remember that while the prospect of investing in property seems attractive, it requires diligent thought, careful planning, and astute financial understanding.
Are you intrigued by the potential advantages of buying a home for your college-bound child? Or are you feeling cautious, aware of the potential risks involved? Maybe you find yourself straddling the line between both sentiments. Whatever your standpoint may be, we're here to provide the insights you need.
We invite you to contact us if you're contemplating this significant step and seeking guidance. Our real estate and financial professional team has the knowledge and experience to help you navigate this complex decision. Complete our contact request form today, and let us help you explore this unique approach to managing college costs and investment opportunities. In the world of academia and real estate, knowledge is power—and we're here to empower you.
There are a lot of people who endorse Joe for the job of selling your home, from Barbara Corcoran (Star of ABC's Shark Tank) to Preston Scott (host of Tallahassee's top daily "Audio Magazine," as well as the thousands of happy customers Joe has helped in the past. Listen why!