What Must You Spend For A New Construction Home In Tallahassee?
Posted by Joe Manausa on Tuesday, October 24, 2017 at 7:55 AM
By Joe Manausa / October 24, 2017
Comment
As the inventory of homes for sale continues to decline, 2018 homebuyers will be looking at a bevy of new construction homes to fulfill their needs.
Here are the current listings of new homes for sale in Tallahassee, Florida as well as an analysis of what you'll spend to be the first to occupy a home.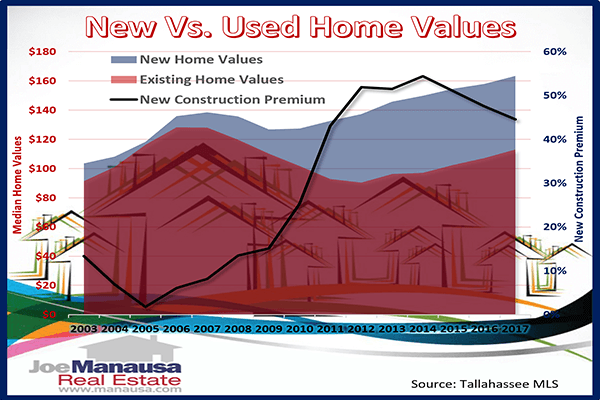 New Construction Premium Graph
The new construction premium is the additional cost that buyers must pay to get a new home versus a used one. We are able to estimate this premium be comparing the median cost of a new home for sale versus the median cost to buy a used home.
The graph above plots median home values, measured in price per square foot on the left vertical axis. The red shaded area reports the median existing home value each year, while the blue shaded area reports the median new home value. The difference between the two (the "new construction premium") is plotted in blue and recorded on the right vertical axis.
Relative Cost For New Homes Improves
In 2014, buyers were paying 54% more for a new home than they were for a used one, the greatest divide between new and used.
Currently, this relative cost of new homes for sale has fallen to roughly 45%, meaning buyers should still expect to spend significantly more for a new home than for one that already exists.
When the glut of new homes peaked in 2005, the new construction premium declined to just 4%! As the over-supply of new construction homes was liquidated from 2005 through 2010, they sold at below-cost prices. The new homes built since 2010 have been far-fewer, and at current costs, thus prices are far higher than the glut of homes that were remaining from the housing expansion.
But now that inventories are down and much of the market is in a seller's market, we're going to see an interesting dynamic.
The cost of new construction will continue to rise (with inflation), while the cost of existing homes will move higher at a much faster rate. This will further reduce the new construction premium until we see differences at half or so the current rate. This will help drive buyers to new homes, as the relative cost of new won't be as prohibitive as it is today.
The Haves & The Have-Nots
When we look at new construction in Tallahassee, and specifically home builders, they fall into two groups right now. The first group has plenty of developed lots (or the ability to develop more lots), while the second group is on the outside looking in.
We are in an interesting period of time right now, where most of the homes built over the past 10 years were done so on lots that were purchased by builders (below cost). They had been developed for a market expansion that ceased, and thus banks were left holding a lot of inventory of developed (and to-be developed) lots.
But much of that inventory is either extinguished or at least going vertical right now.
As in-fill opportunities diminish, new developments will require builders to pay the current development costs for the new lots, and thus the land premium underneath new homes is going to double or triple when compared to recent years.
This will spark a significant increase in the cost of new construction and will eventually (again) slow the new homes market.
What This Means For Existing Tallahassee Homeowners
Supply is low, demand is high, and the future of development costs all work in favor of higher-than-normal appreciation rates for existing homeowners in Tallahassee for the foreseeable future.
While this might not hold true for the over-built luxury home market, it most definitely is for the majority of homeowners in the Tallahassee real estate market.
The combination of below-cost prices and low mortgage interest rates make this a great time to buy a new home or upgrade to a larger home. Home values have been recovering nicely, but we do expect a large surge in the near future as many of the forces identified above come together.
If you would like to sit down with a professional to talk through some of your options, give us a call at (850) 366-8917 or drop us a note and we'll be in touch right away to answer your questions and help you in your Tallahassee real estate needs.