Looking For Signs Of A Housing Market Collapse?
Posted by Joe Manausa on Monday, October 4, 2021 at 5:51 AM
By Joe Manausa / October 4, 2021
Comment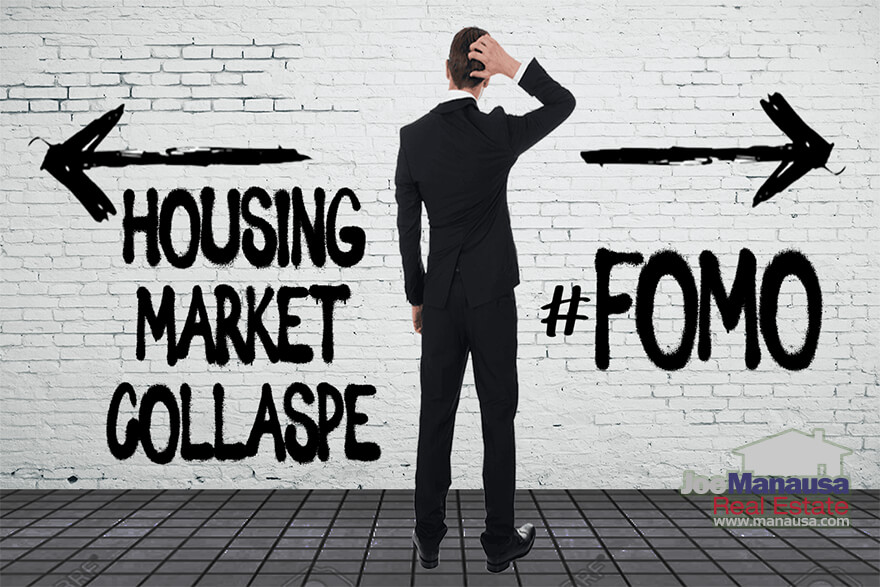 The real estate doomsayers are getting louder in their calls for the collapse of the housing market, so I continue my quest to find supporting (or opposing) evidence in order to guide our customers.
During the buildup of the housing bubble in 2006, we saw the inventory of homes for sale continue to swell, even as new contracts on homes declined. For this reason, I keep a very close eye on the supply of homes for sale. In my pursuit to find evidence of an impending housing bubble, I continue instead to find evidence of the opposite.
Today, we'll look at this new trend and speculate on its impact on home prices. First, take a quick peek at the supply of homes for sale in Tallahassee. You will notice that as prices drop below the top 5% of the market, the percentage of homes under contract with buyers rises to levels we do not normally see in October.
Tallahassee Homes For Sale
Housing Market Collapse?
The Entire Housing Market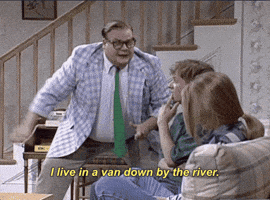 When we look at the overall housing market, we need to consider the options consumers face. They can buy or they can rent. They can live in a single-family home, a multi-family home, a mobile home, a dorm, an extended-stay hotel or hospital, student dorms, military barracks (or even in a van down by the river).
All of these property types must be considered when evaluating the overall health of the housing market because strength in one could very well cause weakness in another. For example, if a significant percentage of single-family home investors decided to sell their homes, it would add homes to the "for sale" market while removing homes from the "for rent market." In the short term, we might see home price growth slow down while seeing rents rise.
So it is important to study each segment of the housing market, looking for supporting or opposing trends that can provide insight into future market movements.
Recent Housing Market Reports
Rents Are Soaring Too
I have been saying that we need more homes for the past five years. The US population has increased by more than 30 million people since the housing bubble burst, yet the pace of new home production has dropped dramatically.
The lack of new home production has created scarcity in the "for sale" market, and I wondered if it was having a similar impact on the "for rent" market. The graph below plots the median market rent in the US since 2014.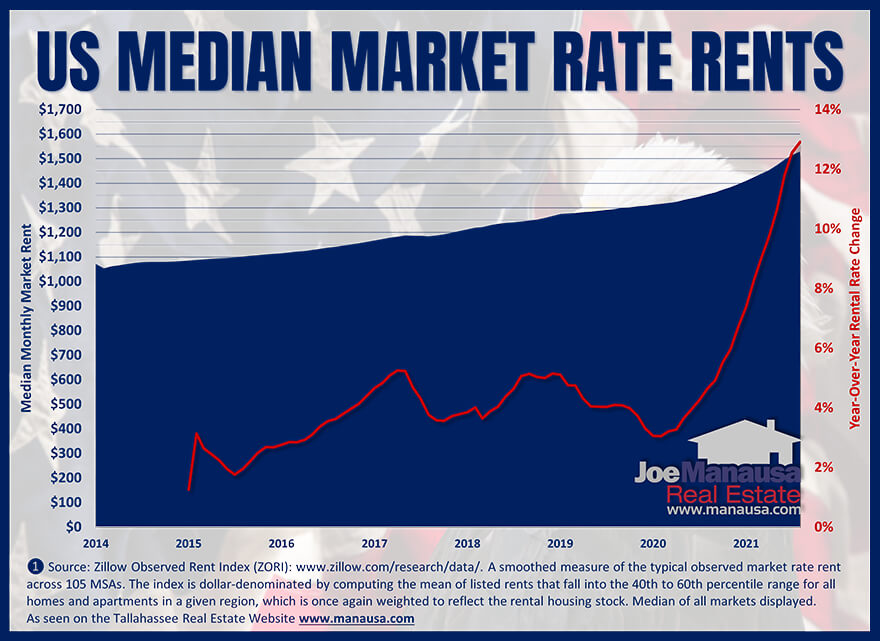 The graph above was created from a dataset produced by Zillow, created to share rental rates from most of the larger US metropolitan areas. Zillow estimates the median by cutting a slice out of the middle of the rental market (by choosing listed rents that fall into the 40th to 60th percentile range for all homes and apartments). The blue field plots the median monthly rental rate, while the red line reports the year-over-year change of this rental rate.
Does this look familiar to you? It sure does to me!
Apparently, it's not just home prices and values that are skyrocketing, so too are rental rates. August rental rates were nearly 13% higher than were rental rates in August of last year, and that is awfully close to the runaway rate of appreciation that we're seeing with existing home sales. This only reinforces my concerns about home affordability and a decline in the homeownership rate.
Future Housing Market Reports
I'm exploring new data sources and hope to produce an examination of rents, prices, and median incomes. When adjusted for inflation, I believe it will give us a clear view of home affordability and where the market will be heading when the Fed gets aggressive on interest rates and we see these (wonderful) historically low mortgage interest rates fade away.
If you have any thoughts or questions on how we can better explore local and US housing market conditions, just drop a comment below and I'll consider it for future posts.