preferred
Posted by Joe Manausa on Tuesday, August 3, 2010 at 9:22 PM
By Joe Manausa / August 3, 2010
Comment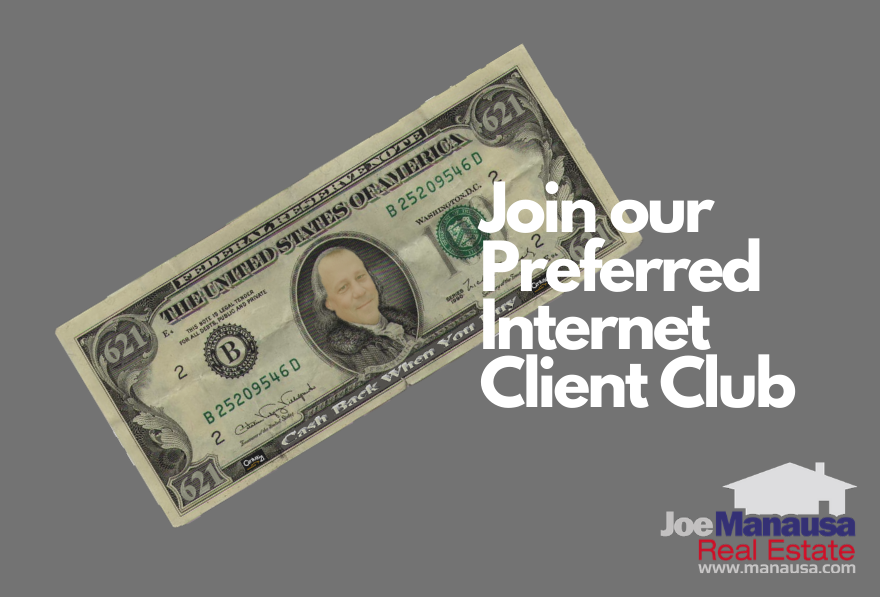 So, here's the thing ...
We Want You ... As a client ... and we're able to Pay You Cash to join our Preferred Internet Client Club.
That's right, we will pay you $621 after you close on the purchase of a new or existing home with us. So, what's the catch? Surely, this has to be some terrible, dirty scam! Nobody else is offering to give you cash back when you purchase a home with their company!
Not only does this program cost you nothing, you will get a better buy GUARANTEED! And you will get $621 cash back after closing on your new home!
Most real estate agents will work with any buyer, with any qualifications, without first coming to a mutually beneficial agreement on terms of service for the buyer or compensation to the real estate company. At first glance, this is appealing to most buyers, as they have not considered all of the pitfalls and potential for harm that could come their way.
Why We Will Pay You To Do Business With Us
Most people do not know how much time and effort a real estate company invests in two hidden costs of the firm. These costs run so high that if the real estate company can avoid them, the cost of doing business is reduced and the level of job satisfaction that the real estate agent experiences goes through the roof. Want to know what these two hidden costs are?
The cost of acquiring a new buyer for a home

- Real estate companies spend a small fortune on marketing and advertising. It's a documented fact that some real estate companies pay out "referral fees" on more than 1/3rd of their sales in order to avoid having to spend so much money on marketing and advertising. So, why not just give the money directly to the buyer. Regardless of whom is paid, our company gets to work with another buyer ... we might as well reward the buyer instead of some other company!

The cost (in time spent) educating a buyer on the real estate market and the home buying process

- We know for a fact that we spend less time with our internet customers than we do with people who are not comfortable doing their own research. And we have also found that educated buyers end up being happy buyers, so we know that we cannot skip this step. Therefore, we decided to encourage our customers to use our online tools, as they will be better educated and happier with the outcome.
Our Preferred Internet Clients commit to working with us and using our online tools to further their education of the process, as well as their knowledge of home values and market conditions in the Tallahassee housing market. In turn, we give them a healthy wad of cash to spend as wisely (or unwisely) as they choose after closing!
Conflict Of Interest For Uncontracted Agents
Did you ever wonder why home sellers get a written contract when they hire a real estate agent (company) for the job of selling their home, yet home buyers and most agents work without any sort of contract or performance guarantee?
Did you ever consider how large of a problem that this "trust me I'll help you" relationship has become with the advent of variable commissions in the MLS systems?
What? You didn't know that your "Buyer's Agent" gets paid different amounts for the different homes that you are being shown? So, if one house pays four times as much as another, could that agent be skewed in his or her thinking of which one you should buy? What if you wanted an opinion of value on each one in order to make a purchase decision?
The bottom line is that even real estate agents with the purest intentions do this business in order to earn a living and to "feed their family." It would be unwise to think that they would put you first, before the health and welfare of their family. This conflict of interest can be avoided, and it is simple enough to do with a Brokerage Services Agreement, just like we do here at Joe Manausa Real Estate!
What Makes Joe Manausa Real Estate Different?
If all real estate companies and all real estate agents were alike, maybe the PIC program would seem like just a good way to get cash back after you buy a home. But the reality is that Joe Manausa Real Estate agents have far more training and far more resources to provide to a home buyer in Tallahassee, therefore you will be able to find an excellent home and save money during the entire process. And saving money is a good thing, right?
| NOT ALL AGENTS ARE ALIKE | Joe Manausa Real Estate Agents | Other Agents |
| --- | --- | --- |
| Have Access To All The Homes In The Tallahassee MLS | YES | YES |
| Have A Lockbox Key To Enable Access To Listed Homes | YES | YES |
| Mandatory Training For Best Agent Quality | YES | NO |
| Full Time Professionals | YES | MAYBE |
| Buyer Service Pledge Provided In Writing | YES | NO |
| Written Agreement For Services For Buyers | YES | NOT LIKELY |
| A Whole Team To Serve Your Needs | YES | NOT LIKELY |
| Transaction Coordinator For Higher Closing Ratios | YES | NO |
| Market Research Leader - Better Client Guidance | YES | NO |
| International Network Creates Broad Experience Level | YES | NOT LIKELY |
| Top Technology Tools For Clients Online | YES | NO |
| Enforced Agent Quality Standards | YES | NO |
| Trained And Certified Short Sale Expert & Market Leader | YES | NO |
| Relocation Department Brings More Opportunities | YES | NOT LIKELY |
What You Will Receive From Us
Of course, you will receive $621 after you close on your new home. Additionally, you will receive a detailed accounting of how we will help you, a Business Services Agreement that works as a bilateral commitment, as well as a signed, 14 point Buyer Services Pledge outlining the specific duties that we will perform on your behalf.

What We Will Receive From You
Just as we make a commitment to you in both service and money, we expect a commitment from you. All this requires you to do is work with us on any home you purchase, provide open lines of communication during the process, complete an after-closing survey and testimonial, and if we earn them, send us Referrals, Referrals and more Referrals.
You pay us nothing! We receive our compensation from the seller, just like any other agent or company you would work with, but with Joe Manausa Real Estate, you get so much more! So, what are you waiting for? Go ahead and request your free certificate now to enroll in our Preferred Internet Client Program!
We Guarantee That You Will Be Thrilled With Our Service
When you purchase your home through our Preferred Internet Client Club, we will do everything in our power to ensure that you are thrilled with our service. If at the time of closing on the property, you think that we did not go above an beyond the call of duty, we will pay you an additional $250 for a written review that will help us improve our services. We do not want just "satisfied" customers, we want highly enthusiastic customers who know we have done everything in our power to win their repeat business and referrals over the years to come.
All we ask ... is that at any time during the process of buying a home, you let us know if we ever fall short of 100% Give us the chance to remedy the situation, even providing you with a different agent if that is what the problem is all about. Our agents know that we are only as good as our last satisfied customer, and they want your enthusiastic support as well!
Frequently Asked Questions
What happens if I don't like the agent that I'm working with?
If you are unhappy with anything, at any time, just let our management know and we will work harder to please you. If that means getting another agent to replace the one that you are working with, then that is what we will do. Our agents understand that customer service is our top priority, and we will do what it takes to earn your complete satisfaction and your future business as well!
What if I decide not to buy a home?
No worries! Buying a home is a major decision and often times life events can put our plans on hold. Our Business Services Agreement can be canceled at any time and never commits you to buying a home. We just want to be your real estate company when you do decide to buy!
Can I Use This Program Outside Of Your Market Area?
Most likely YES! We need to speak with you and find out where and when you are moving, then we will select a top-notch real estate company for you to work with in your destination market who will honor our Preferred Internet Client Club Agreement.
Does Joe Manausa Real Estate Have A Preferred Internet Client Club For Sellers?
Coming Soon! If you would like to know more about how you can get cash back from Joe Manausa Real Estate when you sell your home with us, then go ahead and request your certificate and let our staff know that you have a home to sell when they make first contact with you.
Please Do Us A Small Favor
We work very hard to produce daily content for our long-time readers and first-time visitors. We provide this information for free, hoping to earn your respect and trust and the right to one-day help you when selling or buying a home. Can we get your help spreading the word about our blog?
If you like the content, would you please like it or share it using the Facebook button at the beginning of the post? This simple action will be greatly appreciated! THANK YOU!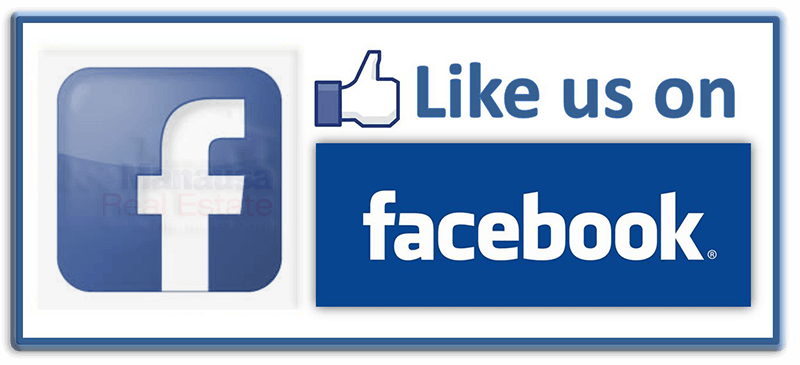 Also like us on Facebook at https://www.facebook.com/joemanausarealestate/
Joe Wrote The Book On How To Sell A Home Today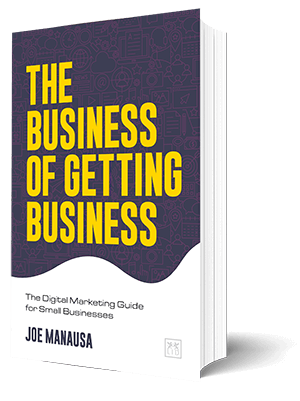 "Location, location, location' is no longer a competitive advantage. Digital marketing and going direct to consumer have made all geographical boundaries obsolete. The Business of Getting Business is a must-read modern-day survival guide for any local business to get to the next decade. Local businesses are on death ground.
They can either take a stand and re-invent themselves by embracing the digital frontier and have a chance to survive the overwhelming odds of digital direct-to-consumer capabilities that have erased all local and national business distinctions, or they can choose business as usual and accept certain death.
The Business of Getting Business is the critical survival guide for those that choose to dig in and fight."
– Anthony Noto, CEO, SoFi and former COO, Twitter
Get the book that explains it all, in a manner that is understanding to all, even technology neophytes. It's available on Amazon, a trusted source for consumers.

Think all REALTORS are alike?
Read what people are saying about working with Joe Manausa Real Estate! You can see thousands of real customer reviews reported on Google, Facebook and Zillow at this link: CLICK HERE FOR REAL ESTATE AGENT REVIEWS.