Seasonal Slowdown Hits Tallahassee Home Sales
Posted by Joe Manausa on Thursday, September 23, 2021 at 5:56 AM
By Joe Manausa / September 23, 2021
Comment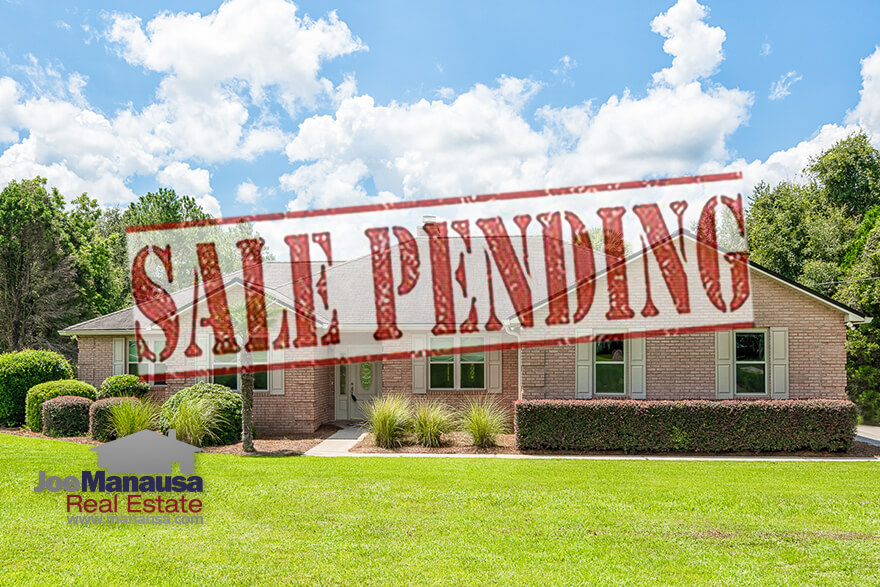 Are you curious about the housing market? Do you want to know what is happening right now? If so, you've found the perfect article to catch you up to speed.
Today's Pending Home Sales Report provides an early insight into housing market activity, as we look to present conditions with contracts as opposed to waiting for home sales to close.
When you couple what you can learn by studying new contracts with a review of detailed supply and demand numbers, you end up with the best understanding of current activity in the housing market.
Today's report is a comprehensive review of new contracts and it concludes with an accurate forecast of the coming months in the Tallahassee real estate market.
First, check out the homes for sale in Tallahassee and notice how many of them are already "contract pending" (especially after you scroll past the high-end homes).
Homes For Sale In Tallahassee
VIDEO: Pending Home Sales Report
New Contracts In The Real Estate Market
This graph plots the number of home sales each month, organized by the date the contracts were written. This is important to note, as most graphs that I publish are based upon sales closing dates, not contract dates. As these contracts await closing, we understand that some will fall out, thus recent months will adjust as we move forward whereas further past months are pretty much set for good.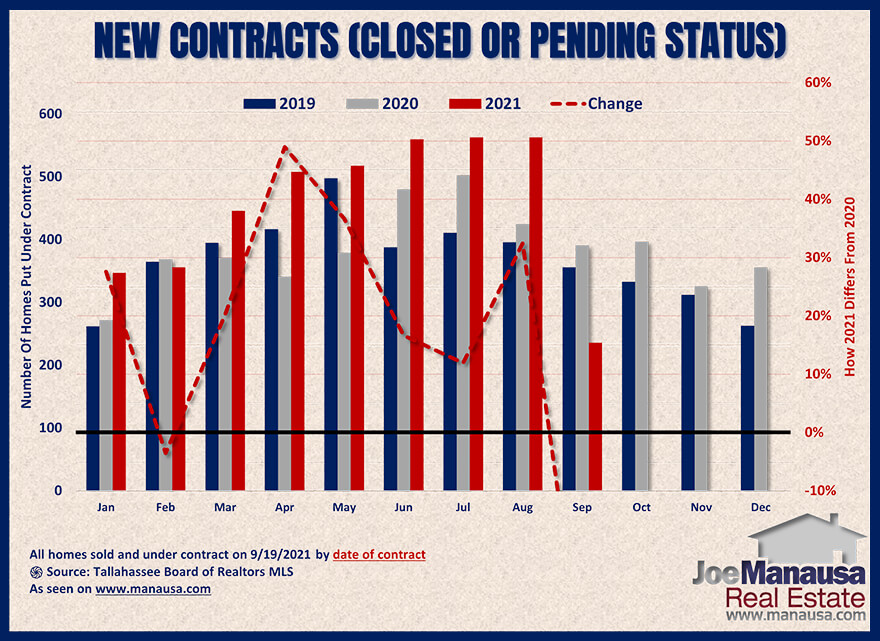 The number of homes that were put under contract each month are color-coded, with the blue bars showing 2019, the gray bars showing 2020, and the red bars showing 2021 contracts.
Contracts have been higher all year, with the seasonal summer surge soaring to the highest level we've seen in more than 14 years. The number of contracts written through the 19th of September is already 16% more than those written through all of September of last year, and we still have more than ten days of September to go!
Again, not all of these new contracts will close, so it will take some time to get an accurate evaluation of the market today versus the market at this time in previous years, but I think it is clear that activity in 2021 is far past that of the recent two years.
Rising Demand For Houses
Through all of our inventory reports over the past few years, I have pointed out that we need more homes. We need existing sellers to put their homes on the market, but more importantly, we need builders to produce new homes at a faster rate to compensate for the lack of new construction over the past 6 years.
Builder production has dropped significantly thus far in 2021, though we have seen small gains in the past two months.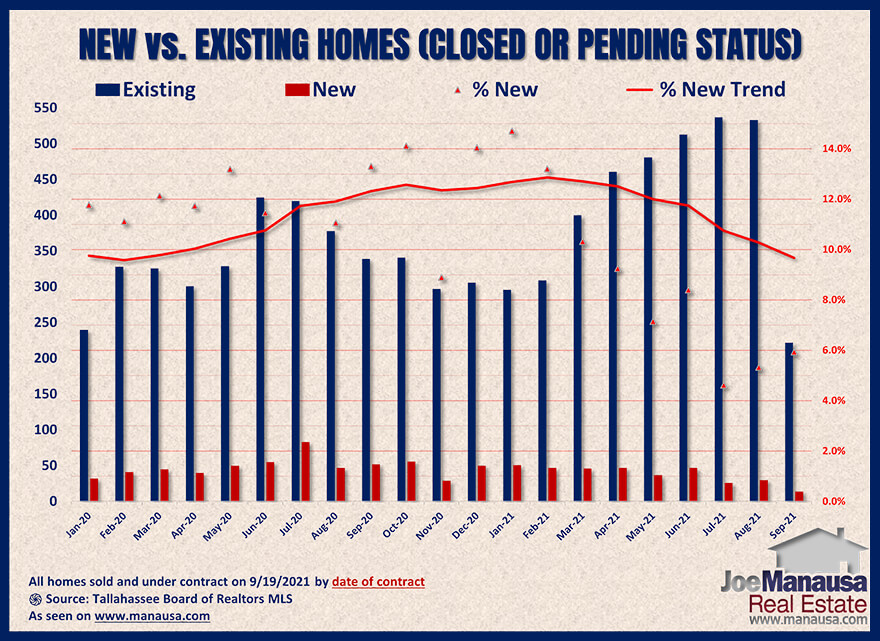 The blue bars measure existing home contracts, both pending and closed, by the date the contracts were written while the red measures the same for new home construction.
The red triangles report the percentage of contracts written each month that was new construction, and right now September is showing about 6% of the new contracts are for new construction homes. We need to see new construction push closer to 20% or more for at least a year or two, so the 6% number is just not getting it done.
Last year, just over 13% of the contracts written in September were for new homes, but the trend for new homes this year has dropped below 10%. As of right now, 345 new construction homes have gone under contract in 2021 versus the 445 that were written through all of September in 2020, but we do still have ten days left in September. I doubt we'll see 100 more new homes sold by the end of the month.
So the number of new homes put under contract this year is down about 20% compared to the same time last year, but the existing homes have been flying off the shelf (at soaring prices). Builders have again missed a huge opportunity to sell a lot of homes and to help keep prices in check.
In the 1990s, it was not uncommon for 20% of all home sales to be new construction, and back then we did not have an inventory shortage like we do today. Builders today could quadruple production without the risk of creating an oversupply in the market, so long as they pay attention to the areas and price ranges in which they build.
Consider this my continuing plea to all local homebuilders, we need more houses!
Have Home Prices Stopped Moving Higher?
In this next graph, I calculated the average price of homes under contract in 2021 each month and compared it with the same months in 2020. Look what's happening through mid-September!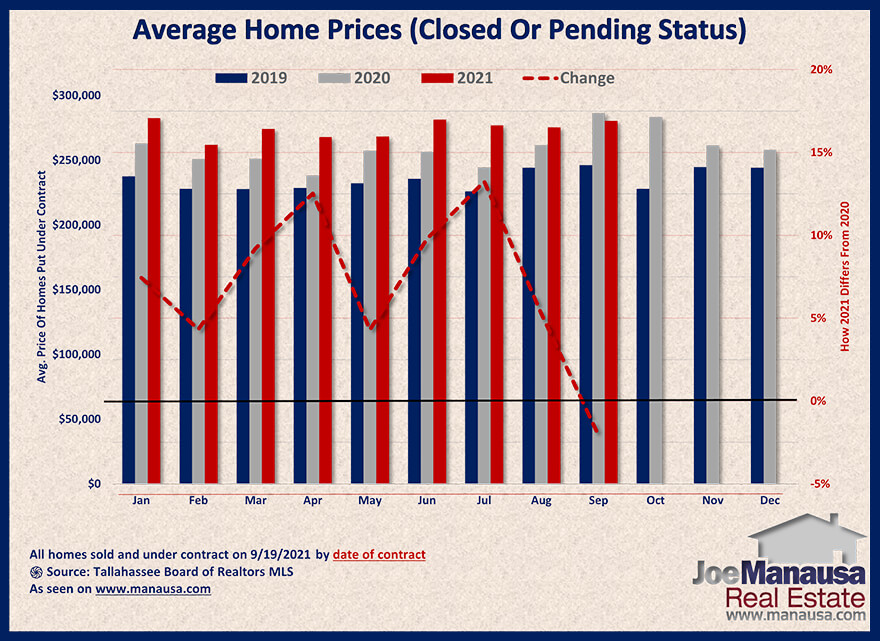 Buyers in September have been spending less than buyers were spending in September of last year. That's a first for 2021!. Remember, this compares 19 days of September this year with 30 days of September last year, so don't be surprised if we see this average adjust by the end of the month.
This is a huge difference from what we saw in the first eight months of the year. Prior to this month, the average price change in 2021 is a little more than 8% higher than the corresponding months in 2020.
Mortgage interest rates, coupled with the supply and demand for homes dictate average price movement, so historic low rates coupled with the lack of inventory means that we should expect prices to continue higher. For some reason, that has not been the case this month. Before we start jumping to conclusions, let's take a look at the average contract value each month.
Recent Real Estate Market Updates
Real Estate Appreciation
Similar to the previous graph which tracked home prices, this graph tracks the average home value each month and compares it with the same month in the prior year. Prices are what buyers are spending, whereas values are what sellers are getting, thus the average value is used to measure appreciation in the housing market.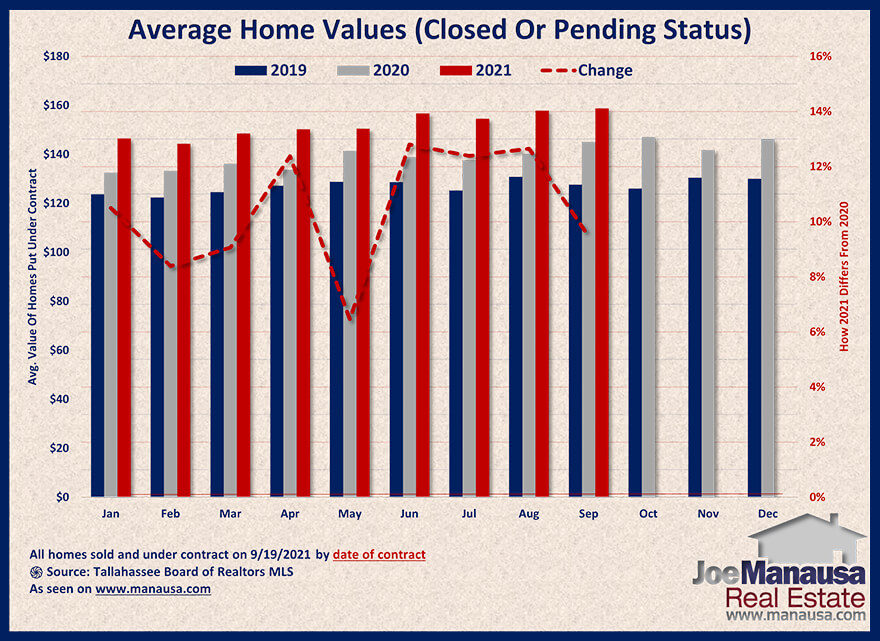 The graph shows that the year-over-year change in contracted home values ranges from as low as 6.5% in May to as high as 12.8% in June. Overall through the preparation of this report, the average change in value from today back to the end of last year is just 8.6%.
The average "asking" price per square foot of homes put under contract this year has risen 8.6%, leading us to expect an appreciation rate of about that same amount. Yet, in our other videos where we examine closed sales, we measured the median closed home value (median closed price per square foot) at 10.6%. We're not exactly comparing apples to apples, nevertheless, I do believe the results we are seeing are due to sales prices, on average, coming in at higher values than what the seller is asking.
As I have reported in numerous other market updates, we continue to see low inventory levels in most areas and price ranges below $600K, and this is the biggest contributor to the accelerated appreciation rate. Our local appreciation rate is still roughly three times what is historically normal, and low inventories levels could make this worse.
Now is a great time to sell a home, as buyers want to take advantage of historically low mortgage interest rates before they go away.
Just How Active Are Homebuyers?
This graph identifies when the current pending and closed contracts were written, with closed contracts shown in blue and pending contracts shown in red. Most housing reports show "activity" based upon closing dates, but the reality is that contracts are written well before those dates, so activity is best measured through contracts.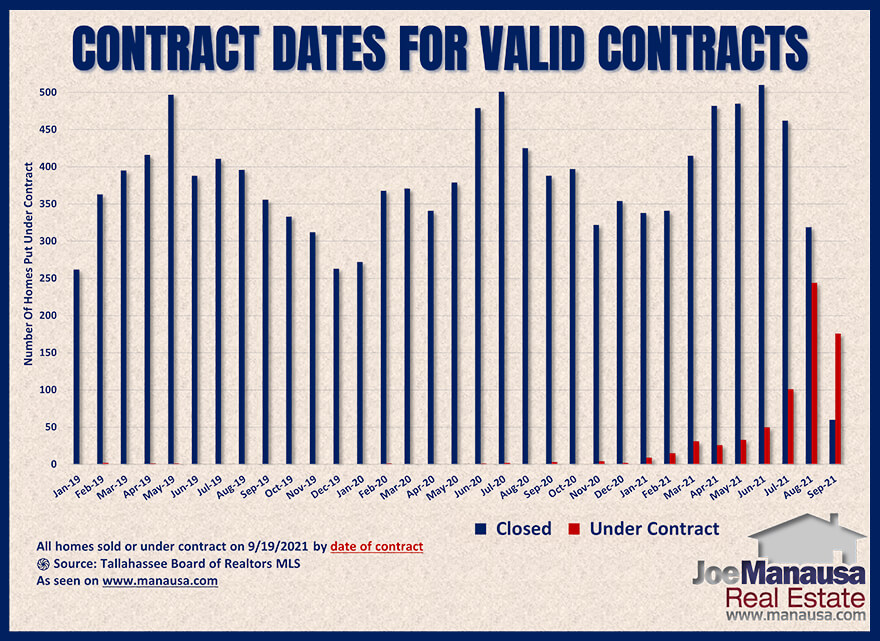 We measure activity to evaluate the health of the pipeline. By pipeline, I mean the pending home sales and how they are distributed. Since the typical contract closes in 30 to 45 days, we have to be concerned with the number of contracts that appear in our report that are older than 45 days. Currently, about 40% of contracts are older than 45 days, which is higher than what we measured the last time we published a Pending Home Sales Report. Currently, less than 2% of pending contracts in our MLS are older than one year.
Right now, the oldest pending home sale goes back to August of 2018, which means it is three years old! That does not make sense for somebody to be under contract for such a long time, so it is likely an MLS maintenance issue that needs to be removed. There are an additional 6 pending contracts that are more than a year old and are likely bogus as well.
Currently, there are 704 Tallahassee homes for sale in the MLS that are under contract with buyers (pending contracts). This represents a decline of nearly 16% since our last Pending Home Sales Report in May, but this is a normal seasonal decline that we expect in September.
What is not normal is 56% of all homes listed that are already under contract with buyers. Specifically, the number of contracts compared to the overall pool of listings is far higher than we would seasonably experience, so sales are good but inventories are far too low.
It's important to understand what this means. Yes, homes are selling fast and for top dollar, but buyers are frustrated. The limited inventory of homes for sale means that relative demand (demand relative to the current supply of homes) is exploding.
Now, let me repeat something I have been saying for more than a year, and it continues to be true. Buyers are wanting to take advantage of low mortgage interest rates, so now is the best time to sell a home that I have seen in my 30 years selling homes in Tallahassee.
How August Compared To Last August
The year-over-year home sales graph below has been set up in a different fashion than all previous graphs in this report.
Note that this one shows all homes sold segmented by the date of closing, while the past graphs were assembled based upon contract dates. I include this and the following graph in the pending home sales report as a bridge to our other market reports and videos where closed sales dates are used to create the graphs.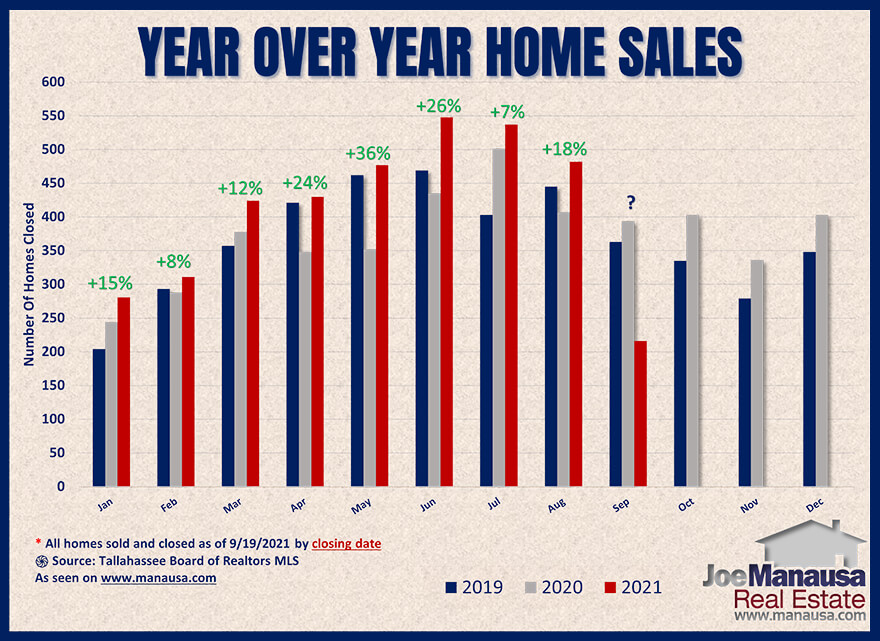 Every single month for the past year home sales has posted gains over the same months in the year prior. In August, the market was up 18% over last August, and we saw gains as high as 36% in May. The market is still hot as fire.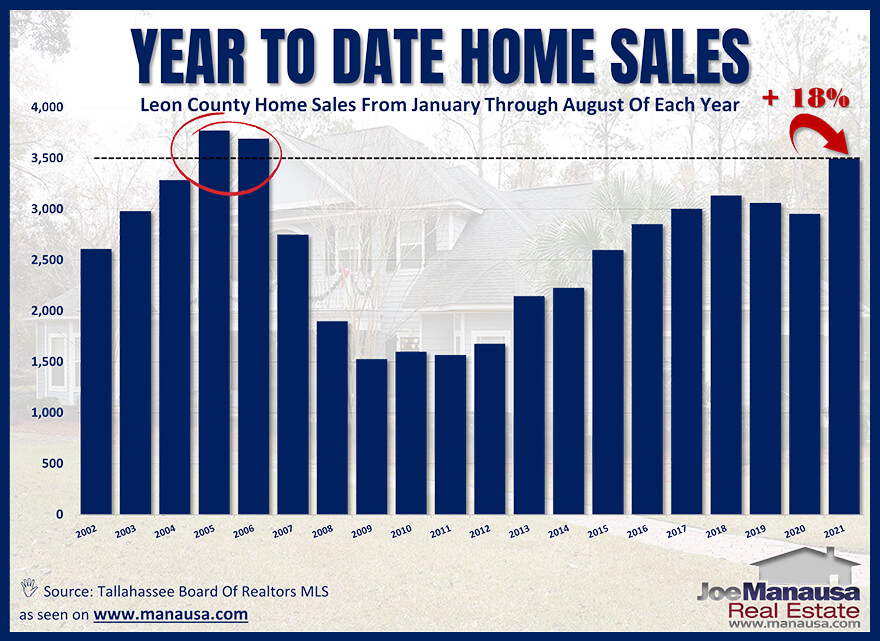 So how strong were the first eight months of 2021? The graph above shows that it was the third-best start of the year on record, falling behind only 2005 and 2006 when inorganic demand pushed the market to unsustainable highs.
So should we be worried about the sustainability of the current market?
In short, yes and no. Yes, we need to be concerned about how the market will cool when mortgage interest rates rise, but no, the number of sales occurring right now is very much an acceptable level when you consider the population growth in Tallahassee since the market peaked 15 years ago. This pretty much mirrors the US housing market.
As an over-simplification, we are bigger now so we should expect more buyers in the market. Additionally, we are not seeing the signs of a housing bubble like we did in 2005, where inventory levels started to rise. Today, inventory levels are falling, a sign that more homes are needed.
Homeowners who have been considering a move need to take note. Current conditions are the best I've ever seen for getting top dollar for your home while also selling it within a predictable time schedule.
I am confident that the seller's market conditions will continue for the foreseeable future, but I do believe rising mortgage interest rates will eventually reduce the advantage that current home sellers enjoy.
Anybody who studies interest rate history will tell you that mortgage interest rates are going to rise. Nobody knows when, but certainly, rates will not stay this low forever. When mortgage interest rates do rise, demand at the top of the market will erode significantly and decline throughout the lower price ranges.
If you know you want to move, you should strongly consider doing so immediately while both inventories and mortgage interest rates are each working to your advantage.
Regardless of what you decide, we'll be here to keep you up to date on the pending home sales in the Tallahassee real estate market.
Your Local Expert In Tallahassee
When moving to, in, or from Tallahassee, you will fare better if you work with a local expert. We are here to help. If you have further questions on the Tallahassee real estate market, you can leave a comment below, give us a call at (850) 366-8917, or drop us a note and we'll give you the local information needed to ensure a successful, smooth transaction.
As a local born and raised in Tallahassee with a focus on customer service, I promise you'll find great success when working with Joe Manausa Real Estate, just as have our past customers. You can read thousands of their reviews reported on Google, Facebook and Zillow right here: Real Estate Agent Reviews Tallahassee.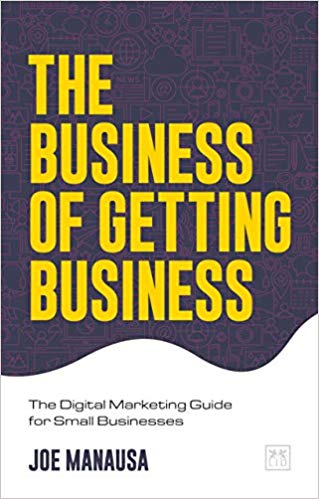 Have you heard about my new book "The Business of Getting Business?" It's a comprehensive guide for small businesses to help them make the move to digital. For those of us who want to survive and thrive in a world where large corporations are taking over, it is a must-read. It's also the perfect guide for how to sell a home in the digital age. You can find The Business Of Getting Business by clicking on any of the trusted retailers below.

Think all REALTORS are alike?
Read what people are saying about working with Joe Manausa Real Estate! You can see thousands of real customer reviews reported on Google, Facebook and Zillow at this link: CLICK HERE FOR REAL ESTATE AGENT REVIEWS.