New Home Construction Progress Report Reveals Shortage
Posted by Joe Manausa on Monday, August 24, 2020 at 5:55 AM
By Joe Manausa / August 24, 2020
Comment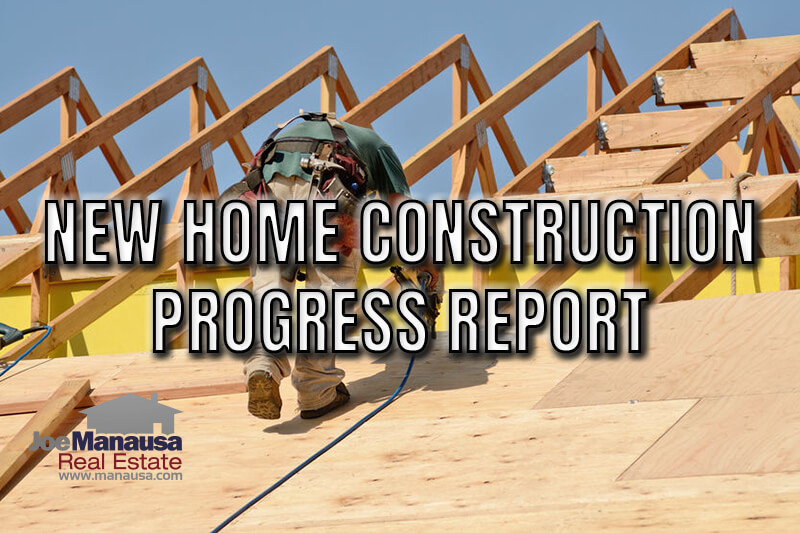 The Tallahassee real estate market continues to suffer from a decimated inventory that forces multiple buyers into bidding wars over each new listing to hit the market.
The reduced supply of homes is due to the combination of under-building in Tallahassee for the past few years coupled with a pandemic that has slowed discretionary sellers from entering the market.
Today's report shows the current crop of new homes for sale and follows with a detailed report on new construction homes in Tallahassee.
New Construction Homes For Sale
Video With Detailed Explanation
If you read our previous intensive report on new construction, you remember that we demonstrated that new homes were not being built at a fast enough rate for the past ten years. Today's report, unfortunately, will confirm this to remain true.
Home Sales And Population Growth
One quick "no-brainer" can be found when comparing home sales to population growth. If the population is rising, more homes are needed, right?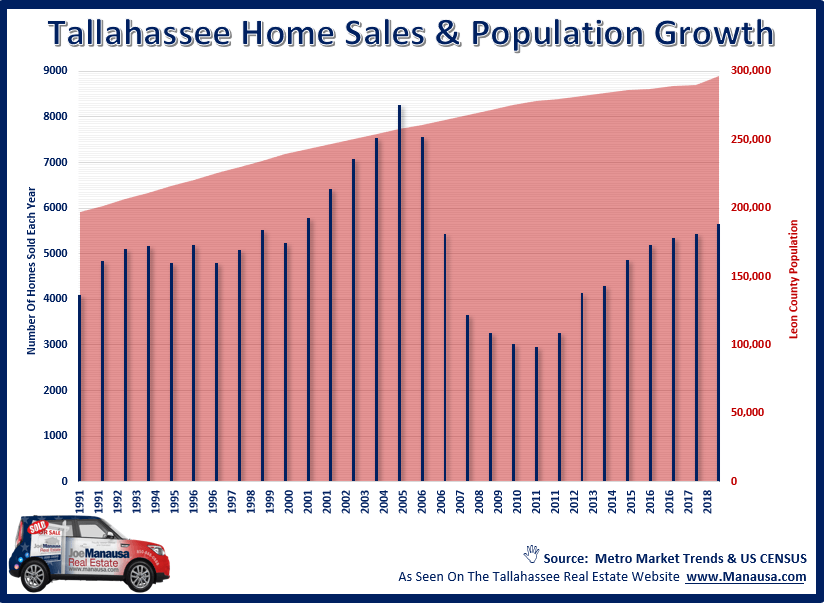 Tallahassee's population has grown at a fairly consistent rate for the past fifty years, though we did see it slow a bit for the past ten years. The graph above shows population growth (pink shaded area) has continued higher while home sales fell.
The glut of homes for sale remaining from that housing expansion phase was completed in 2016 and our population appears to be rising again at a historically-normal rate, so we can expect a similar number of new homes to be needed as was required in the past.
New Home Sales Remain Low
We know the dip in the production of new homes was due to the over-supply that hit the market through 2008, but shouldn't "normal" levels of new construction return to Tallahassee at some point?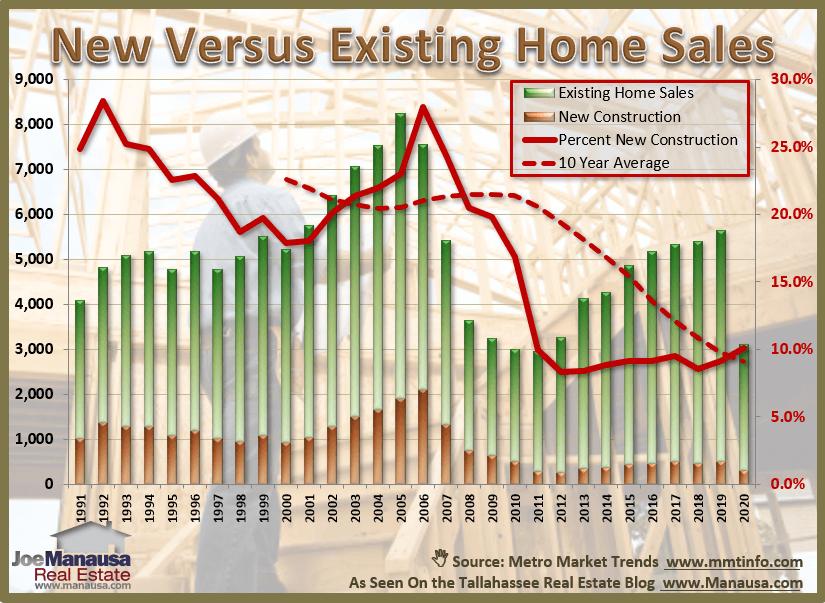 The graph above plots new home sales and existing home sales and then computes the ratio of new home sales to the overall market. The red-dashed line in the graph shows that historically, new home sales made up 21% of all homes sold, yet the past 11 years has seen this average drop to 9%.
This trend has been beaten down and must start to move higher again, or our inventory levels will push the market to unhealthy levels of inflation.
There are a lot of people who endorse Joe for the job of selling your home, from Barbara Corcoran (Star of ABC's Shark Tank) to Preston Scott (host of Tallahassee's top daily "Audio Magazine," as well as the thousands of happy customers Joe has helped in the past. Listen why!
I recently stumbled upon your latest Carrabelle listing. I must say, a home on Florida's Forgotten Coast is bound to be snatched up quickly. Best of luck with getting it under contract soon!

Posted by Barbara Corcoran on Thursday, June 15, 2023
Lot Sales Not Indicative Of New Home Sales Growth
One sneak peek into the market to discover if new construction will be heating up can be found by comparing lot sales with new home sales.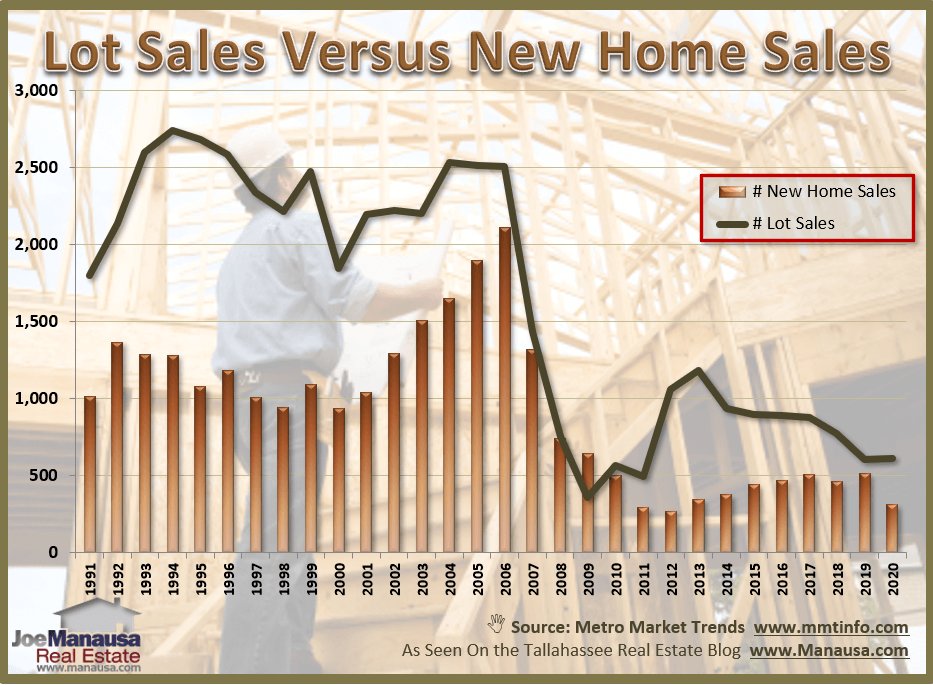 Throughout the 1990s, we would see an average of 2,400 lot sales each year, but we've seen that average fall 68% to below 800 each year for the past thirteen years.
I would expect to see a large jump in lot sales to precede a significant rise in new home sales, and unfortunately, it's not here.
Are Permits Racing Too Far Ahead Of New Home Sales?
For the market to enjoy an increase in inventory, we need to permit more new homes than we are selling.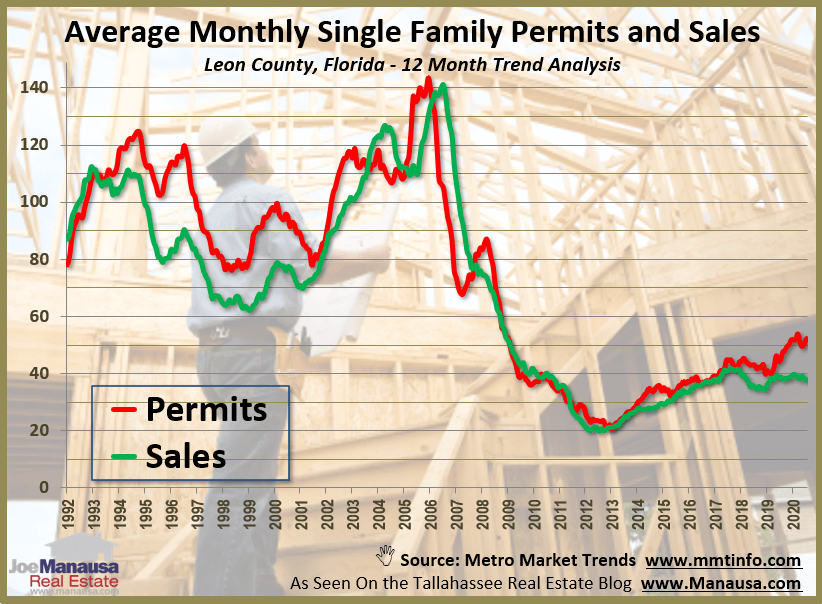 This graph plots new construction permits and new construction sales each month. One would expect to see more permits than sales under normal conditions, as growth in the population should result in new construction growth too.
Right now, it appears as if new home sales have leveled off, while permit growth keeps racing ahead. Having first-hand experience in the market, I believe what we are seeing is construction delays due to the pandemic. Buyers are ready, once the homes are ready, we'll see the sales line explode higher.
New Construction Premium Hits Two-Year Low
Our final graph serves to measure the premium that new home buyers are paying for the right to own brand-new homes.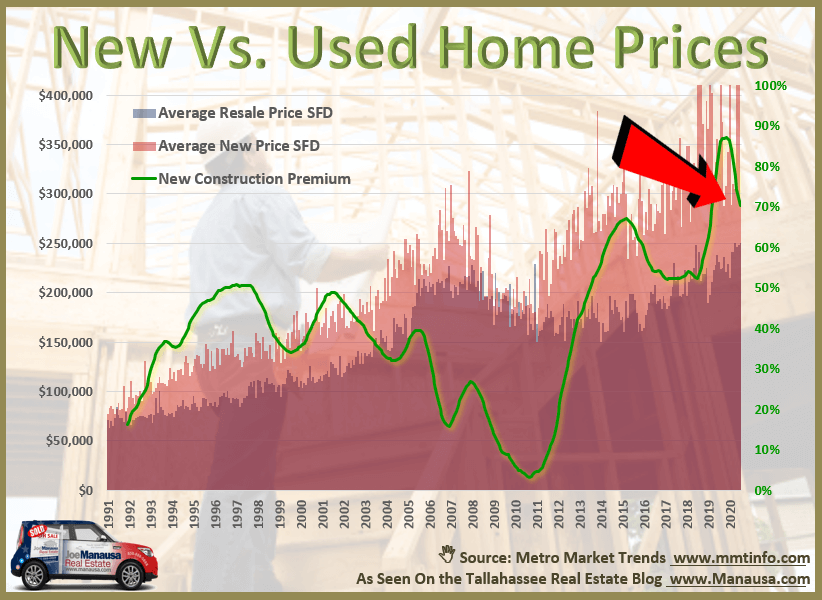 The green line measures the new construction premium which now sits at about 70%. This merely means that the average new home price is about 70% higher than the average existing home price.
These prices appear to be coming together. A combination of builders holding their prices as low as they can coupled with a faster-than-normal appreciation rate on existing homes might have them back to a 30% to 40% premium like we typically saw in the past.
Current Conditions (More Homes Needed)
Hopefully, builders can get their supply chain issues resolved, whether it be cabinets from China or appliances from (anywhere).
There remains strong demand in the market, buoyed by historically low mortgage interest rates. Every new home built for under $400K likely has two buyers awaiting its arrival right now.
Your Local Expert In Tallahassee
When moving to, in, or from Tallahassee, you will fare better if you work with a local expert. We are here to help. If you have further questions on the Tallahassee real estate market, you can leave a comment below, give us a call at (850) 366-8917, or drop us a note and we'll give you the local information needed to ensure a successful, smooth transaction.
As a local born and raised in Tallahassee with a focus on customer service, I promise you'll find great success when working with Joe Manausa Real Estate, just as have our past customers. You can read thousands of their reviews reported on Google, Facebook and Zillow right here: Real Estate Agent Reviews Tallahassee.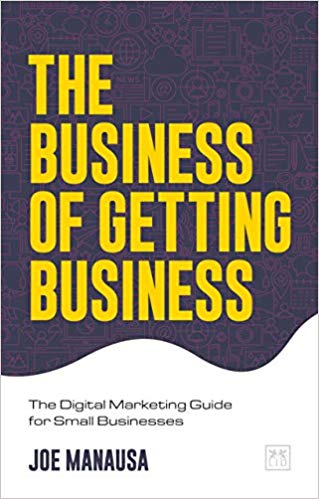 Have you heard about my new book "The Business of Getting Business?" It's a comprehensive guide for small businesses to help them make the move to digital. For those of us who want to survive and thrive in a world where large corporations are taking over, it is a must-read. It's also the perfect guide for how to sell a home in the digital age. You can find The Business Of Getting Business by clicking on any of the trusted retailers below.

Think all REALTORS are alike?
Read what people are saying about working with Joe Manausa Real Estate! You can see thousands of real customer reviews reported on Google, Facebook and Zillow at this link: CLICK HERE FOR REAL ESTATE AGENT REVIEWS.
I recently stumbled upon your latest Carrabelle listing. I must say, a home on Florida's Forgotten Coast is bound to be snatched up quickly. Best of luck with getting it under contract soon!

Posted by Barbara Corcoran on Thursday, June 15, 2023