Monthly Housing Report February 2021
Posted by Joe Manausa on Monday, February 15, 2021 at 5:51 AM
By Joe Manausa / February 15, 2021
Comment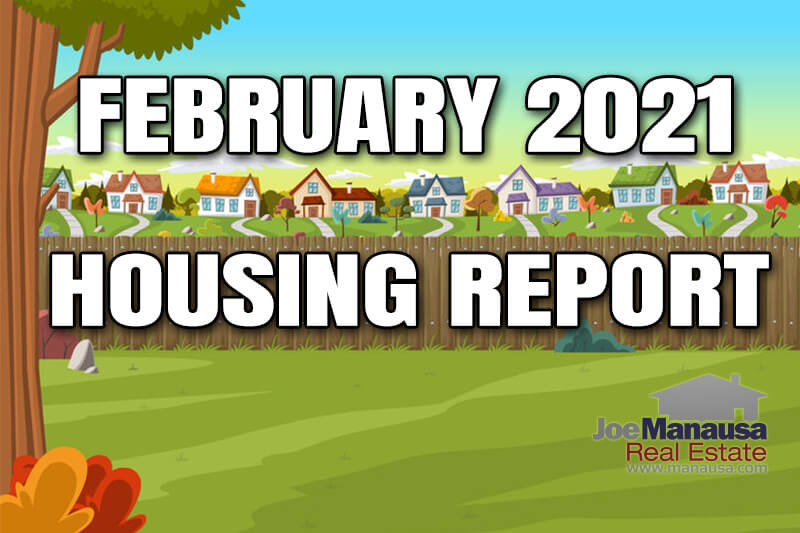 January is over, February is half-done, and 2021 has already notched the first 1/8th of the year. So how are home sales in Tallahassee?
Follow along as I walk you through current housing market conditions, mortgage interest rates, and home sales trends in 2021 when compared to previous years, each through January. Finally, my conclusion will give you an idea of where the market is heading in 2021, and which factors will decide its future.
Let's start the report with a quick look at the current listings of homes for sale in Tallahassee. They are sorted from highest to lowest price. Take a look as the asking prices decline, the percentage of homes under contract goes through the roof.
Homes For Sale In Tallahassee Today
The following homes are a dynamic list of what's available in Tallahassee right now. It's updated every 15 minutes, so you can be assured that it's the best information available on Tallahassee real estate listings.
I include these listings in my monthly report so that our readers can observe the record-high rate of listings already under contract with buyers.
VIDEO: Housing Market Update
Year Over Year Home Sales Rise (v 5.0)
The first graph in today's report shows how each month's sales compared with the same month the year prior. We refer to this as year-over-year home sales.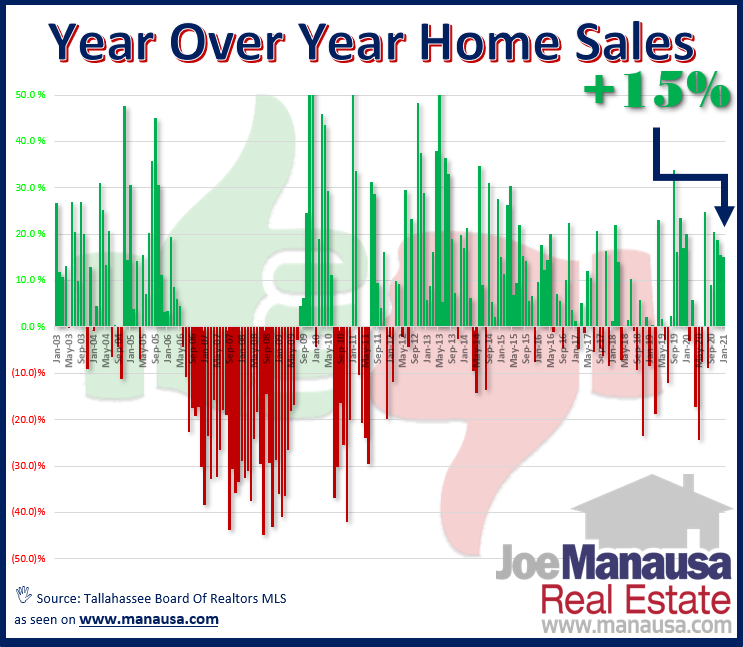 The first graph in today's report shows how each month's sales compared with the same month the year prior. We refer to this as year-over-year home sales. Year over year home sales comparisons provide insight into the market changes by removing the seasonal changes in the market.
For example, we only compare January to January or June to June, thus the seasonal changes in real estate are not a factor.
Year over year home sales rose 15% in January, registering the fifth-straight month of gains and six out of the past seven months.
The year-end rally that was fueled by buyers who opted out of the market when the COVID pandemic first hit Tallahassee in the first and second quarter continued through January, and if we gain enough inventory, we should see it extend even further. Low mortgage interest rates have buyers chomping at the bit to get into a home before rates begin to rise.
Bidding wars on the relatively few homes for sale will only escalate now that we have seen the inventory reduce to a new all-time low.
Year To Date Home Sales
This next graph shows the number of homes sold during the first month in each of the past 20 years.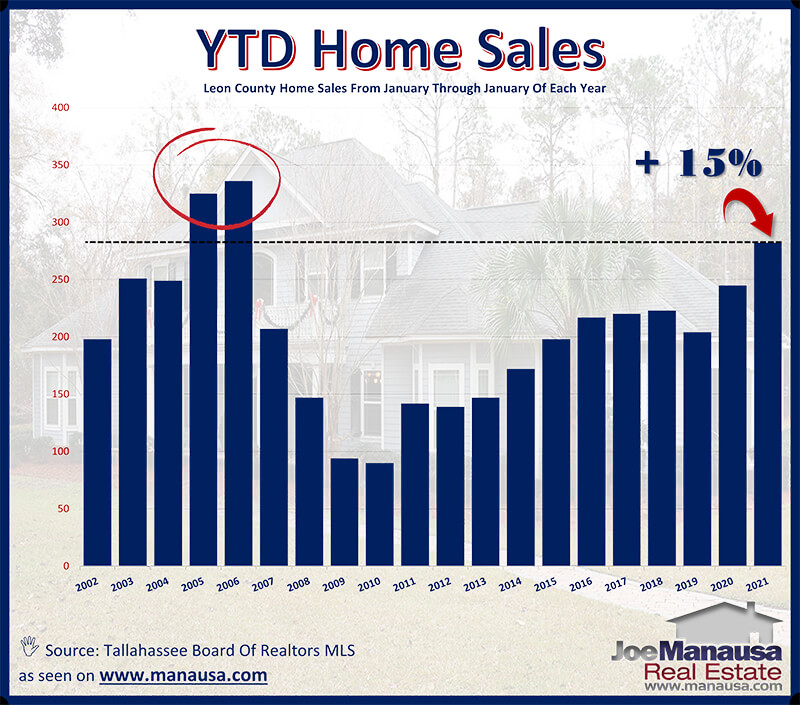 2021 has started the year strong, with the number of homes sold sitting as the third-best year ever, trailing only 2005 and 2006 when speculative buyers caused the market to explode.
What's so exciting about this graph is that we are seeing organic demand strong and healthy, with no substantial inorganic demand skewing the numbers (if you would like a good explanation of these two types of demand in the housing market, click here to see a recent report about the potential for a new housing bubble).
Mortgage Interest Rates Remain Near Low
The next graph in today's plots more than 50 years' worth of average monthly mortgage interest rates, and the news is nothing but good for both buyers and sellers.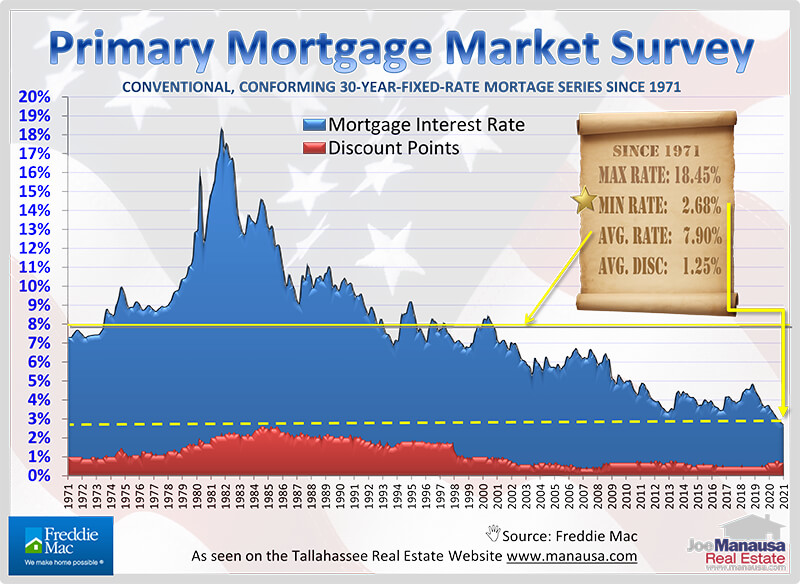 Rates ticked up minorly last month but still remain well below 3%. Since 1971, we've seen rates go as high as 18.45% and as low as 2.77%. During these fifty years, the average rate has come down to just under 8%, which is more than 5% higher than today's rate!
Why are buyers so hot? Because today's rate is only 35% of the fifty-year average! That means your monthly mortgage payment buys a whole lot of house right now, and that buying power will fall when interest rates rise. When you consider that prices are moving higher fast right now, you should know that your buying power is stronger now than when prices and rates move higher!
Status Of Current Home Listings
This next graph shows that there is a higher percentage of homes for sale in Tallahassee under contract with buyers than ever before. That means slim pickings for buyers and favorable market conditions for sellers. Nothing is more frustrating as a buyer than finding the perfect home, only to find out somebody else beat you to it, but that is what is happening to many buyers today.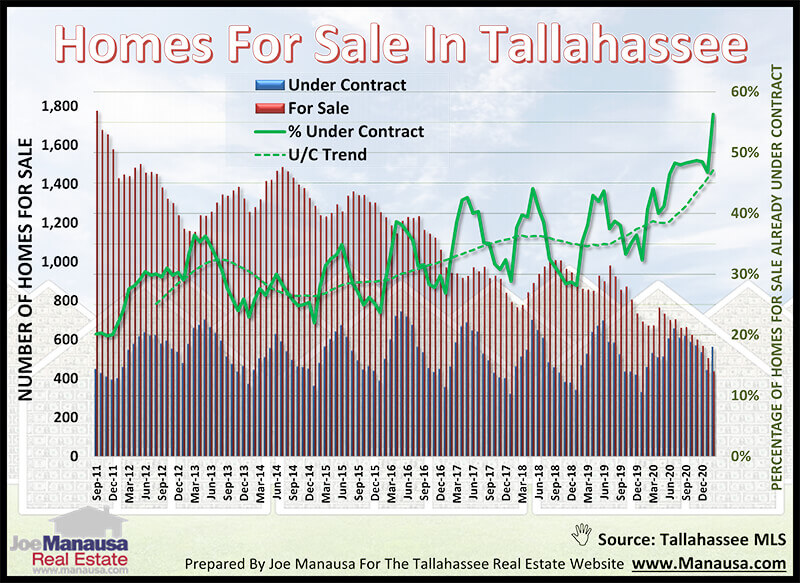 Nearly 3 of every 5 homes listed for sale right now are already under contract. The green line in the graph above shows that 56% of the current listings are already under contract, and the one-year trend of the under-contract percentage is at an all-time high of more than 47%.
We are expecting more sellers to enter the market over the next six months, but it is doubtful we will see much of a dip in this ratio. And don't be surprised to see it continue higher if too few sellers list their homes.
Let's discuss what this means exactly for today's buyers, and we'll compare it with what buyers were seeing at the beginning of this graph in 2011.
As I produce this report, there are 1,052 homes for sale in Leon County, but only 458 of them are really available as buyers have the other 549 already under contract.
So a buyer today has just 458 homes available to purchase. At this time in 2011, there were more than twice as many homes available, and there were far fewer buyers looking at them. The competition for the few homes is so high today, buyers don't have time to think, they must react fast when a new home hits the market.
This means today's buyers have to be prepared well ahead of time. If you go looking at houses before you get your finances in order, expect to be heartbroken. You will lose out on the home you love, only to find homes more expensive once you get your affairs together.
Smart sellers are taking cash offers (or offers with limited financing contingencies), so forget about getting your dream home with a contract that asks the sellers to wait for you to find financing. Again, get your loan documents completed before looking at homes, it's the only way to entice a seller to take your offer.
I strongly encourage all buyers to meet with a buyer's agent to put together a complete acquisition plan so that when the right home is found, you can make it your own. Remember, other buyers will be bidding on the home too, so you have to appear strong so that the seller will consider your offer.
Barbara Corcoran created and managed the top brokerage in New York City, and she knows which agents are committed to spending the money needed to generate the most buyers for each seller.
Joe Manausa spends more money marketing homes each MONTH than most Tallahassee agents make in a YEAR! So if you want to work with the agent who will generate the most traffic for your home, contact Joe.
Annual Real Estate Appreciation
The best way to measure real estate appreciation across the market is to measure the change in the median existing-home value each year. We simply record the price per square foot of each home sold and then find the median for each year.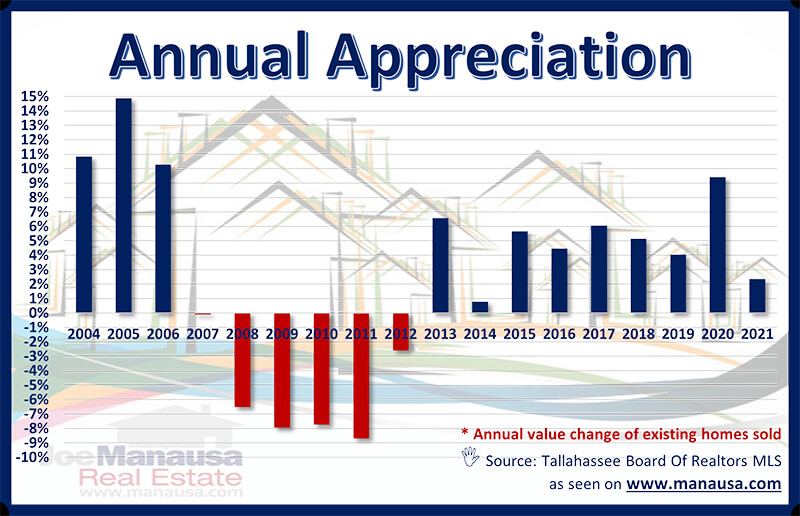 For the first ten or more years of my career, we saw real estate appreciation average a little more than 3% each year. But the craziness of the housing market in the early 2000s has created chaos since.
The graph above plots the change in the median home value each year. Blue bars show growth, red bars show declines.
The graph shows clearly that the rampant appreciation that began last year has continued. In an earlier market report, I had forecast double-digit appreciation for 2021. Through 1/8th of the year, appreciation is more than 2% (an annualized rate of more than 17%).
If builders don't ramp up production for 2021, we could see existing home values rise an alarming 20% in 2021. To put that into perspective, that means a $250K home purchased in December 2020 will be worth more than $300K at the end of December 2021!
Median Home Price
Home affordability is facing an interesting ride right now. On the one hand, mortgage interest rates keep falling, making homes more affordable. On the other, prices are rising fast, reclaiming the affordability gains.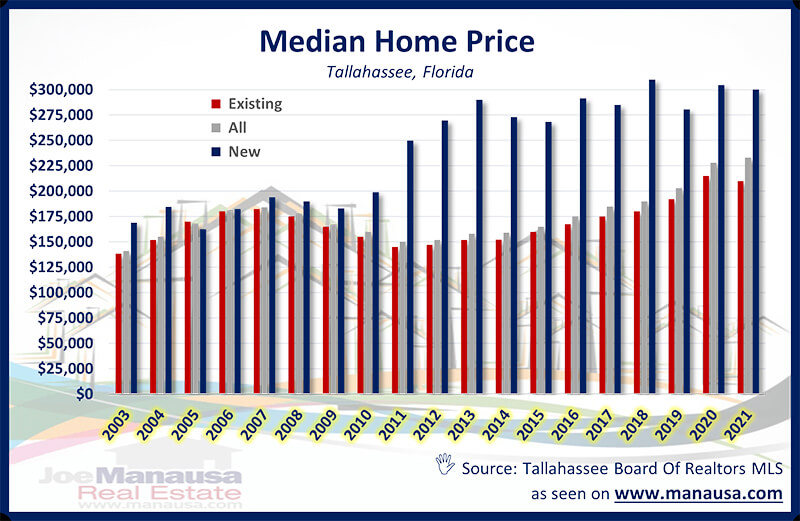 This graph shows the median home price each year (the median is not the average, rather it is the price of the home in the middle when all homes are lined up according to each sales price).
This graph shows the rapid rise in home prices. The median home price for existing homes is $210,000, for new homes the median has shot above $300,000, and overall, the median home price in Tallahassee is $233,000. That means the middle of the market is 14.8% higher today than when we began last year in January.
Fortunately for buyers, interest rates have dropped enough since then that the monthly payment to carry the median home has slightly declined! But this is a short-term opportunity (unless you believe interest rates will move lower to continue covering the rising cost of homes).
How Tough Is It For Today's Homebuyers?
So far, I believe I've made it clear that the supply of homes for sale is far too low and the competition for available listings is fierce among buyers. Our next graph serves to demonstrate how this imbalance impacts the home buying experience.
Here, we see the percentage of homes sold each month. During normal market conditions, about 17% of the homes sell each month. But look to the right side of the graph, we're often doubling that amount in recent months.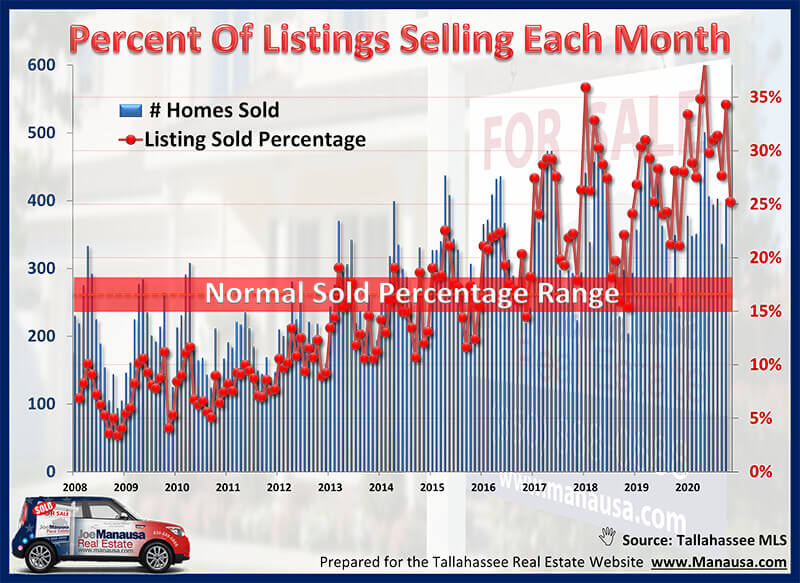 A red dot is plotted each month to show the percentage of the inventory that sold. If there were no seasonality in real estate, we would expect to see about 1/6th of the homes sell each month (17%).
As seasonality is real, we actually expect to see roughly 4 months above 17%, 4 months near 17%, and four months below 17% during the different times of the year. This graph makes it clear, these are not normal times.
When the market was coming out of its collapse, we went more than 8 years without a single month falling within the "normal" range. There were just too many homes on the market and it was common for fewer than 1/10th of them to sell each month.
Now, low inventory levels have the opposite results. About 1 in 3 homes listed for sale sold over the past six months. That means when buyers go looking at homes, there is not much out there that is not already under contract with other buyers.
Just as a final thought on the scarcity of available homes, we typically see the lowest conversion numbers in this graph in either January or February. No, we didn't see a sub-17% number in January, rather we saw an explosive 25% of the inventory sell last month and we'll see something similar in February as well.
The Take Away From This Month's Market Report
The housing market is insanely one-sided right now, with far more buyers than sellers. If you have a home to sell and market it correctly, you will get offers on the first day your home is available to be seen. Ensure your broker uses an omnichannel marketing plan with an emphasis on pre-marketing and you'll be able to choose from the multiple offers that you receive.
When mortgage interest rates rise, it will have an immediate and significant impact on demand if they rise too quickly.
The luxury homes market could very well go dormant, as it has been super-hot over the past few years (setting an all-time high in 2020). The top-end of the market is most susceptible to collapse due to rising mortgage interest rates, so high-end sellers need to "make hay while the sun is shining!).
So long as rates rise gradually, we'll see demand cool in the market, but not in a damaging way. The lowered demand will increase the relative supply of homes and hopefully slow the out-of-control appreciation of home values. I would expect to see this happen fairly soon over the next few months (as we saw a tiny move higher in January), but forecasting the future of mortgage interest rates is highly speculative.
Real estate market conditions make it the best time I've seen in my 30 years selling homes in Tallahassee to sell a home within a predictable time frame. If you are wanting to move, do so now so that you can sell your current home fast and get into your new one financed at a rate below 3% for a 30-year loan!
Your Local Expert In Tallahassee
When moving to, in, or from Tallahassee, you will fare better if you work with a local expert. We are here to help. If you have further questions on the Tallahassee real estate market, you can leave a comment below, give us a call at (850) 366-8917, or drop us a note and we'll give you the local information needed to ensure a successful, smooth transaction.
As a local born and raised in Tallahassee with a focus on customer service, I promise you'll find great success when working with Joe Manausa Real Estate, just as have our past customers. You can read thousands of their reviews reported on Google, Facebook and Zillow right here: Real Estate Agent Reviews Tallahassee.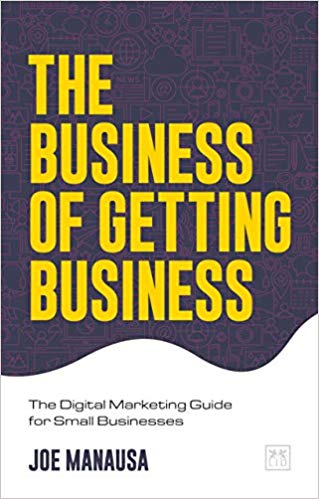 Have you heard about my new book "The Business of Getting Business?" It's a comprehensive guide for small businesses to help them make the move to digital. For those of us who want to survive and thrive in a world where large corporations are taking over, it is a must-read. It's also the perfect guide for how to sell a home in the digital age. You can find The Business Of Getting Business by clicking on any of the trusted retailers below.

Think all REALTORS are alike?
Read what people are saying about working with Joe Manausa Real Estate! You can see thousands of real customer reviews reported on Google, Facebook and Zillow at this link: CLICK HERE FOR REAL ESTATE AGENT REVIEWS.