Here's What A Million Dollars Gets You In The Housing Market Today
Posted by Joe Manausa on Thursday, August 26, 2021 at 5:56 AM
By Joe Manausa / August 26, 2021
Comment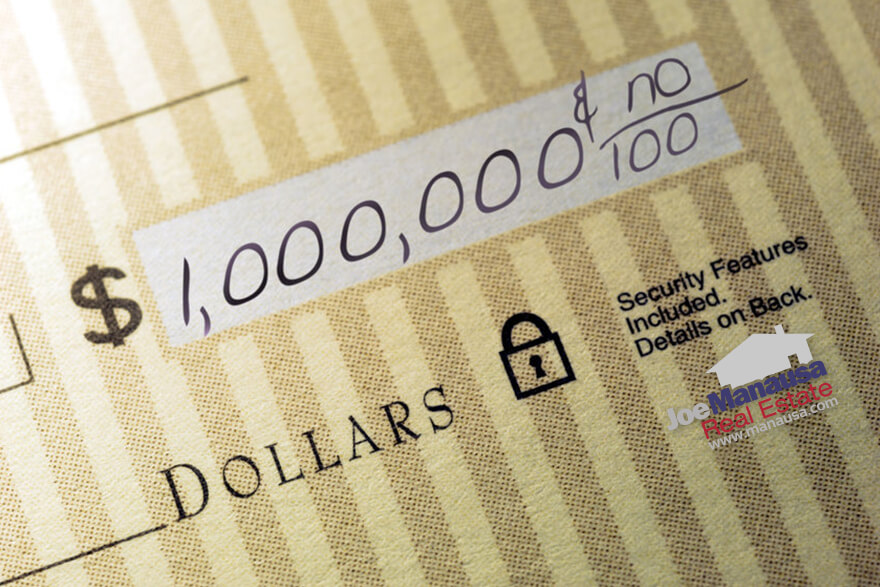 It doesn't seem so long ago that a million dollars bought you a home on a few hundred acres (and perhaps a hearty head of cattle too). But times have changed.
Today's report shows just how often million-dollar homes are selling, and it is stronger than I have ever seen during my 30-year career selling homes in Tallahassee.
We start with the listings of all million-dollar homes for sale, followed by a graph and analysis of what's happening in the high-end market today, and conclude with a list of all the homes that have sold for $1M or more over the past thirty years.
Million Dollar Homes For Sale In Tallahassee
Banner Year For Million Dollar Home Sales
It's been a great year for the Tallahassee housing market thus far, extending all the way to the very top of home prices too.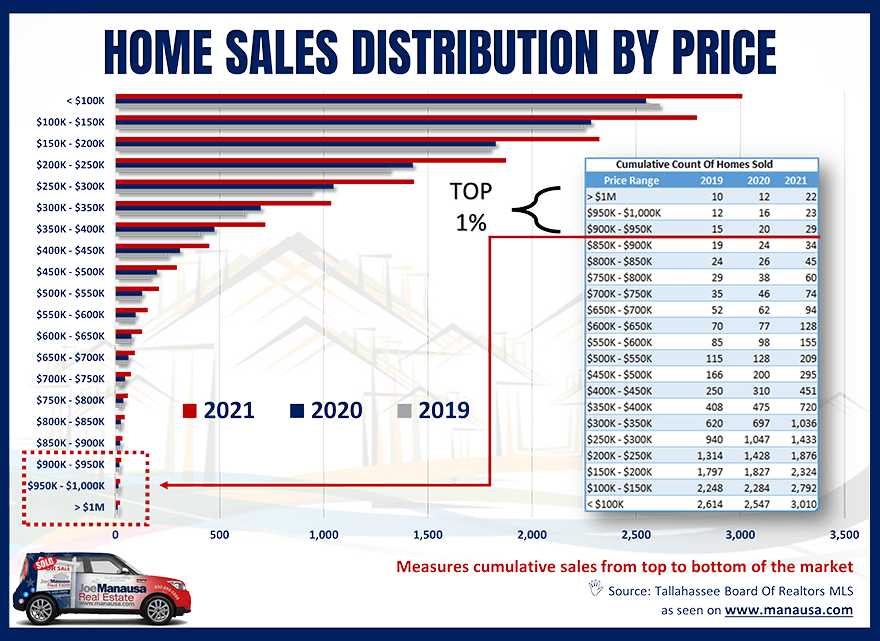 The bar chart above is an excellent visualization of the distribution of home sales by price in Tallahassee. Three different years are charted, with sales from January through July of each year.
The sales are cumulative from bottom to top, so the easiest way to read the graph is from the bottom up. The red bars show the number of homes sold in 2021, the blue reports shales for 2020, and gray is the color for 2019 home sales.
Because the top 1% of the market is a rather tiny group on this graph, the table included within the graph shows us the actual number of homes sold. So how's this for million-dollar homes?
From 2019 to 2020, million-dollar home sales rose 20% (through July), posting the best-year-ever for sales. But then 2021 came along, and this year million-dollar home sales rose an incredible 83% through July. Needless to say, 2021 is going to be the best-ever year for million-dollar home sales, even if no more are sold.
Is Your Agent Too Broke To Be Your Broker?
Most Real Estate Agents Have No Marketing Budget
The average real estate agent in Tallahassee will only sell five homes this year, and more than half will sell two or fewer. This means they do not earn enough money to spend the significant amount it takes to attract MANY buyers to your home.
They certainly cannot spend the type of money needed each day to promote your home and generate the buzz you need to attract MULTIPLE buyers. We are effective. And we spend more money each month marketing our listings than most agents earn in a year.
Let us show you how we can get your home sold for MORE MONEY than anybody else in the market!
Supply & Demand For Million Dollar Homes
Currently, there are 22 homes for sale in Tallahassee priced above $1M and 7 of them (32%) are already under contract with buyers. While this trails the overall market average of 56%, it is still a very strong under-contract percentage for high-end homes.
Recent Million Dollar Home Sales
The table below features more than 250 home sales in Tallahassee with a sales price of $1M or higher, going back to 1991. Please note that you can sort by each of the individual columns to better understand past home sales and active million-dollar neighborhoods.
| Address | Price | Price/SQF | Closing Date | Year Built | SQF | Sale Type |
| --- | --- | --- | --- | --- | --- | --- |
| 6242 Pine Fair Way | $1,590,000 | $372 | 2023-05-31 | 2018 | 4,272 | Resale |
| 8462 Proctor Road | $1,050,000 | $337 | 2023-05-31 | 2012 | 3,117 | Resale |
| 2131 W Golden Eagle Drive | $1,450,000 | $220 | 2023-05-26 | 1993 | 6,593 | Resale |
| 17024 Sunray Road | $1,250,000 | $377 | 2023-05-19 | 1994 | 3,318 | Resale |
| 1305 Rachel Lane | $1,070,000 | $317 | 2023-05-17 | 2003 | 3,377 | Resale |
| 6828 Heartland Circle | $1,400,000 | $211 | 2023-05-15 | 2000 | 6,649 | Resale |
| 6625 Pisgah Church Road | $1,200,000 | $294 | 2023-05-15 | 2004 | 4,083 | Resale |
| 3745 Bobbin Mill Road | $1,100,000 | $213 | 2023-05-08 | 1988 | 5,160 | Resale |
| 304 Desoto Street | $1,000,000 | $145 | 2023-05-05 | 1935 | 6,908 | Resale |
| 3927 W Millers Bridge Road | $2,250,000 | $398 | 2023-04-24 | 2003 | 5,656 | Resale |
| 6973 Mcbride Point | $1,250,000 | $222 | 2023-04-17 | 1967 | 5,633 | Resale |
| 4370 Old Saint Augustine Road | $1,525,000 | $341 | 2023-04-14 | 1942 | 4,473 | Resale |
| 9640 Deer Valley Drive | $1,050,000 | $260 | 2023-03-31 | 2007 | 4,035 | Resale |
| 6532 Lake Pisgah Drive | $1,100,000 | $313 | 2023-03-28 | 2016 | 3,516 | Resale |
| 9293 White Blossom Way | $1,400,000 | $326 | 2023-03-22 | 2023 | 4,300 | New |
| 2215 Thomasville Road | $1,225,000 | $294 | 2023-03-17 | 2004 | 4,164 | Resale |
| 1887 Ox Bow Trace | $1,065,000 | $228 | 2023-03-15 | 2004 | 4,671 | Resale |
| 9591 Deer Valley Drive | $1,005,000 | $218 | 2023-03-13 | 2009 | 4,600 | Resale |
| 9682 Deer Valley Drive | $1,199,000 | $198 | 2023-03-10 | 2005 | 6,064 | Resale |
| 4404 Bradfordville Road | $1,100,000 | $268 | 2023-02-14 | 2008 | 4,112 | Resale |
| 1385 White Star Lane | $1,471,000 | $248 | 2023-02-14 | 2001 | 5,931 | Resale |
| 1307 Live Oak Plantation Road | $1,650,000 | $290 | 2023-02-10 | 2016 | 5,686 | Resale |
| 3060 Four Oaks Boulevard | $1,151,000 | $309 | 2023-01-25 | 2022 | 3,720 | New |
| 831 Lake Ridge Drive | $1,995,000 | $440 | 2023-01-17 | 1951 | 4,538 | Resale |
| 4556 Grove Park Drive | $1,000,000 | $260 | 2023-01-13 | 2008 | 3,840 | Resale |
| 152 Rosehill Dr W | $2,400,000 | $403 | 2023-01-12 | 2021 | 5,954 | Resale |
| 3264 Hemingway Boulevard | $1,000,000 | $271 | 2023-01-09 | 2008 | 3,693 | Resale |
| 8014 Susan Bradford Lane | $1,800,000 | $396 | 2022-12-29 | 2022 | 4,545 | New |
| 7207 Ox Bow Circle | $1,350,500 | $290 | 2022-12-27 | 2000 | 4,658 | Resale |
| 9580 Deer Valley Dr | $1,700,000 | $295 | 2022-12-21 | 2016 | 5,750 | Resale |
| 2378 Maple Leaf Way | $1,004,900 | $272 | 2022-12-13 | 2022 | 3,700 | New |
| 7007 Katie Ashlee Court | $1,051,800 | $336 | 2022-12-06 | 2012 | 3,133 | Resale |
| 3912 W Millers Bridge Road | $1,350,000 | $304 | 2022-12-01 | 2000 | 4,440 | Resale |
| 10050 Miccosukee Road | $2,000,000 | $377 | 2022-11-30 | 1999 | 5,304 | Resale |
| 152 Rosehill Dr W | $2,400,000 | $403 | 2022-11-28 | 2021 | 5,954 | Resale |
| 6611 Lake Pisgah Drive | $1,778,417 | $402 | 2022-11-18 | 2022 | 4,420 | New |
| 3815 E Millers Bridge Road | $1,150,000 | $243 | 2022-11-10 | 2003 | 4,740 | Resale |
| 3899 W Millers Bridge Road | $1,850,000 | $257 | 2022-10-31 | 1998 | 7,191 | Resale |
| 6949 Mcbride Point | $1,450,000 | $282 | 2022-10-21 | 1974 | 5,146 | Resale |
| 4101 Faulkner Lane | $1,000,000 | $275 | 2022-10-21 | 2011 | 3,634 | Resale |
| 15210 Mahan Drive | $1,050,000 | $326 | 2022-10-11 | 2018 | 3,221 | Resale |
| 2000 Dogwood Hill | $3,050,000 | $266 | 2022-10-07 | 2003 | 11,464 | Resale |
| 3677 Mossy Creek Lane | $1,050,000 | $254 | 2022-09-30 | 2007 | 4,137 | Resale |
| 6490 Wiregrass Way | $1,550,000 | $316 | 2022-09-21 | 2018 | 4,907 | Resale |
| 2215 Thomasville Road | $1,272,500 | $306 | 2022-09-16 | 2004 | 4,164 | Resale |
| 2822 Old St Augustine Rd | $1,300,000 | $560 | 2022-08-31 | 1976 | 2,318 | Resale |
| 7007 Mcbride Point | $1,217,000 | $287 | 2022-08-12 | 1988 | 4,235 | Resale |
| 8040 Oak Grove Plantation Road | $1,187,000 | $287 | 2022-08-09 | 2021 | 4,130 | New |
| 2229 Demeron Road | $1,500,000 | $302 | 2022-08-09 | 1964 | 4,972 | Resale |
| 3860 Bobbin Brook Circle | $1,200,000 | $252 | 2022-07-29 | 1990 | 4,753 | Resale |
| 6292 Amanda Nicole Court | $1,110,000 | $303 | 2022-07-25 | 2016 | 3,660 | Resale |
| 3418 Lakeshore Drive | $1,550,000 | $281 | 2022-07-19 | 1952 | 5,518 | Resale |
| 814 Live Oak Plantation Road | $1,420,922 | $271 | 2022-07-15 | 1988 | 5,242 | Resale |
| 7502 Lick Skillet Drive | $1,320,000 | $303 | 2022-07-13 | 2016 | 4,363 | Resale |
| 7019 Field Trial Lane | $1,195,000 | $340 | 2022-07-13 | 2016 | 3,516 | Resale |
| 3876 W Millers Bridge Road | $1,380,000 | $341 | 2022-07-01 | 2001 | 4,048 | Resale |
| 3488 Velda Dairy Drive | $1,275,000 | $255 | 2022-06-28 | 2008 | 5,006 | Resale |
| 9722 Prestancia Way | $1,017,000 | $220 | 2022-06-24 | 2005 | 4,620 | Resale |
| 6689 Lake Pisgah Drive | $1,220,000 | $370 | 2022-06-20 | 2022 | 3,300 | New |
| 1720 Tarpon Drive | $1,202,500 | $245 | 2022-06-15 | 1974 | 4,913 | Resale |
| 410 N Copeland Street | $2,000,000 | $1,377 | 2022-06-15 | 1996 | 1,452 | Resale |
| 6324 Centerville Road | $1,200,000 | $323 | 2022-05-20 | 1997 | 3,720 | Resale |
| 321 Oaks Will Court | $1,500,000 | $395 | 2022-05-18 | 2009 | 3,799 | Resale |
| 6290 Pine Fair Way | $1,040,000 | $298 | 2022-04-28 | 2015 | 3,489 | Resale |
| 1899 Miller Landing Road | $1,250,000 | $250 | 2022-04-22 | 1992 | 4,996 | Resale |
| 3000 Thomasville Road | $1,635,000 | $328 | 2022-04-14 | 2015 | 4,979 | Resale |
| 1306 Preakness Point | $1,000,050 | $329 | 2022-04-14 | 2006 | 3,038 | Resale |
| 3931 W Millers Bridge Road | $2,175,000 | $290 | 2022-04-13 | 2003 | 7,505 | Resale |
| 9090 Magnolia Hill Drive | $1,050,000 | $341 | 2022-04-12 | 2007 | 3,081 | Resale |
| 3646 Mossy Creek Lane | $1,040,000 | $217 | 2022-04-08 | 2008 | 4,794 | Resale |
| 511 River Pond Court | $1,500,000 | $384 | 2022-03-31 | 2017 | 3,903 | Resale |
| 9803 Woodland Hills Way | $1,400,000 | $252 | 2022-03-23 | 1998 | 5,552 | Resale |
| 3927 W Millers Bridge Road | $1,937,500 | $343 | 2022-03-23 | 2003 | 5,656 | Resale |
| 2700 Cline Street | $1,350,000 | $266 | 2022-03-23 | 1971 | 5,069 | Resale |
| 6706 Oakdown Drive | $1,415,000 | $345 | 2022-03-18 | 2022 | 4,099 | New |
| 2562 Millstone Plantation Rd | $1,375,000 | $276 | 2022-02-28 | 2003 | 4,974 | Resale |
| 4500 Highgrove Place | $1,050,000 | $370 | 2022-02-28 | 1994 | 2,840 | Resale |
| 986 Bellflower Court | $1,090,000 | $211 | 2022-02-18 | 1993 | 5,156 | Resale |
| 5795 Farnsworth Drive | $1,150,000 | $276 | 2022-02-15 | 2020 | 4,174 | Resale |
| 2803 Thomasville Road | $1,375,000 | $360 | 2022-01-19 | 2022 | 3,816 | New |
| 6997 Heartland Cir | $1,500,000 | $341 | 2022-01-18 | 2002 | 4,391 | Resale |
| 8519 Congressional Drive | $1,250,000 | $303 | 2021-12-23 | 1993 | 4,131 | Resale |
| 214 Rosehill Lane | $1,152,500 | $306 | 2021-12-23 | 1989 | 3,769 | Resale |
| 3947 Old Mill Run | $2,372,500 | $288 | 2021-11-17 | 2011 | 8,231 | Resale |
| 3673 Mossy Creek Lane | $1,000,000 | $165 | 2021-11-12 | 2007 | 6,068 | Resale |
| 6611 Lake Pisgah Dr | $1,000,000 | $159 | 2021-11-08 | 2021 | 6,279 | New |
| 555 High Oaks Ct | $1,100,000 | $278 | 2021-09-30 | 2006 | 3,951 | Resale |
| 1819 Tuscan Hills Drive | $2,650,000 | $362 | 2021-09-14 | 2020 | 7,318 | Resale |
| 2114 Ox Bottom Road | $1,194,705 | $267 | 2021-09-14 | 1979 | 4,478 | Resale |
| 6823 Buck Lake Road | $1,070,000 | $261 | 2021-09-03 | 1962 | 4,098 | Resale |
| 6215 Pine Fair Way | $1,200,000 | $256 | 2021-08-27 | 2010 | 4,693 | Resale |
| 6719 Lake Pisgah Drive | $1,125,000 | $295 | 2021-08-27 | 2015 | 3,818 | Resale |
| 3116 Lauder Pl | $1,500,000 | $221 | 2021-08-27 | 2021 | 6,786 | New |
| 6641 Lake Pisgah Drive | $1,100,000 | $291 | 2021-08-24 | 2014 | 3,778 | Resale |
| 3082 Shamrock St N | $1,100,000 | $143 | 2021-08-13 | 1983 | 7,700 | Resale |
| 3791 E Millers Bridge Road | $1,310,000 | $294 | 2021-08-13 | 2000 | 4,452 | Resale |
| 3178 Dunbar Ln | $1,000,100 | $152 | 2021-08-10 | 2021 | 6,562 | New |
| 6273 Pine Fair Way | $1,019,890 | $298 | 2021-08-01 | 2019 | 3,426 | New |
| 6986 Heartland Circle | $1,500,000 | $212 | 2021-07-29 | 2004 | 7,059 | Resale |
| 13922 Grass Pond Drive | $1,701,620 | $197 | 2021-07-19 | 2021 | 8,625 | New |
| 6634 Lake Pisgah Dr | $1,200,000 | $286 | 2021-07-19 | 2020 | 4,193 | Resale |
| 2732 Millstone Plantation Road | $1,035,000 | $223 | 2021-07-09 | 2005 | 4,648 | Resale |
| 1819 Tuscan Hill Drive | $2,300,000 | $314 | 2021-06-29 | 2020 | 7,318 | New |
| 3160 Persimmon Drive | $1,370,000 | $304 | 2021-06-18 | 2019 | 4,514 | Resale |
| 1500 Escadrille Drive | $1,050,000 | $240 | 2021-06-15 | 2010 | 4,371 | Resale |
| 8017 Oak Grove Plantation Rd | $1,230,000 | $197 | 2021-06-15 | 2008 | 6,231 | Resale |
| 7202 Buck Lake Rd | $2,750,000 | $934 | 2021-06-10 | 1961 | 2,942 | Resale |
| 6242 Pine Fair Way | $1,180,000 | $276 | 2021-05-28 | 2017 | 4,272 | Resale |
| 3725 Bobbin Mill Road | $1,850,000 | $303 | 2021-05-27 | 1983 | 6,111 | Resale |
| 6049 Pisgah Church Road | $1,050,000 | $168 | 2021-05-14 | 1982 | 6,260 | Resale |
| 4714 Highgrove Rd | $1,050,000 | $280 | 2021-05-07 | 2015 | 3,750 | Resale |
| 320 Oaks Will Court | $2,165,000 | $278 | 2021-04-30 | 2002 | 7,790 | Resale |
| 504 Plantation Road | $1,100,000 | $224 | 2021-04-28 | 1957 | 4,900 | Resale |
| 4534 Highgrove Place | $1,765,000 | $221 | 2021-04-22 | 1981 | 8,000 | Resale |
| 2550 N Meridian Rd 1 | $1,244,200 | $189 | 2021-04-02 | 1987 | 6,571 | Resale |
| 1808 Ox Bottom Lane | $1,250,000 | $272 | 2021-03-17 | 1996 | 4,603 | Resale |
| 2753 Millstone Plantation Road | $1,074,000 | $244 | 2021-03-17 | 2006 | 4,408 | Resale |
| 6251 Pine Fair Way | $1,900,000 | $317 | 2021-03-12 | 2016 | 6,000 | Resale |
| 9279 White Blossom Way | $1,525,000 | $243 | 2021-03-05 | 2005 | 6,287 | Resale |
| 2147 Golden Eagle West Drive | $1,315,000 | $187 | 2021-03-03 | 2002 | 7,048 | Resale |
| 1729 Tarpon Drive | $1,430,000 | $224 | 2021-02-19 | 1993 | 6,392 | Resale |
| 7392 Ox Bow Circle | $1,125,000 | $220 | 2021-02-18 | 2006 | 5,103 | Resale |
| 584 Frank Shaw Road | $1,420,000 | $165 | 2021-02-08 | 2006 | 8,629 | Resale |
| 2350 Ashdown Forest Way | $1,300,000 | $555 | 2021-01-22 | 2016 | 2,344 | Resale |
| 2562 Millstone Plantation Road | $1,292,500 | $249 | 2020-12-28 | 2003 | 5,181 | Resale |
| 7087 Grenville Road | $1,450,000 | $301 | 2020-12-18 | 2018 | 4,820 | Resale |
| 323 E Park Avenue | $1,200,000 | $209 | 2020-12-15 | 1840 | 5,731 | Resale |
| 5600 Pimlico Drive | $1,050,000 | $229 | 2020-12-07 | 1988 | 4,588 | Resale |
| 7233 Anhinga Farms Road | $1,530,000 | $202 | 2020-11-20 | 1970 | 7,585 | Resale |
| 1385 White Star Lane | $1,250,000 | $221 | 2020-11-05 | 2001 | 5,667 | Resale |
| 520 Plantation Road | $1,000,000 | $202 | 2020-10-30 | 1968 | 4,941 | Resale |
| 8025 Oak Grove Plantation Road | $1,164,000 | $195 | 2020-10-29 | 2008 | 5,965 | Resale |
| 1665 Bannerman Rd | $4,400,000 | $981 | 2020-10-15 | 1963 | 4,483 | Resale |
| 2009 Dogwood Hill | $1,100,000 | $314 | 2020-09-30 | 1981 | 3,504 | Resale |
| 3700 Bobbin Brook Way | $2,000,000 | $439 | 2020-09-25 | 2005 | 4,554 | Resale |
| 3815 E Millers Bridge Road | $1,010,000 | $213 | 2020-09-18 | 2003 | 4,740 | Resale |
| 3915 W Millers Bridge Rd | $2,100,000 | $319 | 2020-09-11 | 2007 | 6,565 | Resale |
| 2100 Thirlestane Road | $1,425,000 | $254 | 2020-09-11 | 1994 | 5,610 | Resale |
| 7117 Sleepy Hollow Circle | $1,100,000 | $237 | 2020-08-10 | 2020 | 4,648 | New |
| 6957 Buck Lake Road | $1,250,000 | $125 | 2020-07-27 | 2009 | 9,998 | Resale |
| 817 Lake Ridge Drive | $1,150,000 | $250 | 2020-07-02 | 1966 | 4,594 | Resale |
| 9568 Deer Valley Drive | $1,500,000 | $293 | 2020-06-01 | 2019 | 5,122 | Resale |
| 9580 Deer Valley Dr | $1,160,000 | $201 | 2020-06-01 | 2016 | 5,750 | Resale |
| 7094 Quail Call Drive | $1,142,050 | $342 | 2020-05-28 | 2020 | 3,337 | New |
| 5994 Colonel Scott Drive | $1,150,000 | $321 | 2020-04-23 | 2019 | 3,588 | New |
| 3621 Mossy Creek Lane | $1,175,000 | $159 | 2020-03-16 | 2008 | 7,403 | Resale |
| 2805 Thomasville Road | $1,200,000 | $343 | 2020-03-10 | 1952 | 3,500 | Resale |
| 637 Live Oak Plantation Road | $2,000,000 | $308 | 2020-02-20 | 2002 | 6,487 | Resale |
| 3896 Bobbin Brook Cir | $1,575,000 | $264 | 2020-02-14 | 2007 | 5,977 | Resale |
| 3661 Phipps Point Road | $2,400,000 | $331 | 2020-02-12 | 2016 | 7,245 | Resale |
| 5000 Brill Point | $1,200,000 | $229 | 2020-01-30 | 1997 | 5,244 | Resale |
| 633 W Pensacola St | $1,625,000 | $514 | 2020-01-29 | 1939 | 3,160 | Resale |
| 6665 Lake Pisgah Dr | $1,340,000 | $267 | 2020-01-17 | 2019 | 5,014 | New |
| 1566 Escadrille Drive | $1,095,000 | $218 | 2020-01-13 | 2005 | 5,022 | Resale |
| 2150 Thirlestane Road | $2,200,000 | $217 | 2019-12-06 | 1995 | 10,122 | Resale |
| 3842 E Millers Bridge Road | $1,245,000 | $252 | 2019-12-03 | 2001 | 4,947 | Resale |
| 3764 Bobbin Brook Circle | $1,600,000 | $216 | 2019-11-22 | 2001 | 7,395 | Resale |
| 3015 Thomasville Road | $1,250,000 | $358 | 2019-10-09 | 1950 | 3,488 | Resale |
| 405 E Carolina St 220 | $2,400,000 | $1,875 | 2019-10-03 | 1969 | 1,280 | Resale |
| 415 N Gadsden St 211 | $1,440,000 | $1,125 | 2019-10-03 | 1969 | 1,280 | Resale |
| 3725 Phipps Point Road | $1,500,000 | $264 | 2019-09-18 | 2004 | 5,679 | Resale |
| 1417 Pedrick Rd | $1,050,000 | $278 | 2019-09-10 | 1957 | 3,765 | Resale |
| 3935 Old Mill Run | $1,275,000 | $218 | 2019-09-04 | 1999 | 5,836 | Resale |
| 1715 Tarpon Drive | $1,235,000 | $282 | 2019-08-09 | 1990 | 4,382 | Resale |
| 9568 Deer Valley | $1,300,000 | $236 | 2019-06-23 | 2019 | 5,500 | New |
| 3797 Bobbin Mill Rd | $1,055,000 | $188 | 2019-06-14 | 1987 | 5,603 | Resale |
| 8017 Oak Grove Plantation Rd | $1,125,000 | $181 | 2019-05-29 | 2008 | 6,231 | Resale |
| 6551 Summer Duck Road | $1,128,000 | $275 | 2019-05-28 | 2019 | 4,100 | New |
| 3811 E Millers Bridge Road | $1,350,000 | $233 | 2019-05-01 | 2004 | 5,795 | Resale |
| 2768 Millstone Plantation Road | $1,325,000 | $265 | 2019-04-29 | 2010 | 4,996 | Resale |
| 6617 Heartland Circle | $1,950,000 | $149 | 2019-04-17 | 2001 | 13,100 | Resale |
| 2405 Jackson Bluff Rd 1 | $1,000,000 | $708 | 2019-03-29 | 2004 | 1,412 | Resale |
| 1101 Carriage Road | $1,400,000 | $210 | 2019-03-08 | 2016 | 6,651 | Resale |
| 9664 Deer Valley Drive | $1,050,000 | $209 | 2019-02-28 | 2003 | 5,019 | Resale |
| 2B Lake Pisgah Drive | $1,125,000 | $266 | 2019-02-22 | 2019 | 4,234 | New |
| 4430 Thomasville Rd | $2,046,500 | $398 | 2019-01-15 | 1982 | 5,148 | Resale |
| 4442 Thomasville Road | $2,046,500 | $398 | 2019-01-15 | 1982 | 5,148 | Resale |
| 4725 Mahan Drive | $6,042,730 | $1,168 | 2018-12-20 | 1972 | 5,172 | Resale |
| 3700 Bobbin Brook Way | $1,800,000 | $395 | 2018-11-30 | 2005 | 4,554 | Resale |
| 1578 Escadrille Drive | $1,100,000 | $176 | 2018-11-26 | 2007 | 6,262 | Resale |
| 9513 Woodland Hills Way | $1,550,000 | $232 | 2018-11-15 | 2002 | 6,679 | Resale |
| 9525 Woodland Hills Way | $1,550,000 | $232 | 2018-11-15 | 2002 | 6,679 | Resale |
| 3349 Charleston Road | $1,200,000 | $218 | 2018-11-09 | 2003 | 5,500 | Resale |
| 328 Cortez St | $1,675,000 | $339 | 2018-09-28 | 1926 | 4,945 | Resale |
| 1130 Carriage Road | $1,300,000 | $181 | 2018-09-26 | 2018 | 7,200 | New |
| 6551 Summer Duck Rd | $1,000,000 | $178 | 2018-09-21 | 2018 | 5,616 | New |
| 2147 Golden Eagle Drive W. | $1,325,000 | $188 | 2018-09-14 | 2002 | 7,048 | Resale |
| 9676 Deer Valley Drive | $1,100,000 | $191 | 2018-09-10 | 2004 | 5,758 | Resale |
| 7144 Heartland Circle | $1,270,000 | $202 | 2018-08-22 | 2001 | 6,284 | Resale |
| 1727 Glenoak Trl | $1,200,000 | $387 | 2018-08-15 | 1989 | 3,101 | Resale |
| 3891 Windbrook Ct | $3,550,000 | $402 | 2018-08-13 | 2001 | 8,831 | Resale |
| 3924 W Millers Bridge Rd | $2,000,000 | $154 | 2018-08-07 | 2018 | 12,948 | New |
| 6545 Summer Duck Rd Road | $1,073,640 | $230 | 2018-07-31 | 2016 | 4,668 | Resale |
| 1555 Escadrille Drive | $1,029,000 | $264 | 2018-07-20 | 2018 | 3,900 | New |
| 6668 Heartland Circle | $1,150,000 | $172 | 2018-07-02 | 2005 | 6,697 | Resale |
| 243 Rosehill Dr N | $1,275,000 | $170 | 2018-06-29 | 1996 | 7,496 | Resale |
| 6325 Velda Dairy Rd | $1,500,000 | $430 | 2018-06-15 | 1989 | 3,485 | Resale |
| 153 Rosehill Dr W | $1,470,000 | $248 | 2018-06-12 | 2013 | 5,939 | Resale |
| 3150 Dunbar Lane | $1,050,000 | $216 | 2018-05-31 | 2014 | 4,853 | Resale |
| 3896 Bobbin Brook Cir | $1,450,000 | $243 | 2018-05-25 | 2007 | 5,977 | Resale |
| 267 Rosehill Dr N | $1,250,000 | $195 | 2018-05-01 | 1997 | 6,422 | Resale |
| 930 Live Oak Plantation Road | $1,722,000 | $241 | 2018-04-26 | 1972 | 7,140 | Resale |
| 3386 Lakeshore Drive | $1,150,000 | $140 | 2018-03-01 | 1979 | 8,206 | Resale |
| 2000 Dogwood Hill | $1,700,000 | $147 | 2018-01-22 | 2003 | 11,558 | Resale |
| 208 Rosehill Dr W | $1,100,000 | $188 | 2017-12-15 | 1997 | 5,851 | Resale |
| 3154 Persimmon Drive | $1,300,000 | $264 | 2017-08-22 | 2017 | 4,918 | New |
| 7219 Ox Bow Cir | $1,000,000 | $186 | 2017-07-28 | 2001 | 5,385 | Resale |
| 3939 Old Mill Run | $1,155,000 | $230 | 2017-07-28 | 2017 | 5,023 | New |
| 9279 White Blossom | $1,350,000 | $215 | 2017-07-27 | 2005 | 6,287 | Resale |
| 6089 Leigh Read Road | $1,900,000 | $165 | 2017-06-13 | 2009 | 11,521 | Resale |
| 144 W Rosehill Drive | $1,100,000 | $216 | 2017-05-23 | 2002 | 5,095 | Resale |
| 244 N Rosehill | $1,000,000 | $112 | 2017-05-08 | 1991 | 8,924 | Resale |
| 7103 Ox Bow | $1,070,000 | $241 | 2017-05-01 | 2017 | 4,444 | New |
| 217 Rosehill Dr N | $1,825,000 | $347 | 2016-12-09 | 1990 | 5,261 | Resale |
| 1650 Baum Road | $1,420,000 | $245 | 2016-10-03 | 2001 | 5,800 | Resale |
| 3000 Thomasville Road | $1,146,800 | $230 | 2016-06-09 | 2015 | 4,979 | Resale |
| 2217 Thomasville Road | $1,151,200 | $260 | 2016-05-31 | 2016 | 4,430 | New |
| 4493 Rockbridge Holw | $1,250,000 | $418 | 2016-05-10 | 1993 | 2,991 | Resale |
| 5300 Bradfordville Road | $1,975,000 | $595 | 2016-04-15 | 1980 | 3,318 | Resale |
| 543 High Oaks Ct. | $1,125,000 | $206 | 2015-09-04 | 2006 | 5,472 | Resale |
| 2023 Marne Court | $1,098,000 | $220 | 2015-08-21 | 2005 | 5,000 | Resale |
| 2150 Thirlestane Road | $2,094,000 | $197 | 2015-08-10 | 1995 | 10,644 | Resale |
| 6995 Big Woods Drive | $1,050,000 | $187 | 2015-07-23 | 2010 | 5,626 | Resale |
| 6420 Thomasville Road | $1,550,000 | $146 | 2015-07-10 | 1990 | 10,642 | Resale |
| 3000 Thomasville Road | $1,050,000 | $215 | 2015-07-03 | 2015 | 4,884 | New |
| 8008 Oak Grove Plantation Road | $1,550,000 | $240 | 2015-05-05 | 2009 | 6,448 | Resale |
| 1812 Tuscan Hill | $2,500,000 | $305 | 2015-05-05 | 2015 | 8,200 | New |
| 2984 Wateroak Plantation | $3,740,599 | $249 | 2015-04-30 | 1945 | 15,000 | Resale |
| 259 Rosehill Dr N | $1,700,000 | $265 | 2015-01-30 | 2000 | 6,416 | Resale |
| 6089 Leigh Read Rd | $1,999,900 | $174 | 2015-01-21 | 2009 | 11,521 | Resale |
| 2023 Marne Ct | $1,000,000 | $210 | 2014-09-15 | 2005 | 4,761 | Resale |
| 2111 Two Pond Ln | $1,000,000 | $224 | 2014-08-28 | 1994 | 4,470 | Resale |
| 6986 Heartland Cir | $1,650,000 | $234 | 2014-07-15 | 2004 | 7,059 | Resale |
| 9279 White Blossom Way | $1,495,000 | $238 | 2014-06-13 | 2005 | 6,287 | Resale |
| 710 Live Oak Plantation Rd | $1,200,000 | $240 | 2013-11-27 | 1981 | 4,990 | Resale |
| 1566 Escadrille Dr | $1,000,000 | $201 | 2013-11-21 | 2005 | 4,973 | Resale |
| 1800-1847 Ashley Hall Way | $1,072,524 | $507 | 2013-08-08 | 2007 | 2,115 | Resale |
| 2700 Woodside Dr | $1,275,000 | $265 | 2013-07-29 | 1958 | 4,815 | Resale |
| 7465 Heartland Cir | $1,025,000 | $188 | 2013-07-17 | 1994 | 5,446 | Resale |
| 608 Plantation Rd | $1,025,000 | $190 | 2013-05-15 | 1959 | 5,393 | Resale |
| 217 Rosehill Dr N | $1,125,000 | $254 | 2013-04-01 | 1990 | 4,428 | Resale |
| 3700 Bobbin Brook Way | $1,450,000 | $326 | 2013-01-28 | 2005 | 4,450 | Resale |
| 3919 W Millers Bridge Rd | $1,550,000 | $326 | 2012-12-31 | 2007 | 4,757 | Resale |
| 3907 W Millers Bridge Rd | $2,400,000 | $303 | 2012-12-13 | 2003 | 7,909 | Resale |
| 7144 Heartland Cir | $1,075,000 | $171 | 2012-11-09 | 2001 | 6,284 | Resale |
| 7403 Ox Bow Cir | $1,050,000 | $122 | 2012-10-15 | 2005 | 8,587 | Resale |
| 2277 Graphene Ln | $1,000,000 | -- | 2012-08-31 | -- | -- | Resale |
| 1815 Tuscan Hill Dr | $1,500,000 | $220 | 2012-04-27 | 2010 | 6,815 | Resale |
| 545 Maclay Rd | $1,250,000 | $220 | 2012-02-16 | 1987 | 5,693 | Resale |
| 4504 Rockbridge Holw | $1,000,000 | $176 | 2011-10-03 | 1988 | 5,668 | Resale |
| 2147 Golden Eagle Dr W | $1,200,000 | $170 | 2011-09-12 | 2002 | 7,055 | Resale |
| 6617 Heartland Cir | $1,300,000 | $138 | 2011-05-12 | 2001 | 9,403 | Resale |
| 1385 White Star Ln | $1,335,000 | $236 | 2010-02-26 | 2001 | 5,667 | Resale |
| 2163 Golden Eagle Dr W | $4,225,000 | $329 | 2009-10-10 | 2005 | 12,836 | Resale |
| 3915 W Millers Bridge Rd | $1,340,000 | $206 | 2009-09-18 | 2007 | 6,495 | Resale |
| 3289 Bannerman Rd | $1,350,000 | $574 | 2009-05-28 | 1977 | 2,350 | Resale |
| 621 N Calhoun St | $1,250,000 | $102 | 2009-05-20 | 1972 | 12,204 | Resale |
| 3919 W Millers Bridge Rd | $1,550,000 | $326 | 2009-04-20 | 2007 | 4,757 | Resale |
| 7454 Heartland Cir | $1,160,000 | $216 | 2009-03-12 | 1997 | 5,375 | Resale |
| 1410 Betton Rd | $2,000,000 | $516 | 2008-12-05 | 1949 | 3,878 | Resale |
| 1808 Ox Bottom Ln | $1,000,000 | $248 | 2008-12-05 | 1996 | 4,027 | Resale |
| 6995 Big Woods Dr | $1,000,000 | $178 | 2008-11-24 | 2008 | 5,626 | New |
| 3669 Mossy Creek Ln | $1,500,000 | $129 | 2008-11-10 | 2008 | 11,590 | New |
| 7235 Heartland Cir | $1,398,000 | $274 | 2008-11-03 | 1995 | 5,102 | Resale |
| 1815 Tuscan Hill Dr | $1,638,210 | $240 | 2008-10-13 | 2010 | 6,815 | New |
| 2598 Millstone Plantation Rd | $1,120,000 | $239 | 2008-09-18 | 2006 | 4,695 | Resale |
| 2704 Waterford Glen Ct | $1,050,000 | $268 | 2008-08-27 | 2003 | 3,923 | Resale |
| 621 N Calhoun St | $2,000,000 | $164 | 2008-06-16 | 1972 | 12,204 | Resale |
| 1808 Ox Bottom Ln | $1,000,000 | $248 | 2008-04-30 | 1996 | 4,027 | Resale |
| 9664 Deer Valley Dr | $1,000,000 | $199 | 2008-04-09 | 2003 | 5,019 | Resale |
| 545 Maclay Rd | $1,550,000 | $273 | 2008-04-09 | 1987 | 5,684 | Resale |
| 2508 Kinhega Lodge Dr | $5,200,000 | $400 | 2008-02-19 | 1953 | 12,989 | Resale |
| 3764 Bobbin Brook Cir | $1,625,000 | $222 | 2008-01-25 | 2001 | 7,318 | Resale |
| 2802 Millstone Plantation Rd | $1,025,000 | $257 | 2008-01-18 | 2004 | 3,991 | Resale |
| 3710 Bobbin Mill Rd | $1,700,000 | $366 | 2008-01-17 | 1977 | 4,643 | Resale |
| 1578 Escadrille Dr | $1,130,000 | -- | 2008-01-11 | -- | -- | Resale |
| 1808 Ox Bottom Ln | $1,125,000 | $279 | 2007-12-17 | 1996 | 4,027 | Resale |
| 7445 Heartland Cir | $2,000,000 | $127 | 2007-11-05 | 2007 | 15,772 | New |
| 1510 Escadrille Dr | $1,200,000 | -- | 2007-10-19 | 2007 | -- | New |
| 4784 Thomasville Rd | $1,425,000 | $316 | 2007-09-26 | 1956 | 4,504 | Resale |
| 3677 Phipps Point Rd | $2,000,000 | -- | 2007-09-17 | 2007 | -- | New |
| 6617 Heartland Cir | $2,500,000 | $237 | 2007-09-08 | 2001 | 10,540 | Resale |
| 4520 Grove Park Dr | $1,146,400 | $245 | 2007-08-22 | 2007 | 4,680 | New |
| 2911 Royal Isle Dr | $1,250,000 | $269 | 2007-08-16 | 2004 | 4,643 | Resale |
| 1578 Escadrille Dr | $1,310,000 | -- | 2007-07-02 | 2007 | -- | New |
| 3424 Old Saint Augustine Rd | $1,100,000 | $1,075 | 2007-06-06 | 1960 | 1,023 | Resale |
| 3424 Old Saint Augustine Rd | $1,100,000 | $1,075 | 2007-06-06 | 1960 | 1,023 | Resale |
| 3609 N Meridian Rd | $1,900,000 | -- | 2007-06-04 | 2007 | -- | New |
| 215 W College Ave | $1,194,200 | $2,986 | 2007-02-27 | 2006 | 400 | New |
| 3915 W Millers Bridge Rd | $1,300,000 | $135 | 2007-02-20 | 2007 | 9,608 | New |
| 3006 Golden Eagle Dr E | $1,250,000 | $230 | 2007-01-05 | 2007 | 5,428 | Resale |
| 2562 Millstone Plantation Rd | $1,450,000 | $296 | 2006-12-15 | 2003 | 4,902 | Resale |
| 2782 Millstone Plantation Rd | $1,280,000 | $259 | 2006-11-30 | 2002 | 4,951 | Resale |
| 2681 Millstone Plantation Rd | $1,087,000 | $241 | 2006-11-09 | 2002 | 4,508 | Resale |
| 121 N Monroe St | $1,000,000 | $1,116 | 2006-10-06 | 2006 | 896 | New |
| 7235 Heartland Cir | $1,425,000 | $282 | 2006-09-01 | 1995 | 5,061 | Resale |
| 3246 Hemingway Blvd | $1,000,000 | $128 | 2006-08-21 | 2006 | 7,810 | New |
| 4418 High Grove Pl | $1,925,000 | $367 | 2006-08-15 | 1991 | 5,247 | Resale |
| 7081 Heartland Cir | $1,000,000 | $90 | 2006-06-27 | 2006 | 11,140 | New |
| 6438 Heartland Cir | $1,210,000 | $268 | 2006-05-12 | 2005 | 4,509 | Resale |
| 1233 Penny Ln | $1,450,000 | $323 | 2006-04-27 | 1991 | 4,483 | Resale |
| 6378 Ox Bow Run | $1,800,000 | $357 | 2006-03-13 | 2005 | 5,039 | Resale |
| 2646 Millstone Plantation Rd | $2,225,000 | $290 | 2006-02-23 | 1998 | 7,661 | Resale |
| 127 Meadow Wood Ct | $1,300,000 | $247 | 2006-02-17 | 1969 | 5,273 | Resale |
| 287 Rosehill Dr E | $1,350,000 | $242 | 2006-01-31 | 1999 | 5,571 | Resale |
| 6420 Thomasville Rd | $2,250,000 | $338 | 2005-12-30 | 1990 | 6,660 | Resale |
| 303 Rosehill Dr E | $1,200,000 | $227 | 2005-12-14 | 2005 | 5,292 | New |
| 2131 Golden Eagle Dr W | $1,200,000 | $241 | 2005-10-28 | 1993 | 4,982 | Resale |
| 1861 W Pensacola St | $1,200,000 | $714 | 2005-10-27 | 1946 | 1,681 | Resale |
| 3811 E Millers Bridge Rd | $1,050,000 | $260 | 2005-09-19 | 2004 | 4,045 | Resale |
| 2618 Centennial Pl | $1,000,000 | -- | 2005-09-12 | 2005 | -- | New |
| 2021 Cantigny Way | $1,150,000 | $256 | 2005-09-09 | 2005 | 4,498 | New |
| 3498 Mahan Dr | $1,427,500 | $229 | 2005-08-29 | 2003 | 6,223 | Resale |
| 710 Live Oak Plantation Rd | $1,839,500 | $368 | 2005-07-15 | 1981 | 4,998 | Resale |
| 3907 W Millers Bridge Rd | $3,725,000 | $470 | 2005-06-30 | 2003 | 7,925 | Resale |
| 3915 W Millers Bridge Rd | $1,300,000 | $135 | 2005-06-14 | 2007 | 9,608 | New |
| 144 Rosehill Dr W | $1,300,000 | $254 | 2005-05-02 | 2002 | 5,125 | Resale |
| 9682 Deer Valley Dr | $1,078,000 | $189 | 2005-03-25 | 2005 | 5,714 | Resale |
| 2215 Thomasville Rd | $1,050,000 | $252 | 2005-03-01 | 2004 | 4,164 | New |
| 2315 Capital Cir Ne | $1,400,000 | $715 | 2004-11-19 | 1965 | 1,958 | Resale |
| -- | $1,300,000 | $296 | 2004-11-01 | 1976 | 4,397 | Resale |
| 6420 Thomasville Rd | $2,150,000 | $323 | 2004-10-28 | 1990 | 6,660 | Resale |
| 4430 Thomasville Rd | $1,747,500 | $339 | 2004-10-15 | 1982 | 5,148 | Resale |
| 608 S Ride | $1,000,000 | $181 | 2004-07-05 | 1951 | 5,539 | Resale |
| 6157 Heartland Cir | $1,500,000 | $239 | 2004-06-04 | 1995 | 6,275 | Resale |
| 139 Rosehill Dr W | $1,250,000 | $294 | 2004-01-27 | 1997 | 4,256 | Resale |
| -- | $1,302,000 | $743 | 2003-12-12 | 1967 | 1,752 | Resale |
| 6420 Thomasville Rd | $2,500,000 | $375 | 2003-10-23 | 1990 | 6,660 | Resale |
| 2149 Settlement Rd | $1,177,500 | $2,044 | 2003-08-27 | 1950 | 576 | Resale |
| 2755 Millstone Plantation Rd | $1,300,000 | $122 | 2003-08-26 | 2003 | 10,688 | New |
| 2609 Cline St | $1,100,000 | $224 | 2003-07-02 | 1968 | 4,916 | Resale |
| 3722 Bobbin Mill Rd | $1,250,000 | $240 | 2003-06-20 | 2001 | 5,203 | Resale |
| 502 Bobbin Brook Ln | $1,050,000 | $171 | 2002-04-18 | 1989 | 6,131 | Resale |
| 7193 Ox Bow Cir | $1,396,000 | $1,163 | 2002-04-18 | 1974 | 1,200 | Resale |
| 6420 Thomasville Rd | $1,300,000 | $195 | 2001-07-31 | 1990 | 6,660 | Resale |
| 3010 Thomasville Rd | $1,000,000 | $222 | 2001-03-29 | 1938 | 4,509 | Resale |
| -- | $1,060,000 | $286 | 2000-03-31 | 1979 | 3,706 | Resale |
| 3764 Bobbin Brook Cir | $1,055,529 | $99 | 1999-09-14 | 2001 | 10,618 | New |
| 2150 Thirlestane Rd | $1,400,000 | $239 | 1999-06-07 | 1995 | 5,848 | Resale |
| 267 Rosehill Dr N | $1,775,000 | $291 | 1999-06-07 | 1997 | 6,099 | Resale |
| 259 Rosehill Dr N | $1,000,000 | $125 | 1999-03-04 | 2000 | 8,000 | New |
| 2202 Demeron Rd | $1,162,500 | -- | 1998-07-30 | -- | -- | Resale |
| 3607 N Monroe St | $1,500,000 | -- | 1998-06-24 | -- | -- | Resale |
| 3609 N Meridian Rd | $1,150,000 | -- | 1998-02-27 | -- | -- | Resale |
| 311 Buteo Ct | $1,000,000 | $119 | 1997-12-02 | 1997 | 8,389 | New |
| 4534 High Grove Pl | $1,350,000 | $182 | 1996-04-12 | -- | 7,437 | Resale |
| 2508 Kinhega Lodge Dr | $1,200,000 | $92 | 1995-12-12 | 1953 | 12,989 | Resale |
| 1571 Stone Rd | $1,241,000 | $1,173 | 1994-09-06 | 1984 | 1,058 | Resale |
| 2727 Lucerne Dr | $1,049,000 | $647 | 1993-10-28 | 1980 | 1,621 | Resale |
| -- | $1,360,000 | -- | 1993-06-30 | -- | -- | Resale |
| 7100 Roberts Rd | $1,335,000 | $131 | 1991-10-17 | 1991 | 10,226 | New |