20 AWESOME Luxury Homes With Swimming Pools
Posted by Joe Manausa on Friday, May 24, 2019 at 5:57 AM
By Joe Manausa / May 24, 2019
Comment
If you would like to see 20 of the most incredible homes for sale with pools in Tallahassee, then you have come to the right place.
This article features luxury homes for sale with pools, and we've decided that "luxury" equates to the top 1% of all homes sold by price, thus the properties below start at $800,000.
We have included all active listings, as well as a graph with an analysis of whether or not luxury home buyers favor having a pool, and conclude with five important tips for selling a luxury home today.
Luxury Homes For Sale With Swimming Pools
The following list of homes for sale all have swimming pools and are priced from $800K and above. The list is pulled from the Tallahassee MLS and is updated many times each day.
Should Luxury Homes Have A Pool?
Whether or not you like having a swimming pool, it is important for luxury home sellers to know whether or not buyers expect the home to have a pool. The following graph shows what buyers have purchased when spending $800K or more.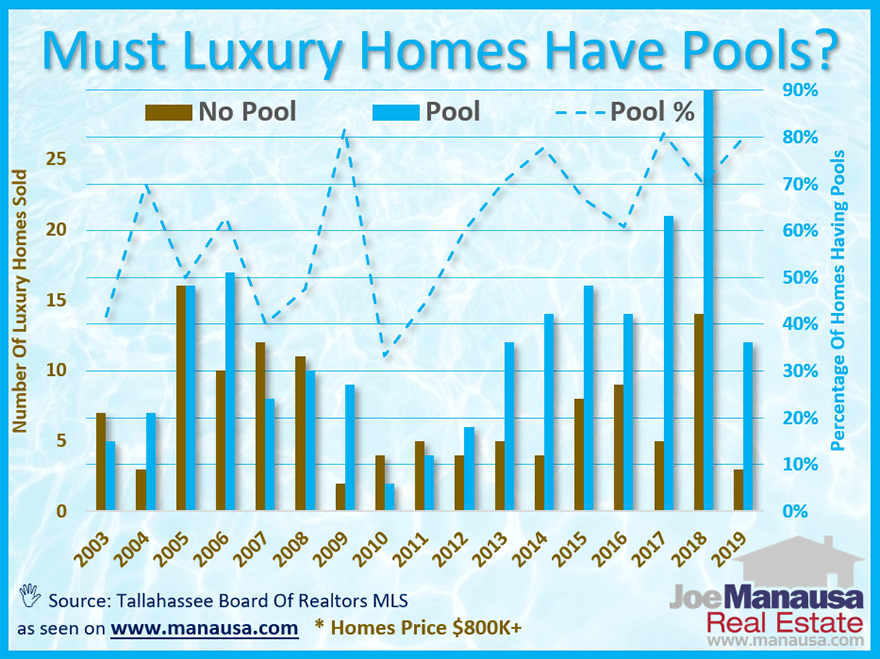 The graph above plots the sale of both luxury homes with no pools (brown columns) and luxury homes with pools (blue columns). The percentage of all luxury home sales that included a swimming pool is shown as a blue-dashed line and is measured on the right vertical axis.
This year, eighty percent of buyers are choosing luxury homes with pools. If you are a luxury homeowner who does not have a pool, you must account for this fact in your valuation if you want to attract a buyer. Remember, the high end of the market remains a buyers' market, as there are over 10 months of supply of luxury homes.
When I need real estate advice in Tallahassee, I call Joe Manausa. His innovative marketing attracts hundreds of buyers every month which creates more demand for your home, selling it faster and for more money. He guarantees to sell it on your timeline or he'll buy it! Call the agent I trust, Joe Manausa, and avoid the drama.
Tips On Selling A Luxury Home
The luxury homes market is as good as it has ever been. Last year, there were more homes sold priced above $1M than in any prior year. Despite this fact, there are still far more sellers than buyers, and many buyers are choosing to build when spending this amount of money for a home.
Hire An Agent Who Markets Homes Daily - Believe it or not, most agents gather up the information on your home, take pictures and measure all the rooms, post a sign in your yard, emplace a lock-box on your door, and then enter the information into the Tallahassee MLS. They'll send a "just listed" email to agents in the Board and maybe run an ad or two. Then they wait. THIS IS NO WAY TO MARKET A HOME. They should be doing all of the above, and then marketing the home daily on multiple channels (both online and offline). Selling a luxury home in an inventory saturated market is not a set-it and forget-it task. It requires daily diligence.
Ensure You Have A Quality Matterport Tour Of Your Home - Luxury home buyers are most comfortable getting to know a lot about a home before actually heading out to see it. A great way to allow a buyer to "take a tour" of your property is through the use of a Matterport 3D tour. If you have never seen such a tour, take a look by CLICKING HERE. If you have a large and lovely home, the Matterport tour will leave your online visitors wanting to see more.
Ensure That Your Agent Uses A Professional Photographer - This is one of those "it goes without saying," but unfortunately the majority of luxury homes for sale are not being marketed with professional photos. This is a terrible mistake. It is the photos that are used to generate interest in coming to see your home, and it takes somebody with a trained eye and professional lighting to ensure that your home is exposed correctly. You own an expensive home, ensure you hire an agent with a budget to take expensive pictures.
Ask Your Agent What You Can Do To Supplement The Social Media Marketing - Word of mouth marketing has never been more effective since the explosion of social media. Our Joe Manausa Real Estate Facebook page has nearly 10,000 followers, and a paid blast by our marketing team exposes your home to a lot of people. But your sphere of influence (your circle of friends and family members on social media) can greatly expand the word of mouth marketing conducted by a trained digital marketing expert. Even if you are not highly active on social media, you might be surprised at how you can aid the effort to get the word out about your home.
Pay Attention To The Market - It is critical you choose an agent who will give you honest advice about the value of your home and show you the market data to support it. Remember, all agents would love to get a luxury home listed, but you want a sale, not a new friend. Check the credentials of your agent, read the reviews on Google to see that others before you have been happy with his or her service and that others recommend the agent for market expertise as one of his or her strong traits.
Getting Ready To Enter The Luxury Home Market
If you are planning on entering the market for high-end homes, whether selling, buying, or both, you should coordinate a plan of action ahead of time to ensure you are happy with the results.
When you are ready, simply give us a call at (850) 366-8917 or drop us a note and we'll be ready to help you right away.
Do you want to know who we are and why you should do business with us? Here's what people are saying about working with Joe Manausa Real Estate, they have left hundreds of real customer reviews on Google, Facebook, and Zillow and you can see them right here: http://www.manausa.com/testimonials.
Real Estate Market Information Can Be Overwhelming
That's why Joe breaks the data down into easy-to-understand concepts. Whether you're buying, selling, investing or just interested in the market, sign up for Joe's blog to get the latest Tallahassee real estate updates, straight to your inbox.