Newest Listings In Tallahassee Are Smaller & Pricier
Posted by Joe Manausa on Monday, February 5, 2018 at 6:33 AM
By Joe Manausa / February 5, 2018
Comment
We have compiled our monthly report on new listings of homes for sale in Tallahassee, and again we have a lot of important trends to report.
First and foremost, year over year new listings in January were down again for the 3rd consecutive year, and lower than any January in the past 7 years (as far back as our data goes).
Today's post features all the newest listings of homes for sale in the Tallahassee MLS, as well as an analysis of what you will find.
Newest Listings Of Homes For Sale
It is worth noting that this report is only possible due to hundreds of hours of work "cleaning" up the data that comes from the MLS. All duplicated listings, listings that have been canceled and then relisted (so the time on the market appears lower) and all the other games that real estate agents play have been neutralized so that we can evaluate true conditions in the Tallahassee real estate market.
Home Listing Inventory Trends In Tallahassee
There were 228 fresh listings in Tallahassee (Leon County) in January, down 24% from the 301 listed in January 2017. Addtionally, there were 35 home sellers who re-entered the market with a new listing agent after failing to sell with their previous agent (see why choosing the right agent the first time puts more money in your pocket!).
Median Asking Price And Value
We sorted through all the listings in the MLS to find only homes new to the market (both resales and new construction homes), and then we calculated the median asking price and the median asking value (price per square foot) each month.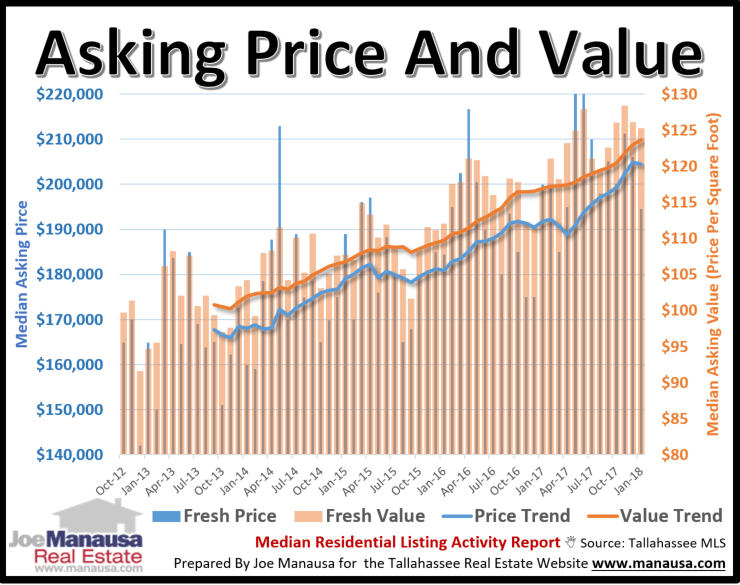 The median asking price for fresh sellers entering the market in January was $265,000, up nearly 33% from the $199,900 sellers were asking in January 2017. When we evaluate the median asking value of homes entering the market, we find fresh sellers at $129 per square foot are 10% higher than their predecessors in January 2017.
Due to declining inventory, it is highly likely that sellers will receive close to these higher values that they are demanding.
Do you wonder how prices changed more than values changed over the same period of time?
If you would like to be texted when a new opportunity hits the market, please complete the form and use the note section to provide us a phone number and tell us about the home that you want us to find for you.
Price movement is different than value movement, though over the long run they'll move in the same direction.
The key is that we have to compare "apples to apples." When real estate reports show nothing but median (or average) home prices, they often times assume that the median home is not changing. This is simply not true.
Prices represent how much the buyer spent whereas values represent what they received for their money.
One way to measure this is to look at the median home size. While not exactly perfect, it allows us to see why prices and values are not changing at the same rate.
A simple way to think of this is that bigger houses will sell for more money than will smaller houses, when all other things are equal.
Median Home Size
Again, we sorted through all the listings in the MLS to find only homes new to the market (both resales and new construction homes), and then calculated the median asking size (measured in square feet of heated and cooled space) each month.
Sure enough, homes are getting smaller (meaning the recent homes selling have a smaller median home size than those that have sold prior). And this makes sense.
Any new construction going on is far more expensive to build than were the costs when the existing resales were built. So builders have to reduce the size of homes being built in order to keep prices where today's buyer can afford them.
Imagine how our market will change in the future when mortgage interest rates go higher. As we continue to grow, so will demand. Yet buyers will have less ability to spend, and costs to builders will continue higher. This is why the future of home construction in Tallahassee is multi-family and attached housing at all but the higher end.
This concludes our February update on new listings of homes for sale in Tallahassee, please give us a call at (850) 366-8917 or drop us a note if you have questions not covered in this report. If you think we cover more in-depth information about the Tallahassee real estate market than any other of real estate website, please be sure to share us with your friends!