Real Estate Supply And Demand Update June 2021
Posted by Joe Manausa on Monday, June 14, 2021 at 5:51 AM
By Joe Manausa / June 14, 2021
Comment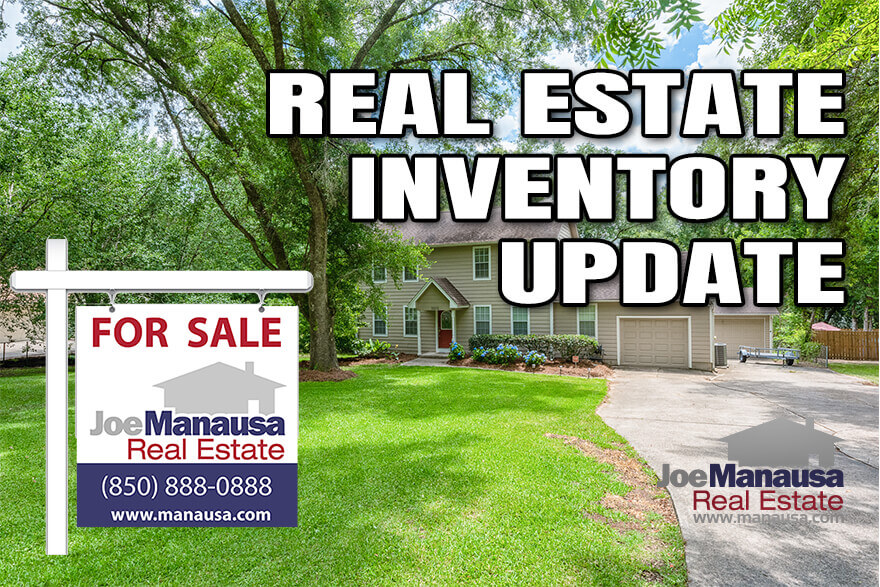 The hot summer months are here, and that means we expect to see changes in the supply and demand for homes in Tallahassee. The summer of 2021 has brought us some interesting changes.
Today's report uses data from the Tallahassee real estate market, but from what I'm reading and hearing from agents around the country, our report could easily apply to those market areas too. If you asked the top agents around the country what they'd like to see in the near future, we'd all tell you the same thing. We need more homes!
Today's report dissects the supply-side of the housing market, examining what's coming in, what's under contract, and what present levels mean for home values and buying a home today.
I've included a list of the current active listings in Tallahassee, sorted by price from high to low. As you scroll down towards lower-priced homes, take note of just how many of them are already under contract with buyers!
Active Listings In Tallahassee
Video Housing Market Report
Some Good News For Buyers
This graph shows the status of the current homes for sale.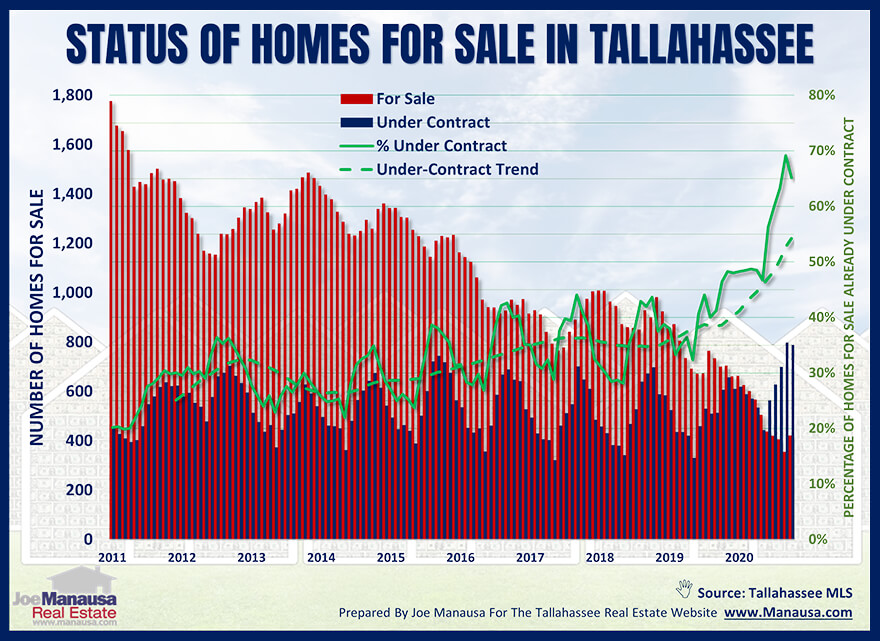 This graph allows us to examine all the homes currently listed for sale in Tallahassee, grouped into two different stages. Homes for sale that are already under contract with buyers are shown in blue, while those for sale not yet under contract with buyers are shown in red.
There is a small trickle of good news here to see. Notice how the green line has fallen from nearly 70% down to 65%. This tells us that when buyers search for homes, fewer listings have contracts on them than what we recorded in the previous two months. MORE homes without contracts are out there for buyers.
Unfortunately, this good news comes with an asterisk. First, the months of April and May last year were heavily impacted by COVID entering our market, so we saw listings unseasonably low in those two months. The fact that we saw more this year is not surprising, and this little spike of new listings has created more opportunities for buyers than they've seen in the past 60 days.
When we look at the big picture of the graph, we can understand how things are so different today than they were ten years ago. This is how the market has gone from a strong buyers' market to a strong sellers' market.
From left to right, look at how the percentage of homes under contract has reversed. On the left side of the graph, the height of the red bars was about four times the height of the blues, meaning there were far more homes for sale NOT under contract than there were homes under contract with buyers.
Right now, an amazing 65% of all current listings on the market are already under contract with buyers, meaning that today, nearly two out of every three active listings have contracts today versus 41% just one year ago.
Buyers must understand that when they go online and look at homes for sale, most of the homes they see are not really available, as other buyers have them secured with contracts. I can't tell you how many times a buyer calls us to go see a home they found on Zillow and we have to tell them it has already been put under contract. This is why we recommend you use our property search tool, it updates every 15 minutes and is the best source of current listing statuses on homes for sale in Tallahassee.
As I have been saying for years, the supply of homes for sale is far too low for buyers to be able to casually shop for a home. The situation has improved slightly for the time being, so if you are a buyer in the market, you might want to get aggressive right now before the rest of the market responds.
The dashed green line plots the 12-month average of the "under-contract" trend which has now exceeded 50%. We had never seen this trend hit 40% until last year, and now it is exploding through the roof. This means that over the past twelve months, more than one-half of all listed properties were under contract at any given time. So even as the percentage dropped these past two months, when compared to a year ago, things have actually gotten worse.
Let's take an in-depth look at the supply side of the housing market and examine exactly what's happening that is causing the decline in the availability of homes for sale.
Fresh Listing Year Over Year Report
For two consecutive months, the number of fresh listings entering the market has risen. Again, this is less due to a surge of new listings and more related to the COVID impact in April and May of last year.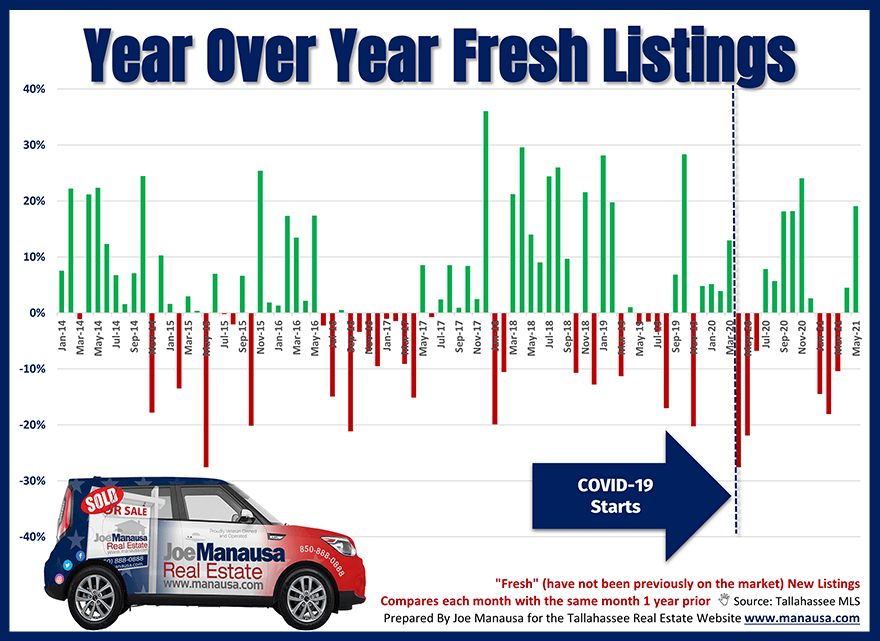 The graph above shows a comparison of how each month fared (percentage-wise) compared to the same month in the prior year for fresh new listings entering the MLS.
I use the term "fresh" to describe homes listed for sale that were not previously listed. These are homes that are truly new to the market, not merely old inventory that was canceled and relisted by the agent or a new agent.
2021 has started off with nearly 19% fewer fresh existing listings than what entered the market in the first quarter of last year, so we'll need to see a lot more green bars when we review this graph in the future. Of course, if you are a home seller, the low supply of homes does make it easier for you to get top dollar when selling your home.
From a seasonality standpoint, I am expecting a "normal" Summer in 2021, where most listings enter the market now through the end of Summer. Last year produced very different results than what we normally see. With COVID impacting 2nd-quarter listings, we are now enjoying a reversal in the year-over-year trend and I believe we'll continue to do so when we next produce an inventory report.
Recent Housing Market Reports
Slight Rise In Fresh New Listings
While the last graph showed a month-to-month comparison of fresh new listings, this one shows fresh listings of existing homes in the first five months of each year.
We see that the number of fresh (existing home) listings has risen 4% in the first five months when compared to the same five months last year. So how does 2021 compare with the previous 7 years? 2021 now ranks fifth of the 7 prior years when ranking years by the number of fresh new listings entering the market.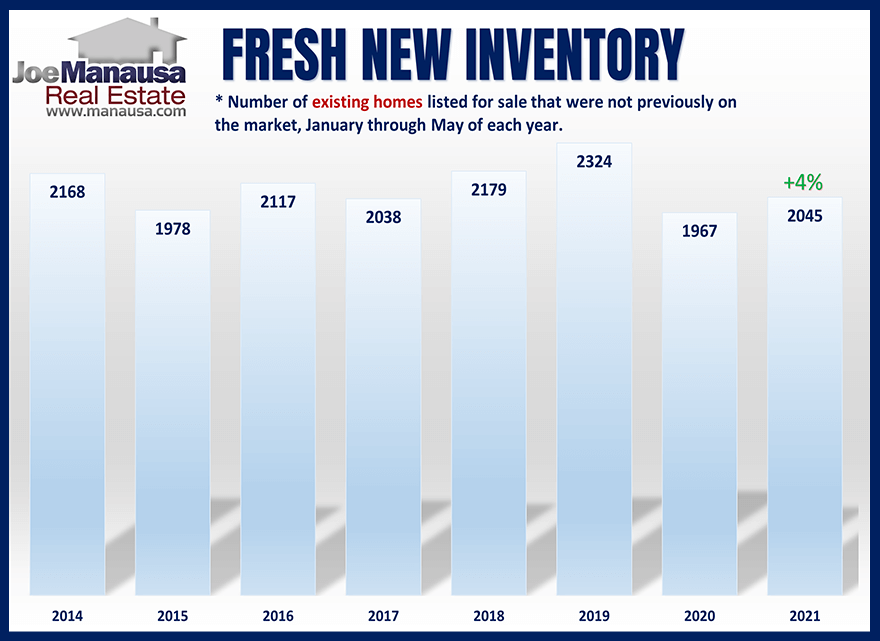 The housing market started the year with too few homes for sale, so the small 4% rise in fresh existing home listings, coupled with heightened demand, has pushed prices higher and has accelerated pent-up demand for homes.
You might believe this is "good news" for sellers as their homes are now worth more, but you also have to remember that most sellers are going to be buying another home in the same market (with the same soaring prices and the same lack of inventory).
Of course, the existing home sales market does not stand alone. We also need to examine what the home builders have been doing.
Further Decline In Fresh New Construction Homes
Similar to the previous graph that showed fresh listings for the existing homes market, this graph shows freshly listed new construction homes.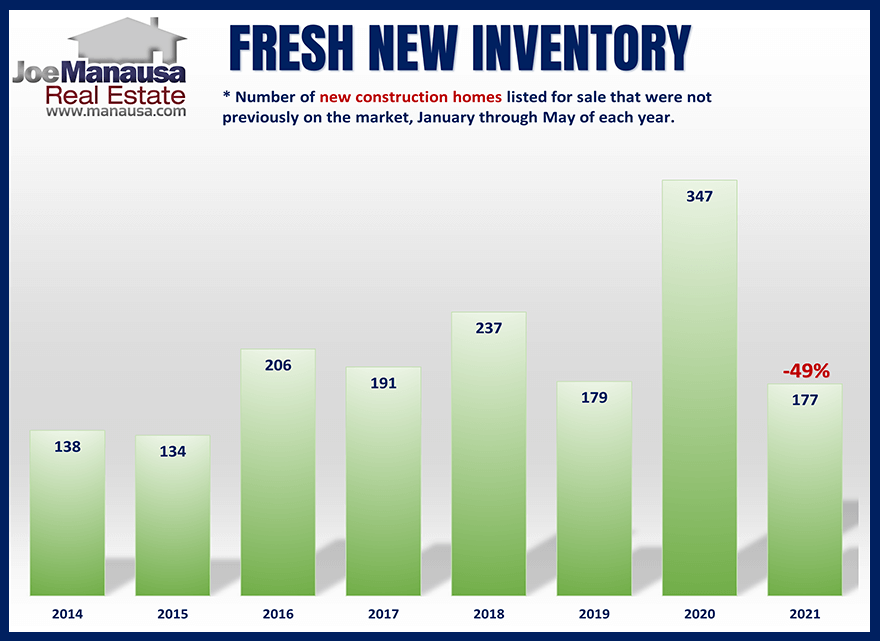 The number of new construction listings entering the market remains far behind what we saw last year. The 177 new construction listings is just half of the 347 new construction listings created in 2020. This will not do!. We need local builders to be producing more homes.
I will be speaking to the Tallahassee Builders Association at their general membership meeting next week, and I will be sure to cover inventory levels in great detail!
With home builders producing homes at a slower rate, rapid appreciation has taken over the housing market. Last year's appreciation of 9.3% was nearly triple what we would expect in an average year, and this year's rate currently is annualized at more than 13%. As I have warned in previous reports, home values could very well surpass 20% growth this year.
New Construction Versus Existing Home Sales
This graph plots new home construction sales versus existing home sales annually from January 1991 through April 2021. The number of existing homes sold is shown in blue, while the number of new homes sold is shown in red. The gray line plots the new construction percentage share, while the dashed gray line plots its ten-year average.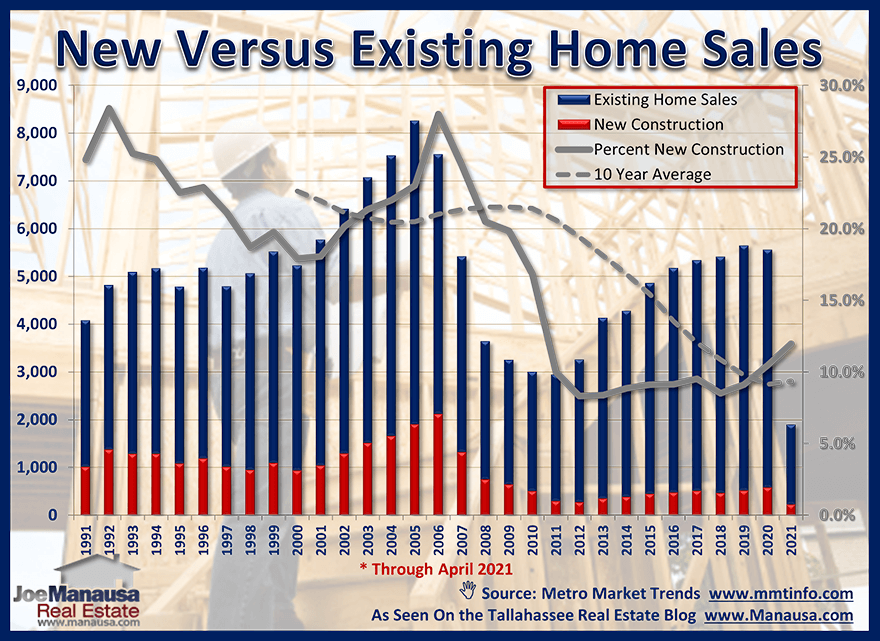 Back in the 1990s, builders were bringing more than 1,100 new homes per year to the market. In the next decade, the average was over 1,300 homes. The last decade saw that average decline to 434 homes per year.
The decline in new construction was needed in 2007, as the market was grossly over-supplied and required time to consume all the extra homes. That correction was completed in 2016, so we needed "normal" building operations to commence.
With today's relative supply of homes for sale sitting at three months of supply, our inventory could easily be doubled, so builders today can comfortably permit another 1,000 homes on top of what is already permitted. You have to remember, while demand is high, it has been stifled by a lack of inventory, so having more homes in the past would have resulted in more sales.
Slow production means that builders missed an opportunity to sell an additional several thousand homes over the past five years. The void that these missing new construction homes did not fill has created a lopsided market with home values going out of control.
Now that we've covered existing and new construction homes separately, let's examine the global view of the supply side of our market, where we combine new homes with used homes which produces the following graph detailing the total number of fresh new listings that have entered the market through May.
New Construction And New Existing Listings
This graph reveals that the combination of builder homes and existing homes makes 2021 the second-leanest year (of the past 8 years) for new inventory. 2021 has surpassed only 2015 when the market was still slightly over-supplied with homes and did not need new listings. Remember, today's sky-high demand has created optimal market conditions for sellers, so there is no reason for incoming listings to be so low.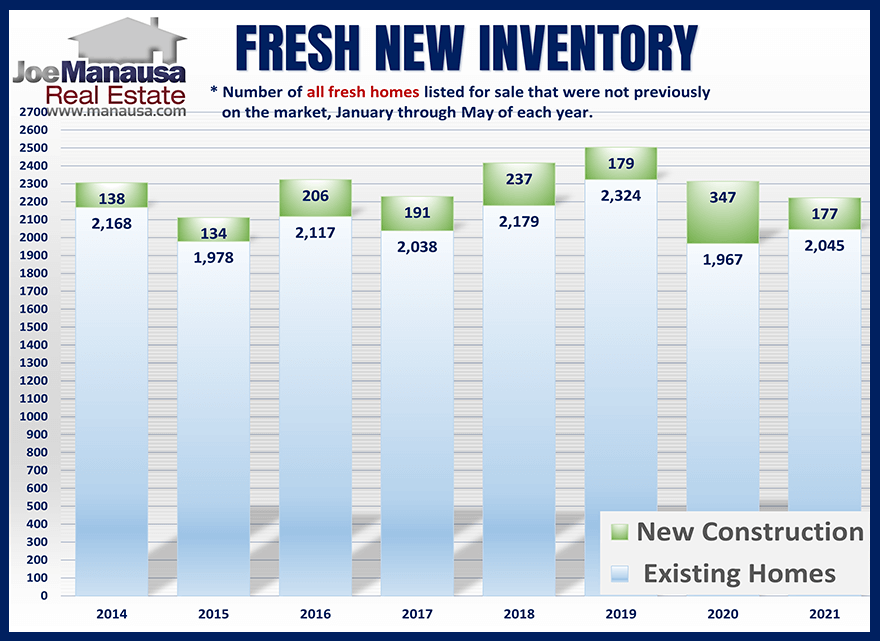 Of course, with the influx of new homes dropping, the relative supply of homes for sale has fallen even lower. So what does that mean?
It means tough sledding for buyers. As the hottest months of buyer activity are upon us, we find the inventory far too low to satisfy summer seasonal demand. So let's make this simple. Supply is low, demand is high, so home prices are going through the roof.
Shadow Inventory Has Been Consumed
The shadow inventory of homes that we identified so long ago has been reduced to nothing.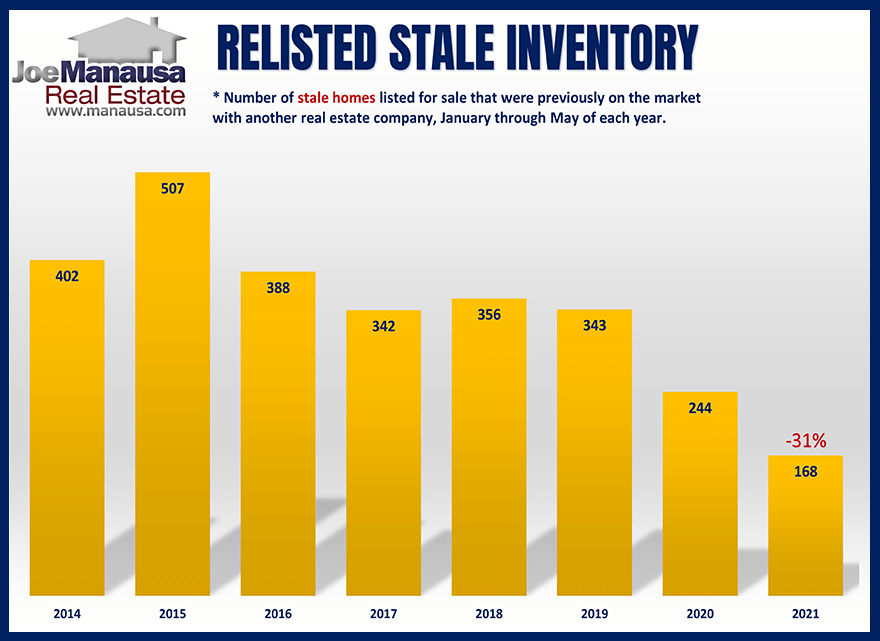 The graph above shows the stale listings coming back into the market each year in the first two months. "Stale" listings are those that were recently listed with another broker and failed to sell. Now the sellers are returning to the market with new brokers.
The 168 stale listings that have entered the market through May in 2021 are 67% fewer than the 507 stale listings that entered the market in the first five months of 2015, and 31% fewer than what we reported last year. The shadow inventory never really goes away, but it's as small as we've seen it since the market crash of 2006.
Months Of Supply Of Homes
This table measures the supply of homes for sale, relative to the current rate of demand. The resulting number for each area and the price range is measured in "months of supply," and what makes the market balanced is a measure of 6.0.
Historically, a market with six months of supply has produced steady home sales and an appreciation rate just over 3%. When the relative supply drops below 6 months of supply, we call this a seller's market as there are more buyers than sellers. When the numbers rise above 6, we refer to that as a buyer's market, as there are more sellers than buyers. Red shaded areas reveal a seller's market condition. Orange areas remain in a buyers' market, while the few white shaded areas are fairly balanced.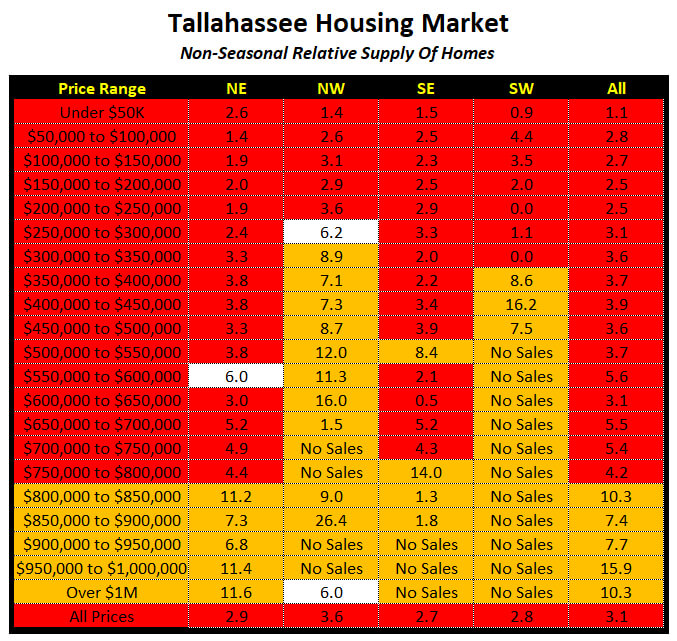 Long-time readers of the Tallahassee real estate blog might have noticed that I have finally expanded this table. It used to top-out at $600K. When I first started publishing this data 15 years ago, less than 1% of the market sold at a price above $600K. but times change. The table now shows home price categories in $50,000 increments up to $1M.
The table clearly shows that the supply of homes for sale, relative to the current hot rate of demand, remains near a record low. With the decline of fresh new listings combined with the growth of the buyer pool, the months of supply of homes for sale is terribly low. This table shows you why 65% of our current listings are already under contract with buyers.
Right now, the overall market below $800K is facing strong sellers' market conditions. There are areas and price ranges on the west side of town down to about $300,000 that remain in a buyers' market, and everywhere homes priced above $800,000 remain in a glutted buyers' market. The longer that low mortgage interest rates remain, the more we'll see the red areas move higher.
For every buyer that closed on a home in May, there was more than one buyer that missed out on the chance to buy a home. The closings could have been more than double the rate closed had there been more available listings.
We need builders to step up and produce inventory in the areas and price ranges shaded in red if they are capable. Obviously, we're not going to see a builder bring in new units under $100K in NE Tallahassee, but there are a lot of red-shaded areas in our table that should be pursued.
If I were a builder and wanted to ensure that I did not build homes that the market does not need, I would look at the red-shaded areas with a value below 5 months of supply. The market is demanding these homes, why not build and sell them?
If you are a local home builder who would like analytical guidance on where and what to build, I'm happy to help, just give me a call.
For non-builders, you should know that this is the hottest seller's market ever, so if you've been thinking about moving, it's time to act.
Right now, mortgage interest rates are low and you have sky-high demand for your home. Mortgage interest rates have fallen again, but they have moved up from a bottom that formed many months ago. Rising rates will eventually reduce demand, resulting in fewer buyers for your home.
Rising mortgage interest rates will not likely reduce the value of your home any time soon, but the rising cost of borrowing money will increase your monthly payment on the home you buy next.
If you plan on buying a home after you sell your current one, take advantage of low mortgage interest rates, or just take advantage of the strong demand that these low rates have created.
Don't be the one among your group of friends who in the future says, "you know, I should have listened to Joe and taken advantage of those mortgage interest rates back in 2021 when they were so low!"
Your Local Expert In Tallahassee
When moving to, in, or from Tallahassee, you will fare better if you work with a local expert. We are here to help. If you have further questions on the Tallahassee real estate market, you can leave a comment below, give us a call at (850) 366-8917, or drop us a note and we'll give you the local information needed to ensure a successful, smooth transaction.
As a local born and raised in Tallahassee with a focus on customer service, I promise you'll find great success when working with Joe Manausa Real Estate, just as have our past customers. You can read thousands of their reviews reported on Google, Facebook and Zillow right here: Real Estate Agent Reviews Tallahassee.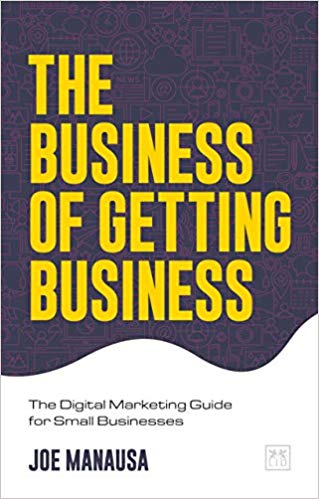 Have you heard about my new book "The Business of Getting Business?" It's a comprehensive guide for small businesses to help them make the move to digital. For those of us who want to survive and thrive in a world where large corporations are taking over, it is a must-read. It's also the perfect guide for how to sell a home in the digital age. You can find The Business Of Getting Business by clicking on any of the trusted retailers below.

Think all REALTORS are alike?
Read what people are saying about working with Joe Manausa Real Estate! You can see thousands of real customer reviews reported on Google, Facebook and Zillow at this link: CLICK HERE FOR REAL ESTATE AGENT REVIEWS.
I recently stumbled upon your latest Carrabelle listing. I must say, a home on Florida's Forgotten Coast is bound to be snatched up quickly. Best of luck with getting it under contract soon!

Posted by Barbara Corcoran on Thursday, June 15, 2023