Just How High Are Today's House Prices?
Posted by Joe Manausa on Monday, July 25, 2022 at 5:51 AM
By Joe Manausa / July 25, 2022
Comment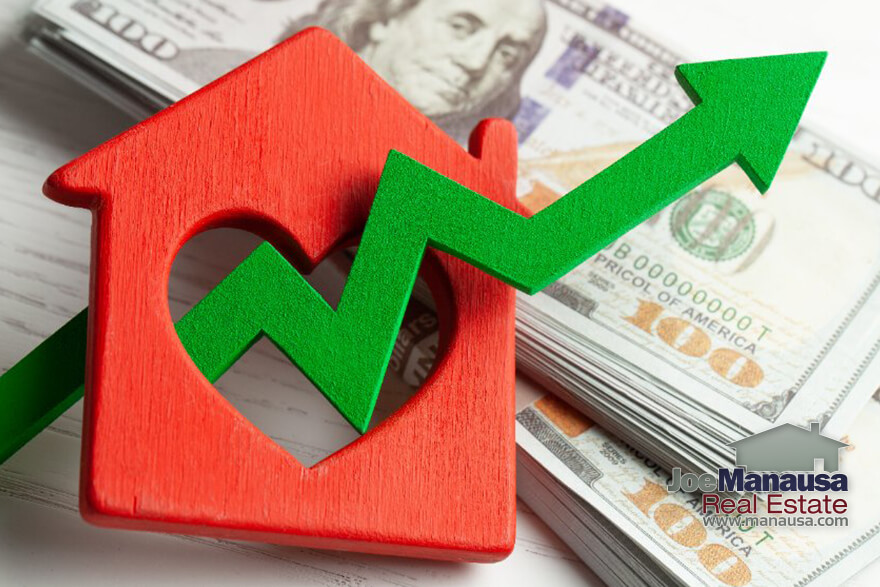 The price of houses in the US has risen to a toxic level and many are wondering how they will be able to afford to live in their local communities just as we are wondering the same in Florida's Capital City.
With a limited supply of houses in both the for-sale market and the for-rent market, both rents and prices have recently moved to historically high levels.
One way to get a feel for how home prices today compare with those of the past is to grab home price history, adjust it with inflation to establish a level playing field, and then apply historic mortgage interest rates to show what buyers have been spending on their monthly mortgage obligations.
Today's report reveals how today's homebuyers are faring compared with those that purchased homes since 1987.
You have a good job. Your spouse has a good job. But somehow, you cannot afford to buy a home? What is happening to the American Dream? A quick study of home prices and then an adjustment for inflation will show you exactly what is going on.
House Prices Have Tripled Since 2000
The red line in the graph below plots the S&P/Case-Shiller US National Home Price Index where all years have been adjusted to a January 2000 level of 100.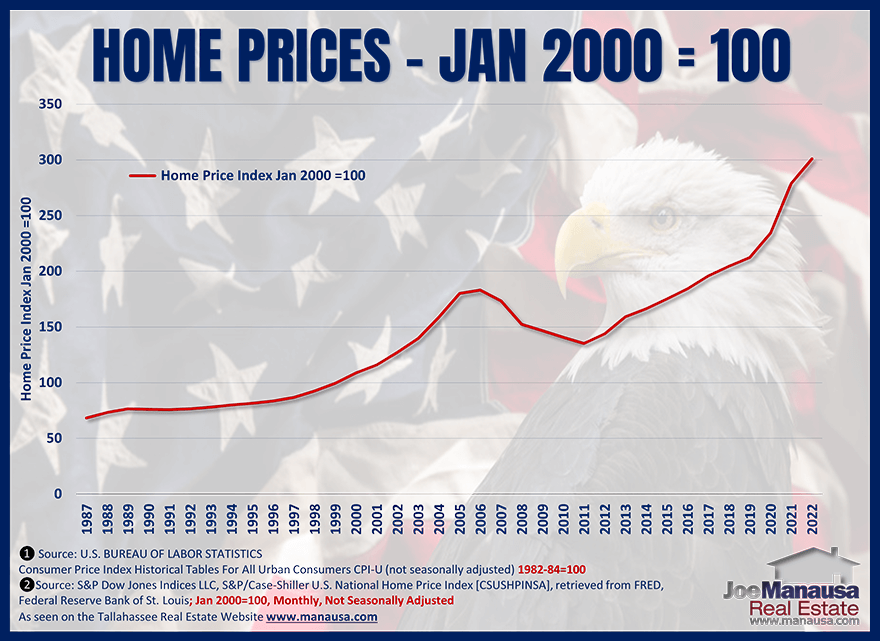 The home value index in the US has tripled since January of 2000 which means that homes have appreciated more than 5.25% each year, on average, for the past 22 years.
While that seems like a respectable growth rate, it really has little meaning without comparing it to other things. Like how have wages grown during that time? What about automobiles, gasoline, utilities, food, etc?
Keep Up With New Trends In Tallahassee!
Get The Tallahassee Real Estate Newsletter
Don't be the one that doesn't know what's going on when you sell a home or buy a home in Tallahassee.
Other buyers, sellers, lenders, and real estate agents have this critical information, and now you can too!
Get immediate access to our most recent newsletter.
Let more than 30 years of experience work for you with charts, graphs, and analysis of the Tallahassee housing market.
This next graph helps us understand the relative change in the home price index by adjusting it with inflation (the consumer price index).
Inflation-Adjusted Home Prices
This adjustment would reveal a flat line if homes only moved at the same rate as inflation, a declining line if home prices rose slower than inflation, and a rising line if homes rose at a rate faster than inflation.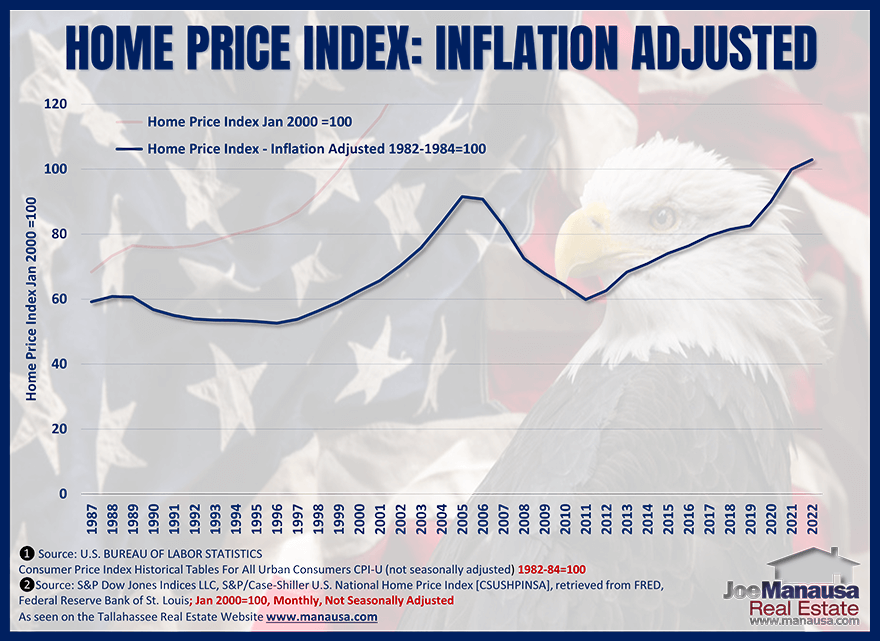 The dark blue line is clearly rising over time, meaning that homes have beat inflation for the past 35 years, though there have been cycles along the way. For homeowners, this means that the money they put into their homes worked for them and they became wealthier.
But what does this mean for buyers today?
A New 35-Year High For Monthly Housing Costs
The final graph in today's report shows just how toxic current market conditions have become for homebuyers.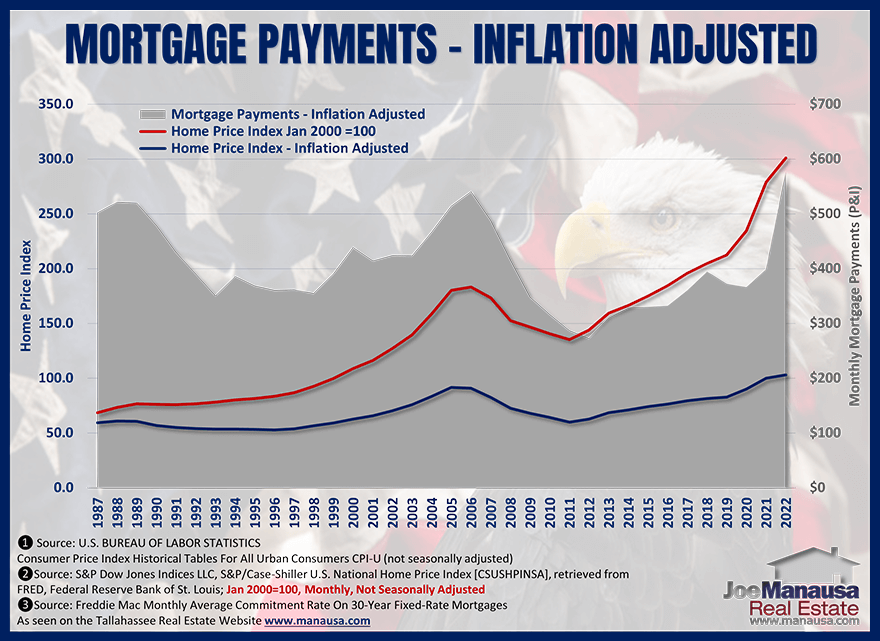 The red and blue lines in the graph are the same as they were in the two previous graphs, while the gray field measures the change in mortgage payments (expressed in terms of monthly cost per $100K borrowed).
Mortgage payments are calculated by using inflation-adjusted home prices and historic mortgage interest rates, thus every payment is expressed in dollars valued at their January 2000 level.
The gray area shows cyclic behavior revealing that relative mortgage payments rise and fall over time, but today's payment level is higher than any in the past going back to 1987. Perhaps the most troublesome result of this analysis is that the change in inflation-adjusted mortgage payments is up more than 50% in just the past two years.
People who purchased and financed homes from 2011 through 2020 were generally spending less per month than anybody who purchased and financed homes in the 1990s. But people purchasing today are paying more than at any time going back to the early 1970s.
So Where Do We Go From Here?
We are entering unprecedented times. We have a federal government that has proven it will manipulate financial markets to "fix" housing and combat inflation.
You have many people expecting home prices to fall, but they are expecting this out of fear, ignorance, or a recency bias that has them believing that is how all markets correct themselves. That is simply never been the case.
All markets correct themselves through an adjustment to the supply and demand dynamic. Traditionally in the housing market, when home prices were soaring, home builders would step in and provide more supply to satisfy demand. As real estate is an imperfect market, builders would overshoot demand, and then we'd see a market shift to one that was oversupplied and favored buyers.
But we have not seen builders step up production in this run. There are no homes in the pipeline that will cause the market to shift. In the US, we are several million homes short and of course, we annually need to produce more than one million new homes to meet current market demands from our growing population.
The "YouTube Real Estate Evangelists" are telling us that home prices will crash soon, because of one of the following:
There are too many homes being built
There's a wave of foreclosures coming
Institutional investors are going to release the homes they've been buying to flip
So let's go over each one of these to see the true impact on a housing price crash.
Home Builders Are Saddled With High Material Costs
Builders are in a catch-22 right now. The soaring costs of materials due to increases in wages and pipeline disruptions from COVID is making it tough for them to deliver homes to the market. This is why the market has not been flooded with new construction homes.
And contrary to reports you might have heard about new homes getting ready to flood the market, at what price do you think builders can deliver homes? They will never again be able to bring homes to the market at pre-COVID prices, and I suspect they won't even be close for the next few years.
Generally speaking, the greatest unfulfilled demand in the housing market is for median and lower-priced homes, and builders cannot deliver at these prices (until prices reach the builders' cost levels). We need more inventory but how do you create it at current price levels?
The Foreclosure Wave That Never Happened
The foreclosure crisis never arrived. Why? Because equity returned to the housing market. Distressed homeowners either worked out a deal with their lenders or they sold their homes, paid their bills, and pocketed some equity.
All the great talking heads online that promised foreclosures are now promising something new, and the fact is, NONE of them are talking about the supply and demand for homes. Yes, demand is falling due to rising mortgage interest rates, but with falling demand comes falling supply as more than half the homes in the market have sellers who need to buy.
Forget about foreclosures. The current mortgage pipeline is very healthy as it is stuffed with loans that went out at historically-low mortgage interest rates and homeowners will not want to lose sub-3 % money any time soon!
Institutional Investors - 2 Things You Should Know
There are concerns that the large institutional investors of single-family homes are going to be shedding inventory because they fear falling prices. Anybody who follows the real estate industry has heard that Zillow canceled its home buying program and announced it was liquidating all holdings.
So now I'm getting comments telling me it's not foreclosures that will flood the market, rather it's the institutional investors liquidating inventory that will soon envelop the market. WRONG!
These investors are buying homes with the purpose to rent them (not to flip). Currently, institutional investors only own about 0.2 percent of all single-family homes, and just one percent of rental homes, according to recent data presented to the U.S. Senate by The Heritage Foundation. The Heritage Foundation also pointed out that in no state, do institutional investors own more than 1 in 100 of all available housing.
So here are my two points on Institutional Investors. #1, Institutional investors are buying homes for long-term holdings (because rents are soaring), and #2, they are barely in the game (yet). If all Institutional investors dumped their inventory tomorrow, it would greatly help the supply imbalance in the market and would slow down our toxic real estate inflation. Just don't hold your breath waiting for this to happen.
INSERT YOUR FAVORITE SHOCKING REAL ESTATE HEADLINE HERE
I've included this final paragraph for the next "big thing" that is going to bring down home prices without distorting the supply and demand dynamic in real estate. I promise there is a next sensational headline just waiting to grab our attention, but until somebody can explain how it will make our market OVERSUPPLIED WITH HOMES, I'm going to stick with my current worry about home affordability.
I will continue to believe that home prices will move higher, home affordability and homeownership rates will fall, and we'll see a "corporatization" of the US housing market. We'll see traditional homeowners become tenants who pay a larger % of their disposable income to their landlords than they would have paid to the bank. We'll probably see rent control and other governmental "solutions" kick in and I'm concerned that the overall quality of life for most Americans will fall.
My advice remains unchanged: Fix your housing situation for what you will need for at least the next ten years, as you won't like the result you get from waiting.
Your Local Expert In Tallahassee
When moving to, in, or from Tallahassee, you will fare better if you work with a local expert. We are here to help. If you have further questions on the Tallahassee real estate market, you can leave a comment below, give us a call at (850) 366-8917, or drop us a note and we'll give you the local information needed to ensure a successful, smooth transaction.
As a local born and raised in Tallahassee with a focus on customer service, I promise you'll find great success when working with Joe Manausa Real Estate, just as have our past customers. You can read thousands of their reviews reported on Google, Facebook and Zillow right here: Real Estate Agent Reviews Tallahassee.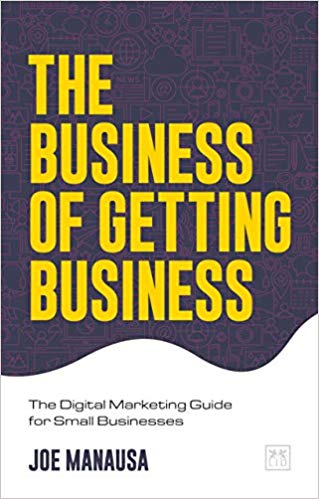 Have you heard about my new book "The Business of Getting Business?" It's a comprehensive guide for small businesses to help them make the move to digital. For those of us who want to survive and thrive in a world where large corporations are taking over, it is a must-read. It's also the perfect guide for how to sell a home in the digital age. You can find The Business Of Getting Business by clicking on any of the trusted retailers below.

Think all REALTORS are alike?
Read what people are saying about working with Joe Manausa Real Estate! You can see thousands of real customer reviews reported on Google, Facebook and Zillow at this link: CLICK HERE FOR REAL ESTATE AGENT REVIEWS.
I recently stumbled upon your latest Carrabelle listing. I must say, a home on Florida's Forgotten Coast is bound to be snatched up quickly. Best of luck with getting it under contract soon!

Posted by Barbara Corcoran on Thursday, June 15, 2023