Housing Market Update Video - Housing Bubble Analysis
Posted by Joe Manausa on Monday, April 6, 2020 at 5:53 AM
By Joe Manausa / April 6, 2020
4 Comments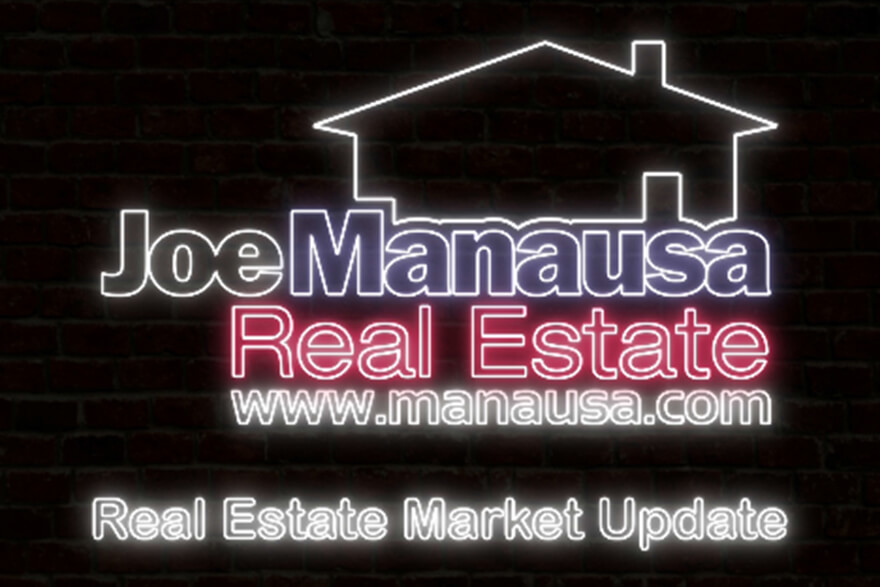 It's time for our quarterly housing market update, and this time we are experimenting by delivering it in video format. Tell us what you think!
If you like the video format, please remember to give it a "thumbs up" on Youtube and a like on Facebook.
Housing Market Video Update
I assembled this video update yesterday. I could talk for hours about what is going on in each segment of the Tallahassee real estate market, nevertheless, I attempted to keep the video's duration close to ten minutes. I hope you enjoy.
Past Housing Market Reports
In my nearly 30 years of selling real estate in Tallahassee, I have seen every type of market cycle, but like all of you, I'm experiencing my first real force majeure in the form of a viral pandemic.
Our experiences with hurricanes in Tallahassee are just not substantial enough (thankfully) to use as a comparison with the COVID-19 pandemic. Nevertheless, I think the best way to forecast the future is to start with a review of the past.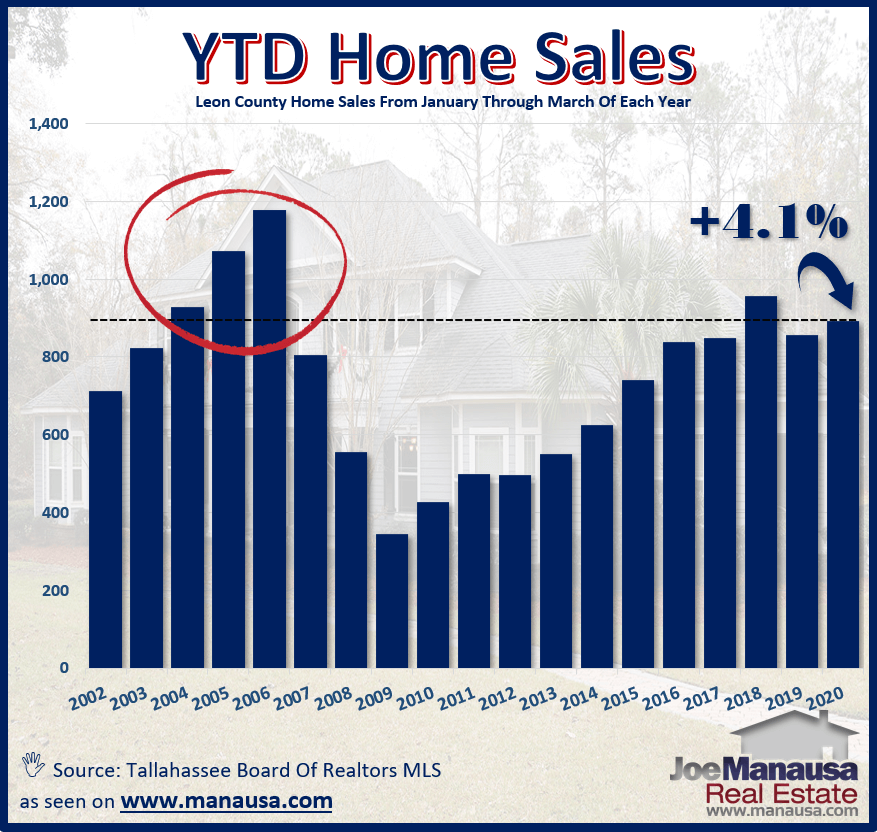 The year to date home sales graph above shows home closings in the Tallahassee MLS from January through March of each year going back to 2002.
I look at this graph to answer the question "is our market over-sold?" My answer is a resounding "no." Our current rate of sales is lower than four past years, yet our population has grown by tens of thousands of people (implying an expectation of more home sales).
Demand is healthy right now when compared with the past, but I believe it is reasonable with no signs of speculation or irrational exuberance. I cover this in greater detail in the video shown above.
Present Housing Market Conditions
The following table measures the relative supply of homes for sale in Tallahassee (the months of supply of homes). It is broken down by price range on the left, and each quadrant of Tallahassee is reported in the column partitions.
It's important to note that 6.0 months of supply is considered a balanced market, where buyers and sellers are competing on equal footing. When relative supply drops below 6 months, the market moves to a seller's market. The opposite is true as the relative supply of homes exceeds 6 months as the market moves to a buyer's market.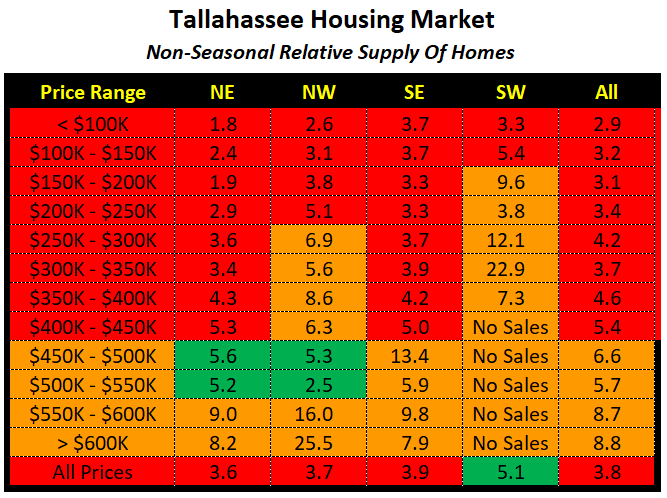 The red-shaded areas in the table above indicate a seller's market, while the orange shaded areas identify those in a buyer's market. The few green shaded areas indicate a stable market.
You might wonder why some green areas have such low numbers? When you look at the next higher price range, you will see a ton of supply, and many of those sellers will be reducing their prices and become increased inventory in the green price range. This happens in some of the orange shaded areas too.
As with the segment on past market conditions, I cover current market conditions in greater detail in the video shown above.
Please Do Us A Small Favor
We work very hard to produce daily content for our long-time readers and first-time visitors. We provide this information for free, hoping to earn your respect and trust and the right to one-day help you when selling or buying a home. Can we get your help spreading the word about our blog?
If you like the content, would you please like it or share it using the Facebook button at the beginning of the post? This simple action will be greatly appreciated! THANK YOU!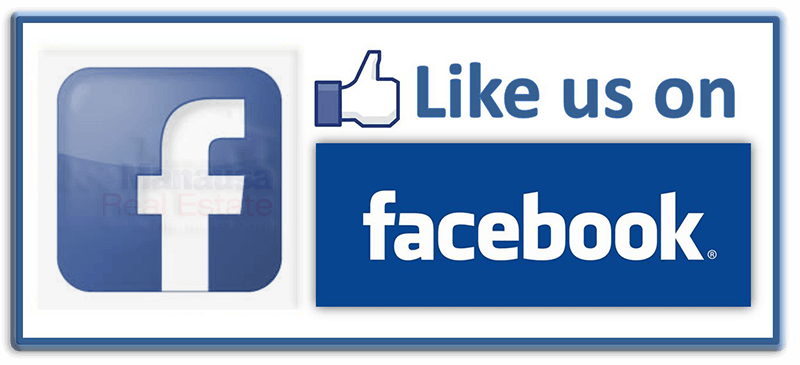 Also like us on Facebook at https://www.facebook.com/joemanausarealestate/
Speculating On The Future Of The Housing Market
The long-term future of the housing market has not changed in my opinion, though I believe the short-term will soon encounter chaos.
I expect to see the Tallahassee real estate market transition through three stages which will begin sometime soon (based upon my inexperience with pandemics, I have low-confidence in time-based projections).
The Shutdown Stage
I believe the market will have to come to a grinding halt as the crisis intensifies. This means that very few contracts will be written, and closings will cease. I believe at some point, 3rd-party providers like moving van companies and home inspectors will find it too dangerous to be entering homes and handling a lot of things.
These "hands-on" types of businesses will likely be the first to stop. With no movers available, it is highly likely that it will be pointless to have closings and to continue to create many new contracts. This will shut down real estate companies, title companies, and law firms.
The mortgage industry may be able to push through with refinances, but the uncertainty in the housing market will likely push rates higher and thus reduce the motivation for homeowners to refinance.
During this stage, there will be a pipeline of contracts that cannot close due to the stoppage. I recommend buyers and sellers work with contract experts who will help them with extension clauses during this time of abeyance. This is not the time to work with an inexperienced real estate salesperson!
The Restart Stage
Once we see the number of newly reported cases of COVID-19, there is going to be a panicked rush to restart everything. All the contracts that have been pipelined for weeks (months or quarters) will be pushing to close. This will temporarily overload every profession involved in a real estate transaction.
Additionally, it will be during the restart stage that the Federal Government will keep rates very low to jump-start all markets, thus buyers will be highly motivated to purchase a house and close on it before rates move higher.
The buyers rushing to get a property closed will be akin to the toilet paper stampede we saw when the pandemic was just being realized.
The Business As Usual Stage
I suspect the housing market will spend several months in the restart stage but will eventually roll into "business as usual." This final stage will be realized when buyers and sellers are back out in the market and feel no external motivation to hurry or wait.
As with the past and present market conditions segments of this post, I cover the future of our housing market in greater detail in the video shown above.
Your Local Expert In Tallahassee
When moving to, in, or from Tallahassee, you will fare better if you work with a local expert. We are here to help. If you have further questions on the Tallahassee real estate market, you can leave a comment below, give us a call at (850) 366-8917, or drop us a note and we'll give you the local information needed to ensure a successful, smooth transaction.
As a local born and raised in Tallahassee with a focus on customer service, I promise you'll find great success when working with Joe Manausa Real Estate, just as have our past customers. You can read thousands of their reviews reported on Google, Facebook and Zillow right here: Real Estate Agent Reviews Tallahassee.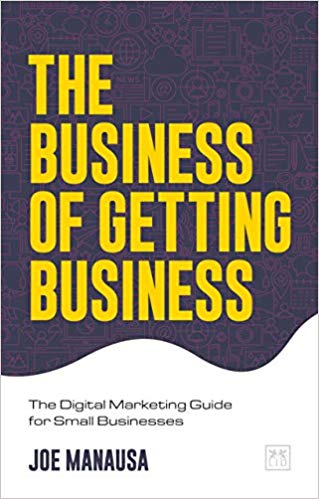 Have you heard about my new book "The Business of Getting Business?" It's a comprehensive guide for small businesses to help them make the move to digital. For those of us who want to survive and thrive in a world where large corporations are taking over, it is a must-read. It's also the perfect guide for how to sell a home in the digital age. You can go to Amazon (a trusted digital retailer) to get a copy delivered directly to your home.


Think all REALTORS are alike?
Read what people are saying about working with Joe Manausa Real Estate! You can see thousands of real customer reviews reported on Google, Facebook and Zillow at this link: CLICK HERE FOR REAL ESTATE AGENT REVIEWS.