Home Sales Report August 2020
Posted by Joe Manausa on Thursday, August 6, 2020 at 5:56 AM
By Joe Manausa / August 6, 2020
Comment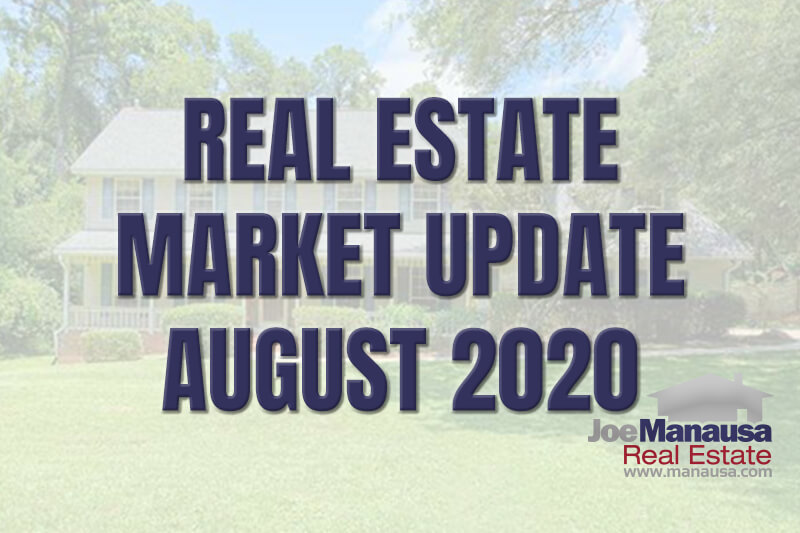 If you are planning on selling or buying a home now or in the next few months, you should know that the housing market is smoking hot right now.
Today's real estate market report shows Tallahassee enjoyed a strong July and delivers reasons to think that home prices are only going to go higher.
Today's housing market report contains so much useful information that I have recorded a video to talk you through the changes in the housing market. For many, taking this information in through video form helps it "stick" a little better.
August 2020 Real Estate Market Video Update
Overall, the market continues to pick up speed after slowing down for the pandemic in April. Just as we forecast in last month's pending home sales report, the results from July's closings were very good.
The lack of inventory of homes for sale in Tallahassee continues to stifle buyers, but not so much as we had seen in prior months. We still have buyers awaiting each new listing entering the market. To be clear, we need your home if you have been thinking about selling!
Demand For Homes In Tallahassee Is Strong
We will begin our report looking at the current demand for homes in Tallahassee. Our first two graphs report sales through July. As you will see in our first graph, there is (finally) some good news to report about the real estate market since the onset of the pandemic.
Year Over Year Home Sales
The first graph in today's report shows how each month's sales compared with the same month the year prior. We refer to this as the year-over-year home sales report.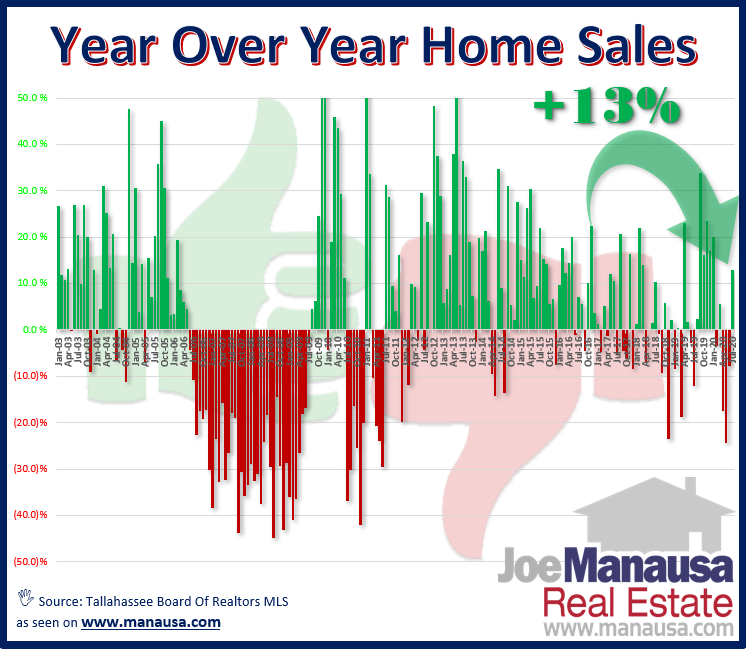 For the first time since March, year over year home sales recorded growth in July. The 13% rise was large enough so that the two months of June and July outperformed June and July of 2019.
Year To Date Home Sales
The next graph shows the number of homes sold during the first seven months of each year. It allows us to compare the real estate market at the end of July with 18 previous years (each through July as well).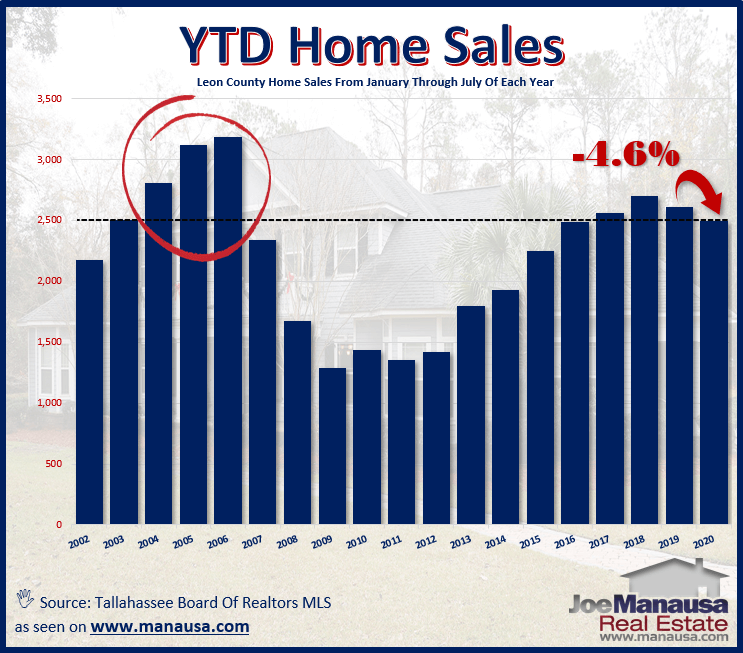 Home sales are down 4.6% in 2020 when compared to 2019 (through July), and right now are about at the same level as what was recorded in 2003. When we compare 2020 to the past 18 years, 2020 trails just six other (non-pandemic) years.
These two graphs show strong demand for homes in Tallahassee, so next, we'll look at two graphs that will help reveal the strength of the supply-side of the housing market.
There are a lot of people who endorse Joe for the job of selling your home, from Barbara Corcoran (Star of ABC's Shark Tank) to Preston Scott (host of Tallahassee's top daily "Audio Magazine," as well as the thousands of happy customers Joe has helped in the past. Listen why!
I recently stumbled upon your latest Carrabelle listing. I must say, a home on Florida's Forgotten Coast is bound to be snatched up quickly. Best of luck with getting it under contract soon!

Posted by Barbara Corcoran on Thursday, June 15, 2023
Year Over Year New Listings
The next graph shows how each month's new fresh listings compared with the same month the year prior. A "fresh" listing is a new listing entering the market for the first time (as opposed to one that was listed for sale and failed to sell in the past).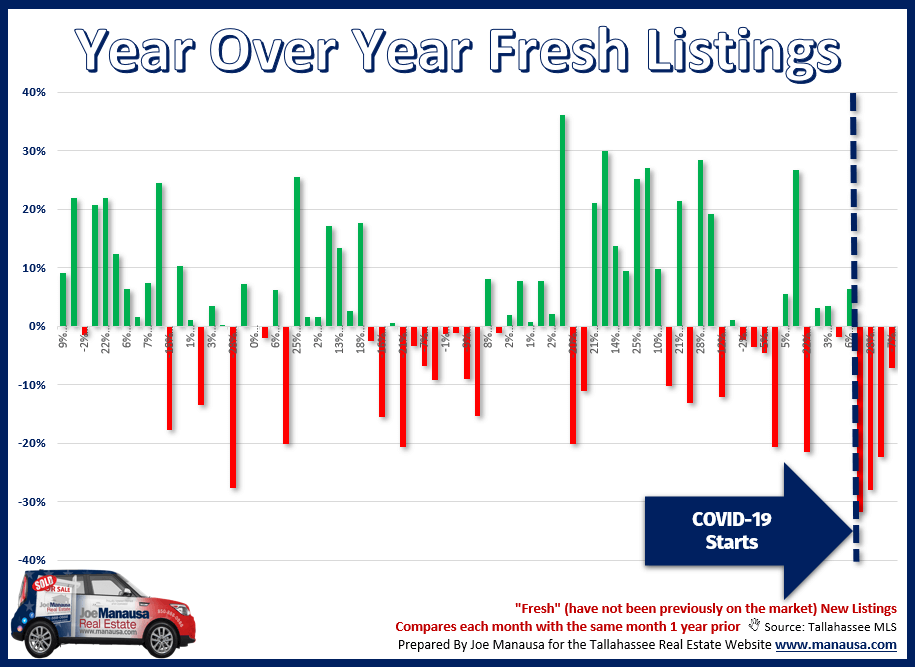 For the fourth-straight month, year over year new listings declined in July. The 7% drop was smaller than were the previous three months, so I hope this is a sign that sellers are starting to return to the market.
Due to the disruption of normal seasonal activity in the real estate market (the past four months normally are very strong for new listings), I wouldn't at all be surprised to find this graph revealing huge gains in the coming months.
I'm thinking that there must be a good bit of pent-up supply; where sellers who chose to wait-out the pandemic finally enter the market. Even though the pandemic has not been defeated, I think many home sellers are becoming comfortable with the options that we have for selling homes safely.
As anecdotal evidence, Joe Manausa Real Estate had a very strong month of July for bringing on new inventory, in fact setting an 18-month record for fresh new listings.
Year To Date New Listings
The next graph shows the number of fresh new listings entering the market from January through July of each year.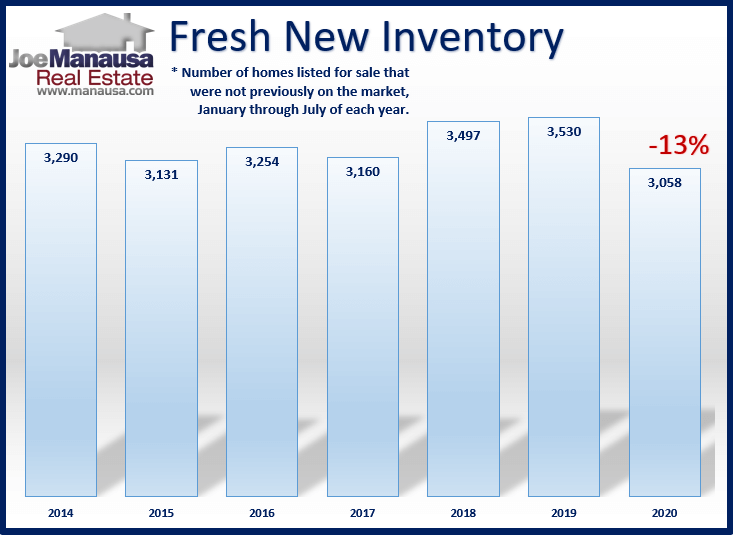 As reported previously, 2020 began the year with a shortage in the inventory of homes for sale, and things are getting worse.
There have been 13% fewer new listings this year and it's the worst year on record. While I am confident that the pandemic has caused many discretionary sellers to wait, I do believe many will be entering the market shortly. This should make buyers happy!
Relative Supply Of Homes For Sale
The next graph shows the relative supply of homes for sale in Tallahassee.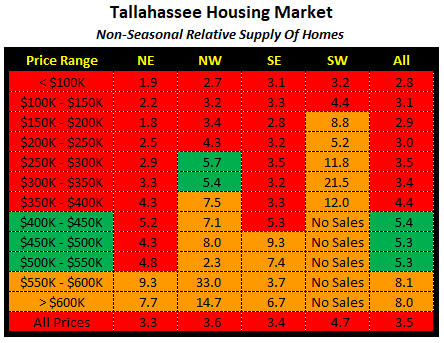 The relative supply of homes is a number that shows use the months of supply of homes for sale (the supply of homes relative to the current rate of demand). A measure of 6.0 is traditionally considered a balanced market, where neither sellers nor buyers have an advantage in the market.
When the relative supply drops below 6.0, the market moves to a seller's market. The opposite is true when the number grows above 6.0 and the market moves to favor buyers.
In the table above, the red cells show sellers' market conditions, orange cells show buyers' market conditions, and green shows where the market is balanced.
Overall, the entire market is undersupplied and all four quadrants in Tallahassee are in a sellers' market. Homes priced above $550K in all quadrants remain in a buyers' market.
Supply And Demand Imbalance
The previous two sections showed that the demand for homes is strong, and the supply of homes is far too low. Our next two graphs report how this imbalance impacts the home buying experience.
The next graph shows the percentage of homes sold each month. During normal market conditions, about 17% of the homes sell each month. The past two months have been twice that level!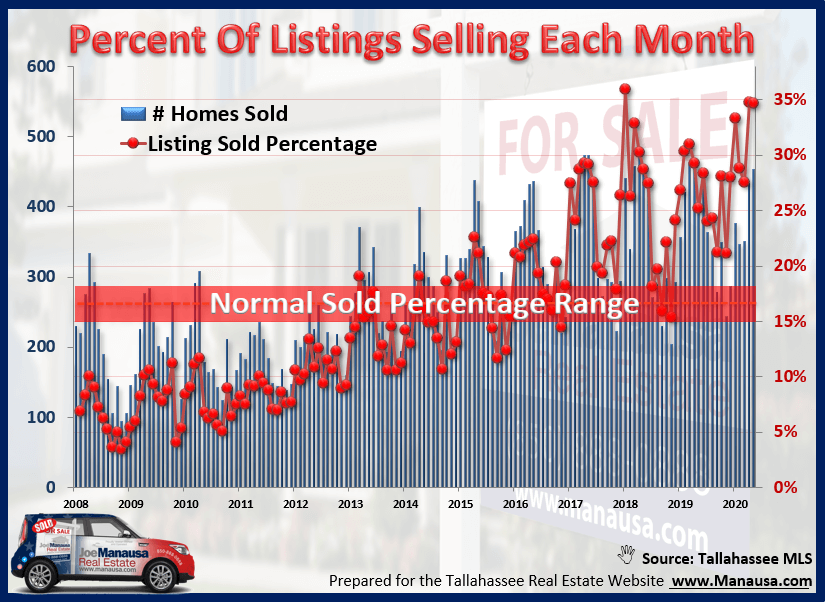 Each month, a red dot is posted to show the percentage of the inventory that sold each month. If there were no seasonality in real estate, we would expect 1/6th of the homes to sell each month (16.7%).
As seasonality is real, would expect to see roughly 4 months above 16.7%, 4 months near 16.7%, and four months below 16.7%. Obviously, these are not normal times.
When the market was coming out of its collapse, we went more than 8 years without a single month falling within the "normal" range. There were just too many homes on the market and it was common for fewer than 1/10th of them to sell each month.
Now, low inventory levels have the opposite results. More than 1/3rd of the homes listed for sale sold in each of the past two months. That means when buyers go looking at homes, there is not much out there that is not already under contract with other buyers.
True Story From This Past Weekend
Buyers need to be ready to act fast when it comes time to picking out a home. And they need to work with a solid buyer's agent. Here's a case in point from this past weekend.
We listed a home and priced it competitively so that we would generate immediate multiple offers for the seller.
The first agent who showed it presented us with an offer. The offer amount was very low, and there was no proof that the buyer was even qualified to purchase the home. We kindly thanked her for the offer and advised her that we were expecting other offers. Her response? "Well, you never start with your best offer."
I was blown away. What real estate market conditions did she think she was working in? She low-balled a high-demand home in a low-inventory market? I felt sorry for her buyer.
We ended up getting several other offers, 3 that were well above asking price. We gave everybody one last chance to sweeten their offers and several did. The original agent came back with a better-than-asking price offer (which would have likely got her buyer the house at the onset), but it was now too low. Her buyer did not get the home.
If you are fortunate enough to be the first buyer to see a home and you are ready to buy, make a quick decision about whether or not the home is right for you. If it is, ask your agent for advice. You need to make a strong offer. It should be based upon the value of the home, not the asking price.
Your best strategy is to work with a buyer's agent who is putting many buyers into homes each month. An agent who is successfully negotiating offers each month is somebody who really understands current market conditions.
What To Expect When Looking At Homes
This next graph shows that more homes for sale in Tallahassee are under contract with buyer than ever before. That means slim pickings for buyers and favorable market conditions for sellers.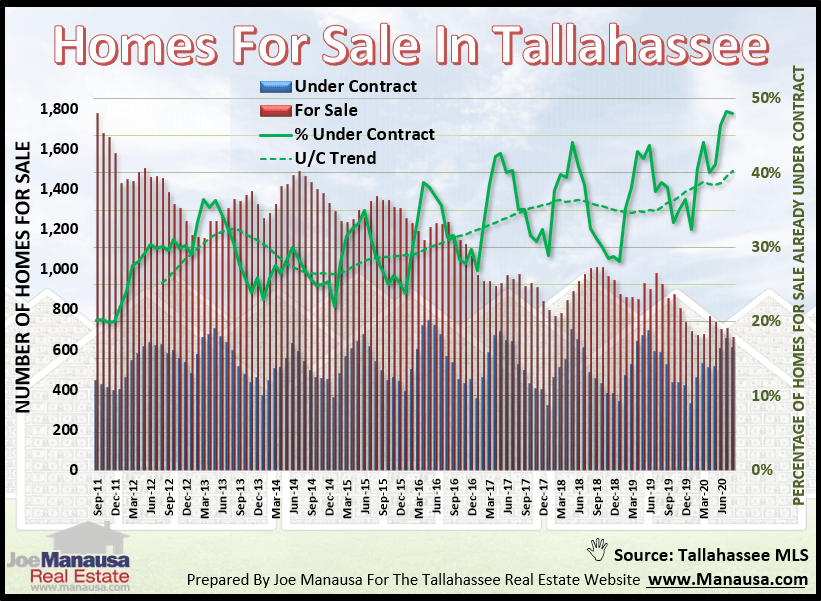 Nearly one-half of all listed homes for sale are already under contract. The green line in the graph above shows that 48% of the current listings are already under contract, and the one-year trend of the under-contract percentage is at an all-time high of more than 40%.
Hopefully, we'll see more sellers enter the market in August, and perhaps see a dip in this ratio. But don't be surprised to see it continue higher if too few sellers arrive.
Do you have any questions you'd like answered in this or other housing market reports? If so, you can leave a comment below or give us a call anytime!
Your Local Expert In Tallahassee
When moving to, in, or from Tallahassee, you will fare better if you work with a local expert. We are here to help. If you have further questions on the Tallahassee real estate market, you can leave a comment below, give us a call at (850) 366-8917, or drop us a note and we'll give you the local information needed to ensure a successful, smooth transaction.
As a local born and raised in Tallahassee with a focus on customer service, I promise you'll find great success when working with Joe Manausa Real Estate, just as have our past customers. You can read thousands of their reviews reported on Google, Facebook and Zillow right here: Real Estate Agent Reviews Tallahassee.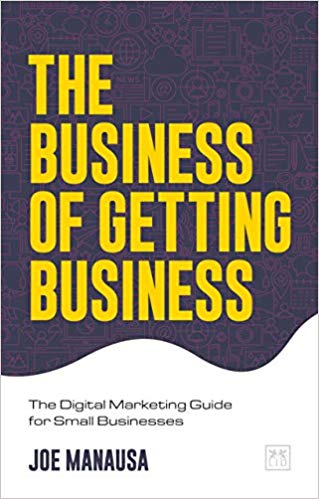 Have you heard about my new book "The Business of Getting Business?" It's a comprehensive guide for small businesses to help them make the move to digital. For those of us who want to survive and thrive in a world where large corporations are taking over, it is a must-read. It's also the perfect guide for how to sell a home in the digital age. You can find The Business Of Getting Business by clicking on any of the trusted retailers below.

Think all REALTORS are alike?
Read what people are saying about working with Joe Manausa Real Estate! You can see thousands of real customer reviews reported on Google, Facebook and Zillow at this link: CLICK HERE FOR REAL ESTATE AGENT REVIEWS.
I recently stumbled upon your latest Carrabelle listing. I must say, a home on Florida's Forgotten Coast is bound to be snatched up quickly. Best of luck with getting it under contract soon!

Posted by Barbara Corcoran on Thursday, June 15, 2023