Foreclosure Crisis: Real Or Fake News Hype?
Posted by Joe Manausa on Monday, August 17, 2020 at 5:59 AM
By Joe Manausa / August 17, 2020
Comment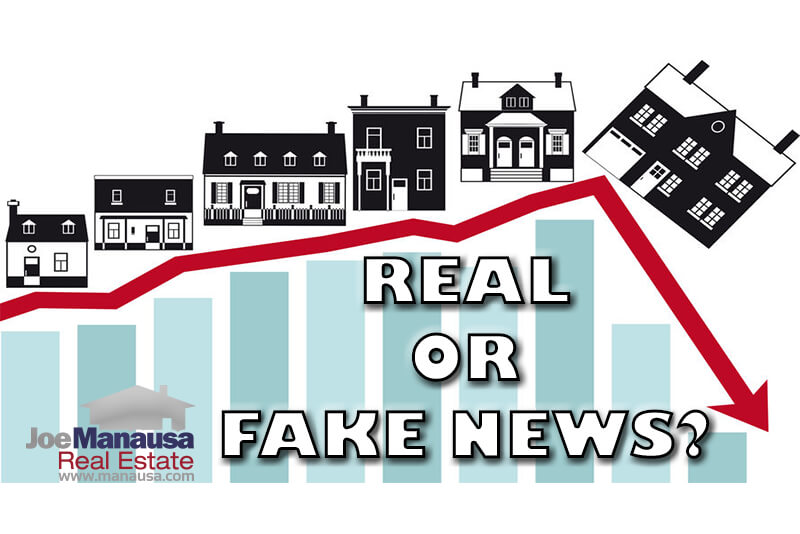 I'm seeing a lot of videos and articles about the impending doom of the housing market.
A tsunami of foreclosures? Evictions by the millions? Home prices dropping by 40%!
There are a lot of doomsayers getting a lot of attention these days. Wouldn't it be interesting to take a fact-based look at the housing market instead? Now, I'm not here to tell you there is no doom and gloom in the future, and the opposite is true too. I'm not forecasting rainbows and daisies either!
How about we just focus on the facts, and then YOU can draw some logical conclusions built upon these facts? Does that sound good?
If so, stay tuned. We're going to take a look at sixty years of housing data, couple it with population growth trends, add a dab of real estate supply and demand, a twist of mortgage interest rates, and hopefully cook up a housing market summary that you can rely upon.
Let's first start with the distressed properties for sale in Tallahassee, there's not many!
Video With Interactive Graphics
If you want the complete story on this report, please check out the video below. It contains interactive graphics which better explain what's happening in the housing market.
Here are the facts that we are going to review.
Fact one: Home values will rise or fall based upon the relationship between supply and demand for those homes. That means that global changes are relevant, but it is the local market conditions that will determine the direction of home values.
We can look at mortgage interest rates (a global factor) and know that they influence local demand. When interest rates decline, people can afford more home for their money, and we typically see demand rise. The opposite is true as well.
When rates rise, people can afford less home for their money, thus demand falls. Over time, the market adapts to current mortgage interest rates and demand stabilizes.
The economy is another global factor that has a long-term impact on most local economies. But a new change in the global economy rarely impacts the local housing market. Why?
Because local economies do not always move in synch with the national or global economies. If you live in an area where an industry is moving in, then you will see a surge in new housing demand, regardless of the US economy at that time. Of course, if factories are shutting down in your area, you can certainly expect to see demand decline.
It is the continuous study of supply and demand that will aid you in forecasting value changes in the real estate market. This can be done at the national level, but you must know that local changes are all that will matter for your local housing market.
Currently, the majority of housing markets are reporting inventory shortages. There are not enough homes for sale to satisfy demand. Now here are the important points to consider if you are worried about home values crashing.
What is the current rate of demand? How does it compare with times in the past? Does it seem high or low right now?
Not enough people were asking this question in 2005, when the housing market was surging and home prices were skyrocketing. So let's move on to the second fact that we should evaluate when forecasting housing price changes.
Fact two: The population is growing.
As a general rule, a rising population needs more houses while a declining population requires fewer houses. This one is pretty straightforward, but there are other variables that make this less than a black and white issue.
For example, what is the current trend of people per units? Or multi-family versus single-family living? I'm betting the eventual fallout from the COVID 19 pandemic will be a decline in desirability of vertical living spaces as well as most multi-family properties too.
I'm not saying it will go to zero, but you can certainly expect some percentage of people moving forward to favor social distancing as it applies to where they live. Now, back to the specific issue of population.
US Population Continues To Rise
The US is growing. This is a fact, not rhetoric.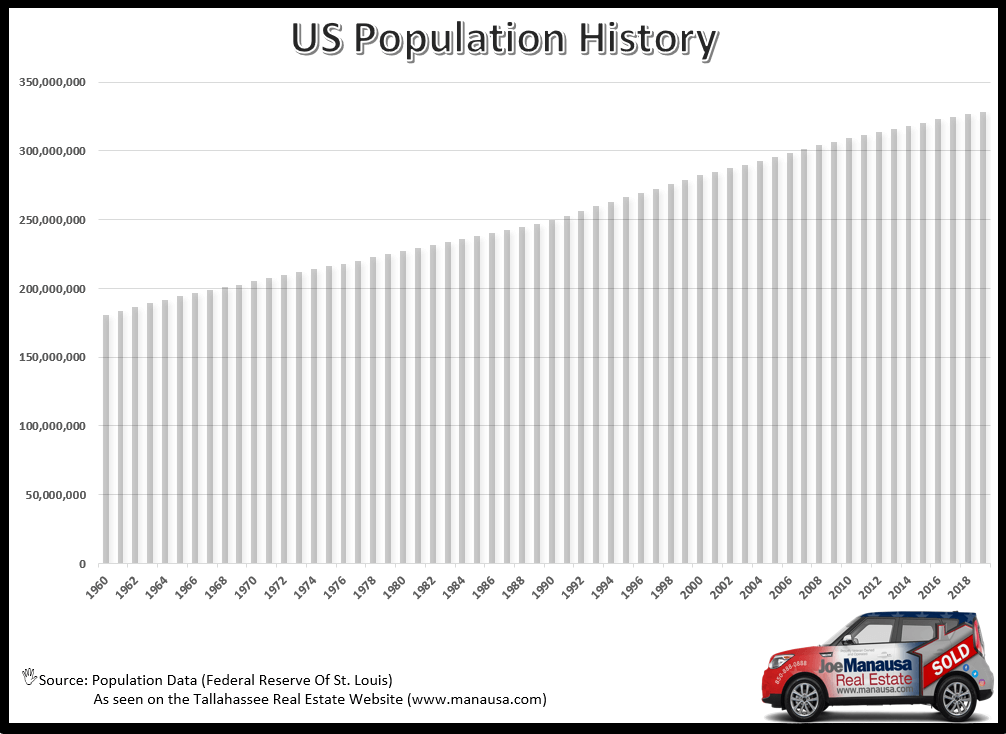 Regardless of what your thoughts are on the future of home prices, you must concede the fact that there are more people living in the US today than there were last year.
In fact, by most estimates, there are about 12% more people in the US today than when the housing market began its collapse fifteen years ago.
To summarize the demand side of the equation, we know that the long-term trend is rising. Sure, there all plenty of short-term issues that will cause fluctuations, but it is clear that there are more people living in the US than there were in the past, thus we expect the non-cyclical, long-term demand-trend to rise.
Fact Three: Mortgage interest rates are at an all-time low.
Low Mortgage Interest Rates
While a growing population needs more homes, buyers buoyed by low mortgage rates can get more home for their money.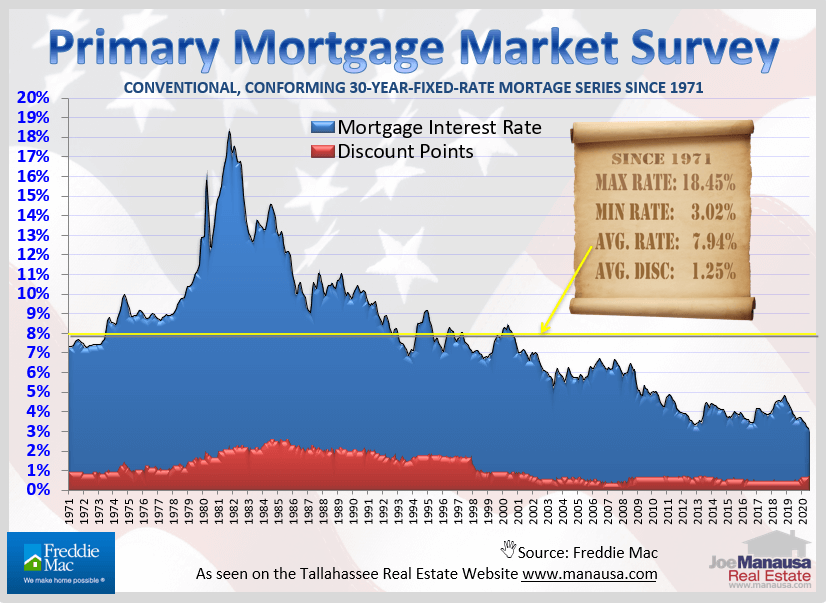 I'm not going to spend much time on mortgage interest rates, but the fact they are low is indisputable and they are not likely to move a whole lot higher in the coming months and years that the world tries to recover from the pandemic.
Fact Four: There are two major components to the supply side of the US housing market, those are existing home sales and new home construction.
If we take a very simplistic approach to this analysis, we can conclude that there are not enough existing homes to satisfy future demand because the population is rising.
Of course, we might see times when this is not true due to economic changes, but so long as our population is rising, new homes need to be built. Again, we could see short-term trends have a huge impact on this in either direction.
For example, a trend away from multi-family could increase the demand for single-family homes, while a spiral in the economy could push the trend towards mutli-family properties and thus reduce demand for single-family homes.
Ultimately, this will be part of your own personal forecast for determining the future for home prices.
Tips For Buying Distressed Property
There are a lot of people who endorse Joe for the job of selling your home, from Barbara Corcoran (Star of ABC's Shark Tank) to Preston Scott (host of Tallahassee's top daily "Audio Magazine," as well as the thousands of happy customers Joe has helped in the past. Listen why!
I recently stumbled upon your latest Carrabelle listing. I must say, a home on Florida's Forgotten Coast is bound to be snatched up quickly. Best of luck with getting it under contract soon!

Posted by Barbara Corcoran on Thursday, June 15, 2023
So let's review the three facts that we have identified thus far:
Supply and demand rule the housing market. The future of home prices will be tied to how many homes are available compared to how many are desired.
The US population is rising so ultimately the demand for homes is rising too.
The supply-side of the housing market is filled with existing homes and newly built homes.
My near 30 years of experience selling homes is in Tallahassee, Florida, and I can assure you that all three of these facts are true here as well. I know there are locations around the US where populations have fallen, but for most people and for all Tallhasseans, the population and thus demand for homes, is rising.
If you are in a location where the local population has declined, then the following analysis will not apply right now to your local market. It does apply to Tallahassee, and it applies to the US housing market too.
So let's dig a little deeper into our analysis of the housing market based upon these three facts.
Currently, most US housing markets are under-supplied, and many people have come forward claiming that the pandemic has caused this problem. They claim that many home sellers have chosen to wait until the pandemic passes, and I can tell you that I have anecdotal evidence that supports this, having heard it directly from home sellers in Tallahassee.
But this is not the primary cause. Recent seller reluctance has only exacerbated the problem.
The Real Reason There's A Housing Shortage
The fact is, most US housing markets were in inventory shortages prior to COVID-19. And I think I know why.
The biggest problem in the US housing market, and certainly in the Tallahassee real estate market, is that we have not built enough homes.
Twenty years ago, we started building too many homes, and without getting into a distracting discussion on why the housing market collapsed in 2006, it is undeniable that we overbuilt the market in an attempt to keep up with puffed-up demand by speculating consumers.
As a result, new construction was slowed to a near standstill in order to consume the glut of homes remaining from this period of time.
Skyrocketing Costs Have Made New Homes Too Costly
But it never returned. We are still not building enough homes for today's population growth-fueled increase in demand. And do you want to know why?
It's because builders can no longer deliver a home to the market at a price that the majority of today's buyers can pay. What most real estate reports do not mention is the fact that minimum wage has risen 66% in Florida and 41% in the US since the last expansion phase of the housing market.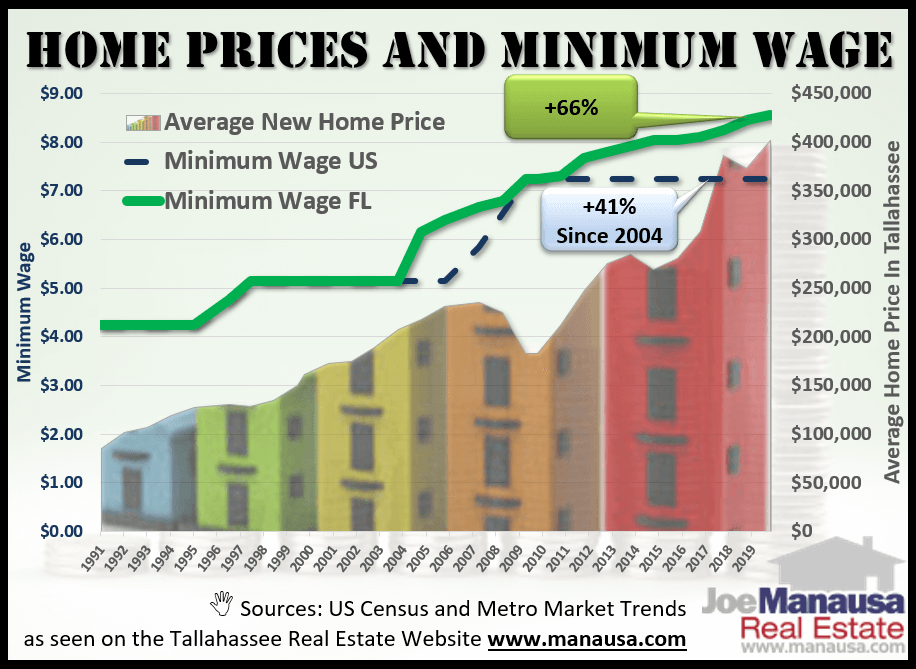 This means that we need more new homes today, but the cost is significantly higher than was the cost to build back then.
It is this huge difference between what builders can produce and what buyers can pay that has caused the huge supply imbalance. Even if the pandemic had not hit us, we would be facing market conditions where demand out-raced supply.
New People Are Outpacing New Homes
When we look at new construction starts and compare it with population change, we can clearly see that the US is growing people faster than it is growing houses.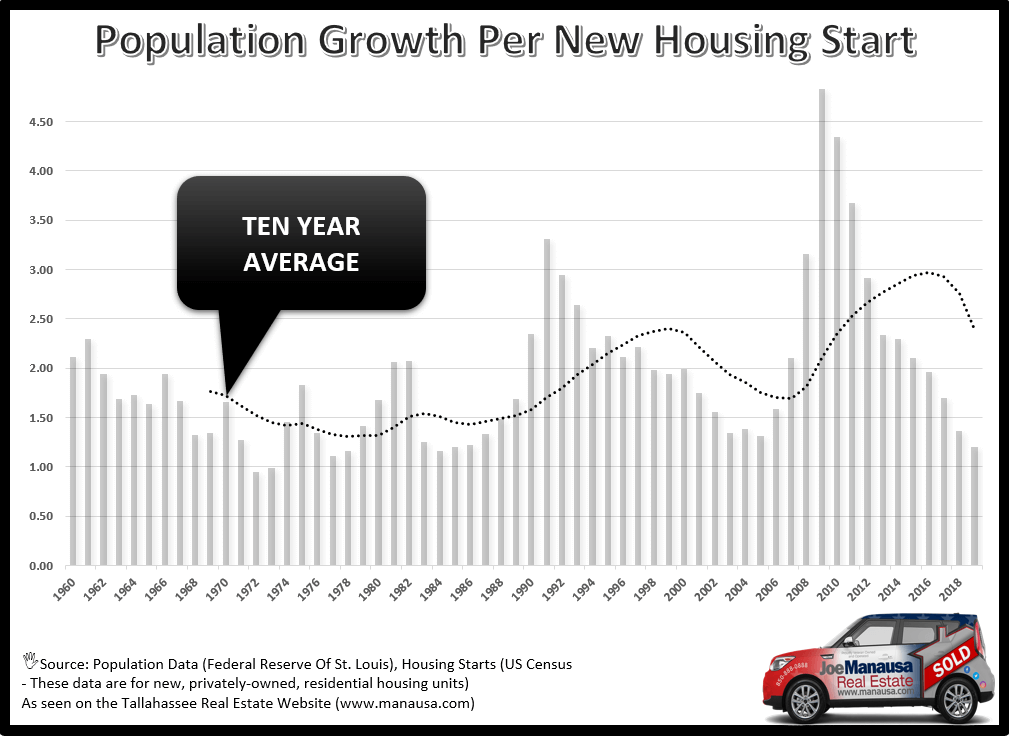 This graph plots the ratio of population growth to housing starts, and what we see is that from 1960 through 2000, we typically built a home for every 1.76 people in growth. But in the past twenty years, that ratio has grown to one home for every 2.26 people in growth. The ratio has risen 28% higher than what we saw for the previous 40 years, and that is a strong sign that construction has slowed far too low.
The easy solution is to build more homes. The hard part of this easy solution is to figure out how to do it at a price that people can afford and while delivering a home that they will buy.
And this brings us to back to the pandemic. The logical solution to creating more homes affordably is to build more multi-family and attached single-family homes, yet the demand is likely to shift towards single-family detached dwellings.
Let's look at another fact that the doom sayers do not share.
Beware Of Phantom Foreclosure Alerts
They warn of the coming foreclosure crisis. If you remember 2008 through 2016, then you probably remember that foreclosures and short sales took over the housing market.
Take a look at this graph of home sales in Tallahassee, and you'll see just how strongly distressed homes impacted the market.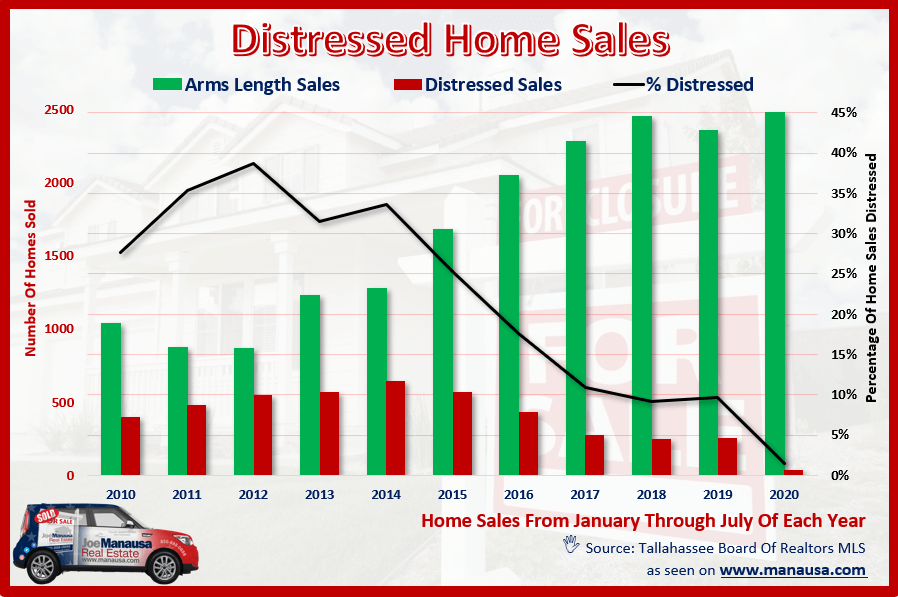 In 2012, nearly 2 of every 5 homes sold was a distressed sale, and more than a quarter of all homes sold from 2010 through 2015 were distressed. It was tough sledding in the housing market for sure.
But look at today. Equity has returned to the housing market and distressed sales make up less than 2% of all homes sold.
The doom sayers are forecasting a tsunami of foreclosures for our near future. Rather than let fear mongering guide us, let's look at the facts as they are right now.
Foreclosure Is A Process
First of all, a foreclosure sale does not just happen overnight. There is a process for a distressed home that it must go through.
The first step in that process is the lis pendens filing, where the bank warns the homeowner to make good on their payments. This graph shows us the lis pendens filed in Tallahassee for the past twelve years.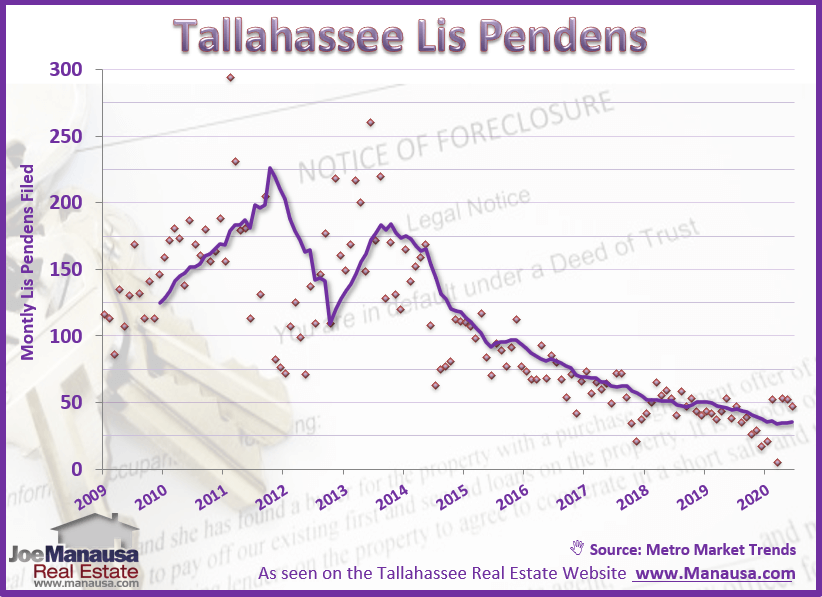 Notice that we are at an all-time low, though the numbers have bumped up recently and we might be seeing the start of a new rising trend.
Now, what happens to these homeowners if they do not come current on their loan? Historically in Tallahassee, the majority of people in this situation sold them on the open market instead of facing a foreclosure sale. Their homes had enough equity in them to pay the liens on the property.
It was uncommon for a home to make it to a foreclosure sale because equity existed for most of them.
Foreclosure Sales On The Decline
As you will see on the next graph, very few actually made it to a foreclosure sale. This is the graph of foreclosure sales in Tallahassee, and it is pretty amazing.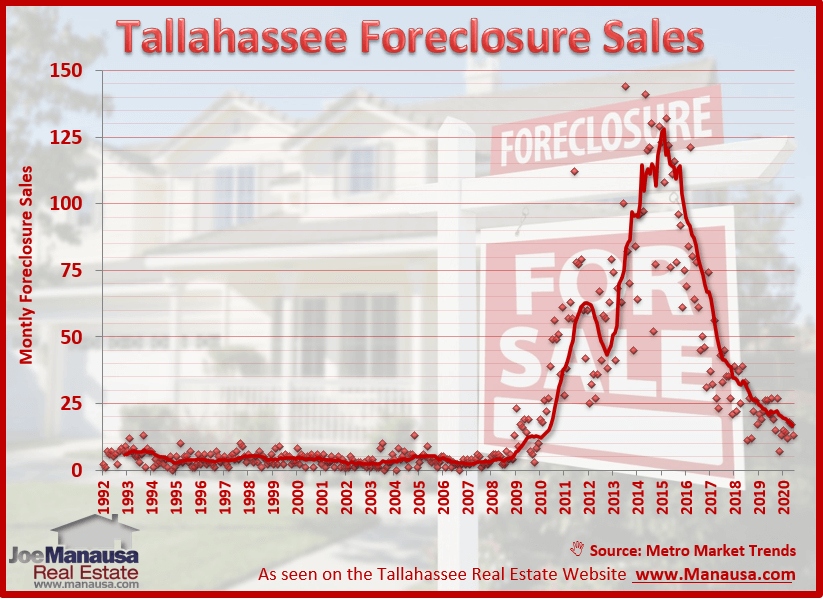 Look at how consistent the foreclosure market was for the first 20 years. There was very little fluctuation, with the number of foreclosure sales averaging around 5 each month.
Again, most homeowners who got into trouble had equity in their homes that would resolve the delinquent liens on their property. But look what happened later, when the housing market collapsed.
Suddenly, foreclosure sales exploded up to an average of 130 each month at its peak. So if it happened before, it will happen again, right?
Well, again, let's focus on the facts.
Relative Supply Of Homes Is Opposite 2006 Conditions
This next graph shows us some very telling information. It contains information that the doom sayers are ignoring right now.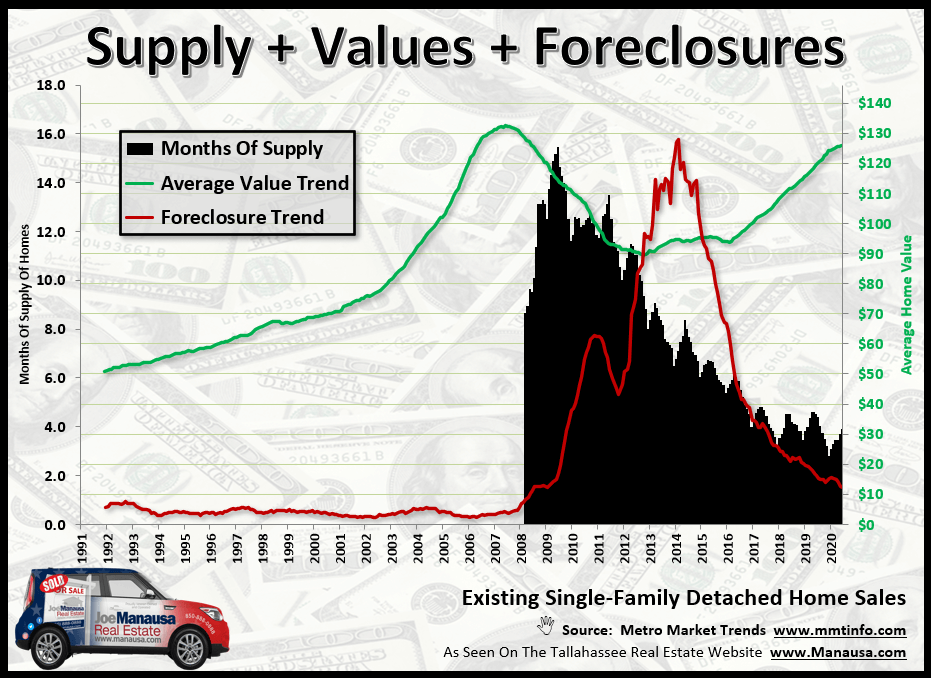 There are three important pieces of information happening here.
The green line shows the average home value, and you can see that the trend is approaching the high reached back in 2007.
The red line is the number of foreclosure sales that we saw on the previous graph.
The third set of data, plotted in black, is the relative supply of homes, measured in months of supply. 6.0 is market equilibrium, where the market is a healthy balance of supply and demand.
When the relative supply rose about 6.0 months, it became a buyer's market and home values dropped. In 2016 the market stabilized, but the builders did not step up their production, so we moved to a seller's market.
With each year passing and builders not providing enough homes, the market has become an extreme seller's market, devoid of inventory at the price points where most buyers can afford them.
So what does the combination of these three bits of data tell us?
It tells us that this is not 2006.
In 2006, when banks started filing lis pendens, the very last thing the market needed was more inventory. It was already heavily glutted.
Builders and investors who were not paying attention to the growing supply of homes got caught in a losing game of musical chairs. We saw home values plummet.
We also saw foreclosures hit the market at that time, which means that people who needed to get rid of their homes suddenly saw all the equity disappear. The many years of additional foreclosures kept adding to the inventory and suppressing home values.
No Collapse For The Foreseeable Future
Now the doom sayers will tell you this is about to happen again. And I concede, it could. But not before a lot of other things happen first. And not without the many-year warning like we got in 2006.
Let's explore exactly what is happening now and why the market is poised to absorb a first-round of foreclosures, unlike the market was in 2006.
Right now, values are near where they were when the market collapsed 15 years ago, but unlike then, the market is not filled with irrational exuberance.
Today's Buyers Are End-Users
The buyers in the market today are not speculating, they are buying for their own use. In fact, even though our population has grown in the past 15 years, the number of home sales now is much lower than it was during the housing market peak.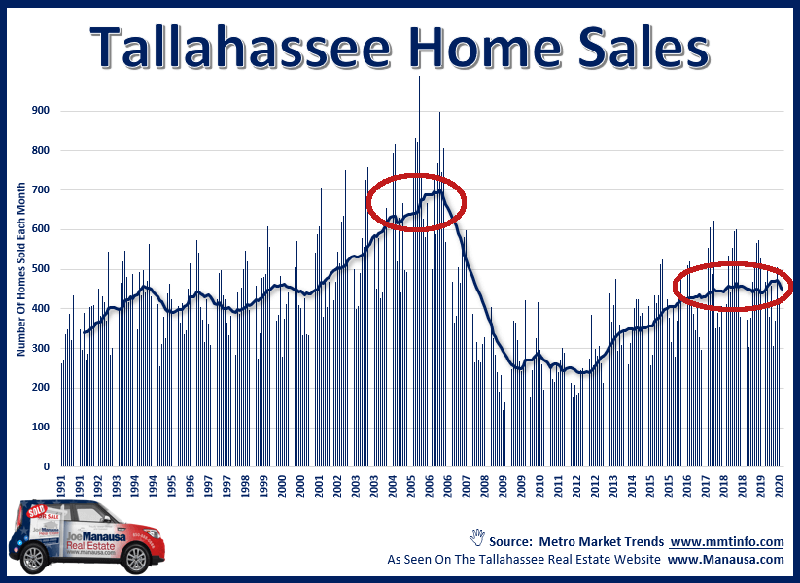 Today's buyers are end-users, not speculators. The market demand is healthy, it is the supply-side that is unhealthy. If you were to drop 500 foreclosures on the market today, they would be consumed immediately, as buyers in this under-supplied market are awaiting new inventory.
The competition for these additional homes means that we would not see values decline, as demand would still outweigh supply.
The Impending Collapse Of Home Values
Again, I promised to stick with the facts, and thus far I have. I will close with my opinion on the impending doom of the housing market.
It is hype. It's easy to grab people's attention with news of gloom and doom, and it is effectively working to sell ad space online wherever it is published.
Now, I'm not ruling out a housing market collapse, but I promise we'll see it coming when the supply of homes for sale starts to rise towards alarming levels. The last collapse started in 2006 and it took nearly 3 years for the banks to push foreclosures en masse to the market.
Were the total economy to go bust, it would take longer this time around. Remember, the banks don't want the houses, they want their money. They are "in it" just as much as are the homeowners.
Thus far, we aren't seeing the zombie apocalypse in real estate.
If you keep your eye on our YouTube Channel, you'll get regular housing market reports that will forewarn you of any demise long before it happens. Just click this link to subscribe to our channel.
Your Local Expert In Tallahassee
When moving to, in, or from Tallahassee, you will fare better if you work with a local expert. We are here to help. If you have further questions on the Tallahassee real estate market, you can leave a comment below, give us a call at (850) 366-8917, or drop us a note and we'll give you the local information needed to ensure a successful, smooth transaction.
As a local born and raised in Tallahassee with a focus on customer service, I promise you'll find great success when working with Joe Manausa Real Estate, just as have our past customers. You can read thousands of their reviews reported on Google, Facebook and Zillow right here: Real Estate Agent Reviews Tallahassee.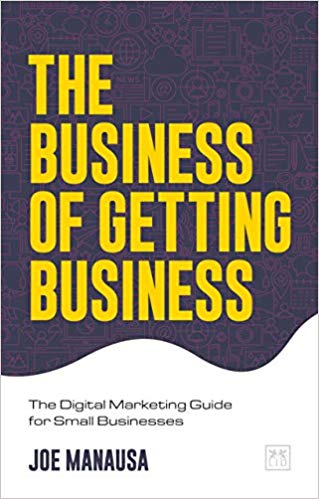 Have you heard about my new book "The Business of Getting Business?" It's a comprehensive guide for small businesses to help them make the move to digital. For those of us who want to survive and thrive in a world where large corporations are taking over, it is a must-read. It's also the perfect guide for how to sell a home in the digital age. You can find The Business Of Getting Business by clicking on any of the trusted retailers below.

Think all REALTORS are alike?
Read what people are saying about working with Joe Manausa Real Estate! You can see thousands of real customer reviews reported on Google, Facebook and Zillow at this link: CLICK HERE FOR REAL ESTATE AGENT REVIEWS.
I recently stumbled upon your latest Carrabelle listing. I must say, a home on Florida's Forgotten Coast is bound to be snatched up quickly. Best of luck with getting it under contract soon!

Posted by Barbara Corcoran on Thursday, June 15, 2023
Real Estate Frequently Asked Questions (Answered)