Interesting Employment Dynamic Is Impacting US Home Sales
Posted by Joe Manausa on Monday, December 13, 2021 at 5:56 AM
By Joe Manausa / December 13, 2021
Comment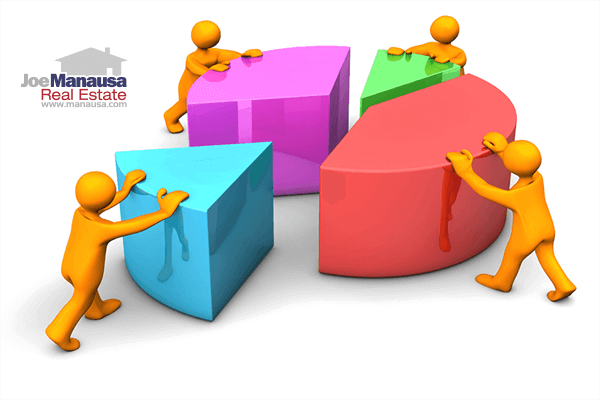 Homes are selling at near-record levels, with home prices and rents rising at increasingly unhealthy rates. Many of our readers have asked where all these buyers are coming from, so I went out to find an answer.
Rather than merely focus on our local market (since this housing market behavior is happening all across the US), I have found a pocket of data on FRED that might just have the answers that we seek. It measures the PARTICIPATION RATE in the labor market and segments the results into four age ranges.
First, I have included the list of all homes for sale in Tallahassee, just to affirm that homes are indeed selling like hotcakes.
Homes For Sale In Tallahassee
Employment Dynamic Impacting Housing
As America has increased the vaccination rate, the anticipation of "back to normal" for most businesses has grown. With so many people out of work immediately after the pandemic started last year, one might expect that there would be people jumping at the chance to get back to work.
Apparently not.
Much of today's and recent past headlines have included reports of serious labor shortages and the difficulty in finding people to hire. Some speculate that many of the government programs have increased the ability for people to spend money while also decreasing the need for some to work, but that conversation is not what today's post is about. No, today we're going to look at a statistic called "participation rate" and how it appears to be impacting the housing market in 2021 and beyond.
Keep Up With New Trends In Tallahassee!
Get The Tallahassee Real Estate Newsletter
Don't be the one that doesn't know what's going on when you sell a home or buy a home in Tallahassee.
Other buyers, sellers, lenders, and real estate agents have this critical information, and now you can too!
Get immediate access to our most recent newsletter.
Let more than 30 years of experience work for you with charts, graphs, and analysis of the Tallahassee housing market.
Labor Markets Participation Rates
This graph plots the participation rate for four key age groups in the US labor market. The "participation rate" is the percentage of people who participate in the labor force (meaning they either have a job or are looking for a job).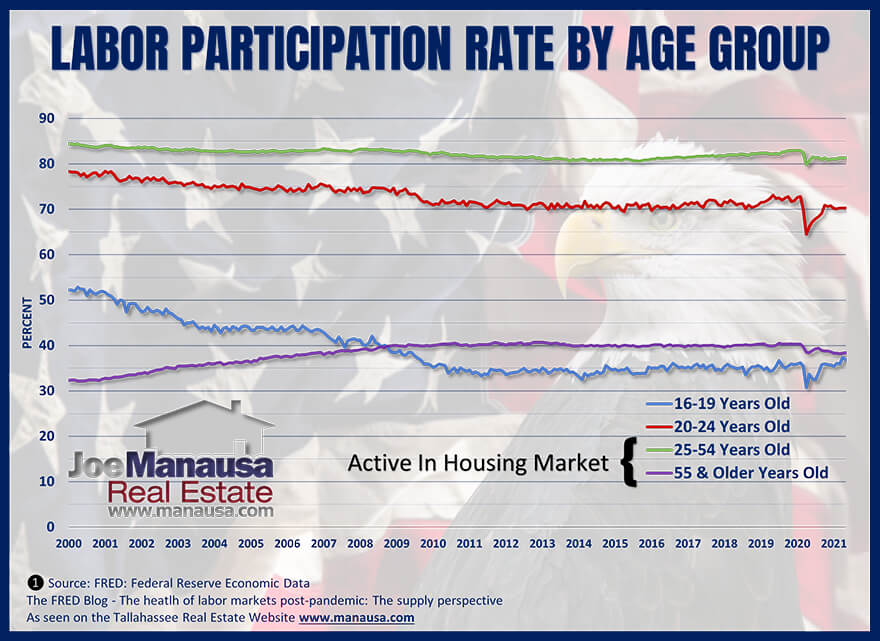 The graph clearly shows the labor force's reaction to the pandemic in the first half of 2020. All four age ranges saw an immediate and sharp decline in the percentage of participants in the workforce. Since that time, the vaccination period responses have had differing reactions.
The 55 & Older age range (the purple line in the graph) has seen a continued decline, causing some to speculate that it's group is led by a wave of early retirees. On the other hand, the 25 to 54-year-old group (the green line in the graph) is just slightly below its pre-pandemic level, and this is the group that most influences the housing market.
People aged from 25 to 54 represent the largest housing-market active segment of our population, and the fact that this age group had only a slightly negative response to the pandemic in the labor market is one of the primary reasons the housing market is still going strong. The pandemic has pushed the Fed to keep interest rates low, so the combination of these low rates and a stable economy (for those in the prime homebuying ages) has kept the housing market healthy.
Jobs & Interest Rates
During my 30-year career selling homes in Tallahassee, I have seen the market respond most profoundly to changes in jobs (the ability to pay for a home) and the changes in mortgage interest rates (and how this impacts the monthly mortgage payment). For this reason, we'll keep reporting on the economy.
Right now, we are seeing unemployment decline and labor participation rise, both positive signs for the health of the US housing market. Contrarily, mortgage interest rates have ticked upwards and we're expecting them to move to higher ground sometime in 2022. So these two opposing trends will be competing to see which has the first or greater impact on the housing market in 2022.
If you have been waiting to buy a home, don't miss out on these historically low mortgage interest rates. As I have said quite often in the recent past, these are likely to be the lowest mortgage interest rates you see for the rest of your life!
Recent Housing Market Updates
Your Local Expert In Tallahassee
When moving to, in, or from Tallahassee, you will fare better if you work with a local expert. We are here to help. If you have further questions on the Tallahassee real estate market, you can leave a comment below, give us a call at (850) 366-8917, or drop us a note and we'll give you the local information needed to ensure a successful, smooth transaction.
As a local born and raised in Tallahassee with a focus on customer service, I promise you'll find great success when working with Joe Manausa Real Estate, just as have our past customers. You can read thousands of their reviews reported on Google, Facebook and Zillow right here: Real Estate Agent Reviews Tallahassee.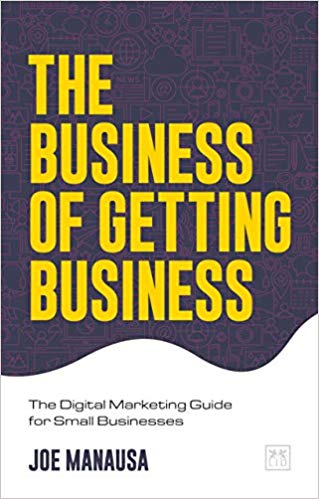 Have you heard about my new book "The Business of Getting Business?" It's a comprehensive guide for small businesses to help them make the move to digital. For those of us who want to survive and thrive in a world where large corporations are taking over, it is a must-read. It's also the perfect guide for how to sell a home in the digital age. You can find The Business Of Getting Business by clicking on any of the trusted retailers below.

Think all REALTORS are alike?
Read what people are saying about working with Joe Manausa Real Estate! You can see thousands of real customer reviews reported on Google, Facebook and Zillow at this link: CLICK HERE FOR REAL ESTATE AGENT REVIEWS.