How Current Mortgage Interest Rates Are Fueling Demand For Homes
Posted by Joe Manausa on Monday, August 30, 2021 at 5:56 AM
By Joe Manausa / August 30, 2021
Comment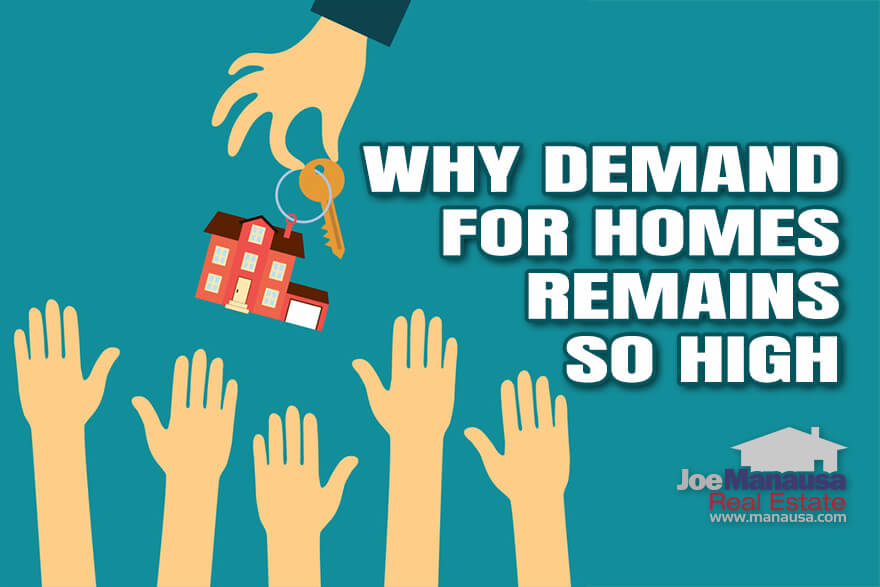 The housing market is still going strong, with demand for homes higher than we have seen since the housing bubble collapsed fifteen years ago.
While there are many factors that serve to motivate people right now to buy homes, none are as great as the low mortgage interest rates that have kept home affordability near record levels.
Today we'll dive into current mortgage interest rates and then look to see why they are such a strong force in the housing market today. I have included a list of the homes currently for sale in Tallahassee, and you'll see that more than half of them are already under contract with buyers.
Homes For Sale In Tallahassee
Current Mortgage Interest Rates
Mortgage Interest Rate History
Most people know that today's mortgage interest rates are low, but sometimes it takes a picture to really understand how low they are in context to what is "normal."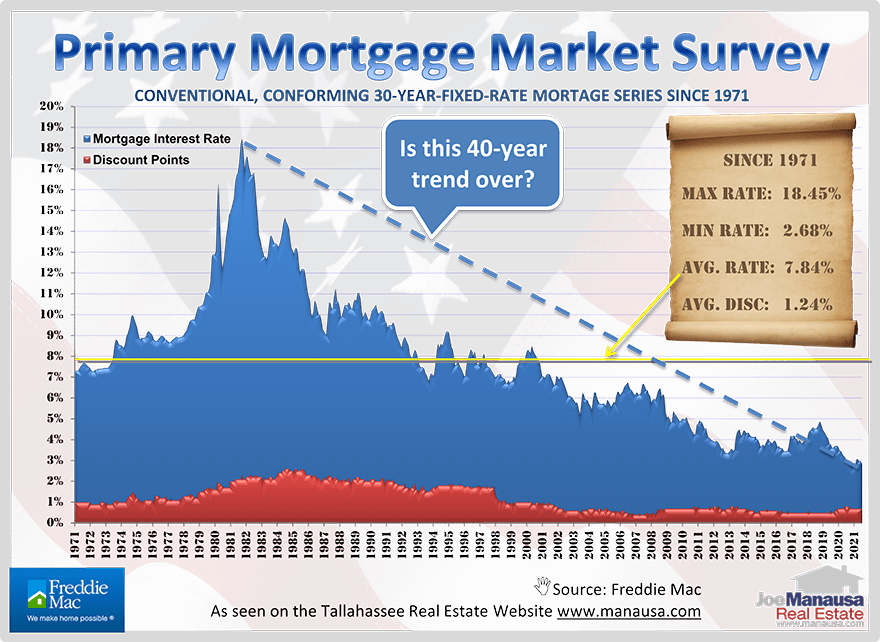 Mortgage interest rates have been spectacular for buyers for the past two years, with rates often dipping below 3%. The graph shows us (yellow line) that the fifty-year average rate is close to 8%, so today's rate of 3% is less than 40% of the norm.
The blue-dashed line in the graph shows that rates have been generally falling for the past forty years, and we know that history shows interest rates are cyclical (read this book if you want to know more about 800 years of interest rate history). This cyclical nature suggests we are about to face a very long-term trend of rising mortgage interest rates and today's rate might just be the lowest you ever see for the rest of your life!
Recent Housing Market Reports
Today's Mortgage Interest Rate Remains Low
When we zoom in to just the past year, we find that today's rate is almost exactly the same as it was one year ago. We've seen rates shoot up, but then they came right back down.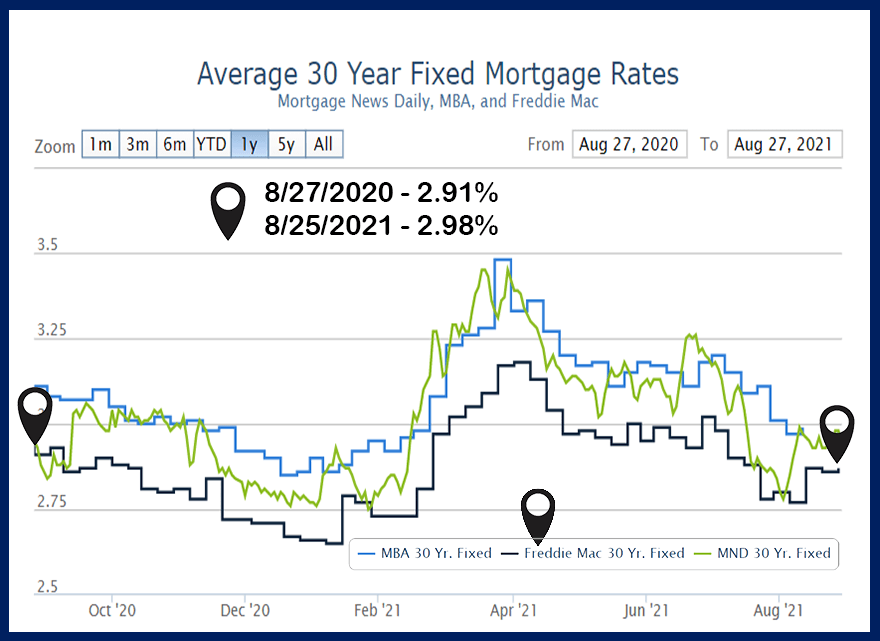 The black location markers in the graph show that Freddie Mac's reported recent rate of 2.98% is very close to the one-year ago rate of 2.91%. While rates did rise a little from February to May, the recent declines have added major fuel to the fire that is today's real estate market.
A recent study by the National Association of Realtors found that 87% of recent buyers borrowed money for their home purchases, so the current mortgage interest rate is hugely important for today's buyers. The bank will determine how much they can borrow based upon multiple factors, but it is the rate at which they borrow that they have no control over. The lower the rate, the more they can borrow without getting a higher monthly mortgage payment.
Future Mortgage Payments Will Soar
So how do we draw a picture of the future of home affordability? I've tried to do this with the graph below. It plots the likely average home prices with rising mortgage interest rates to reveal the average monthly mortgage payment movement in the coming years. It's not pretty!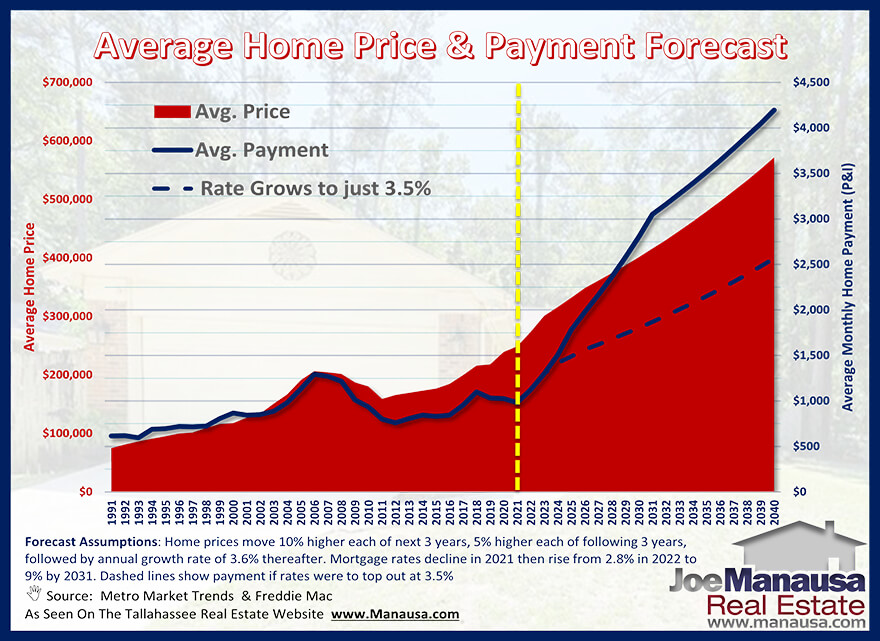 In order to create this graph, I took today's average price and then had it move 10% higher in each of the next two years, followed by 5% higher in each of the next three years, followed by an annual growth rate of 3.6% thereafter. You can see the average home price plotted in red.
I've created two options for mortgage interest rates. In both cases, I used 2.8% for today through the end of 2022 and then increase slowly to 9% by 2031. The dashed-blue line stops growing and stabilizes at 3.5% in 2024. So if you think rates will "never rise," then follow the dash-blue line to see how the average mortgage payment will change over the next twenty years. If you believe in the cyclical nature of interest rates, then follow the solid-blue line. Neither is attractive.
We are going to be facing remarkably different times in the housing market over the next twenty years, so make some long-term decisions today while rates and prices are working in your favor.
My Advice For People Considering A Move
My first advice for people who are thinking about buying a home is to read Why The US Homeownership Rate Will Crash. It provides a lot of information and guidance about what is happening in the housing market and why the near-future of home affordability is going to tumble.
Unlike the generations of homeowners before us who enjoyed declining mortgage interest rates each time they purchased a new home, today's homebuyer is going to purchase a home at the lowest rate they will ever enjoy. Future moves will be difficult as home prices and mortgage interest rates will both be higher. That "move-up" home that you'll want 7 years from now will likely be out of your reach unless your financial condition changes significantly.
Take advantage of today's low mortgage interest rates and secure a home that will make you happy for many years to come.
Your Local Expert In Tallahassee
When moving to, in, or from Tallahassee, you will fare better if you work with a local expert. We are here to help. If you have further questions on the Tallahassee real estate market, you can leave a comment below, give us a call at (850) 366-8917, or drop us a note and we'll give you the local information needed to ensure a successful, smooth transaction.
As a local born and raised in Tallahassee with a focus on customer service, I promise you'll find great success when working with Joe Manausa Real Estate, just as have our past customers. You can read thousands of their reviews reported on Google, Facebook and Zillow right here: Real Estate Agent Reviews Tallahassee.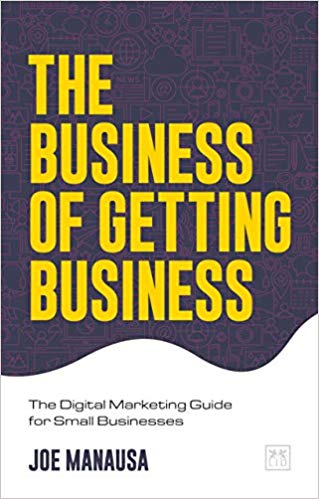 Have you heard about my new book "The Business of Getting Business?" It's a comprehensive guide for small businesses to help them make the move to digital. For those of us who want to survive and thrive in a world where large corporations are taking over, it is a must-read. It's also the perfect guide for how to sell a home in the digital age. You can find The Business Of Getting Business by clicking on any of the trusted retailers below.

Think all REALTORS are alike?
Read what people are saying about working with Joe Manausa Real Estate! You can see thousands of real customer reviews reported on Google, Facebook and Zillow at this link: CLICK HERE FOR REAL ESTATE AGENT REVIEWS.
I recently stumbled upon your latest Carrabelle listing. I must say, a home on Florida's Forgotten Coast is bound to be snatched up quickly. Best of luck with getting it under contract soon!

Posted by Barbara Corcoran on Thursday, June 15, 2023