Navigating Low Inventory: Why Fixer-Uppers Are the New Gold!
Posted by Joe Manausa on Monday, October 23, 2023 at 6:00 AM
By Joe Manausa / October 23, 2023
Comment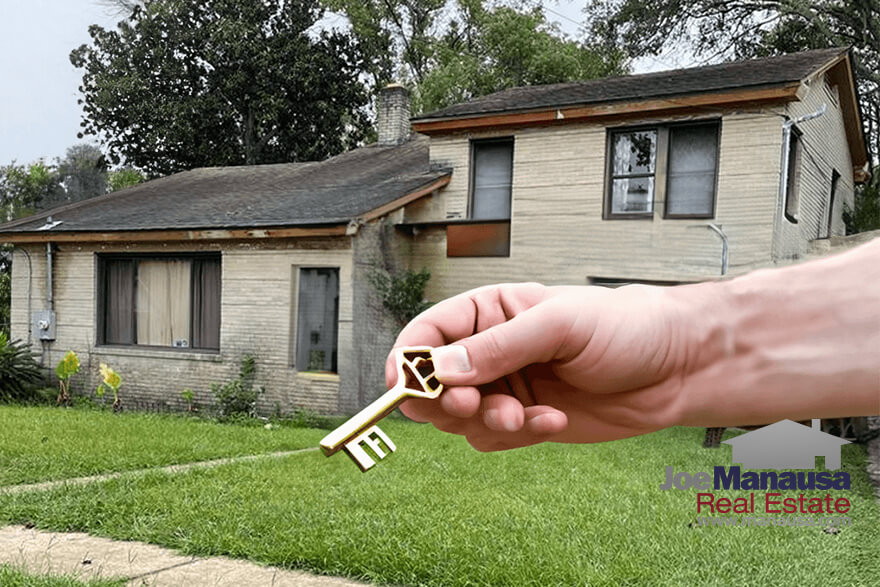 In a housing market tighter than ever before, with available home listings plummeting to historic lows, many potential buyers find themselves cornered and contemplating alternatives.
Enter the world of homes craving transformation - "fixer-upper homes!"
These aren't just any homes; they're spaces that demand extensive revamps and significant patience. The majority of buyers might shy away, daunted by the thought of the time lag between closing the deal and stepping into a fully habitable home.
Yet, for those with a vision and a dash of perseverance, this challenging landscape offers a silver lining.
Rather than battling the masses, they find themselves pitted against a narrower segment: the savvy property flippers. These professionals deftly acquire weary homes, infuse them with fresh life, and reintroduce them to the market, price tags now boasting substantial profit margins.
If you've got the patience and the passion, this might be your moment to capitalize on an overlooked opportunity.
Follow along as we share 5 "must-know" secrets to buying a fixer-upper home.
Location, Location, Location!
Even the best fixer-upper won't fix the wrong neighborhood!
The Charm Within the Four Walls... But What About Beyond?
When the allure of a fixer-upper tempts you with its potential, it's easy to get wrapped up in the vision of what it could become. From imagining the fresh paint on the walls to the charming rustic kitchen you've always dreamt of. But before you get lost in those details, it's crucial to step back and look at the bigger picture: the neighborhood.
Why Neighborhood Matters
No matter how beautifully you renovate a house, there are certain things about its location you simply can't change. The quality of local schools, the community's ambiance, the proximity to essential amenities, and the overall safety play a significant role in your day-to-day living experience. They will also influence the home's future resale value.
Remember, homes can be renovated, but neighborhoods? They evolve slowly. If you're choosing a fixer-upper, ensure it's in a location you love and one with potential for growth.
Research is Key
Start with basic research about the neighborhood:
Crime Rates: Websites and local police stations often provide crime maps and statistics.
Schools: Even if you don't have kids, the quality of local schools can influence home values. Websites like GreatSchools can offer insights.
Local Amenities: Proximity to grocery stores, parks, public transportation, and other amenities can significantly affect your living experience and property values.
Future Development Plans: Check with local city planning departments. Are there plans for new developments, infrastructure improvements, or other changes that might impact the neighborhood?
The Golden Real Estate Rule
A piece of wisdom that real estate veterans swear by: "Buy the worst house in the best neighborhood." Why? Because while you can always improve a house, enhancing an entire neighborhood is out of your hands. Investing in a fixer-upper in a sought-after area not only promises a better living experience but also positions you well for future appreciation in property value.
The Takeaway
While that dilapidated house may beckon with its charm and unbeatable price, take a moment to consider its surroundings. Ensuring your future dream home is in the right location will pave the way for a wise investment and a fulfilling living experience.
The Importance of a Solid Foundation
It's what's underneath that counts!
Beyond Surface-Level Beauty
So, you've found a fixer-upper in a delightful neighborhood, and you're already daydreaming about the vibrant colors you'll paint the walls or that vintage chandelier you want in the dining room. But wait! Before getting swept up in the decorative details, it's essential to understand what's going on behind those walls and beneath those floors.
Why Structural Soundness is Non-Negotiable
You might compromise on the number of bedrooms or the garden size, but one thing you shouldn't negotiate on? The structural integrity of your potential home. While surface-level problems can usually be fixed with relative ease and affordability, significant structural issues can quickly transform your dream project into an unforeseen financial nightmare.
Key Red Flags to Watch Out For
Foundation Cracks and Shifts: These can signify severe problems. Minor hairline cracks might be cosmetic, but larger fissures can indicate potential foundational movement.
Water Damage & Mold: Look for dark spots on ceilings or walls. The presence of mold can be hazardous to health and might hint at bigger problems like leaks or poor insulation.
Outdated Electrical Systems: Flickering lights, old-fashioned two-prong outlets, or a fuse box (instead of a modern circuit breaker) can signal an electrical system needing an upgrade.
Aged Plumbing: Discolored water, low water pressure, or recurrent drain clogs can be signs of outdated plumbing.
The Savior: A Home Inspection
Don't rely solely on your judgment. Hiring a professional home inspector before buying is invaluable. They can identify potential issues, estimate repair costs, and even advise on the urgency of the repairs. This inspection can arm you with the knowledge to negotiate the purchase price or request specific repairs.
Final Thoughts
Investing in a fixer-upper is as much about vision as reality. While it's easy to get caught up in the potential of what could be, it's crucial to have a clear and grounded understanding of the present state of the home. Ensuring your home's foundation and structure are solid (or can be made solid within your budget) will save you from costly surprises and pave the way for a successful renovation.
Budget Wisely: Expect the Unexpected
Every old home holds a few surprises.
The Lure of Potential... and the Reality of Costs
Embarking on the journey of renovating a fixer-upper is a thrilling adventure. There's a unique satisfaction in watching a neglected house bloom into a cherished home under your care. But amidst the excitement and potential lies a critical element many overlook: the budget.
The Art of Balancing Dreams and Dollars
You've probably heard tales of renovation projects that spiraled out of control, draining bank accounts and testing patience. While it's essential to dream big and envision the best, keeping a firm grasp on your budget is equally crucial.
Contingency Planning: Always set aside a contingency budget for unexpected costs. Experts often suggest allocating an additional 10-20% of your renovation budget for unforeseen expenses. Because, let's face it, surprises are part and parcel of old homes.
Detailed Cost Analysis: Before diving in, solicit multiple quotes for work. Break down costs project-by-project, weighing the benefits of DIY versus hiring professionals. Remember, the cheapest isn't always the best. Consider the balance of cost, quality, and timeliness.
Making the Numbers Work For You
Before you swing that hammer or tear down that wall, pause and crunch some numbers. The value of your finished home should ideally exceed acquisition costs and renovation expenses. This calculation isn't just reserved for house flippers eyeing profit.
For homeowners, the excess value translates to opportunity. It can mean home equity that can be leveraged in the future, a cushion for resale in fluctuating markets, or simply the peace of mind of knowing that your efforts added tangible financial value.
Without this excess, one must question: why invest the time, energy, and resources? For every dollar and hour you pour into the property, ensure it's building towards a result that makes fiscal sense.
A Worthwhile Endeavor, With Eyes Wide Open
Embracing a fixer-upper is a labor of love, blending passion with pragmatism. It's the canvas for your dreams, but it's also an investment. By budgeting wisely, preparing for the unexpected, and ensuring the numbers align in your favor, you're setting the stage for a renovation story that's both heartwarming and financially sound.
Get Our Free Market Update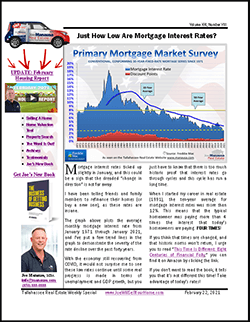 Other buyers, sellers, lenders, and real estate agents have this critical information, and now you can too!
Get immediate access to our most recent newsletter.
Let more than 30 years of experience work for you with charts, graphs, and analysis of the Tallahassee housing market.
Each Monday morning we send out a simple, one-page report that provides a snapshot of the Tallahassee housing market. It only takes 2 minutes to read, but it gives you better market intelligence than most real estate agents possess. Just tell us where to send it below!
Embrace the Renovation Journey
It's not just about the destination
The Heartbeat of a Home
Every creaky floorboard, every chipped tile, and every faded wall in a fixer-upper tells a story. As you step into the renovation world, you're not just altering a physical space but weaving your narrative into the home's fabric. This journey is filled with highs and lows, successes and challenges, yet every step brings you closer to realizing your vision.
Finding Joy in Transformation
The process of renovating a fixer-upper is akin to art in motion. Yes, there will be dust, unexpected delays, and budget recalculations. But there will also be those magical moments when you peel back old wallpaper to discover pristine woodwork or when that salvaged antique door fits perfectly. In these moments, the essence of embracing the renovation journey shines through.
Document the Process: Consider keeping a renovation diary or starting a blog. Taking before and after photos can provide motivation on tough days and serve as a proud testament to your progress.
Celebrate the Small Wins: It's not just about the big reveal at the end. Every completed task, whether as simple as choosing the right paint color or successfully installing a light fixture, is a step forward. Celebrate these milestones; they fuel the journey.
The Emotional Landscape of Renovation
It's naive to assume that the journey will be devoid of frustrations. There might be moments of doubt, where you question your decisions or face insurmountable obstacles. But remember, these very challenges shape the story of your home. They add depth, character, and a unique narrative that a ready-made home might lack.
Perspective is Key
Whether you're in the thick of a challenging plumbing overhaul or admiring the newly installed bay window, remember that every phase of the renovation process is temporary. Challenges will pass, and successes will be celebrated. And at the end of it all, you'll have a home that's not just a structure but a reflection of your journey, passion, and dedication.
Know When to DIY and When to Call in the Pros
Saving Money or Saving Sanity?
The Allure of the DIY Spirit
The DIY movement has been on a meteoric rise, fueled by countless online tutorials, home improvement shows, and the genuine satisfaction of building and fixing with our own two hands. There's undeniable pride in standing back and admiring a project you completed yourself, knowing every detail and effort that went into it. But, while rolling up your sleeves and diving into a project can be rewarding, it's essential to discern which tasks are within your realm and which are best left to professionals.
DIY: The Pros and Pitfalls
Taking on DIY tasks can save money and offer a sense of accomplishment. It allows you to work at your pace and infuse personal touches that a professional might not think of.
Pros: Cost savings, personal satisfaction, learning new skills, and customization.
Pitfalls: Potential for mistakes, time consumption, lack of specialized tools, or the risk of undertaking a more complex task than anticipated.
Guiding Your Decisions:
DIY vs. Professional Here are some general guidelines to help steer your choices:
DIY-Friendly Tasks: Painting, landscaping, minor demolition, tiling, or installing certain fixtures.
Professional-Required Tasks: Electrical work, foundational repairs, roofing, major plumbing, or structural changes.
Financial Implications and Safety First
While DIY might seem cheaper, mistakes can be costly to rectify, especially if they involve critical systems in the house. Furthermore, there's an invaluable aspect of safety. Electrical mishaps, structural blunders, or mismanaged plumbing can damage the property and pose risks to your well-being. Assessing if the money saved is worth the potential risks involved is crucial.
The Takeaway
As you navigate the renovation of your fixer-upper, strike a balance. Blend the joy and satisfaction of DIY with the expertise and assurance of professionals. Knowing when to wield a hammer and when to pick up the phone is the key to a smooth, efficient, and safe home transformation.
The Unparalleled Journey of a Fixer-Upper
Embarking on the fixer-upper adventure is not for the faint of heart, but for those willing to navigate its challenges, the rewards are immeasurable. It's a symphony of creativity, dedication, practicality, and love. Every renovated space becomes a testament to your vision, every solved problem a badge of your resilience.
Remember, the journey is as significant, if not more so, than the destination. It's about transforming a house — with its quirks, imperfections, and potential — into a home that resonates with your story.
If you're feeling inspired and ready to dive into the world of fixer-uppers, you don't have to go it alone.
We can be your go-to guide in this adventure. With our expertise, you'll find the perfect property to start your own renovation story. A canvas waiting for your touch. So, if you're curious, dreaming, or ready to take the leap, reach out to us today. Your dream fixer-upper might just be a call away.
There are a lot of people who endorse Joe for the job of selling your home, from Barbara Corcoran (Star of ABC's Shark Tank) to Preston Scott (host of Tallahassee's top daily "Audio Magazine," as well as the thousands of happy customers Joe has helped in the past. Listen why!