6 Housing Market Rumors Debunked (And 1 Confirmed)
Posted by Joe Manausa on Monday, August 15, 2022 at 5:55 AM
By Joe Manausa / August 15, 2022
Comment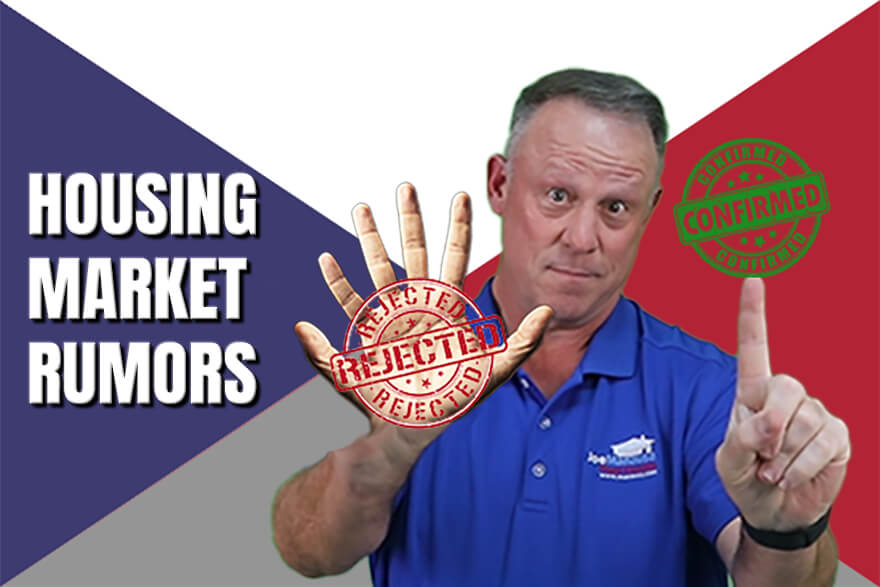 When I surf through real estate videos on YouTube, I regularly see 7 different rumors perpetuated in various forms of "hype-porn." Discussion of these rumors has been ongoing for years, so today, I want to put them all to rest.
This article debunks six of those rumors and confirms one. If you stick with me through each rumor, you'll have a better understanding of the housing market than all those YouTube creators that continue to stir the pot with ignorance.
The topics are cyclical, and each one attempts to explain why the world is coming to an end (or so they say). They warn of the coming foreclosure wave, the collapse of the housing market due to sky-high mortgage interest rates, and the collapse of home prices (because what goes up, must come down),
Others claim the end of home affordability due to sky-high prices, the forming of a new housing bubble due to historic home sales figures during COVID, or the fact that builders are building more homes today than the market can absorb.
Finally, a few point out that institutional investors will soon flood the market when they shed their inventory of unwanted homes. All of these points serve to deliver fear to raise viewer attention levels, but only one is confirmed with the data that is readily available on the internet today.
Rumor # 1 - The Foreclosure Wave Is Forming To Destroy Home Prices
To find a potential wave of foreclosures, it is best to examine the current pipeline of loans and specifically the status of all delinquent loans. Our first graph segments mortgage delinquencies by severity.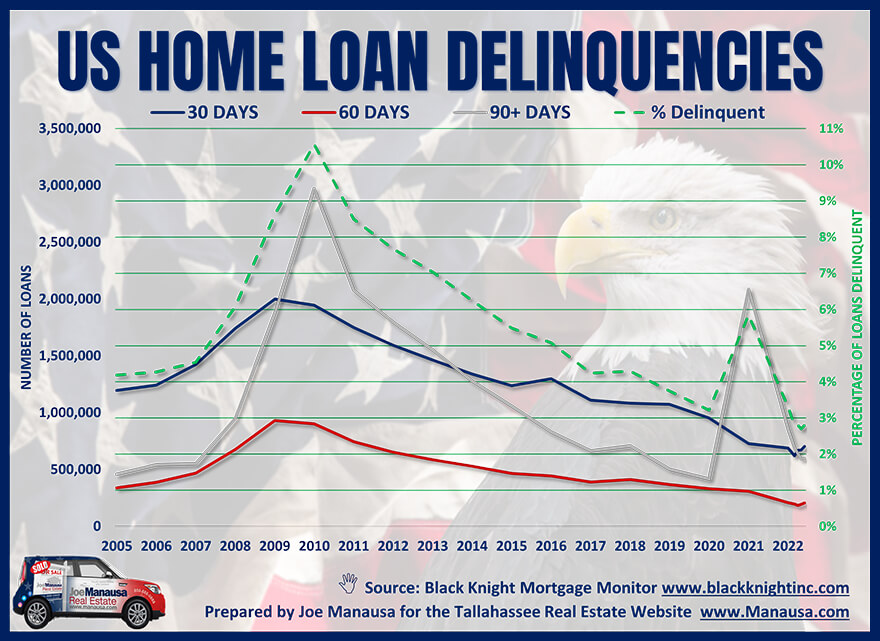 Mortgage delinquency trends are very positive, with the worst delinquencies showing huge declines and only new delinquencies showing gains. Of course, the foreclosure moratorium was lifted in January, so it's not a big surprise to find loans 30 and 60-days delinquent on the rise.
This is a very important point that most YouTubers either fail to understand or perhaps purposely overlook in their reporting. Banks were not allowed to foreclose on the majority of home loans that were delinquent during the pandemic until recently, so if a foreclosure wave was heading our way, we would have seen a huge number of foreclosure filings beginning in January. But we did not. And here is why:
The total number of delinquencies, in all categories, are now below pre-pandemic levels. And this should not be a surprise to our long-time readers. I told you two years ago foreclosures would not be a threat to housing for one simple reason:
From 2006 through 2014, there was no equity in the housing market. Simply put, Americans owed more on their homes than the homes were worth. If a homeowner became delinquent, there was no solution that made lenders whole again. Foreclosures resulted in losses to the borrower and to the lenders too.
But the equity situation has reversed today. There is equity again in the housing market, and more so than at any time in the past! For the majority of borrowers who become delinquent today, the remedy does not have to be a foreclosure sale. Instead, delinquent borrowers can sell their homes on the open market, repay their debt, and many will walk away with equity!
Rumor # 2 - Recent Sky-High Demand Makes Today Just Like 2006 - New Bubble Forming?
When mortgage interest rates plunged lower right after the onset of COVID in the US, home sales surged. Just how frenzied was the housing market? This next graph shows total home sales each year (plotted against the total US population) going back to 1990.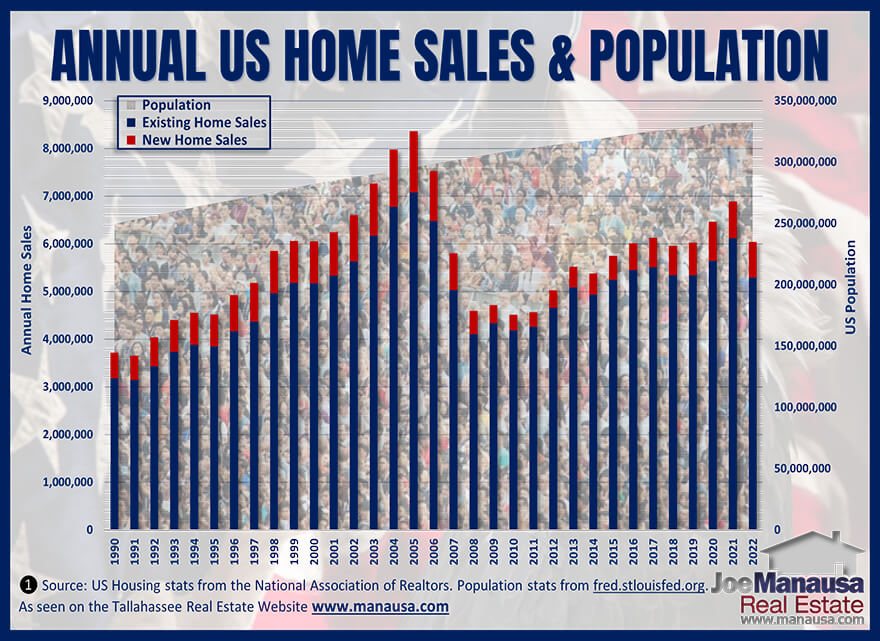 As you can see, home sales did push higher in 2020 and 2021, but I can hardly call the total number of sales "Sky High." Most people do not even realize how "normal" those two years were for the number of homes sold in the US.
2021 was the fifth highest ranked year for home sales, while 2020 ranked seventh. This is not evidence of a market out of control. Considering that the population has grown by more than 12% since the last market peak, I would argue that our sales were far too low. The 36.4M new Americans needed a place to live too!
And why were sales so low when we had historically low mortgage interest rates?
Any Realtor on the ground will tell you there was not enough inventory of homes for sale for the demand in the market. Had there been 3M to 5M more homes, we would have seen significantly more homes sold and much lower levels of appreciation. It was the undersupplied market that slowed sales.
On the topic of a housing bubble, most "real estate experts" fail to understand that a bubble forms when supply continues to expand while demand declines. Since our current supply level is historically low, it might be a while before we can lay claim to a new housing bubble.
Keep Up With New Trends In Tallahassee!
Get The Tallahassee Real Estate Newsletter
Don't be the one that doesn't know what's going on when you sell a home or buy a home in Tallahassee.
Other buyers, sellers, lenders, and real estate agents have this critical information, and now you can too!
Get immediate access to our most recent newsletter.
Let more than 30 years of experience work for you with charts, graphs, and analysis of the Tallahassee housing market.
Rumor # 3 - High Mortgage Interest Rates Will Collapse The Housing Market
There is no doubt that the jump in mortgage interest rates has cooled demand in the housing market. Buyer activity has declined significantly since the first quarter, when mortgage interest rates were nearly 1/2 of what they are today.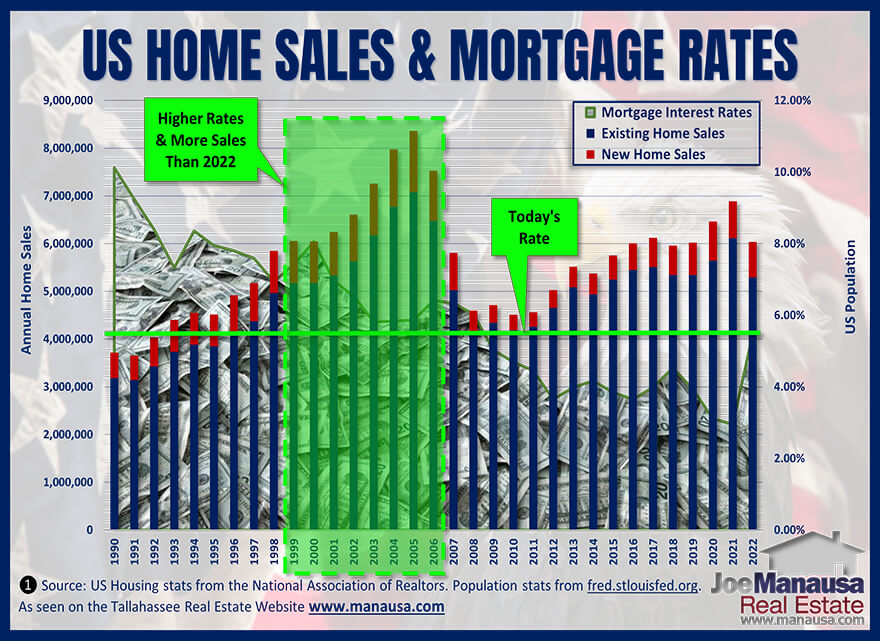 This graph plots the total number of homes sold yearly (2022 estimation) against mortgage interest rates. Note there were eighteen years where mortgage interest rates were higher than today, and the eight years highlighted in green had higher mortgage interest rates and more home sales than we'll have in 2022.
Buyers will eventually acclimate to the higher rates, which are still 30% below the 50-year average rate. Let me repeat that. While today's rates are much higher than last year's, they are still 30% lower than the average rate from 1971 through 2021.
Something that many "real estate" experts fail to understand is that when buyers leave the market, so do many sellers. In today's housing market, where only 10% of the inventory comes from new home construction, most buyers have homes to sell. If a buyer leaves the market, she takes a listing with her!
Higher mortgage interest rates will cool demand in 2022 and most of 2023, but as the "new normal" kicks in, we'll see buyers return to the market (if they can afford the homes). I wouldn't be surprised to see an uptick in sales next year, fueled by growth in institutional investors adding to their inventory.
Rumor # 4 - Home Prices Have To Fall Because They Rose Rapidly
They say "what goes up, must come down!" Of course, "they" don't know what they are talking about.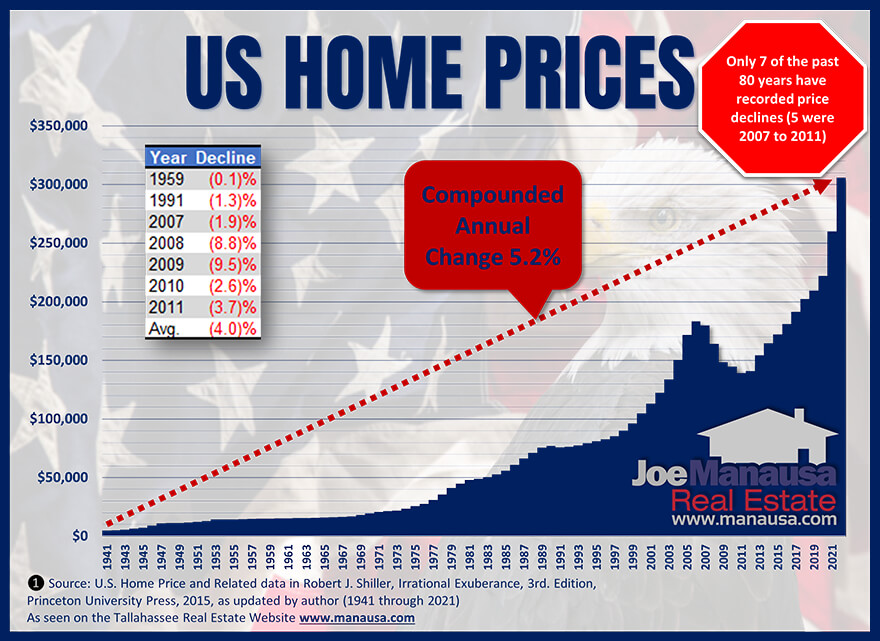 This graph plots eighty years of average home prices in the US. During that time, homes averaged a 5.2% growth each year. Only in seven of the past eighty years did home prices fall, and five of those came in the five years from 2007 through 2011. The other two were insignificant.
People expecting home prices to fall should first study the supply and demand for homes. Today, we are near an all-time low in the supply of homes in the US. I've seen estimates that show the lack of construction of new homes has left the market between 2.5M and 5M short. So why are so many people expecting home prices to fall?
Recency bias! "Recency bias" is a natural habit of favoring or valuing recent events over historical ones. In simple terms, we often give greater importance to the most recent events in our lives.
Most adults remember the housing bubble bursting in 2006. But do they remember the run-up in home prices in the early 1940s that was NEVER followed by declining home prices? How about the early 1960s, where home prices moved much higher all the way until 1991 when a mere 1.3% decline was recorded, only to continue higher for another 15 years?
"What goes up, must come down" - Is this what you see in the graph? Not me, I see eighty years of prices moving higher at an average clip of 5.2% annually!
Rumor # 5 - There Are Too Many New Construction Homes Being Built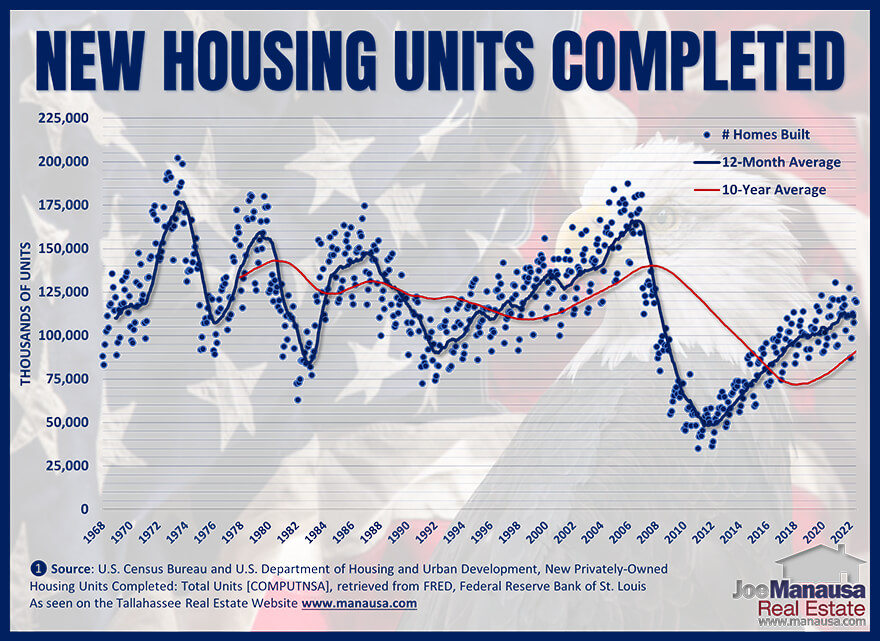 This graph plots the number of new housing units completed each month with a blue dot. The blue line shows the 12-month average while the red line shows the ten-year average. Follow the red line; look how far it has dropped!
The US population has grown roughly 70% since 1968, yet we're building fewer homes than we were back then. Does that make any sense to you? Is it any surprise there's nowhere to live for tenants and homebuyers today?
Recently, our population growth percentage has slowed, but there is still growth. And each year, several hundred thousand homes are demolished, so builders need to bring enough homes for the additional people as well as the replacement for demolished homes. That just has not happened.
Homebuilders have struggled to bring homes to the market recently due to rising material costs, wage increases, and the COVID supply chain disruption. With inflation rising, we know that builders will never again be able to produce homes at pre-COVID prices, meaning the bulk of homes needed cannot be produced by homebuilders today.
I keep a close eye on building permits, housing starts, and new housing completed, and I'll be sure to let you know when I feel a major corner has been turned by builders. I'm just not buying into the hype on this yet. Right now, this year ranks as #16 out of the past 64 years for the number of new housing starts, so I'm not going to get too excited about an oversupply of new construction any time soon.
Rumor # 6 - Institutional Investors Are Dumping Homes
Many YouTubers claim that the large institutional investors of single-family homes will be dumping their inventory for fear of falling home prices. I believe these concerns are voiced by people who are not paying attention to the large investors involved in buying homes.
Many ibuyers (like Zillow) have stopped buying homes, but they hold very few properties when compared to the overall market. All the holdings (of all the ibuyers) can only help the depleted supply-side of the housing market when they are ultimately listed for sale.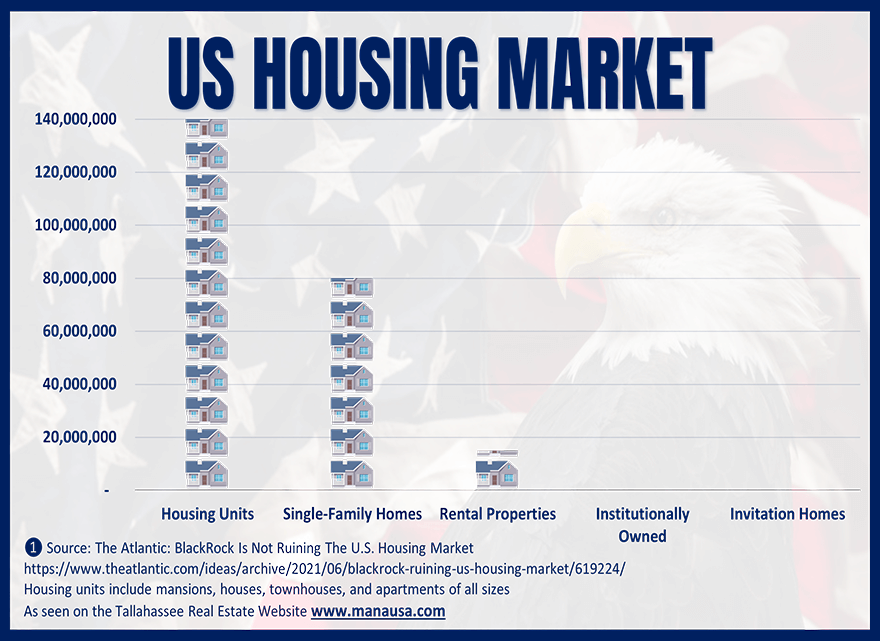 This graph depicts the current breakdown of the homes in the US. Note how you cannot even see the number of institutionally owned homes (nor those owned by the largest investor of homes). For the time being, the 300,000 institutionally owned homes are a very tiny subset of the overall US housing market.
There is a growing segment of large institutional investors that are buying homes with the purpose of renting them (not flipping). Currently, institutional investors only own about one-fifth of one percent of all single-family homes, and just one percent of rental homes, according to recent data presented to the U.S. Senate by The Heritage Foundation. The Heritage Foundation also pointed out that in no state do institutional investors own more than 1 in 100 of all available housing.
But that does not mean institutional investors are irrelevant! These substantial home-buying investors seek long-term holdings because they know that rents are soaring and will continue to soar so long as homebuilder production is stalled. The smart money is buying homes today, and I believe institutional investors will be adding to their inventories at an alarming rate.
I would argue that Institutional Investors are creating more of a problem keeping us undersupplied than they are a threat to oversupplying the market. Rather than releasing the homes they have (which are needed), they continue to buy more homes (which is increasing competition among buyers and pushing up prices). Who can afford to compete with a hedge fund when bidding on a home?
Rumor # 7 - Home Affordability Is Tanking
The 7th and final myth we'll explore today is no myth at all. Home affordability is tanking!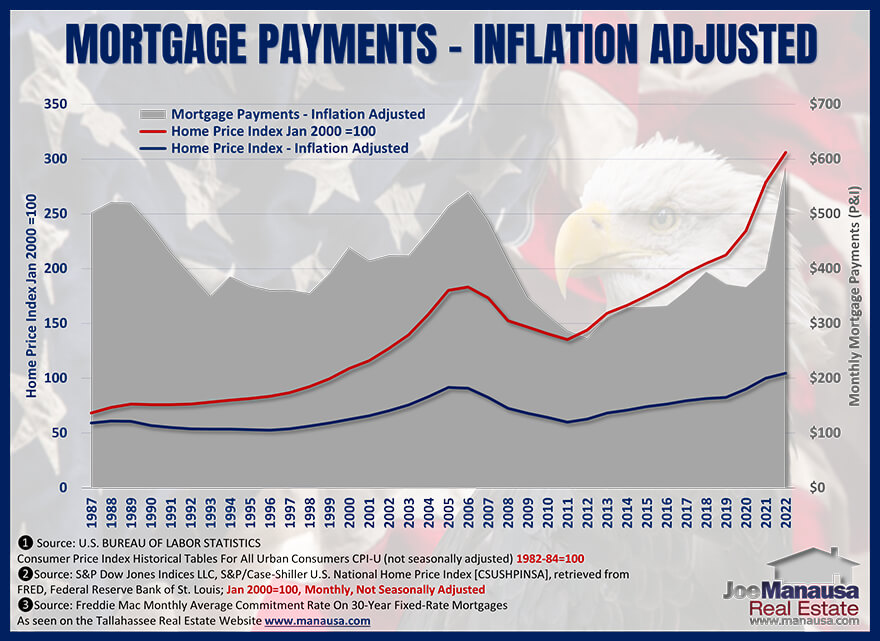 This graph plots the relative change in monthly mortgage payments (inflation-adjusted) for the past 35 years. I combined historical average monthly mortgage interest rates, the monthly home price index that accounts for price changes over time, and the consumer price index to adjust real monthly mortgage payments to ones relative to the current inflation rate.
The red line plots the Case-Shiller US National Home Price Index, where the January 2000 price is set to 100, and changes before and after are factored similarly. In other words, the red line shows the relative home price movement since 1987.
The blue line takes the home price information from the red line and then adjusts it with inflation data. It shows that today's buyer is paying more for a home than ever before, even after adjusting the price with today's high inflation.
The gray area in the graph plots the inflation-adjusted relative mortgage payment that buyers are making, and today's mortgage payment is the highest on record. In fact, it's more than 104% higher than what buyers were paying eleven years ago in 2011.
The result of rising home prices and elevated mortgage interest rates has pushed home affordability to an all-time low. The housing market has been carried by historically low mortgage interest rates and depressed home prices due to the housing bubble collapse 15 years ago. Today, the bubble is gone, inventories are low, prices are soaring, and we no longer get sub-3% interest when we borrow money to buy a home.
The near-historically low inventories are not just hurting home prices as we have seen rental rates rise at double-digit year-over-year percentages for more than a year. In the past, when home affordability fell, many people chose to rent. Unfortunately, rents are no longer affordable either.
Why Home Affordability Won't Improve Presently
At a time when the US needs more homes in all but a rare few local housing markets, inflation has the cost of building materials up nearly 50% in the past two years alone. How can builders come in and build the less-expensive homes that we need when their costs are soaring?
Unless we see a miraculous decline in the cost of building materials, builders will not be producing the number of homes our inventory-starved market needs to cool down home prices. Home affordability is the biggest issue in real estate today, and it is time the mainstream media makes it a priority so that people make smarter decisions for their housing needs now and in the near future.
My advice remains unchanged for our readers. If you need to make a move, sooner will be better than later. On the other hand, if you are in a home that will serve you well for many years, then this talk of home affordability means very little to your personal needs. Just know that you are growing equity nicely in your home, and if history is a good teacher, you should know that you'll be beating inflation soundly with your real estate investment.
There are a lot of people who endorse Joe for the job of selling your home, from Barbara Corcoran (Star of ABC's Shark Tank) to Preston Scott (host of Tallahassee's top daily "Audio Magazine," as well as the thousands of happy customers Joe has helped in the past. Listen why!