Zillow Real Estate Update July 2022
Posted by Joe Manausa on Monday, July 18, 2022 at 5:51 AM
By Joe Manausa / July 18, 2022
Comment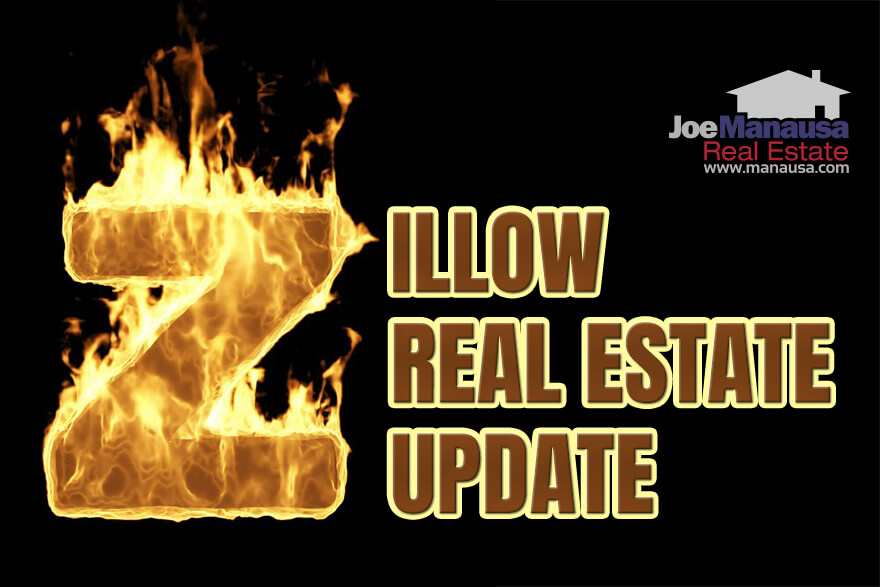 Zillow has published it's latest data on its real estate website, showing a unique perspective on the changes in the US housing market. While Zillow is not my sole source of information on the housing market, it is one that has a more active role than most that report on housing market behavior.
I am often asked why I produce reports based upon Zillow's data, often times with commentary on Zillow's bias. My response is always the same. It is tough finding reputable data sources on the US housing market, so I'll give just about any source a try. Remember, I have a pretty robust data set from multiple other sources, so I won't publish something that doesn't jibe with what other sources are reporting. The goal is to expand our understanding of the housing market.
This report on the US real estate market is primarily supported by data supplied by Zillow, and it provides enough information for us to draw a logical forecast of what to expect for the next year in housing.
The Demand For Houses Is Cooling
The first graph in today's Zillow real estate update shows Zillow's estimated number of unique properties sold each month, and currently, there is an eleven-month trend that is hard to ignore.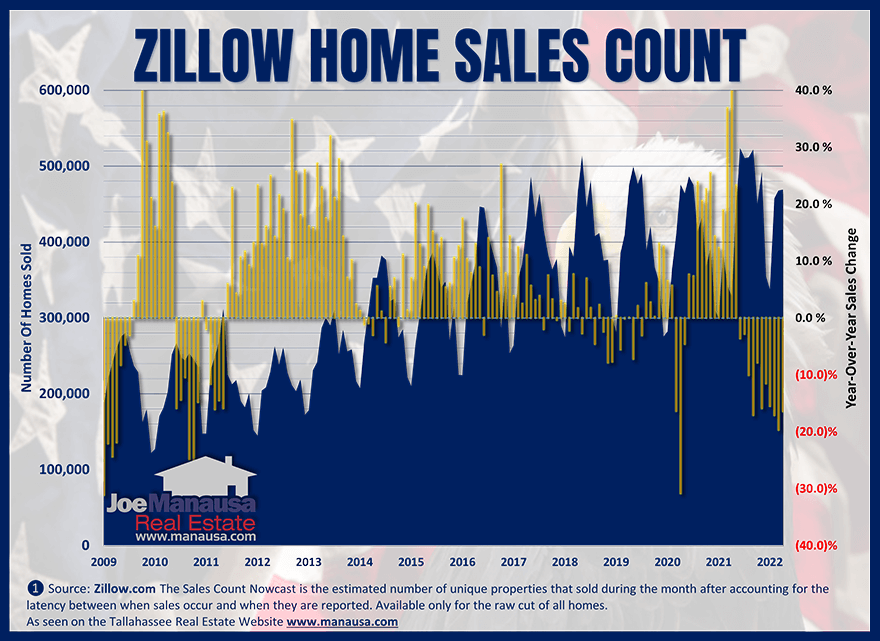 In the graph above, the blue bars measure the number of homes sold, while the yellow bars report the year-over-year change in sales. When the yellow bars rise above the horizontal axis, unit sales have grown. When the yellow bars fall below the horizontal axis, unit sales have declined.
Through May, there have been eleven straight months where US home sales have declined when compared to the same months in the year prior. This is non-seasonal information, as each month's change is a comparison of the same month in two consecutive years. For example, the number of homes sold in May 2022 was 16% lower than the number of homes sold in May 2021.
With nearly a solid year of declining US home sales, does this absolutely mean that demand is falling? Here's an answer that won't surprise you: YES, the market is cooling. Let's take a look at a handful of other key metrics and then return to the activity in the real estate market today.
Mortgage Interest Rates Have Exploded
This graph plots the average 30-year fixed mortgage interest rate since 2016, and it shows rates have hit a high point. What this graph does not show is that mortgage interest rates today are higher than in any previous month going back to the end of 2008!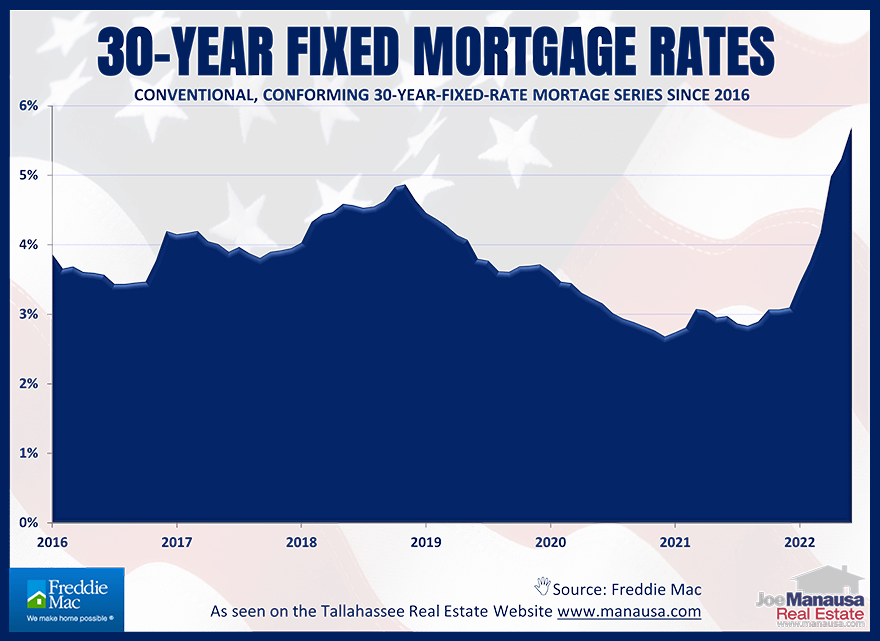 When I was preparing this graph on July 5th, I checked the Mortgage News Daily website and it was reporting that the current rate was 5.7% while the one-year-ago rate was 3.13%, meaning that the cost of money for homebuyers has pushed up 82% in just one year.
Just chew on that statistic for a moment. The year-over-year change in mortgage interest rates is nearly double! In fact, in mid-June, rates shot above 6% and were MORE THAN DOUBLE what they were a year ago.
When rates shoot significantly higher, it has an immediate impact on the real estate market that is akin to "sticker shock." People who have been shopping for a home and who had established a budget can no longer afford homes that had previously fallen within their available range. This pushes them to homes that are inferior to their previous qualifications, and it often slows decision-making until they come to grips with their reality.
There is no doubt that soaring mortgage interest rates have cooled buyer demand, yet I believe there is another factor that has also contributed to the eleven-month run of declining home sales.
Supply Of Homes Continues To Fall
While demand is falling, supply is also falling. In this graph, Zillow reveals the number of unique listings that were active at any time in a given month since the beginning of 2019, and despite a decline in home sales, the inventory of homes for sale continues to plunge.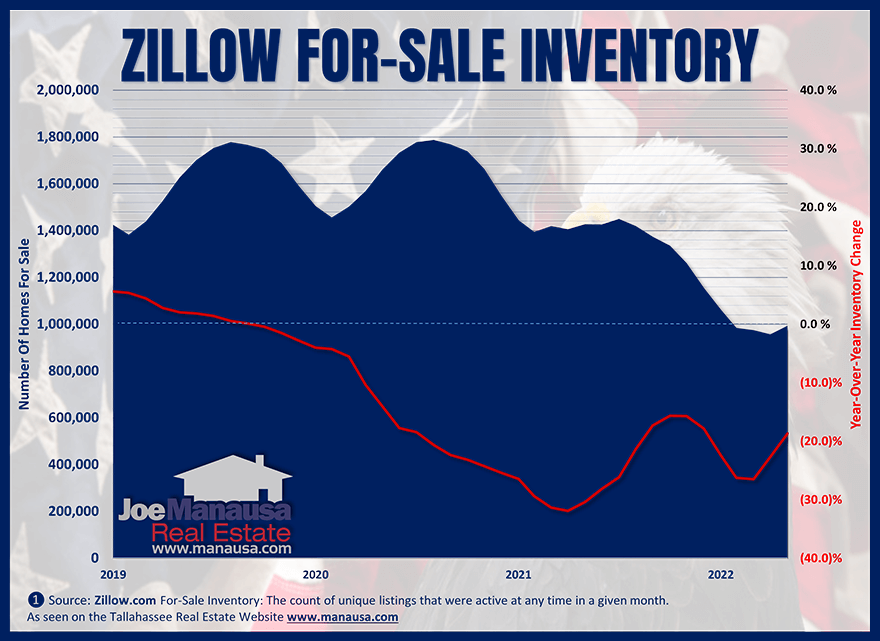 The blue field measures the number of unique listings, while the red line plots the year-over-year change in inventory. We can see that in 2019, the market shifted from inventory growth to inventory reduction. For the past two years, the inventory of homes for sale has receded by more than 20% each month when compared to the recorded inventory levels the year prior.
In 2020, right as the COVID pandemic was hitting most US markets, there were nearly 1.8 million homes on the market. Here we are just two years later and we have fewer than 1 million homes for sale.
Every once in a while, I'll get a reader comment on the fact that their local market conditions are showing a rapidly growing inventory of homes for sale. While this might be true in a very few areas, the facts are clear that overall, the US housing market is grossly undersupplied with homes.
While it is true that sticker shock and soaring mortgage interest rates have cooled buyer demand, I can tell you from the street level that it is also the low inventory of homes that has impacted sales in 2022. There just aren't enough available houses out there and buyers are getting frustrated with having to bid against multiple other buyers for anything they like.
The Median Home Price Is Shocking
With inventories plummeting, you should not be shocked to hear that prices are soaring higher. This next graph plots the median price at which homes across the US were listed and sold, and the changes are not easy to stomach.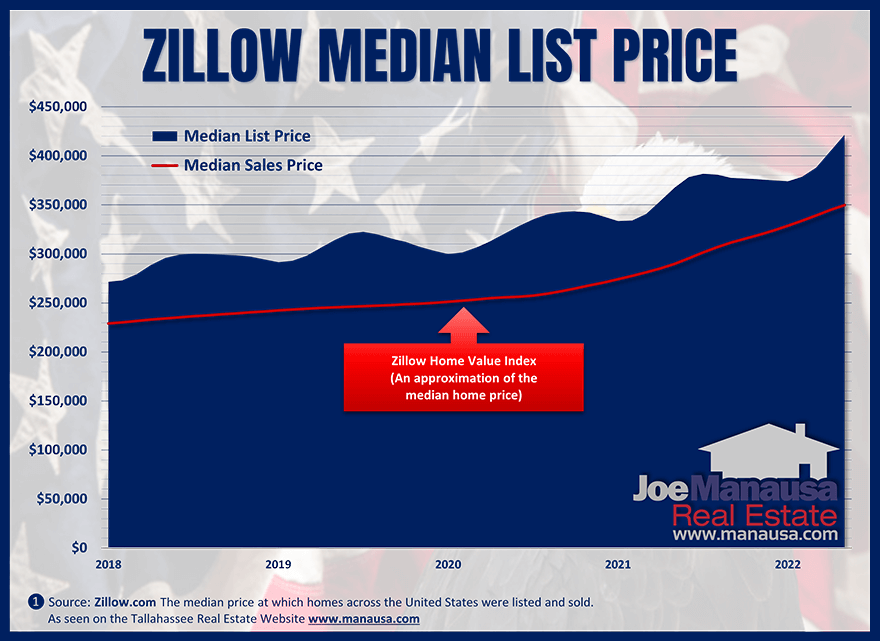 The blue field in the graph shows the median list price, while the red line shows Zillow's estimate of the median home sales price during the same time period. People who have not closely monitored the housing market would be shocked at what the blue field is showing:
The median asking price from home sellers has risen more than 53% in just four years! In 2018, the median asking price was $275K, and today it is more than $420K! So how has that impacted the median sales price? The median sales price has risen 52% during those same four years!
Even with demand falling, we should not expect to see any relief from the rising slope of the median sales price until we start fixing the inventory shortage that has plagued the housing market since 2019.
Get Our Free Market Update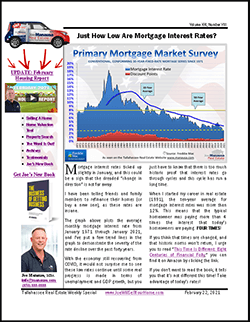 Other buyers, sellers, lenders, and real estate agents have this critical information, and now you can too!
Get immediate access to our most recent newsletter.
Let more than 30 years of experience work for you with charts, graphs, and analysis of the Tallahassee housing market.
Each Monday morning we send out a simple, one-page report that provides a snapshot of the Tallahassee housing market. It only takes 2 minutes to read, but it gives you better market intelligence than most real estate agents possess. Just tell us where to send it below!
Zillow's Forecast For US Home Prices
This graph is Zillow's take on the median home price. It reflects the typical value of homes in the 35th to 65th percentile range. In other words, it approximates the median by swiping the middle-third of the market and analyzing it over time.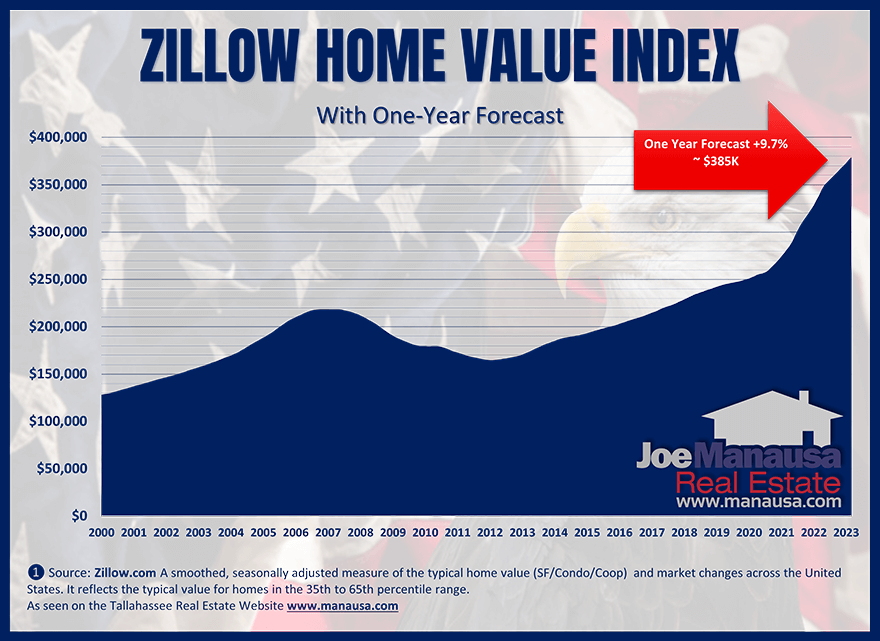 You might have noticed that the horizontal axis includes a date range that extends to a year from now. Zillow has estimated home values from now through May of next year with a forecast that home values will rise 9.7% over the next twelve months, a level three times the historical norm but lower than we've seen over the past few years.
Zillow's Home Value Index is a clear image of how bad our housing market is behaving. Look at the slope of home value growth since 2020, it's toxically unhealthy. If you want some insight into what this price movement will do to the housing market, I urge you to watch some of my videos on home affordability.
If you happen to have followed our Zillow reports from the past, then you might have noticed that Zillow has reduced its one-year-out forecast by about five percent since March. I believe this is a nod to the fact that demand is fallen, and (in my opinion), it relies heavily on the fact that mortgage interest rates have risen and won't come back down.
I believe Zillow's forecast for home price growth makes a lot of sense, but I'll warn you that if rates come back down to levels at or below 5%, we'll see absolute chaos and prices soaring well above double-digit rates. Remember, inventories are still dropping, so pricing pressure remains. If we were to see lower mortgage interest rates again, the sky's the limit for real estate appreciation.
What Buyers Find When They Choose To Rent
The final graph in today's Zillow Real Estate Update is a full-fledge punch in the gut to buyers who have been priced out of the market. Historically, when home affordability shot higher, a segment of would-be buyers chose to rent because they just couldn't make the numbers work for a home purchase. When home affordability improved, those tenants became buyers.
This graph measures what Zillow refers to as the "typical observed market rental rate" and like the previous graph, it takes a swipe from the middle of the market to approximate the median and it shows why we're not going to be able to fix this housing market in the same way the last one was fixed.

The blue area measures the rental rate index each month (median rent) while the red line plots the year-over-year percentage change each month. It is this red line that explains why this market is in such a mess. For the past ten months, rents have exploded at a double-digit growth rate.
While the inventory of homes for sale has declined, so too has the inventory of homes for rent. And for those readers who want to know how we can report that the rental inventory is dropping (without actually having a dataset of rental unit supply)?
We can deduce this because rental rates are soaring. In May, the median rental rate of $1,979 was nearly 16% higher than the median rental rate of $1,708 recorded in May of 2021. Can you imagine if your monthly rent was increased from $1,700 to $2,000 per month? If the rate remains the same over the next year, that same median unit will rent for nearly $2,300 per month, a rent hike of nearly $600 per month in just two years!
Zillow's Real Estate Update
The previous graph is the smoking gun that lets us know just how troubled the housing market has become. When people get priced out of the "for sale" market, they no longer can turn to the "for rent" market, as they will be priced out of that too!
We have not been creating enough residential units to house our growing population, and unfortunately, inflation has pushed the cost of new construction to a level where the median home buyer cannot be served.
I am having a hard time finding a solution to what could be a severe turn towards a renter nation, where control of prices and rental rates move from "Main Street to Wall Street." We are seeing more "out of town" large-scale investors consume single-family detached homes, which historically, were not included in their housing consumption menu.
Zillow's current data shows that inventory in the US is falling, and from what I'm reading, very few local markets around the country will be spared from soaring prices and soaring rents.
My advice to all but the wealthiest of Americans is this: If you are happy in your home, be glad and enjoy it. If you are unhappy, you are running out of town to move into a home that you will both enjoy and be able to afford. Secure a home before it is out of your reach for good.
Your Local Expert In Tallahassee
When moving to, in, or from Tallahassee, you will fare better if you work with a local expert. We are here to help. If you have further questions on the Tallahassee real estate market, you can leave a comment below, give us a call at (850) 366-8917, or drop us a note and we'll give you the local information needed to ensure a successful, smooth transaction.
As a local born and raised in Tallahassee with a focus on customer service, I promise you'll find great success when working with Joe Manausa Real Estate, just as have our past customers. You can read thousands of their reviews reported on Google, Facebook and Zillow right here: Real Estate Agent Reviews Tallahassee.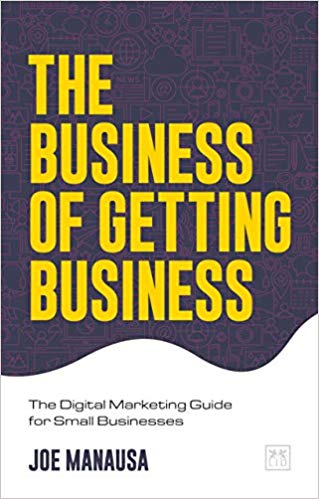 Have you heard about my new book "The Business of Getting Business?" It's a comprehensive guide for small businesses to help them make the move to digital. For those of us who want to survive and thrive in a world where large corporations are taking over, it is a must-read. It's also the perfect guide for how to sell a home in the digital age. You can find The Business Of Getting Business by clicking on any of the trusted retailers below.

Think all REALTORS are alike?
Read what people are saying about working with Joe Manausa Real Estate! You can see thousands of real customer reviews reported on Google, Facebook and Zillow at this link: CLICK HERE FOR REAL ESTATE AGENT REVIEWS.
I recently stumbled upon your latest Carrabelle listing. I must say, a home on Florida's Forgotten Coast is bound to be snatched up quickly. Best of luck with getting it under contract soon!

Posted by Barbara Corcoran on Thursday, June 15, 2023