Zillow Exposes Mainstream Media On Home Prices
Posted by Joe Manausa on Monday, October 17, 2022 at 6:00 AM
By Joe Manausa / October 17, 2022
Comment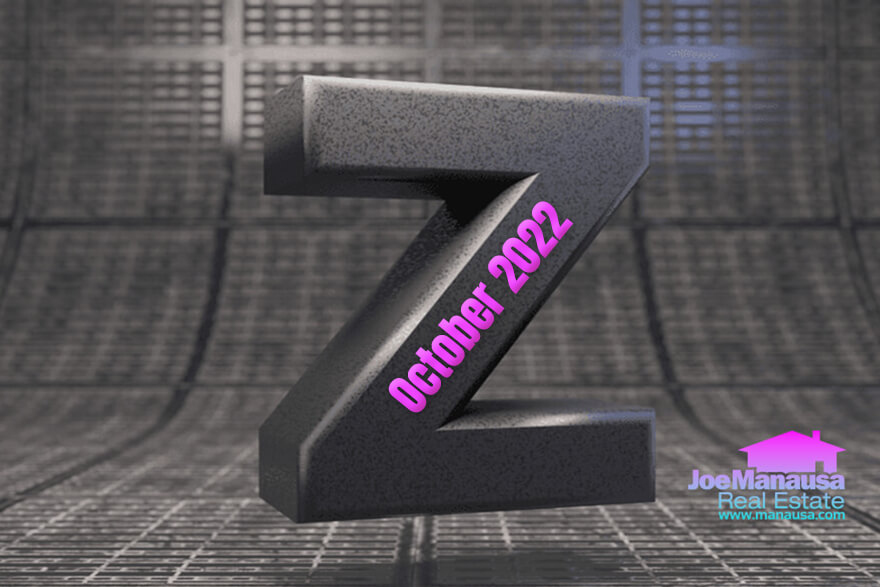 Home prices are crashing! Wait, no, I heard that home prices are rising. What's going on in this crazy housing market?
In order to dig into what's going on in housing, I've spent some time gathering data from the Zillow website. This is something I do regularly. Zillow, by no means, is not my only source of data from the housing market, but it is the quickest available each month. Long-time readers of our blog know that we obtain housing data from numerous sources around the internet to provide a broad, unbiased view of housing market conditions, so if you are new here and think that I'm giving credence to Zillow or its business model, you can be assured that it's "just their turn" in our reporting cycle.
Today's Zillow Housing Market Update will show you that the mainstream media has inaccurately reported on home prices and conditions are not what they seem.
Demand Has Fallen For US Homes
This graph makes it clear that demand in the for-sale market is declining. It reports Zillow's estimated number of unique properties sold each month.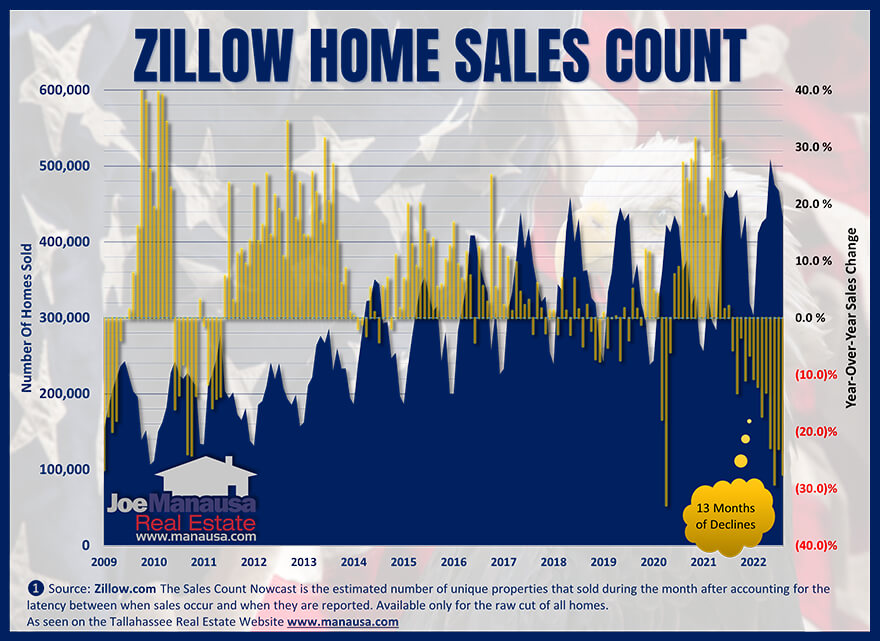 The blue bars plot the number of homes sold, while the yellow bars plot the year-over-year change in sales. When the yellow bars rise about the horizontal axis, unit sales have grown. When the yellow bars fall below the horizontal axis, unit sales have declined.
Sales through September show that for thirteen straight months, home sales have declined in the US. This is non-seasonal information, as each month's change compares to the same month in the year prior. For example, the number of homes sold in September 2022 was 27% fewer than the number of homes sold in September 2021.
I don't think anybody would be surprised to discover why home sales are declining.
Mortgage Interest Rates Have Exploded Higher
This graph plots the average 30-year fixed mortgage interest rate since 1971, and the most recent months might shed some light on the decline in home sales.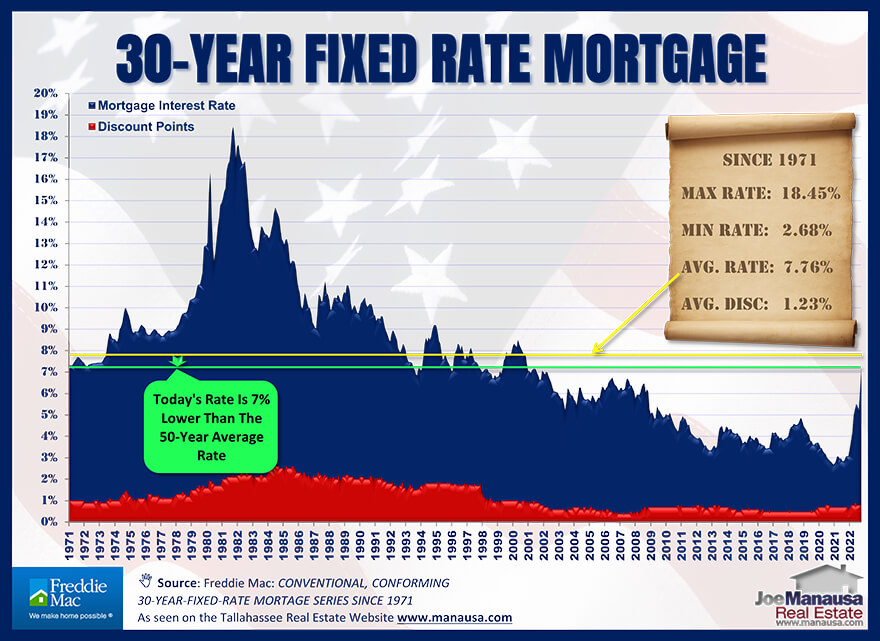 When I was preparing this graph in mid-October, I checked the Mortgage News Daily website, and it reported that the current rate was 7.16%, while the one-year-ago rate was 3.16%. Never before have mortgage rates moved so high, so fast. We've seen a 127% increase in mortgage interest rates in just one year! What's truly crazy is that despite the large leap in interest rates, today's rate remains below the fifty-year average.
Rising mortgage interest rates have cooled buyer demand, and viewers who remember the housing collapse in 2006 might be concerned that the supply of homes for sale is rising out of control. That happened in 2006, as builders were in full production mode while buyers were expelled from the market when the government changed lending requirements. Declining demand and rising supply created the bubble that sent home prices plummeting.
The next few graphs will help us understand the similarities and differences between today's housing market versus what we experienced in 2006.
Small Growth In The Inventory Of Homes For Sale
In this graph, Zillow reports the number of unique listings active in each given month since the beginning of 2019.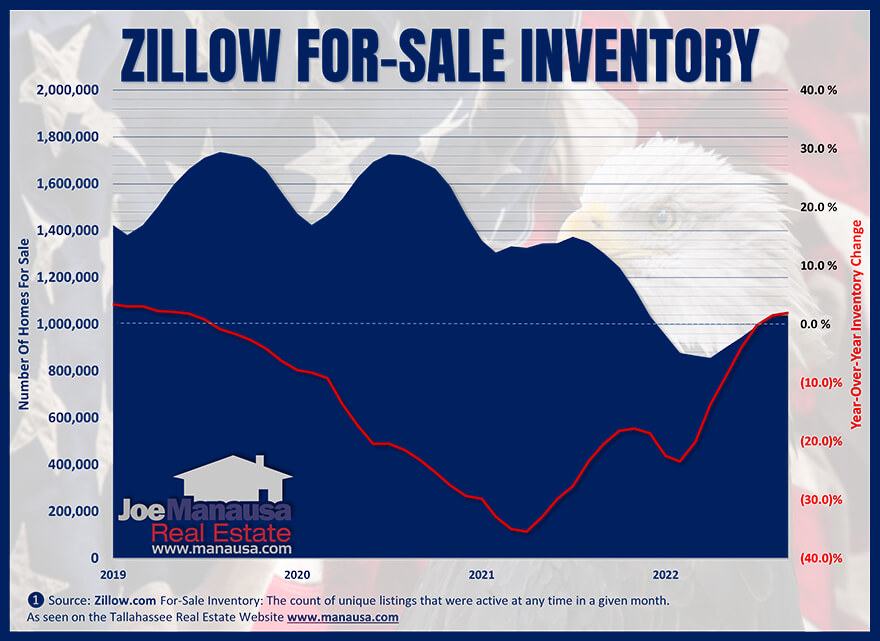 The blue field plots the number of listings, while the red line measures the year-over-year change in inventory. Look where the red line crosses the dashed-blue line two months ago, as that is when the market shifted from inventory reduction to inventory growth.
I have seen a lot of discussion about inventory growth, but the 1% rise in our listings is an insignificant amount, considering how low the current supply of homes remains. There were more than 4 million listings during the housing bubble years, yet today we're barely above 1 million homes.
One might expect the inventory to rise rapidly as sales have plummeted, but remember, when a buyer opts out of the market due to affordability, it often is a buyer who would also have a home to sell. Thus a buyer leaving the market results in a seller leaving the market in roughly 50% of the cases. The move-up and move-down buyers have slowed, so inventory growth is not as many would expect.
US Home Sales By Month & Year
This next graph plots the number of monthly listings for the past four years. It's a different view of listings that sheds light on the volume reduction in inventory.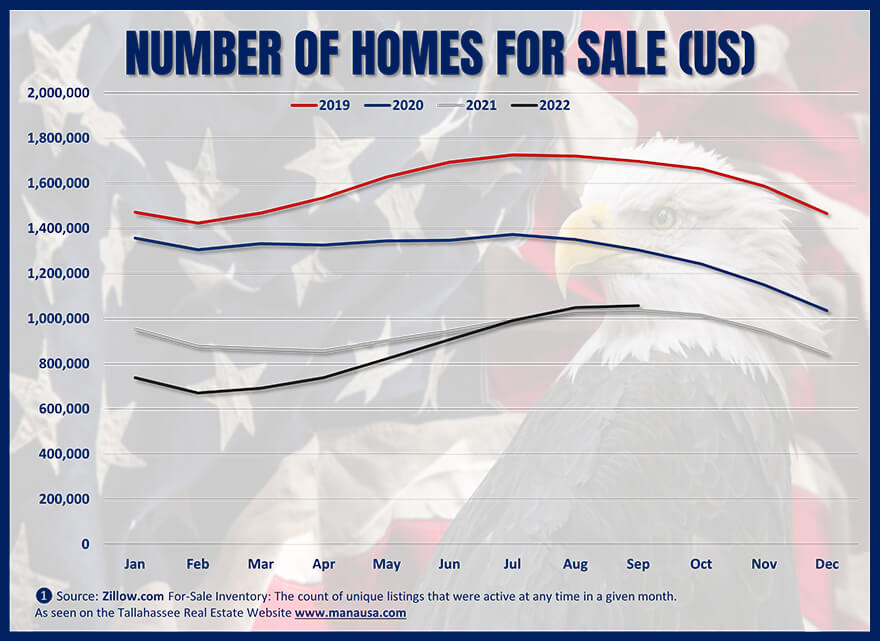 The black line in the graph above plots the number of listings that entered the market each month this year. Note that there are now (slightly) more listings than last year at this time, the number of homes for sale remains far lower than what was reported in the previous two years. It's important to remember that those years were inventory deficient as well.
Today, the number of listings is 30% to 60% lower than in recent years, and all four years shown were sellers' markets, where the number of listings was far too few for the demand in the market. Demand will have to go far lower to create the supply and demand dynamic that will cause home prices to fall for an extended period.
New Listings Entering The Market
This graph plots the number of new listings entering the market each month for the past four years.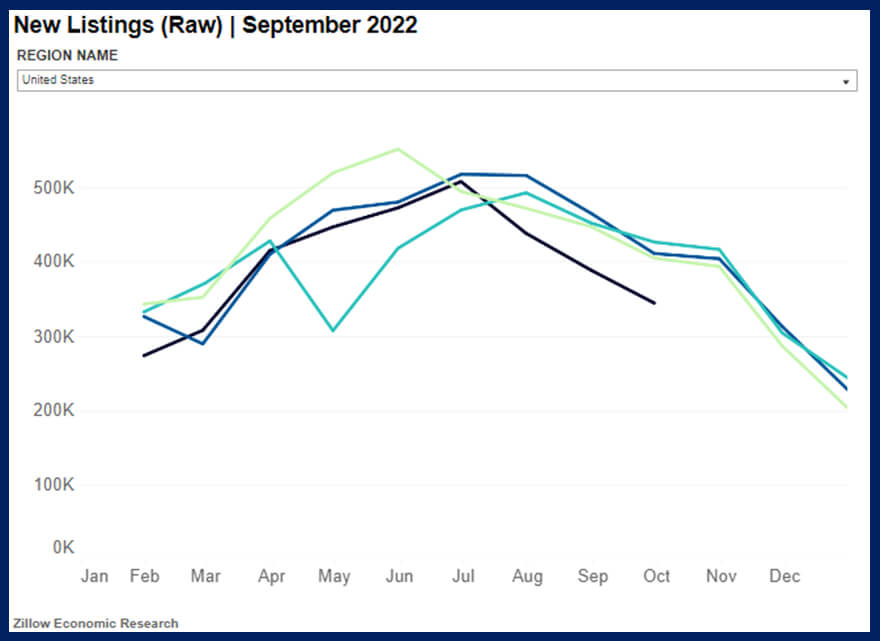 Even as many national news media report that home prices will crash and burn, we see the inventory drop. The only way we'll see major price declines is for supply to outrace demand, but this graph clearly shows that supply is dropping in line with demand.
As of today, it is safe to report that there is no sign of a growing-supply problem. Instead, the lack of supply will put further pressure on home prices. If you want to know more about new construction homes, I've included a video below that digs into builder production and the new construction pipeline.
Median List Price Continues Rising
This graph plots the median prices at which homes across the US were listed and sold. Note that both are rising.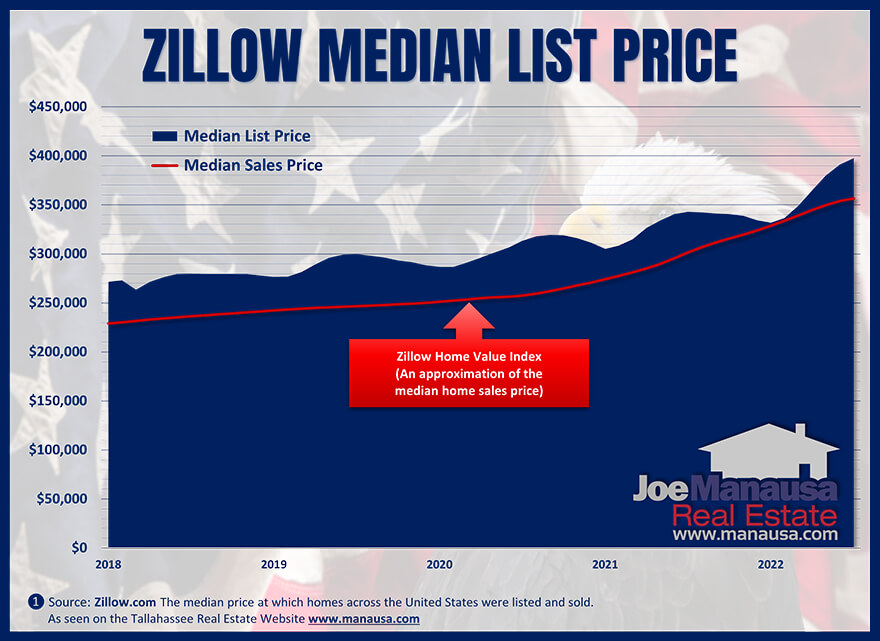 The blue field in the graph shows the median list price, while the red line shows Zillow's estimate of the median home sales price during the same period.
The blue field shows a seasonal pattern on the median list price, with prices starting low at the beginning of the year, moving higher during the summer, and then falling slightly towards the end of the year. Interestingly, we've not seen a decline yet in 2022. I'm seeing reports of "list prices dropping." Where were those reports in each of the last five years when asking prices declined in the latter part of each year?
This graph reveals two things. First, home prices generally rise, so it makes sense that end-of-year asking prices are higher than at the beginning of the year. Second, sellers who tried too high of an asking price earlier in the year end up dropping their prices to get sold before the end of the year. Remember, a homeowner can ask any price they like, but to get sold, they have to meet the market at the right price.
The red line shows that there is no actual inner-year cycle for prices, they just generally rise. The red line had been rising faster of late, but the declining number of sales has flattened to where prices are growing at more "normal" rates (the average home price growth over the past 80 years is 5.2% annually).
Get Our Free Market Update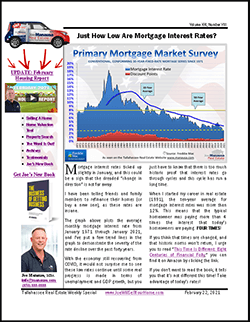 Other buyers, sellers, lenders, and real estate agents have this critical information, and now you can too!
Get immediate access to our most recent newsletter.
Let more than 30 years of experience work for you with charts, graphs, and analysis of the Tallahassee housing market.
Each Monday morning we send out a simple, one-page report that provides a snapshot of the Tallahassee housing market. It only takes 2 minutes to read, but it gives you better market intelligence than most real estate agents possess. Just tell us where to send it below!
US Home Price Growth Is Cooling
This graph is Zillow's estimate of the median home price, measuring the typical home price for single-family homes, condominiums, and co-ops in the United States. It reflects the typical price of homes in the 35th to 65th percentile. In other words, it approximates the median by swiping the middle third of the market and analyzing it over time.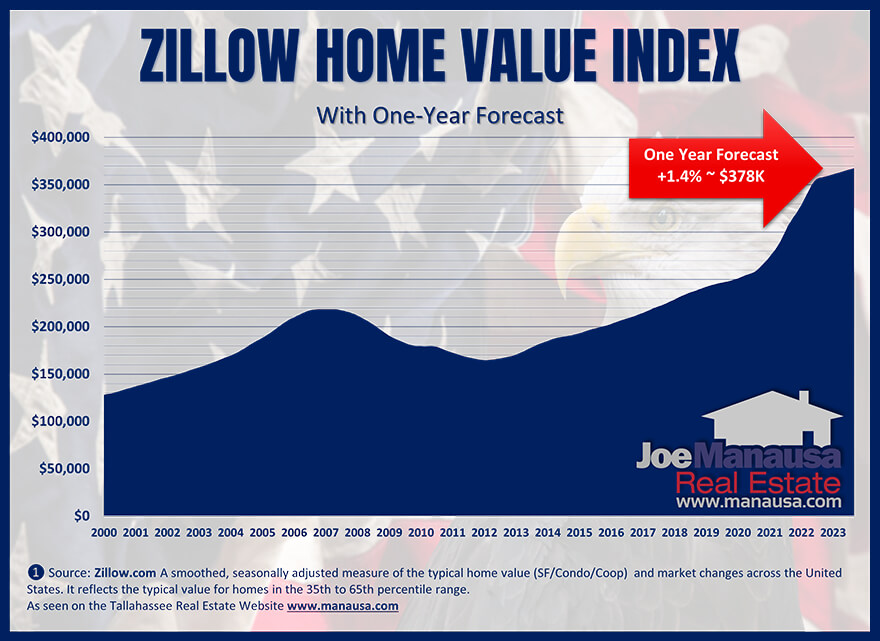 If you look closely at this graph, you'll see that Zillow has reported home values from 2000 through September of next year because their dataset includes past data plus a forecast that home values will rise 1.4% over the next twelve months. Just as a reference to how conservative Zillow's estimate has become, it estimated 17.3% annual growth back in January (nine months prior).
Zillow's Home Value Index provides a great perspective on the toxic decline in home affordability. When we compare the slope of home price growth over the past two years to the slope of price growth during the housing bubble, it is an alarming image.
One must remember, however, that the supply and demand dynamic for homes is the key driver for the change in home prices. Today's abysmally low supply of homes has caused home prices to soar, and as we will see in our next graph, home prices are growing in 99.7% of the markets in Zillow's report.
Year-Over-Year Home Price Change By Market
This graph reports all US markets where the year-over-year change in home prices grew by 25% or more!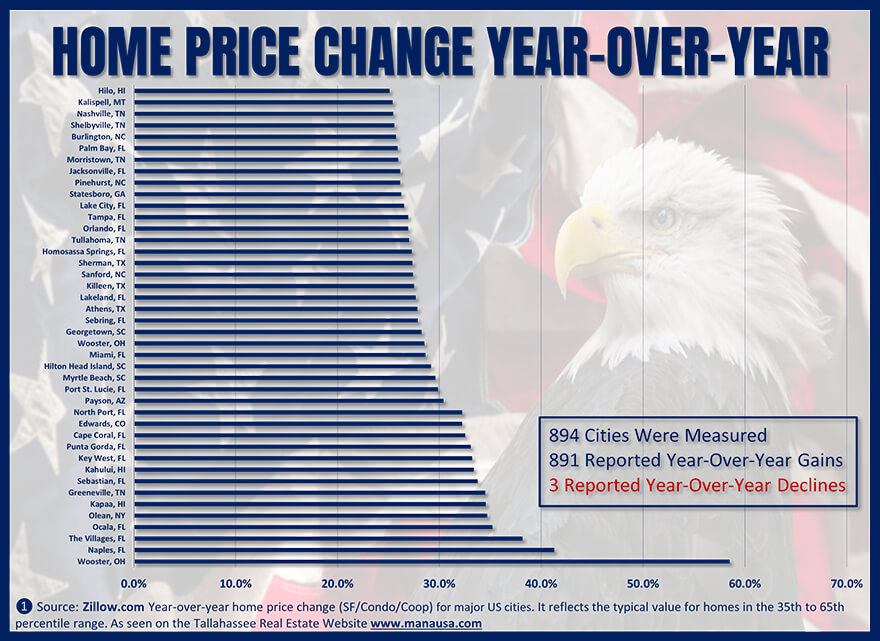 Of the 894 cities reported by Zillow, 891 posted growth in home prices for the past twelve months. Only 3 markets reported declines:
Boise City, ID Down 1.6%
Fairbanks, AK Down 6.6%
Minot, ND Down 7.8%
Overall, Zillow reports the year-over-year home price in the US has risen 14.9% since September 2021, but I'm sure some of our readers will want to say, "that's not what I'm hearing elsewhere," so let's dig a little deeper into why we're seeing so many reports of falling home prices.
Month-Over-Month Home Price Change By Market
This graph reports the US markets where the month-over-month change in home prices was the highest.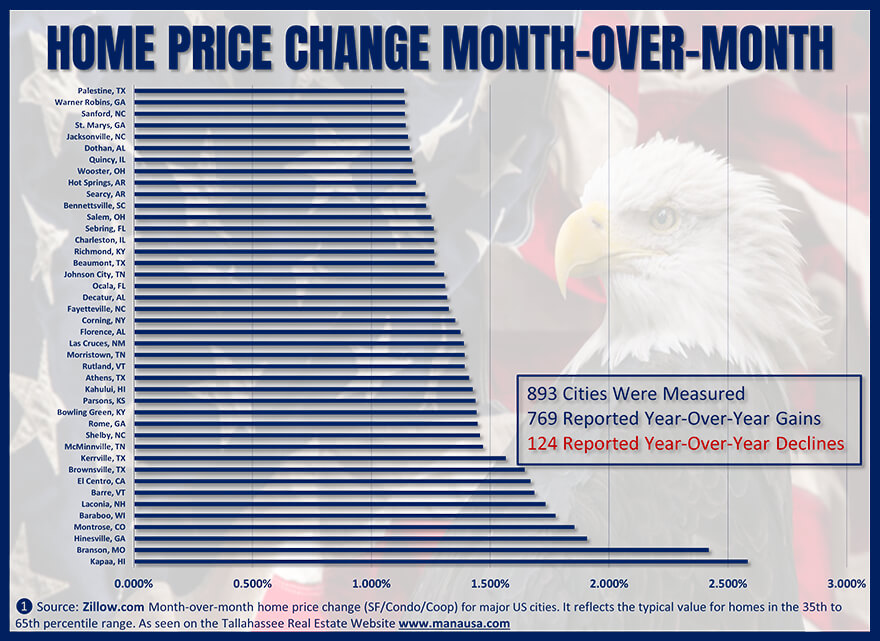 Of the 893 cities reported by Zillow, 769 (86.1%) posted growth in home prices for the past month, while 124 markets (13.9%) reported declines. Perhaps this is why we're inundated with reports of declining home prices.
If you have seen some of my recent reports on US home prices, then you know that it is common for the median home price to stagger step higher throughout the year (or stagger step lower in a declining market). We really can't call price change trends after a few months because if we did, we would have reported declines in each of the past five years (years when the median home price soared). I've included a video below that shows home price changes with their staggered advances.
Rental Rates Continue To Move Higher
The final graph in today's Zillow Housing Report explains while there is no housing bubble, the housing market is in worse shape than it was during the housing bubble years. It measures what Zillow refers to as the "typical observed market rental rate" and, like its Home Value Index, takes a swipe from the middle of market rents to approximate the median rental rate over time.

The blue area measures the rental rate index each month (median rent), while the red line plots the year-over-year percentage change each month. It is this red line that is disturbing.
As the inventory of homes for sale has declined, so has the inventory of homes for rent. People who must move today have no good choice between buying versus renting a home. The cost for each has exploded higher.
In September, the median rental rate of $2,084 was nearly 11% higher than the median rental rate of $1,882 recorded in September 2021. Can you imagine if your monthly rent was increased from $1,900 to over $2,100 per month? If the rate remains the same over the next year, the median unit will rent for $2,300 per month, a rent hike of more than $400 monthly in just two years!
The only good news to report on rents is that the growth rate is slowing (albeit to a double-digit rate).
I often receive comments from viewers on our YouTube Channel saying they are waiting for home prices to fall. I certainly understand the feeling, but I have to wonder, where are they living while waiting?
Are they waiting in a rental property where their lease renewal will be 11% higher this year after rising about the same last year? Or are they waiting in a home they own? If they are right and home prices drop, won't the home they own drop too? This means they'll sell cheaper to buy cheaper! So what's the point in waiting? That's the trouble with trying to time the housing market, either way, you'll pay more.
The fact that both rents and prices are moving higher together confirms that the supply of homes in the US is insufficient to house our growing population. Overall, when supply is insufficient to fulfill demand, prices rise. Until we see significant output from US home builders, we should continue to anticipate rising prices (and rising rents). There will be markets where the supply of homes outpaces demand, but overall, the US housing market remains undersupplied.
Zillow Confirms Home Affordability Crisis
The previous graph is the smoking gun that lets us know just how toxic home affordability has become. When people get priced out of the "for sale" market, they can no longer turn to the "for rent" market, as they will be priced out of that too!
Most people do not realize that when home prices crashed after the housing bubble, rents kept moving higher. That was a sign that we did not interpret correctly, as it was a signal that despite the large inventory of homes for sale, there were not "too many" homes built in America.
The plummeting demand that caused the inventory imbalance was caused by government involvement that took away loan options for nearly all but the wealthiest of borrowers. Loan qualification standards were pushed far higher than ever in the past by a government intent on slowing a perceived "out of control" housing market.
Since the bubble burst, we have seen a significant slowdown in the number of residential units built to house our growing population. With the rise in NIMBYism, it has become very difficult to build and develop the shelter our population requires. Additionally, inflation has pushed the cost of new construction to a level where the median home buyer cannot be served.
The more that I read, and the more that I study housing data from various sources, the more I am convinced we are rapidly heading towards a renter nation. In an industry where there has never been centralized control of home prices and rental rates, I am concerned that we'll begin to see home prices and rental rates dictated by Wall Street giants as they consume much of the inventory in the future.
This should not be a surprise to anybody who has followed the growth of Amazon. It has eaten up and spit out local businesses as it expanded its reach across numerous industries. The "Mom And Pop" businesses have struggled to stay alive, many of which have closed down. Is there any industry more "Mom And Pop" than housing? I fear thirty years from now, we'll look back and see the same fate has hit housing as some new "Amazon" controls the housing market in all but the least-populated locales.
If you feel like I'm overreacting or you have ideas for a different outcome, I welcome your comments below.
There are a lot of people who endorse Joe for the job of selling your home, from Barbara Corcoran (Star of ABC's Shark Tank) to Preston Scott (host of Tallahassee's top daily "Audio Magazine," as well as the thousands of happy customers Joe has helped in the past. Listen why!