Unlocking the Housing Market Puzzle: Zillow's Latest Forecast Indicators
Posted by Joe Manausa on Monday, July 31, 2023 at 6:00 AM
By Joe Manausa / July 31, 2023
Comment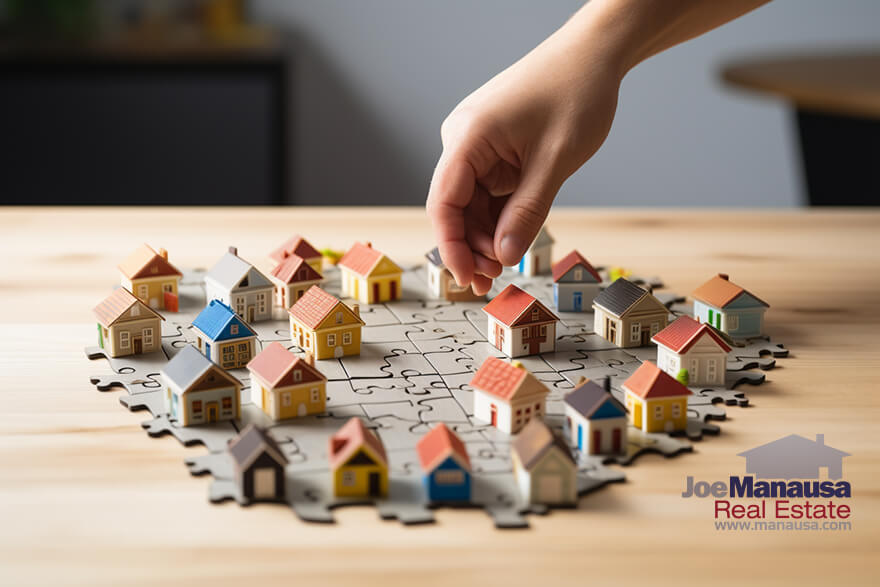 Get ready to uncover the current state of the US housing market as we dive into three key indicators for market forecasting.
In today's housing market update from Zillow data, we'll unveil the surprising twists and turns shaping recent trends, shedding light on the challenges and opportunities ahead.
Join us as we explore the supply and demand for homes, analyze critical forecasts, and provide you with the insights you need to understand the current state of the market. From falling prices to rebounding indicators, this video will equip you with a clear understanding of where things stand and what to expect in today's housing market.
Zillow Median Home Price Report
Our first graph plots the median sales price of all homes sold on Zillow.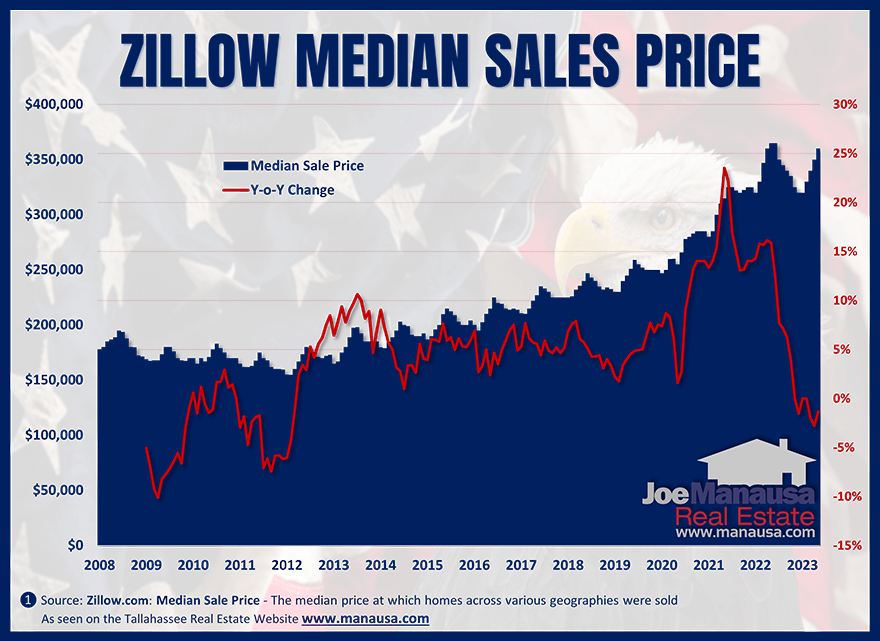 Home prices have fallen for three months and four of the past six months. In December, there was a recorded decline in home prices compared to the previous year, marking the first time this has happened in over ten years. However, recent data from Zillow suggests that home prices are already starting to rebound.
From May to June, the average home value in the United States increased by 1.4%. This growth continues a trend of rising home values over the past four months, driven by a shortage of new listings. The current typical home value in the country is now at an all-time high of $350,213, surpassing the previous peak of $348,225 reached in July 2022.
The second quarter is historically the busiest time for the housing market, which held true in 2023. However, the future is still being determined as buyer demand usually decreases during the summer. This year, there is an additional challenge of limited new listings, creating a situation where strong buyer demand meets a shortage of available properties.
Zillow Real Estate Supply Report
The following graph provides insight into the housing shortage and the accompanying crisis.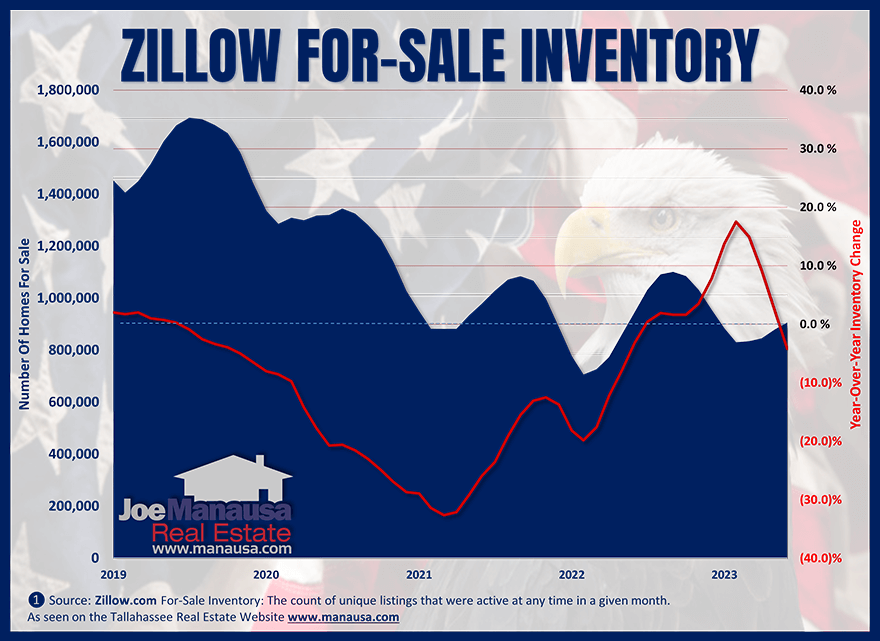 The inventory of homes for sale has dropped below last year's level and is slightly higher than the record low recorded in early 2022.
To put this graph into context, let's consider the total number of listings (represented in blue), which reached approximately 1.7 million homes in 2019, marking the peak over the five years depicted in the graph. However, if we were to extend this report back to 2006, we would observe more than 4 million homes rise during the housing bubble. Presently, the inventory represents more than a 75% decrease compared to the number of houses recorded by Zillow back then.
This shortage of homes is playing a role in driving up home prices. Despite decreasing affordability, prices continue to rise due to the insufficient construction of houses to accommodate our growing population.
Many people predicted a collapse in home prices, but they failed to consider the inventory issues and the subsequent decline in supply alongside demand. Although we have observed a modest decrease, the following graph will reveal Zillow's forecast for the upcoming year's changes in home prices, which may surprise you.
Zillow's Forecast For Home Prices
In our final graph and analysis, we present Zillow's forecast for home prices in the upcoming year. This forecast also highlights the markets where Zillow anticipates declining home prices.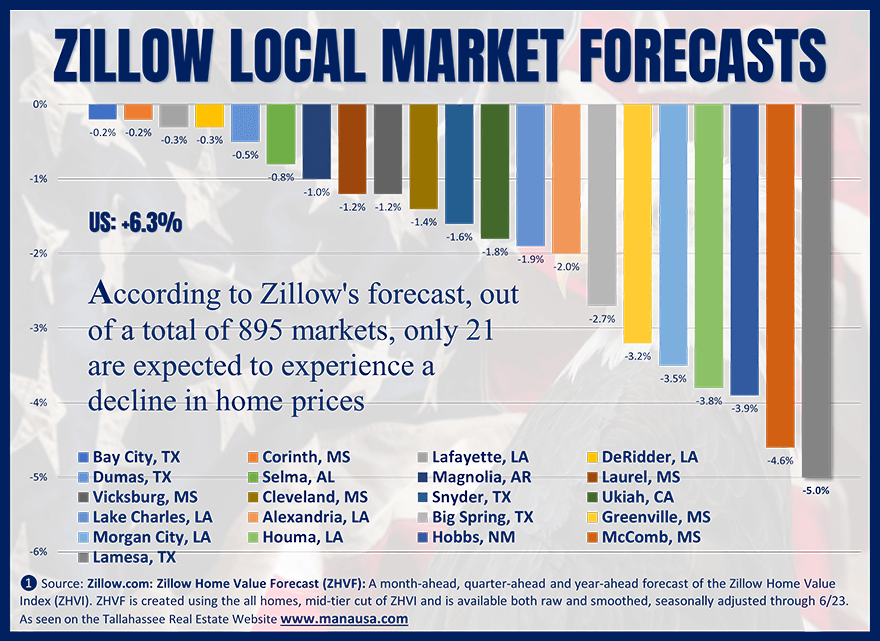 According to Zillow's forecast, home prices are expected to rise in nearly 98% of the 895 markets they track. They anticipate an overall increase of 6.3% in US home prices.
In the Tallahassee market area, Zillow has projected a growth rate of 6.2%. However, considering the current unprecedented level of economic growth, the actual appreciation rate will likely surpass 10%.
Suppose you find yourself skeptical of Zillow's findings. In that case, it's important to question whether your doubts stem from wishful thinking that home prices will decrease to improve affordability or if a recency bias influences it due to the past experience of home price declines under different circumstances 15 years ago.
Notably, Zillow recorded a 28% decrease in new listings in June, strengthening the support for rising home prices. Zillow estimates that the housing shortage now exceeds 5 million homes, while other estimates suggest a shortage as high as 8.54 million homes needed for market stabilization. This scarcity is why I anticipate home prices to rise in all markets, except for a select few, over the next year.
The housing market has experienced fluctuations in home prices, with a recent decline followed by signs of a rebound.
Home prices have continued to rise despite declining demand due to rising mortgage interest rates. The shortage of housing inventory has contributed to the persistent upward pressure on prices, driven by a healthy level of buyer demand and limited new listings.
Zillow's forecast indicates that home prices are expected to increase in most of the markets they track, with a projected overall rise of 6.3% in the United States. In the Tallahassee market area, where significant economic growth is currently observed, the actual growth rate will likely surpass Zillow's projected 6.2% rate.
With the ongoing scarcity of homes and estimates suggesting a shortage of millions of homes needed for market stabilization, the expectation is that home prices will continue to rise in most markets in the coming year.