1981: The Last Time Homes Were This Unaffordable
Posted by Joe Manausa on Monday, March 6, 2023 at 6:00 AM
By Joe Manausa / March 6, 2023
Comment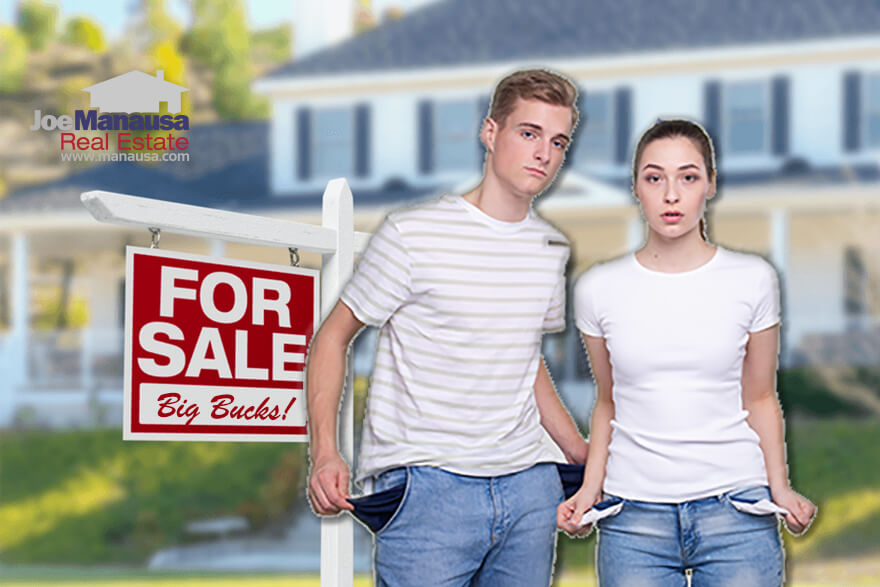 It's been over forty years since homes were more expensive than today when you factor in inflation, home prices, and mortgage interest rates.
With many people speculating about a possible housing crash, it's important to consider if anyone has taken a look back at what occurred the last time we faced a comparable situation. Personally, I haven't observed anyone doing this.
I have noticed that many people refer to the housing bubble of 2008 as a reference point. While it's true that home prices plummeted after a surge in the median home price, this was the only similarity between that time and the current situation. So, why not identify a period in our history that's more similar and research to determine what happened the last time homes were as unaffordable as they are now?
Welcome To 1981
To determine if today's home affordability is the worst it's been or not, I analyzed median US home prices for over 60 years. I also factored in the inflation-adjusted monthly mortgage payment that the median home buyer needs to make. Based on my analysis, I discovered that we have to go back to 1981 to find a time when home affordability was worse than it is in today's housing market.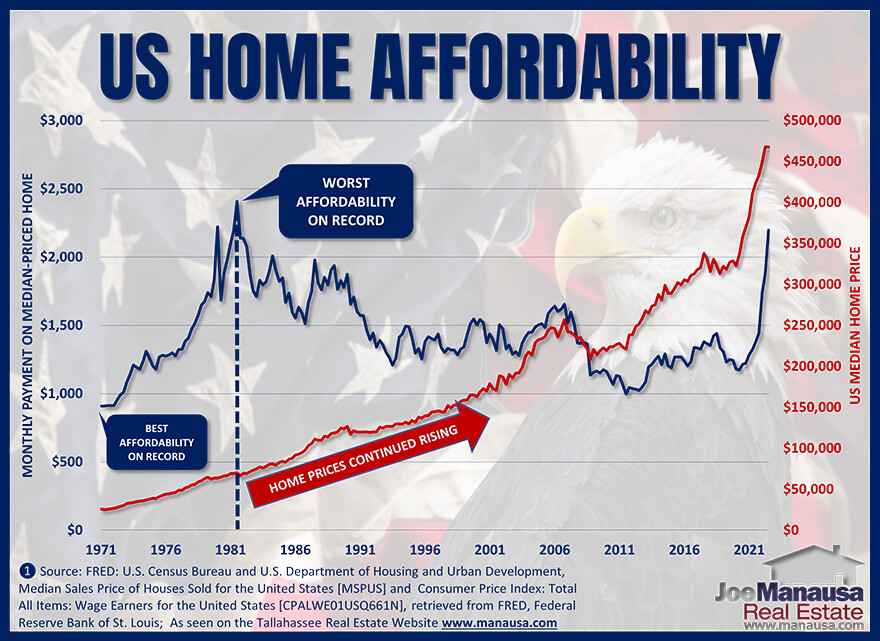 The graph uses two lines to plot two different data sets over a 50-year period. The red line shows the monthly median home price in the US, while the blue line shows the inflation-adjusted monthly mortgage payment required to purchase a median-priced home with a ten percent down payment.
The blue line is particularly important, as it reveals fluctuations in home affordability over time. Many people are currently concerned about these fluctuations, and for good reason. Home affordability has collapsed.
It's important to note that all monthly payment dollars (blue line) are adjusted to 2015=100, meaning we're comparing all payments with dollar valuations from 2015.
Adjusting all amounts to 2015 using the CPI involves converting the original values of money into their equivalent values in 2015 dollars, which reflect the relative value of money in 2015 compared to the year the original values were measured. This allows for more accurate comparisons of economic data across different time periods since it eliminates the effect of inflation on the nominal values.
At the end of 1981, the inflation-adjusted monthly P&I mortgage payment of $2,409.46 was nearly 9% higher than today's adjusted payment of $2,199.42. So today's home affordability is horrible, but it's not the worst we've seen. Instead of allowing recency bias to have us fixate on the housing crash of 2008, let's instead look back to a more similar scenario that occurred in 1981 and see what developed.
Get Our Free Market Update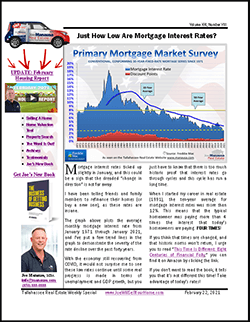 Other buyers, sellers, lenders, and real estate agents have this critical information, and now you can too!
Get immediate access to our most recent newsletter.
Let more than 30 years of experience work for you with charts, graphs, and analysis of the Tallahassee housing market.
Each Monday morning we send out a simple, one-page report that provides a snapshot of the Tallahassee housing market. It only takes 2 minutes to read, but it gives you better market intelligence than most real estate agents possess. Just tell us where to send it below!
Home Prices Continued to Rise
Our graph reveals that the last time home prices and mortgage interest rates conspired to destroy home affordability, home prices continued to rise. The dashed blue line in the graph identifies the worst affordability on record (Q41981), but we can see a correction occurred immediately after it hit the peak. So what happened?
Mortgage interest rates had soared, and a recession began during the Carter Administration. Interest rates finally started falling at the end of the first year of Reagan's first term, and the recession ended a year later. From 1982 to 1987, mortgage interest rates primarily fell and were a big factor in the home affordability recovery.
It's important to remember that affordability primarily recovered from higher inflation (rising wages) and a reduction in the cost of borrowed funds (lower rates). I believe the former may occur today, but the latter is not so likely.
While today's rates are significantly higher than what we've enjoyed for the past few years, rates are still well below their 50-year average. Expecting a significant decline in mortgage interest rates is not a smart bet.
Wage inflation is real and will soon show up in our home affordability studies that include wage inflation-adjusted mortgage payments.
The Future Of Home Affordability
Anybody who publishes a "what's next for housing" must make some purely speculative assumptions. Ultimately, the Federal Government will decide how healthy housing will be. Will they loosen up on credit (home loan requirements)? Do they lower mortgage interest rates?
The ability to get a loan and the means to afford a loan will determine the future of home affordability. If the Federal Government works to make loans attainable and affordable, we could experience a long recovery in home affordability similar to what occurred in the 1980s and 1990s. But if the opposite occurs, I have grave concerns about the future of the US housing market.
I've long warned that we're heading towards a future of haves and have-nots in housing, and homeownership will be a great challenge for all but the wealthiest among us. Beware the renter nation coming as large investment banks move in to take ownership of the housing market.
There are a lot of people who endorse Joe for the job of selling your home, from Barbara Corcoran (Star of ABC's Shark Tank) to Preston Scott (host of Tallahassee's top daily "Audio Magazine," as well as the thousands of happy customers Joe has helped in the past. Listen why!