100 BREATHTAKING Waterfront Homes In Tallahassee
Posted by Joe Manausa on Monday, August 5, 2019 at 12:57 AM
By Joe Manausa / August 5, 2019
Comment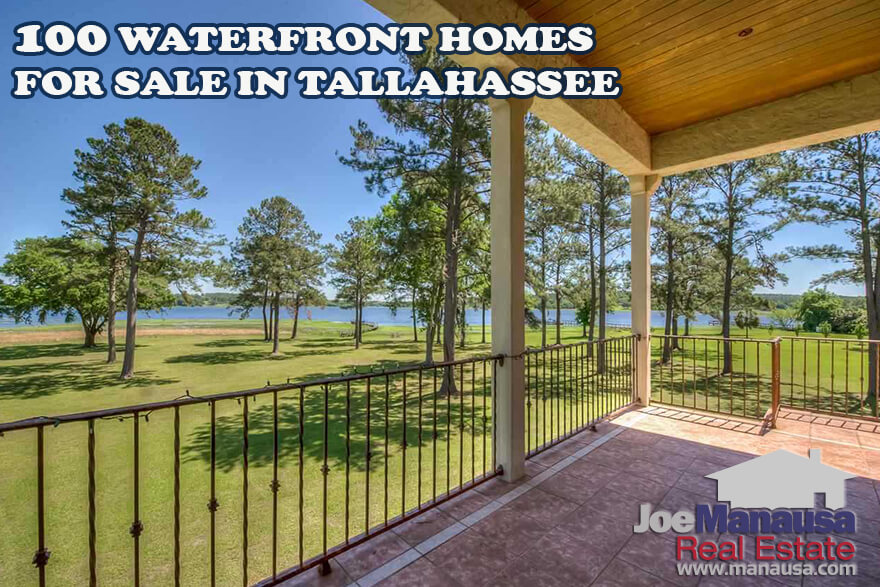 It's been a long day but you're finally home. Sit back, relax, and enjoy the view from your waterfront home.
Wouldn't that be nice?
Today, we feature 100 waterfront homes for sale in Tallahassee and follow them with a report on waterfront home sales that shows units sales, average home prices, average home values, and average waterfront home sizes each year for the past 16 years.
Waterfront Homes For Sale In Tallahassee
Waterfront Home Sales In Tallahassee
Each of the four following graphs measures existing single-family detached home sales recorded in the Tallahassee MLS. By removing new construction sales, we get a better feel for the progression of the resale market for existing homeowners.
This first graph measures the number of homes sold each year, with waterfront homes shown in blue and interior homes shown in brown.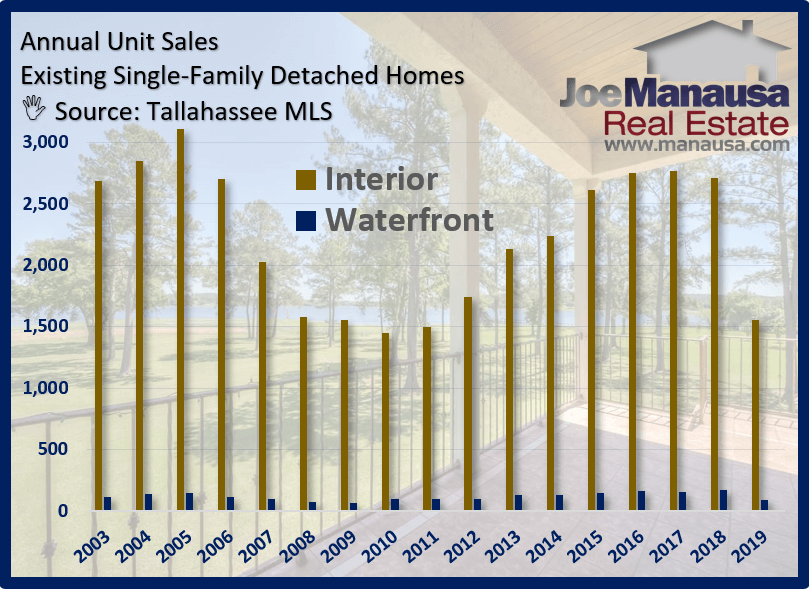 We can see that for any given year, 4% to 5% of all homes sold are waterfront homes, with the exception of 2010 and 2011 (as the market approached the bottom), the ratio went to 6% as low prices likely induced more buyers to step up and buy a waterfront home.
Average Waterfront Home Prices
This second graph reports the average price of homes sold each year, with waterfront homes shown in blue and interior homes shown in brown.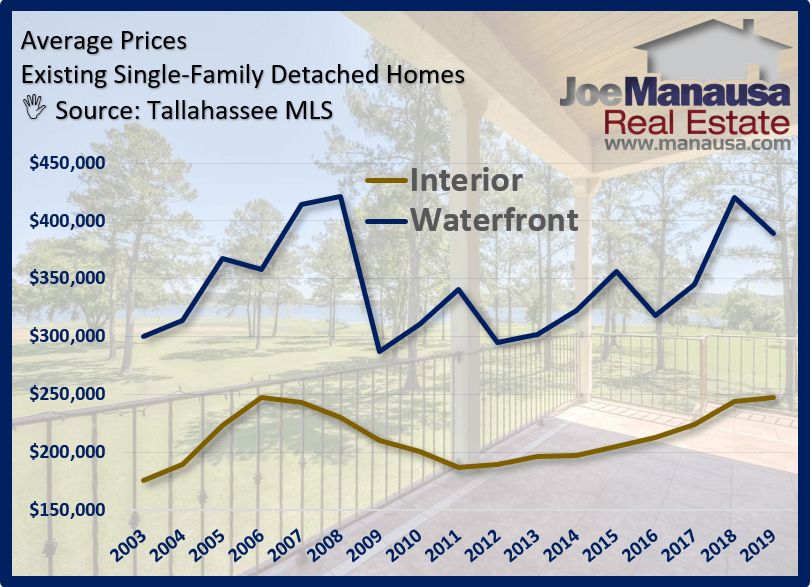 First of all, there really is not enough data from waterfront homes (relatively few sales) like we see with interior sales, so we're going to have a bit of "noise" in our report.
The brown line above is smooth as there are thousands of sales each year, but with just a hundred or so waterfront home sales each year, the average price bounces around a good bit due to the fact that there is a wide array of property ages, property amenities, and land sizes among the hundred waterfront sales each year.
The difference in prices ranges from as low at 36% in 2009 (waterfront homes were 39% more expensive than interior homes) to as high as 83% in 2011, but across the 16 years, the average premium paid for a waterfront home was 62%.
Get Our Free Market Update
Other buyers, sellers, lenders, and real estate agents have this critical information, and now you can too!
Get immediate access to our most recent newsletter.
Let nearly 30 years of experience work for you with charts, graphs, and analysis of the Tallahassee housing market.
Each Monday morning we send out a simple, one-page report that provides a snapshot of the Tallahassee housing market. It only takes 2 minutes to read, but it gives you better market intelligence than most real estate agents possess. Just tell us where to send it below!
Average Waterfront Home Values
The third graph reports the average value of homes sold each year, measured in price per square foot, with waterfront homes shown in blue and interior homes shown in brown.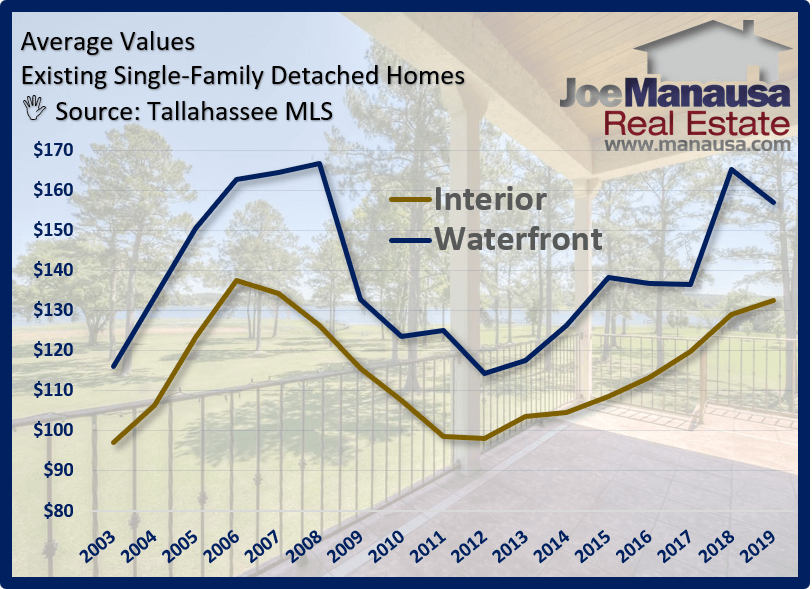 Unlike average prices, average values remain lower today than they were in 2006, meaning sellers are getting less for their properties today than they were 13 years ago. But they are getting closer!
One thing I see in the values graph above is that homes on the interior appear to have bottomed a year earlier than did those on the water.
Average Waterfront Home Sizes
The final graph in our report reveals the average size of homes sold each year, measured in heated and cooled square footage, with waterfront homes shown in blue and interior homes shown in brown.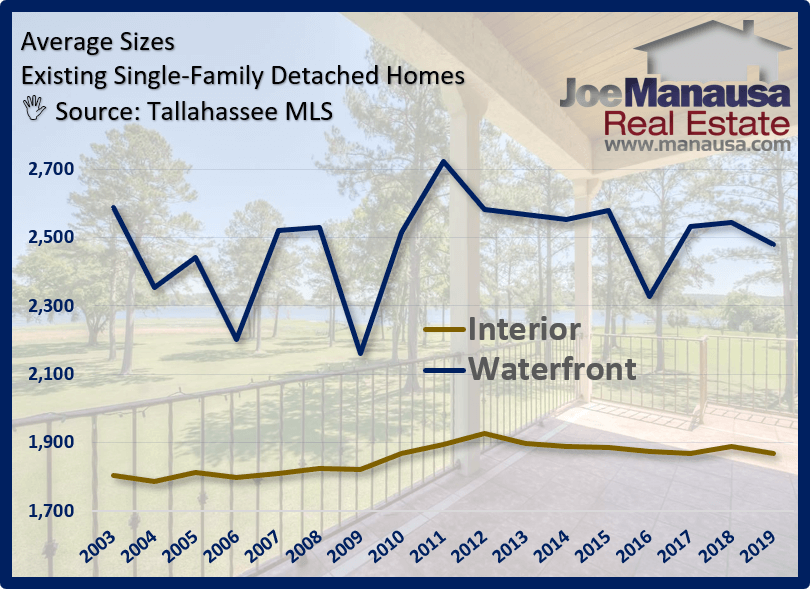 One thing that is very clear from the graph above is that waterfront homes, on average, are much bigger than their interior counterparts. Overall, we see waterfront homes are roughly one-third larger than interior homes, but we've seen the delta as low as 19% and as high as 44%.
One thing should be clear after seeing this report, you should work with an expert when buying a waterfront home in Tallahassee. Somebody who has enough years brokering real estate to be able to put you on some of the best deals in the market and explain the long-term conditions that will likely unfold.
I hope our August 2019 report on waterfront homes in Tallahassee has given you some valuable insight. If not, you can give us a call at (850) 366-8917 or drop us a note and we'll help you with your specific Tallahassee real estate needs.
As a local born and raised in Tallahassee with a focus on customer service, I promise you'll find great success when working with Joe Manausa Real Estate, just as have our past customers. You can thousands of their reviews reported on Google, Facebook and Zillow right here: Real Estate Agent Reviews Tallahassee.
Continue