100 BREATHTAKING Waterfront Homes In Tallahassee
Posted by Joe Manausa on Monday, August 5, 2019 at 12:57 AM
By Joe Manausa / August 5, 2019
Comment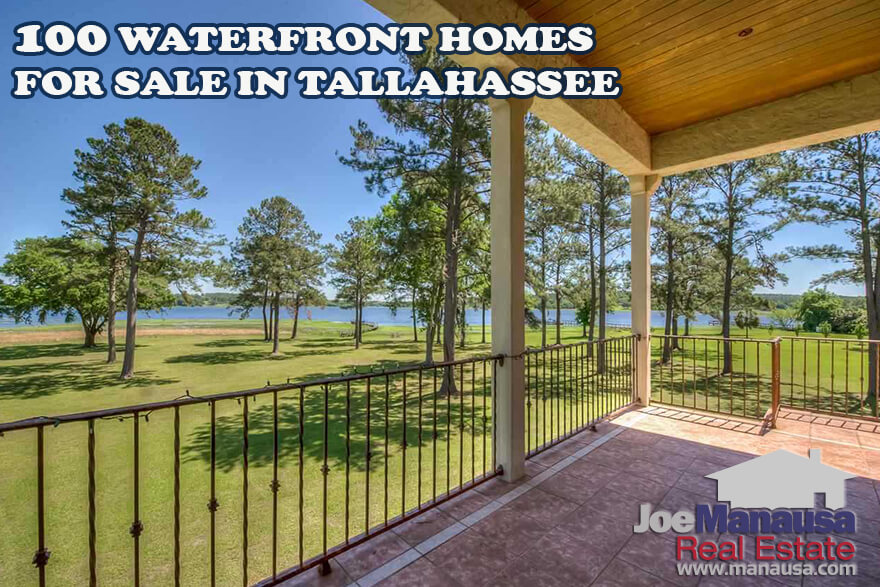 It's been a long day but you're finally home. Sit back, relax, and enjoy the view from your waterfront home.
Wouldn't that be nice?
As I write this near the end of the summer in 2019, there are 100 waterfront homes for sale in Tallahassee. Fortunately, the listings below will update every 15 minutes, so future readers will still be able to observe current waterfront listings in Tallahassee.
Following the waterfront homes for sale, we have included a report on waterfront home sales that shows unit sales, average home prices, average home values, and average waterfront home sizes each year for the past 16 years.
Waterfront Homes For Sale In Tallahassee
Waterfront Home Sales In Tallahassee
Each of the four following graphs measures existing single-family detached home sales recorded in the Tallahassee MLS. By removing new construction sales, we get a better feel for the progression of the resale market for existing homeowners.
This first graph measures the number of homes sold each year, with waterfront homes shown in blue and interior homes shown in brown.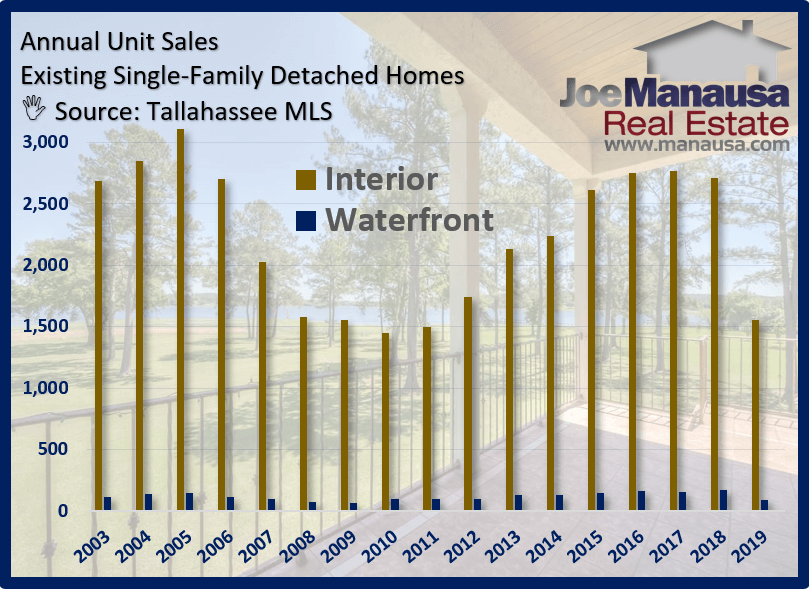 We can see that for any given year, 4% to 5% of all homes sold are waterfront homes, with the exception of 2010 and 2011 (as the market approached the bottom), the ratio went to 6% as low prices likely induced more buyers to step up and buy a waterfront home.
Average Waterfront Home Prices
This second graph reports the average price of homes sold each year, with waterfront homes shown in blue and interior homes shown in brown.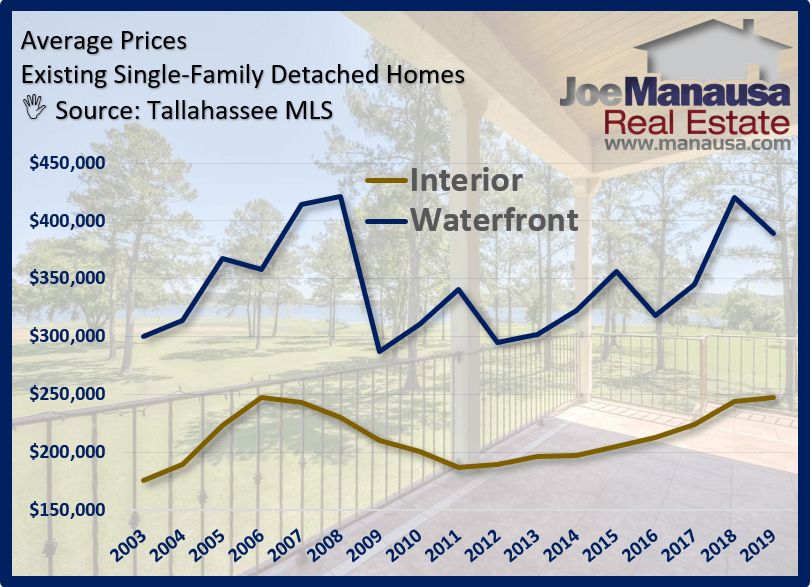 First of all, there really is not enough data from waterfront homes (relatively few sales) like we see with interior sales, so we're going to have a bit of "noise" in our report.
The brown line above is smooth as there are thousands of sales each year, but with just a hundred or so waterfront home sales each year, the average price bounces around a good bit due to the fact that there is a wide array of property ages, property amenities, and land sizes among the hundred waterfront sales each year.
The difference in prices ranges from as low at 36% in 2009 (waterfront homes were 39% more expensive than interior homes) to as high as 83% in 2011, but across the 16 years, the average premium paid for a waterfront home was 62%.
Please Do Us A Small Favor
We work very hard to produce daily content for our long-time readers and first-time visitors. We provide this information for free, hoping to earn your respect and trust and the right to one-day help you when selling or buying a home. Can we get your help spreading the word about our blog?
If you like the content, would you please like it or share it using the Facebook button at the beginning of the post? This simple action will be greatly appreciated! THANK YOU!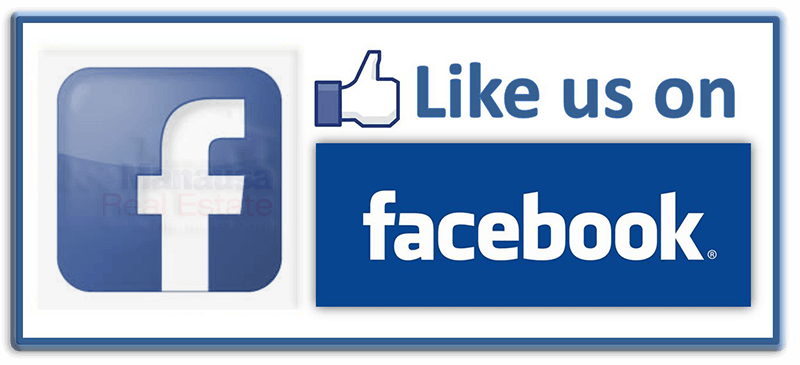 Also like us on Facebook at https://www.facebook.com/joemanausarealestate/
Average Waterfront Home Values
The third graph reports the average value of homes sold each year, measured in price per square foot, with waterfront homes shown in blue and interior homes shown in brown.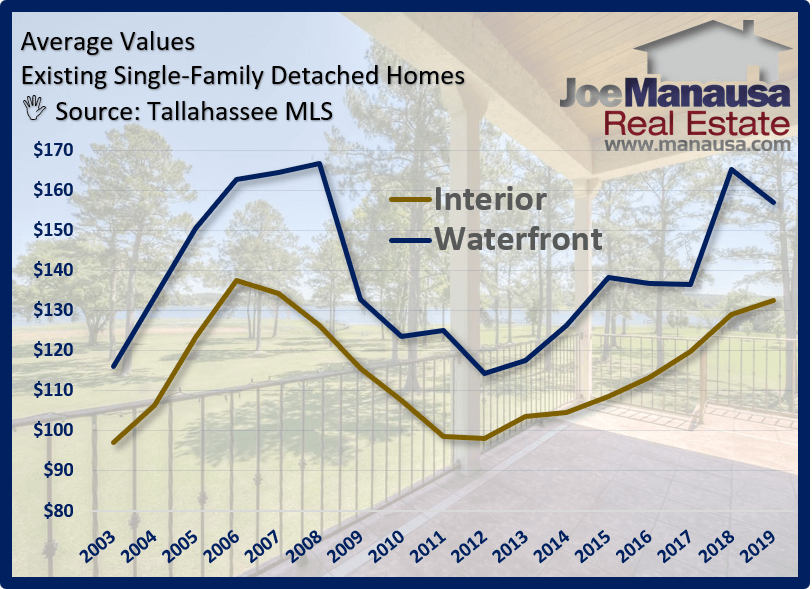 Unlike average prices, average values remain lower today than they were in 2006, meaning sellers are getting less for their properties today than they were 13 years ago. But they are getting closer!
One thing I see in the values graph above is that homes on the interior appear to have bottomed a year earlier than did those on the water.
Average Waterfront Home Sizes
The final graph in our report reveals the average size of homes sold each year, measured in heated and cooled square footage, with waterfront homes shown in blue and interior homes shown in brown.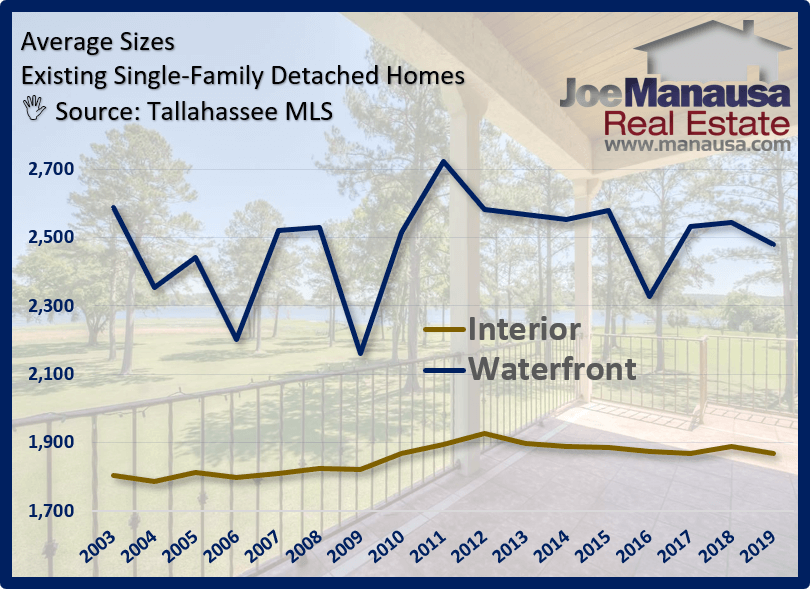 One thing that is very clear from the graph above is that waterfront homes, on average, are much bigger than their interior counterparts. Overall, we see waterfront homes are roughly one-third larger than interior homes, but we've seen the delta as low as 19% and as high as 44%.
I hope this report has helped you see that you should work with an expert when buying a waterfront home in Tallahassee. Somebody who has enough years brokering real estate to be able to put you on some of the best deals in the market and explain the long-term conditions that will likely unfold.
Your Local Expert In Tallahassee
Do you have further questions about waterfront homes (or any homes) in the Tallahassee real estate market? If so, you can leave a comment below, give us a call at (850) 366-8917, or drop us a note and we'll give you the local information needed to ensure a successful, smooth transaction.
As a local born and raised in Tallahassee with a focus on customer service, I promise you'll find great success when working with Joe Manausa Real Estate, just as have our past customers. You can read thousands of their reviews reported on Google, Facebook and Zillow right here: Real Estate Agent Reviews Tallahassee.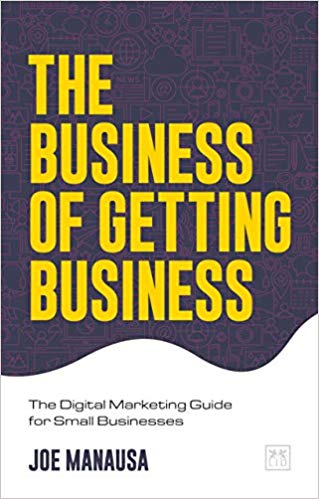 Have you heard about my new book "The Business of Getting Business?" It's a comprehensive guide for small businesses to help them make the move to digital. For those of us who want to survive and thrive in a world where large corporations are taking over, it is a must-read. It's also the perfect guide for how to sell a home in the digital age. You can find it on Amazon (UK) for immediate delivery, or you can go to Amazon (US) to reserve a copy at a pre-US published rate.

Think all REALTORS are alike?
Read what people are saying about working with Joe Manausa Real Estate! You can see thousands of real customer reviews reported on Google, Facebook and Zillow at this link: CLICK HERE FOR REAL ESTATE AGENT REVIEWS.