Home Affordability Crisis: A National Problem With A Local Solution
Posted by Joe Manausa on Monday, July 24, 2023 at 6:00 AM
By Joe Manausa / July 24, 2023
Comment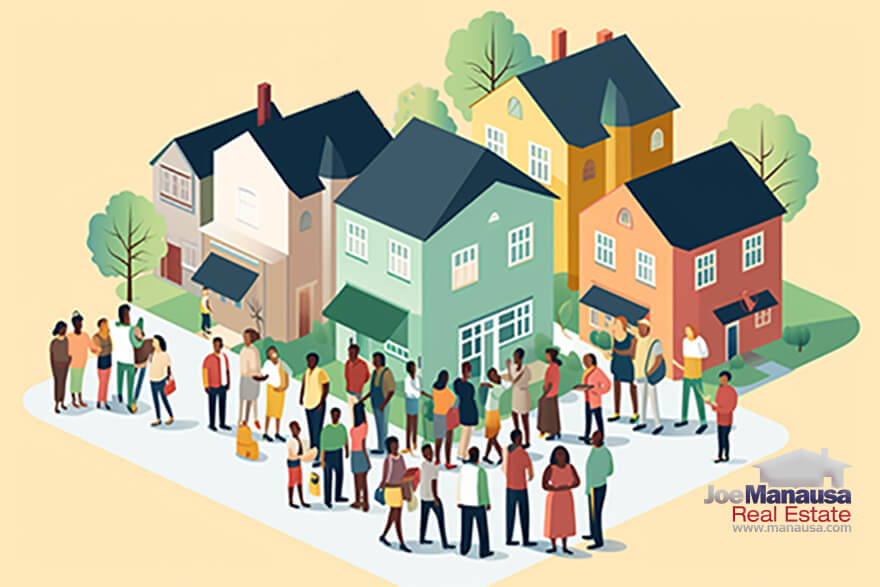 I discovered a tweet by Kevin Erdmann highlighting a positive development in the US housing market, which immediately caught my interest. Those familiar with the Tallahassee Real Estate Blog will recognize this name.
Kevin Erdmann, a senior affiliated scholar at the Mercatus Center at George Mason University, is currently involved in two book projects with Mercatus focusing on housing finance, land use restrictions, and monetary policy.
I regularly follow Erdmann's insightful analysis of the US housing market and highly recommend his work to those seeking a comprehensive understanding of the subject.
The tweet displayed on the right shares positive news regarding the US housing market, which has been scarce in recent years. It highlights the record-high construction of multi-family units, which, once completed, could potentially alleviate the housing supply shortage responsible for skyrocketing prices and rents.
After carefully considering this tweet for several weeks, I felt compelled to delve deeper into the data for a more thorough analysis. Today's post presents three alternative perspectives on Erdmann's tweet, revealing a less optimistic outlook for the US real estate market.
A Closer Look At Kevin's Graph
Let's start our deeper dive by enlarging Erdmann's graph.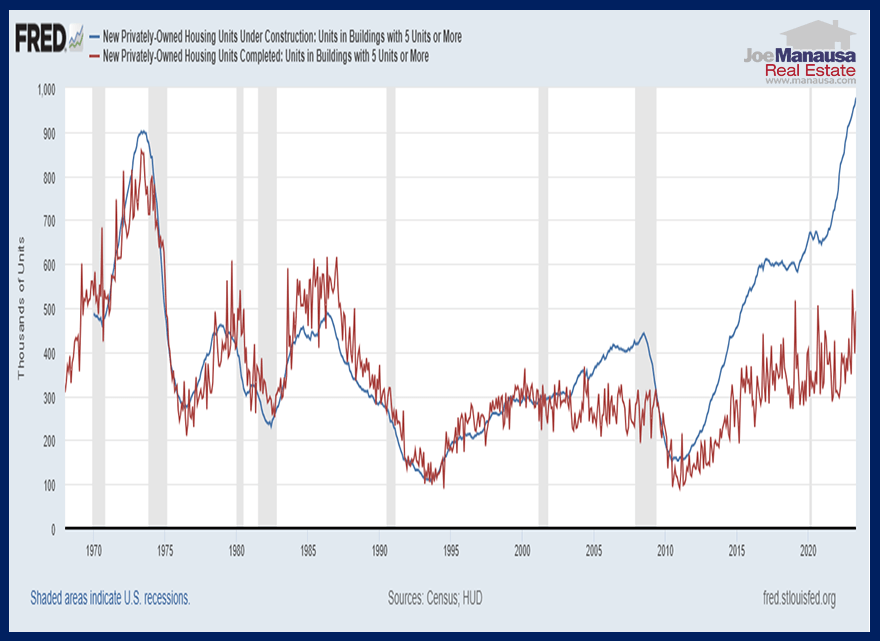 The graph depicts construction activity for new privately-owned housing units in buildings with 5 units or more since the 1960s. The red line represents the total number of completed units, while the blue line represents the total number of units currently under construction.
Erdmann's optimism stems from a compelling reason—the demand for additional housing units is significant, and we are currently witnessing a 60-year high in the number of units being constructed. The logic behind this observation is straightforward and logical. However, I couldn't resist the urge to delve deeper into the matter.
All New Privately-Owned Housing Units
Erdmann's graph illustrates the construction activity within a specific housing market segment. Given the prevailing concerns of affordability and supply, it is unsurprising to witness a growth in activity within the multi-family segment, which typically yields housing units at a lower per-unit cost.
However, when we broaden our perspective to encompass the entire market, the question arises: to what extent does this segment contribute?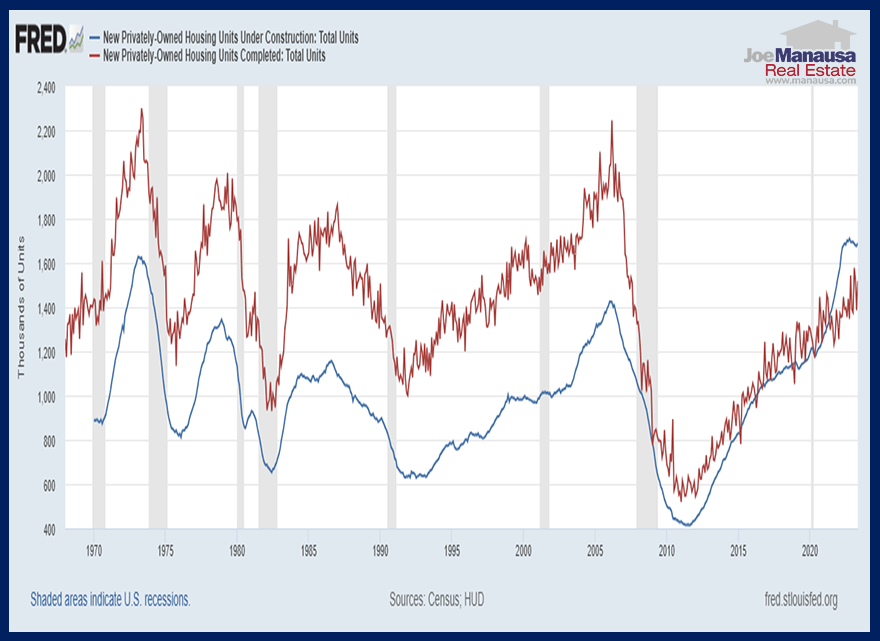 Upon examining this graph, a couple of observations immediately stood out. Firstly, the gap between the number of units under construction (blue line) and the number of completed units (red line) appears relatively narrow, indicating that the significant disparity observed in the previous graph may have a smaller impact than anticipated.
Secondly, the overall number of units under construction, encompassing all unit types, is also experiencing a 60+ year high, but I still felt there was more to learn from this.
Gaining insights from this graph demands exceptional analytical skills and a keen sense for data interpretation, so I wanted more clarity.
Get Our Free Market Update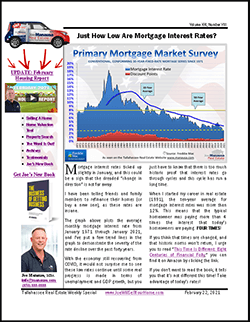 Other buyers, sellers, lenders, and real estate agents have this critical information, and now you can too!
Get immediate access to our most recent newsletter.
Let more than 30 years of experience work for you with charts, graphs, and analysis of the Tallahassee housing market.
Each Monday morning we send out a simple, one-page report that provides a snapshot of the Tallahassee housing market. It only takes 2 minutes to read, but it gives you better market intelligence than most real estate agents possess. Just tell us where to send it below!
Long-Term Average US Home Construction Trends
I have extracted the data from above and presented it in the form of one-year and ten-year trends, replacing the actual data with average values for these respective periods. This approach clears the graph of complexities and facilitates a more accessible analysis.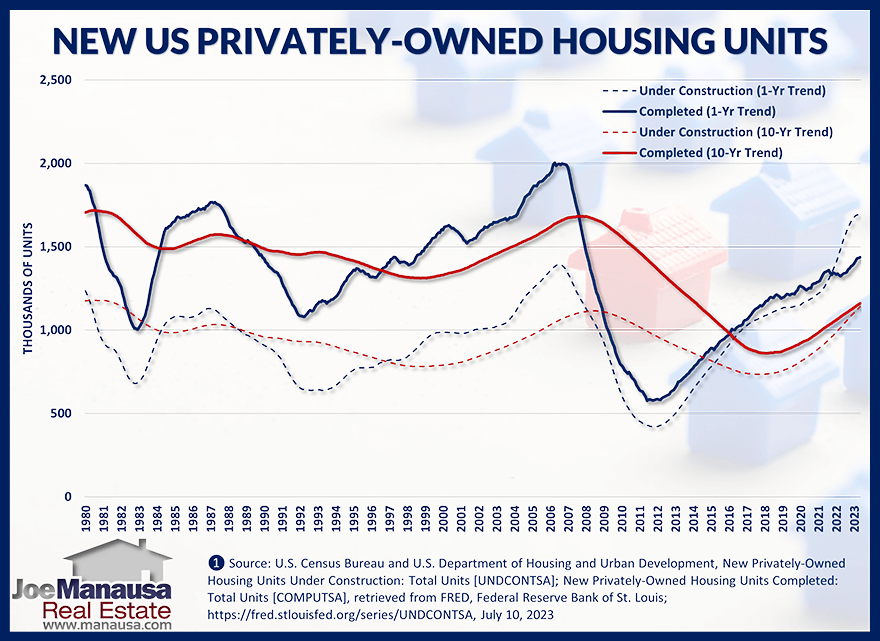 In this graph, the blue lines represent a one-year trend, displaying the monthly average over a period of twelve months. Conversely, the red lines indicate a ten-year trend, illustrating the monthly average across 120 months. The dashed lines track the units under construction, while the solid lines indicate the number of completed units.
Among the numerous visuals I've examined, none captures the essence of the question, "Why are home prices and rents soaring?" quite like the depiction of the solid red line. It reveals a significant decline in completed housing units, reaching record-low levels, despite a slow but continuous growth in the US population.
Between 1970 and 2007, US homebuilders completed 1.55 million housing units on average each year for a span of 38 years. However, in the subsequent 16 years, that figure dropped by 34% to 1.02 million units annually. In short, we have witnessed a shortage of 534,000 housing units over the past 16 years, resulting in an estimated deficit of 8.54 million homes.
The reason behind the unavailability of affordable homes is clear: the rate at which we construct housing units fails to match the pace of population growth in the US.
Home Affordability: A National Problem With A Local Solution
The evidence presented in this analysis raises concerns about affordable housing in the United States. Despite Erdmann's positive news of increased construction in the multi-family segment, a deeper examination reveals a narrower gap between completed and under-construction units. Moreover, the long-term trends indicate a significant decline in completed housing units over the years, exacerbating the shortage of homes.
To address this issue and ensure affordable housing for all, it is crucial for individuals to get involved with their local politicians and make their voices heard. Attend meetings where the Nimby's fight against developers and voice your concerns that we are not building enough homes. We can influence change in our communities by advocating for policies prioritizing responsible development and affordable housing and urging lawmakers to act.
Let us engage locally and emphasize the importance of affordable housing in our neighborhoods. Together, we can work towards creating a more equitable housing market that meets the needs of everyone.
There are a lot of people who endorse Joe for the job of selling your home, from Barbara Corcoran (Star of ABC's Shark Tank) to Preston Scott (host of Tallahassee's top daily "Audio Magazine," as well as the thousands of happy customers Joe has helped in the past. Listen why!