Tallahassee Real Estate Report March 2022
Posted by Joe Manausa on Monday, March 14, 2022 at 5:51 AM
By Joe Manausa / March 14, 2022
Comment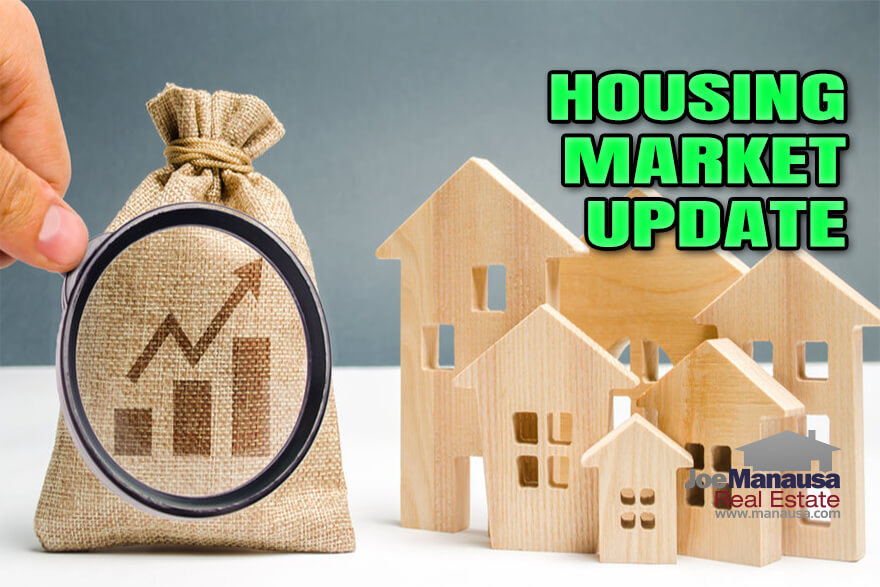 So how is the real estate market? I get asked that all the time. I'm always able to answer the question because of the tracking system I developed twelve years ago.
Today, I'm going to share with you my monthly housing market checkup. It takes me a few hours to produce, but I'll be able to share the results with you in about ten minutes of reading.
Homes For Sale In Tallahassee
I've included a list of all the homes for sale in Tallahassee below. Note how many are already under contract with buyers!
Tallahassee Real Estate Report
Where People Are Moving
I also pay attention to where people are moving in and around Tallahassee. There are some movement trends developing that are shown in the next two graphs.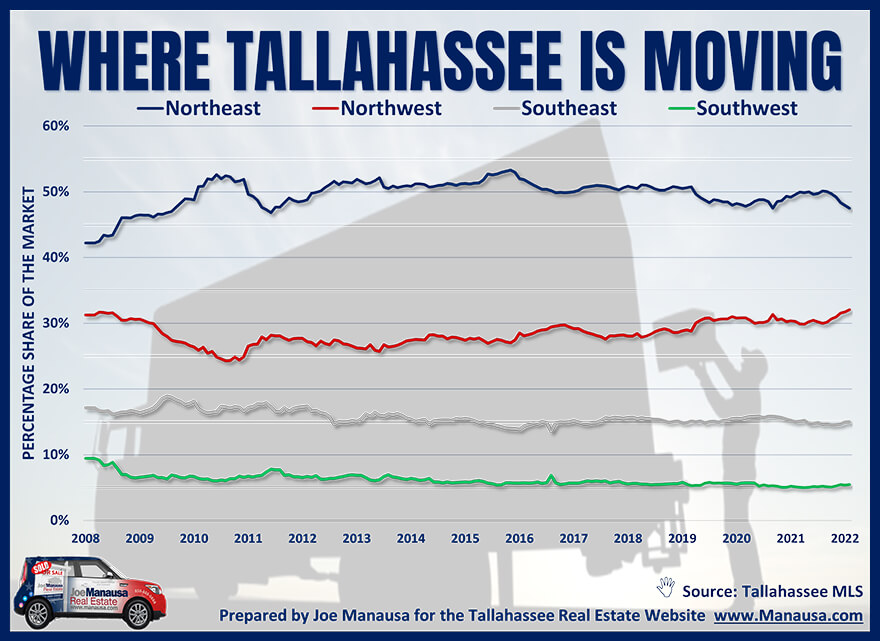 With listing prices soaring and inventory availability declining, the super-popular NE quadrant of Tallahassee is losing market share to the NW quadrant.
Shifting Area Trends
When we look at a similar graph below, we can tell the major movement trends occurring lately.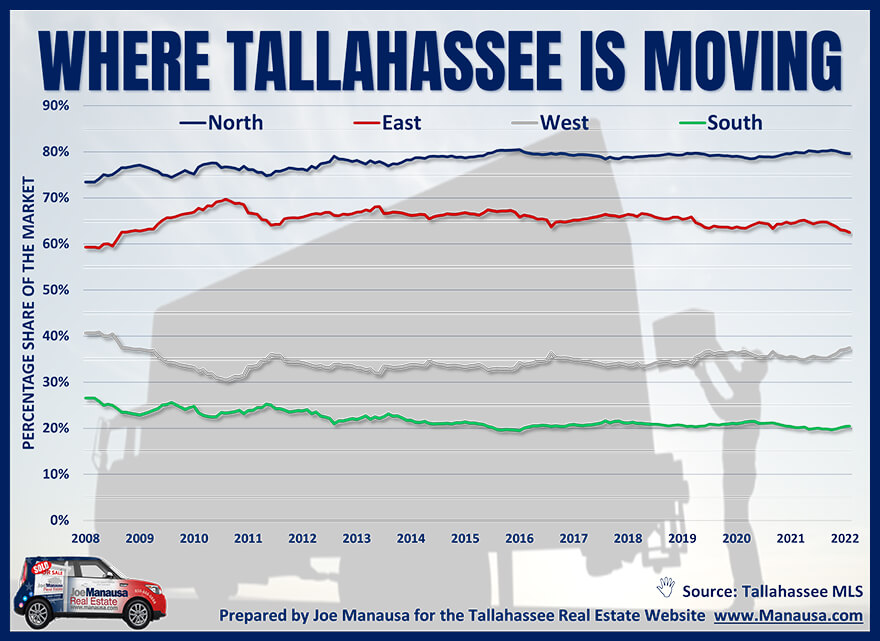 The homes on the north side of Tallahassee represent about 80% of all sales, with declines in the east, gains in the west, and stability on the south side of town.
Activity Report
If we could only examine one graph to understand current housing market conditions, it would be this one below.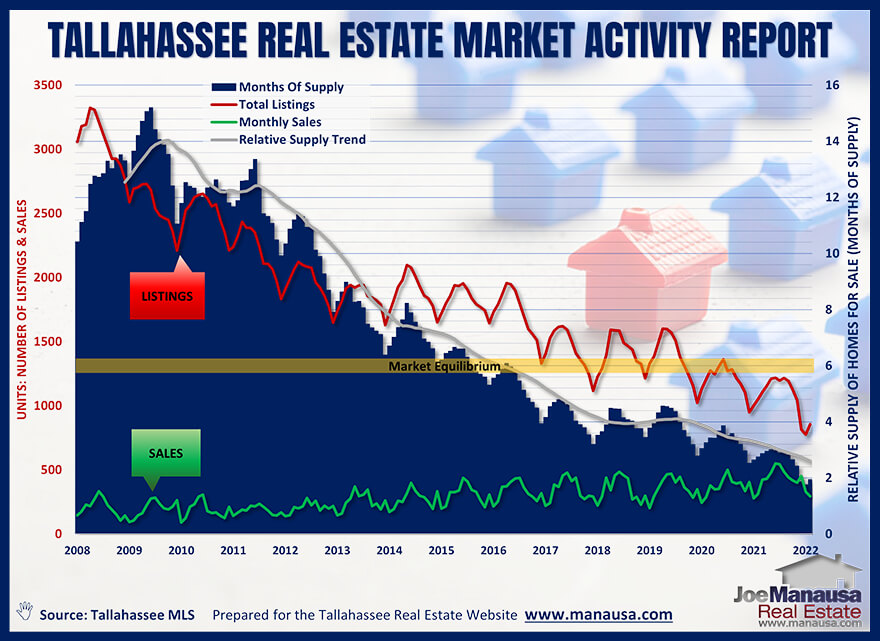 This graph plots the total number of listings in red against the total number of sales in green in order to determine the relative supply of homes for sale (months of supply shown in blue). The gray line plots the one-year average relative supply, and the gold field shows where it needs to be for the market to be balanced.
Currently, there is just two months' supply of homes for sale, making this the strongest sellers' market on record. Compare that with the strongest buyers' market on record back in 2009 when there were 15 months of supply.
Luxury Home Activity
Similar to the previous graph, this one plots the same metrics for the high-end of the housing market, starting with all homes priced above $800K.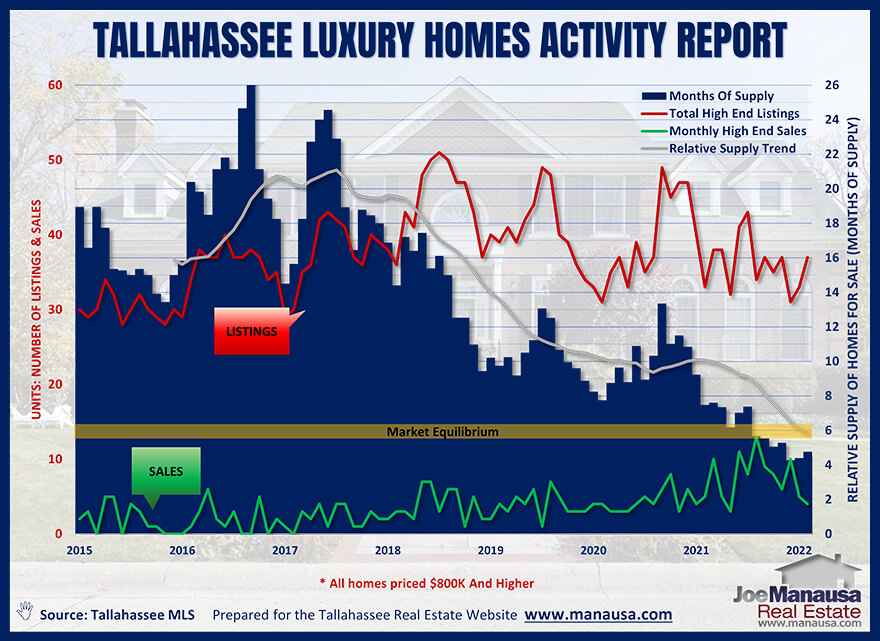 In 2016, there were 26 months of supply of luxury homes in Tallahassee. Low mortgage interest rates have saved luxury homeowners, and now we see the one-year trend of the relative supply has reached market equilibrium (observe the gray line within the gold field). So long as mortgage interest rates stay low, we'll continue to see the top end of the market excelling.
Keep Up With New Trends In Tallahassee!
Get The Tallahassee Real Estate Newsletter
Don't be the one that doesn't know what's going on when you sell a home or buy a home in Tallahassee.
Other buyers, sellers, lenders, and real estate agents have this critical information, and now you can too!
Get immediate access to our most recent newsletter.
Let more than 30 years of experience work for you with charts, graphs, and analysis of the Tallahassee housing market.
The next four graphs drill down to the four quadrants of the Tallahassee real estate market to show market performance at each price range.
NE Tallahassee
For each of the next four graphs, we plot the average number of listings over the previous twelve months (red bars) and the average number of homes sold (green bars). The resulting relative supply of homes is shown in blue (measured in months of supply on the right vertical axis).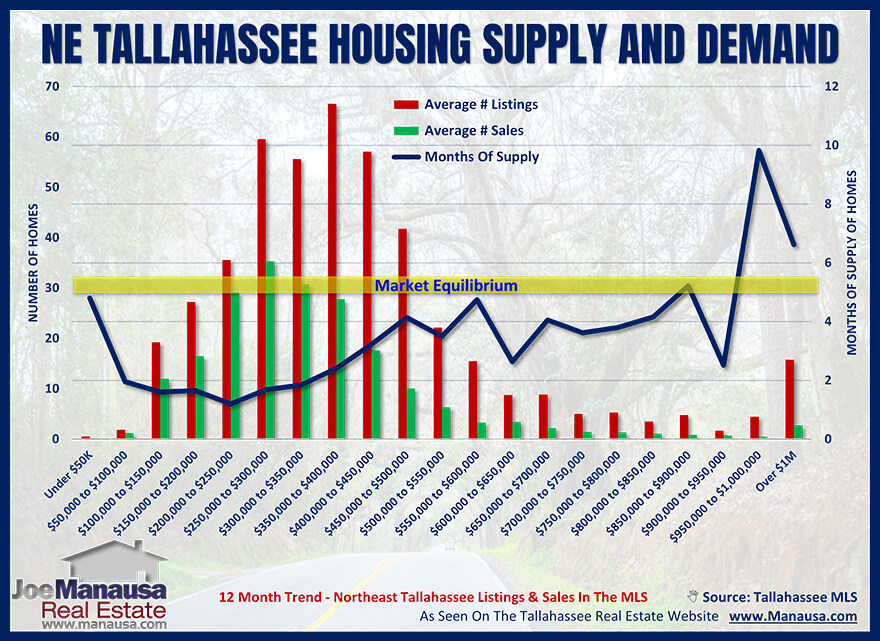 The blue line in the graph above reveals a sellers' market in Northeast Tallahassee up to $850K, though the relatively few sales that occur above that point cause fluctuations in this graph after that point.
NW Tallahassee
Northwest Tallahassee does not produce as many home sales as does the NE, so we see a lot of noise after the $500K price point.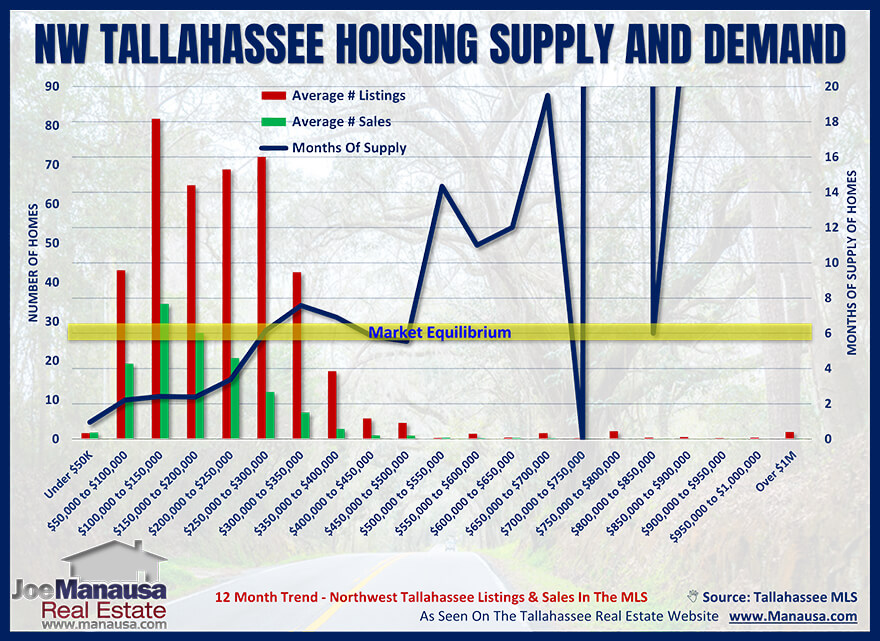 Homes priced below $250K in NW Tallahassee are in a sellers' market, while those below $300K are fairly balanced. Homes above $300K remain in a buyer's market, though the relatively few sales cause a good bit of fluctuation at prices above $350K.
SE Tallahassee
With yet even fewer sales than NW Tallahassee, SE Tallahassee shows great stability for home sellers.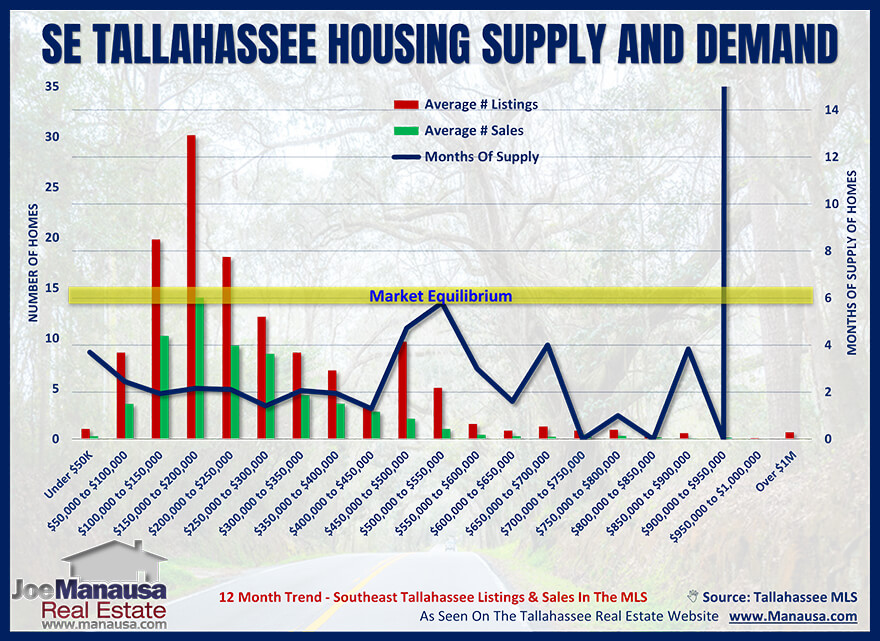 Homes priced below $900K in SE Tallahassee are enjoying sellers' market conditions, but there have been no sales above $950K over the past year.
SW Tallahassee
Finally, Southwest Tallahassee has the fewest sales of all four quadrants and therefore returns the most chaotic graph, but it also has shown great improvement over the past ten years.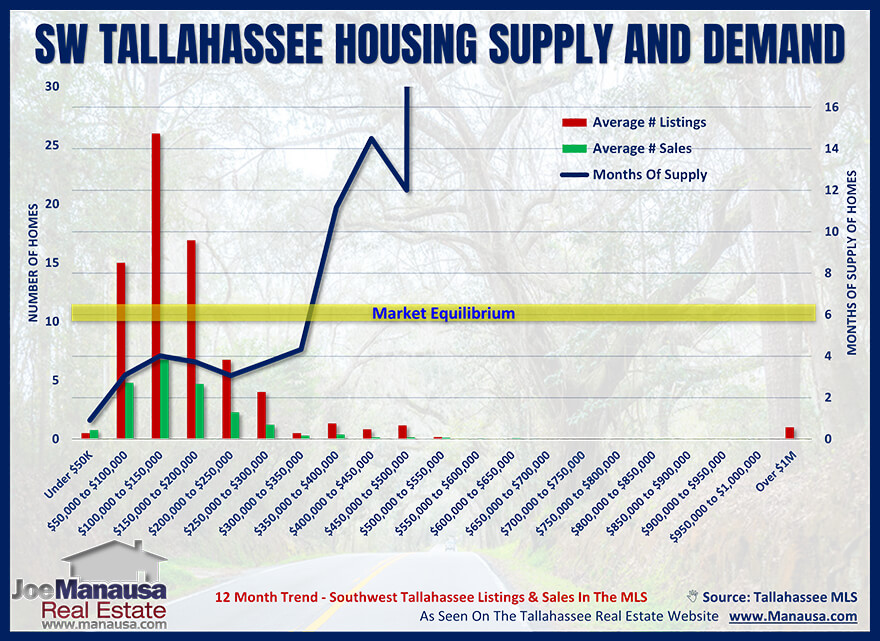 Homes priced below $350K in SW Tallahassee are enjoying a sellers' market, while those above $350K remain mired in a buyers' market.
Relative Months Of Supply Of Homes
The following table provides the relative months of supply of homes for sale from each of the four previous graphs in one convenient table.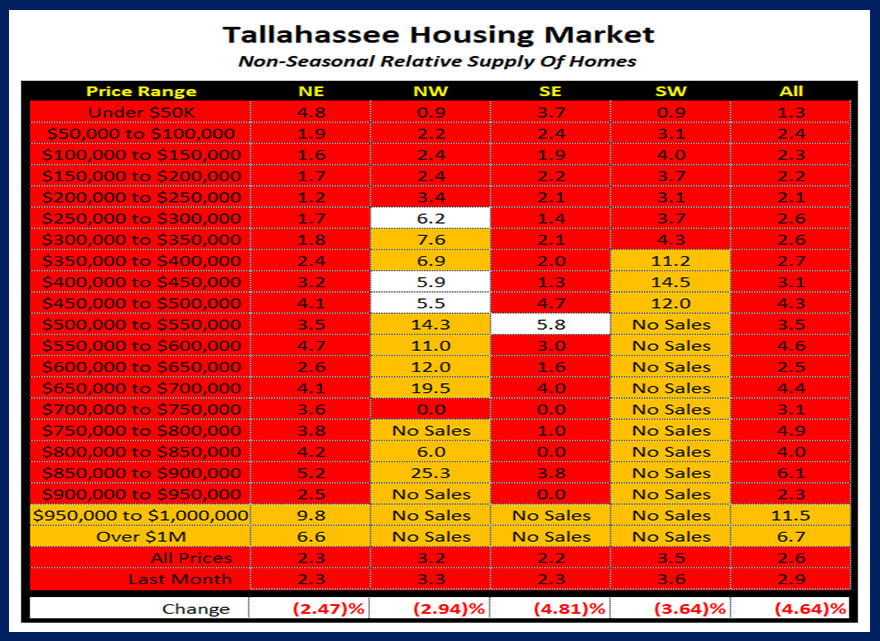 A measure near 6.0 months of supply represents a balanced market, while a measure below that signifies a sellers' market, and above is a buyers' market. I have color-coded the table with red for sellers' market conditions, white for balanced market conditions, and gold for buyers' market conditions.
The far-right column shows that overall, the market below $950K is in a sellers' market and homes priced below $450K are in a very strong sellers' market. Homes priced above $950K remain in a buyer's market.
The very bottom of the table shows that each quadrant reported a decline in the relative supply of homes last month. This is very unfortunate as we need more inventory to be built in order to regain some level of health in the Tallahassee housing market.
Supply
This next table provides the total number of homes for sale right now, by area and price range.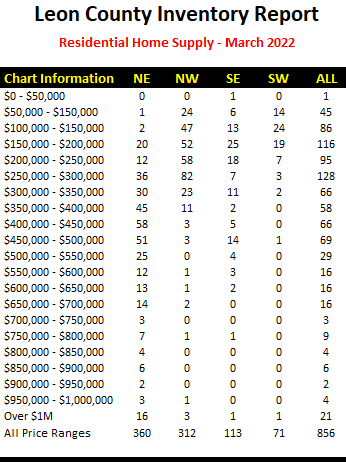 Currently, there are only 856 homes for sale in all of Leon County, Florida. To give you some perspective on that number, it's less than 1/2 the listings available at the same time in 2015!
Demand
The final table in our report shows the average number of homes sold each month by area and price range. This is very useful information when used in conjunction with the previous table.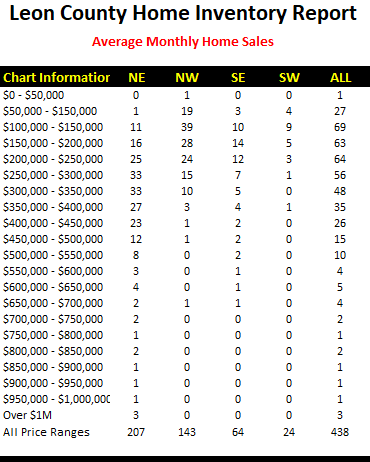 If you plan to buy or sell a home in the near future, just look at the area and price range that interests you and you'll get a feel for just how competitive it will be.
For example, over the past year, we've seen an average of 1 home sold each month in NW Tallahassee that is priced from $450K to $500K while at that same time there have been on average, 3 listed for sale. That's not a lot of homes for you to consider.
Snapshot Of Tallahassee's Housing Market
There are many other factors that one must consider to have a thorough understanding of today's housing market conditions, but the graphs that I selected for this report provide an excellent snapshot of what has occurred thus far and what's you'll find in the market today.
If you want to keep up-to-date with the moves and changes in housing, I encourage you to subscribe to the Joe Manausa Real Estate Channel on YouTube so that you get our newest reports when they are fresh. They take very little time to consume, yet they'll leave you well ahead of the field in market knowledge.
Your Local Expert In Tallahassee
When moving to, in, or from Tallahassee, you will fare better if you work with a local expert. We are here to help. If you have further questions on the Tallahassee real estate market, you can leave a comment below, give us a call at (850) 366-8917, or drop us a note and we'll give you the local information needed to ensure a successful, smooth transaction.
As a local born and raised in Tallahassee with a focus on customer service, I promise you'll find great success when working with Joe Manausa Real Estate, just as have our past customers. You can read thousands of their reviews reported on Google, Facebook and Zillow right here: Real Estate Agent Reviews Tallahassee.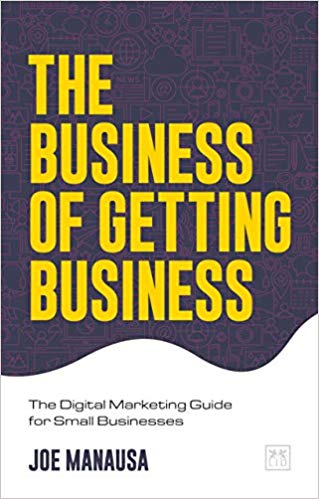 Have you heard about my new book "The Business of Getting Business?" It's a comprehensive guide for small businesses to help them make the move to digital. For those of us who want to survive and thrive in a world where large corporations are taking over, it is a must-read. It's also the perfect guide for how to sell a home in the digital age. You can find The Business Of Getting Business by clicking on any of the trusted retailers below.

Think all REALTORS are alike?
Read what people are saying about working with Joe Manausa Real Estate! You can see thousands of real customer reviews reported on Google, Facebook and Zillow at this link: CLICK HERE FOR REAL ESTATE AGENT REVIEWS.
I recently stumbled upon your latest Carrabelle listing. I must say, a home on Florida's Forgotten Coast is bound to be snatched up quickly. Best of luck with getting it under contract soon!

Posted by Barbara Corcoran on Thursday, June 15, 2023