Tallahassee Real Estate Market Study Reveals THIS Opportunity Is Ending
Posted by Joe Manausa on Monday, October 28, 2019 at 5:16 AM
By Joe Manausa / October 28, 2019
Comment
One common question that I receive regularly about the Tallahassee real estate blog is "why do you track and publish so much information about the market?"
The answer is simply because a healthy study of history helps to forecast the future. I've been tracking the Tallahassee real estate market for nearly 30 years but only began publishing my findings in 2007. And why do I publish the findings?
It turns out that smart real estate buyers and sellers want any type of advantage that they can get when it comes time to buy or sell a home. Today's post is a classic example of how a buyer can take advantage of an opportunity that appears to be diminishing rapidly. So what is this advantage?
I'll give you a hint. Let's start this post off with the list of townhouses for sale in Tallahassee.
Townhouses For Sale In The Tallahassee MLS
Detached Home Values Versus Attached Home Values
There are three different property types that are tracked under the heading of "home sales," and they include both attached and detached homes. The term "attached" merely means that neighboring homes share a common wall.
The detached homes are commonly called "single-family detached homes," while the attached homes are called townhomes. The final type is condominiums, and this type contains both attached and detached homes, though the majority of condo sales are attached units.
In order to produce a study of home values segmented by attached versus detached, I have pulled all single-family detached home sales and all townhome sales from the Tallahassee MLS and have plotted their averages in the graph below.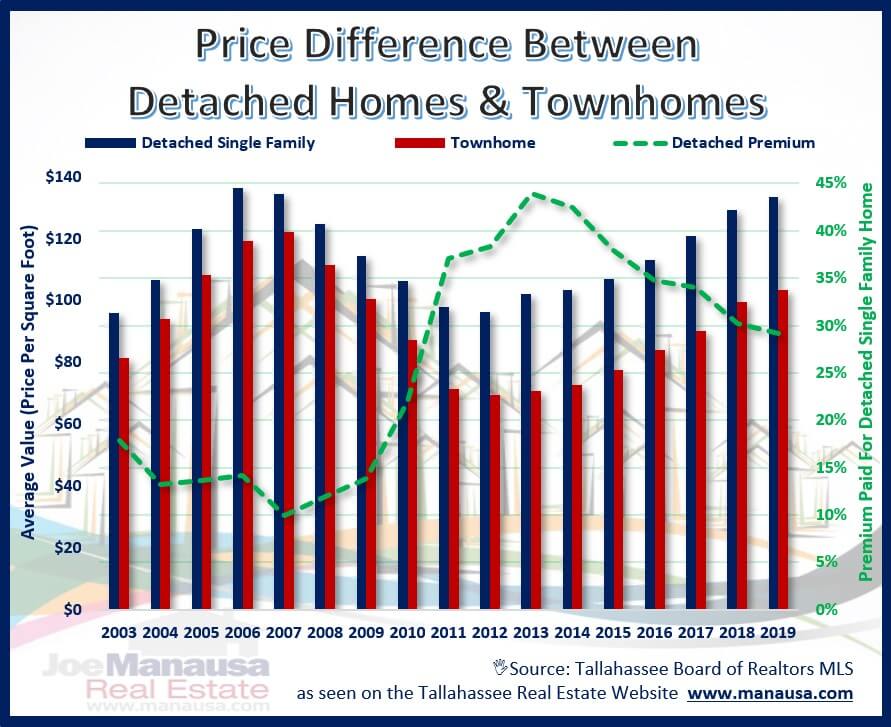 Single-family detached home values are plotted in blue while townhome values are plotted in red, both are measured on the left vertical axis. The difference in value between detached and attached homes is plotted with a green dashed line and is reported on the right vertical axis as the "Detached Premium" (the increased value of a detached home).
For this report, value is estimated as the average price per square foot of the homes sold. I have found this to be a good way to track macro value movements over time, though it is not necessarily an effective way to determine the value of an individual property.
So take a long look at the graph and try to figure out the opportunity that it reveals, can you see it?
Home Buying For Smart People
A process designed to save you money when buying a home
Something tells us you're just … well … smarter than most people looking to buy a home.
You're not naive, you are looking for a house to call home, and you want to make sure that you love the home you buy, but also get a great value.
In other words, you don't have to be an Einstein to "get" the home buying process. But you do have to be prepared.
We can prepare you

Great Deal In The Tallahassee Real Estate Market
Hopefully, you were able to see that the current difference in values between single-family detached homes and townhomes is about 2x its historical norm. If you believe in reversion to the mean (meaning over time, all things revert back to their normal state), then it suggests that buying an attached home today will likely result in a higher appreciation rate than if you buy a similar-sized detached home.
You can see that has been the case for more than ten years, but the trend is starting to return to normal. The current ratio is just under 30% and it likely will drop below 20% over the next five years. Recent history has confirmed that the attached units are truly out-performing detached ones:
Annual appreciation rate for detached homes since 2012: 4.8%
Annual appreciation rate for attached homes since 2012: 5.8%
While both rates are well above historical norms, attached home buyers since 2012 have outperformed detached home buyers by an average of 21%, but like all opportunities, this one will not last forever. If you are in the market to buy a home and would consider either type of property, make sure you explore all attached home opportunities before you make your property selection and acquisition.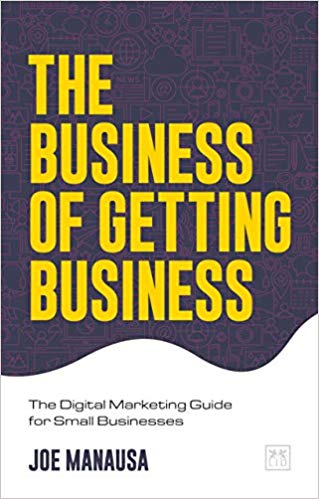 Have you heard about my new book "The Business of Getting Business?" Its a comprehensive guide for small businesses to help them make the move to digital. For those of us who want to survive and thrive in a world where large corporations are taking over, it is a must-read.
You can find it on Amazon (It will be published in Feb 2020, reserve your copy today at a pre-published rate).
Real Estate Market Information Can Be Overwhelming
That's why Joe breaks the data down into easy-to-understand concepts. Whether you're buying, selling, investing or just interested in the market, sign up for Joe's blog to get the latest Tallahassee real estate updates, straight to your inbox.