Have We Reached The Key Point With Mortgage Interest Rates?
Posted by Joe Manausa on Thursday, July 8, 2021 at 5:53 AM
By Joe Manausa / July 8, 2021
Comment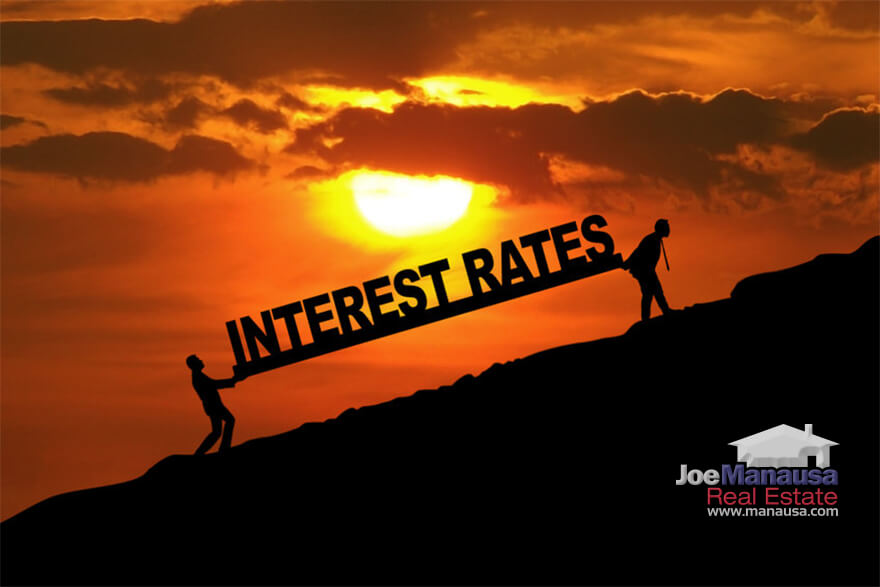 You really have to wonder if we've reached that point with mortgage interest rates where we're going to be tracking their ascension to historic norms.
The economy is recovering, the housing market has exhausted its inventory, and home prices are soaring so fast that we'll surely start to see the Fed get concerned about inflation. Right?
Well, today's post is going to take a look at some interesting facts about mortgage interest rates and then you can decide if we've hit "that key point" or not.
Mortgage Interest Rate History
The first graph in today's examination of mortgage interest rates shows more than fifty years of monthly average rates as reported by Freddie Mac.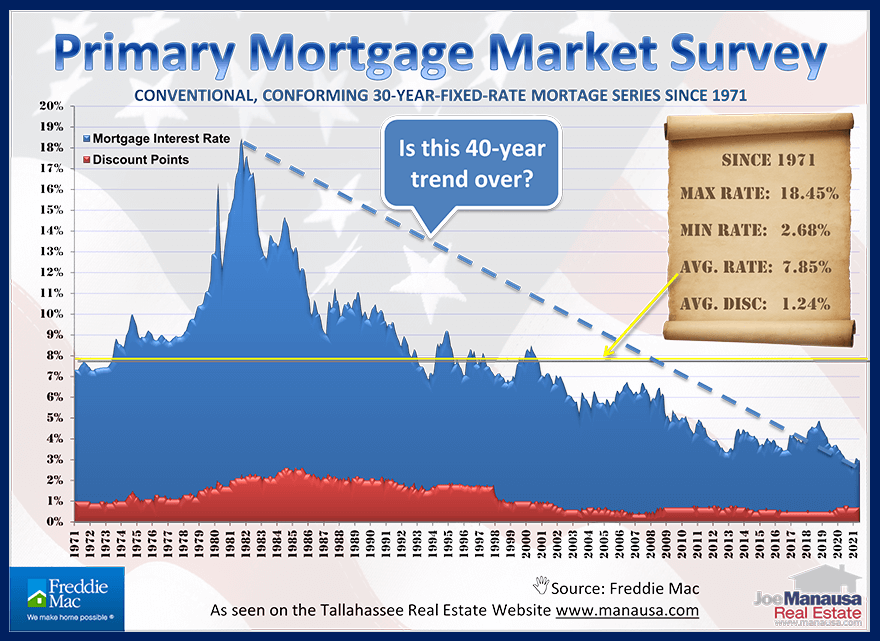 The yellow line shows the average rate since 1971 and the blue area reveals the rate each month. Can you see how today's rates are less than 1/2 of the average over the past fifty years? Rates have ticked up a bit, but they are still incredibly low.
The blue-dashed line shows that homeowners over the past 40 years have typically seen rates decline during the ownership of their homes. If they wanted to pull equity from their homes, they were able to do so with minimal impact on their payments, as they were paying less interest during the refinance.
I suspect there are many young people who might never get to experience this "normal" behavior that has been enjoyed by several generations of homeowners. In fact, if rates return to more normal levels, we might see the "move-up" buyer disappear from real estate for quite some time. Today's rates are so low, but they certainly will not stay this low forever.
Something tells us you're just … well … smarter than most people looking to buy a home.
Introducing Home Buying For Smart People
Here's what we've got for you:
A systematic, simple process to use modern technology to help you find the right home, at the right price.

A clear tutorial approach to the "Manausa method" of making sure that you see ALL of the homes that fit your needs without exposing yourself to the serious mistakes that many homebuyers make.

A sure-fire way to win the negotiation ... don't let a weak agent allow you to miss out on the home of your dreams!
Home Buying For Smart People is a free multi-part course and ongoing email newsletter. Join the thousands of other "smart people" who saved thousands of dollars when buying a home in a careful and prepared manner.
Year-Over-Year Mortgage Interest Rate Changes
So what have interest rates done over the past year? The following graph was created by Mortgage News Daily and it shows three different tracking services side by side.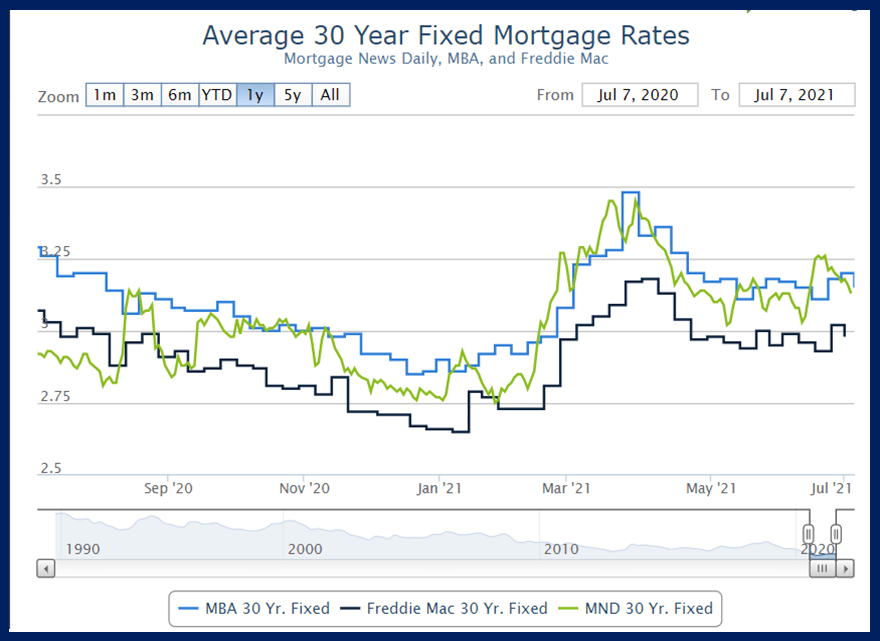 The graph above shows that the three services are showing three different results. The green line was produced by Mortgage News Daily and it shows that rates today are (HIGHER) than they were one year ago. The blue line was created by the Mortgage Bankers Association and it shows rates are still lower than they were one year ago. Finally, the black line was created by Freddie Mac and it shows rates are lower than one year ago.
If you were to create an average from the three reporting sources, I believe that today's rates would be very close to last year's rates, and I believe that is an interesting position when you consider where the economy is today versus where it was three months ago, six months ago, and a year ago.
The question in the title of this article is have we reached the key point with mortgage interest rates? where the key point is the point where rates will never be this low again?
If we have, expect to finally see the demand in the housing market start to weaken (after perhaps one final surge), and if not, then expect to see home prices go to levels we didn't think we would see until the 2030s. Seriously!
Important Tips For Homebuyers
Your Local Expert In Tallahassee
When moving to, in, or from Tallahassee, you will fare better if you work with a local expert. We are here to help. If you have further questions on the Tallahassee real estate market, you can leave a comment below, give us a call at (850) 366-8917, or drop us a note and we'll give you the local information needed to ensure a successful, smooth transaction.
As a local born and raised in Tallahassee with a focus on customer service, I promise you'll find great success when working with Joe Manausa Real Estate, just as have our past customers. You can read thousands of their reviews reported on Google, Facebook and Zillow right here: Real Estate Agent Reviews Tallahassee.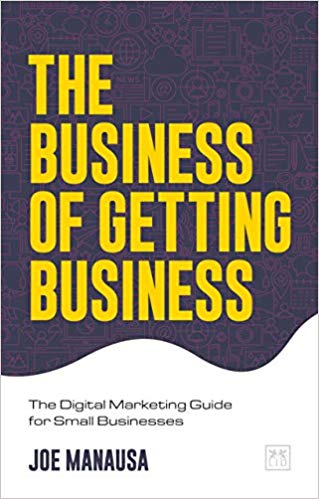 Have you heard about my new book "The Business of Getting Business?" It's a comprehensive guide for small businesses to help them make the move to digital. For those of us who want to survive and thrive in a world where large corporations are taking over, it is a must-read. It's also the perfect guide for how to sell a home in the digital age. You can find The Business Of Getting Business by clicking on any of the trusted retailers below.

Think all REALTORS are alike?
Read what people are saying about working with Joe Manausa Real Estate! You can see thousands of real customer reviews reported on Google, Facebook and Zillow at this link: CLICK HERE FOR REAL ESTATE AGENT REVIEWS.