Prepare For A Flurry Of Brand New Homes In Tallahassee
Posted by Joe Manausa on Monday, September 4, 2017 at 8:53 AM
By Joe Manausa / September 4, 2017
Comment
Here's the news local builders have been waiting to hear for more than ten years.
Tallahassee is going to see more brand new homes built in 2018 than in any year since 2006, and they will sell like hotcakes.
New Construction Houses For Sale In Tallahassee
Supply & Demand Imbalance Begs Tallahassee For New Homes
Every month, we analyze the relationship between supply and demand for homes in all four quadrants of the Tallahassee real estate market. We post the reports HERE if you are interested.
We have been watching the glut of homes for sale in Tallahassee erode over the past few years, and now we find ourselves in a environment that is highly favorable to building brand new homes.
When you look at the graph below, you will see there are plenty of areas where supply is so low and demand is so high that builders are going to have a field day.
In the graph above, we look at the average number of listings each month (red bars) by price range and compare them with the annualized number of home sales (green bars). This comparison yields a relative supply (the average supply of homes RELATIVE to the demand for homes) that is shown in blue and measured on the right vertical axis.
Across the board, there is seller's market for homes under $450K and a buyer's market for homes over $500K. But this is "across the board."
If you want to know specifically how the market is balanced in your area, you have to check out our monthly supply and demand reports. You can also subscribe to the Tallahassee Real Estate Newsletter if you want great information on the market delivered each week to your email inbox.
Get Our Free Market Update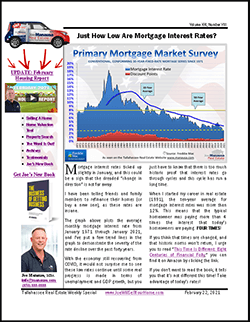 Other buyers, sellers, lenders, and real estate agents have this critical information, and now you can too!
Get immediate access to our most recent newsletter.
Let more than 30 years of experience work for you with charts, graphs, and analysis of the Tallahassee housing market.
Each Monday morning we send out a simple, one-page report that provides a snapshot of the Tallahassee housing market. It only takes 2 minutes to read, but it gives you better market intelligence than most real estate agents possess. Just tell us where to send it below!
Save Money When You Buy A New Home
The key to buying smart is to evaluate ALL of your options when it comes time to move. We help our homebuyers understand market conditions and show them how to evaluate the current supply of homes so that they are in a position to negotiate the best deal possible when buying in what is often a seller's market.
Take a look at what our customers are saying below, they are telling you to give us a try!