The Median Home Price In Tallahassee Is Moving
Posted by Joe Manausa on Monday, October 14, 2019 at 5:58 AM
By Joe Manausa / October 14, 2019
Comment
The median home price in Tallahassee has hit $200,000, setting a new annual high compared to all previous years.
Today's report looks at homes for sale priced near the median and follows with graphs and analysis of the median existing home, median new home, and the medians for each residential property type.
Homes For Sale Priced Near The Median
Median Home Price In Tallahassee
Our first graph in today's report shows the median home price for all homes sold and recorded in the Tallahassee MLS from 2003 through September 2019.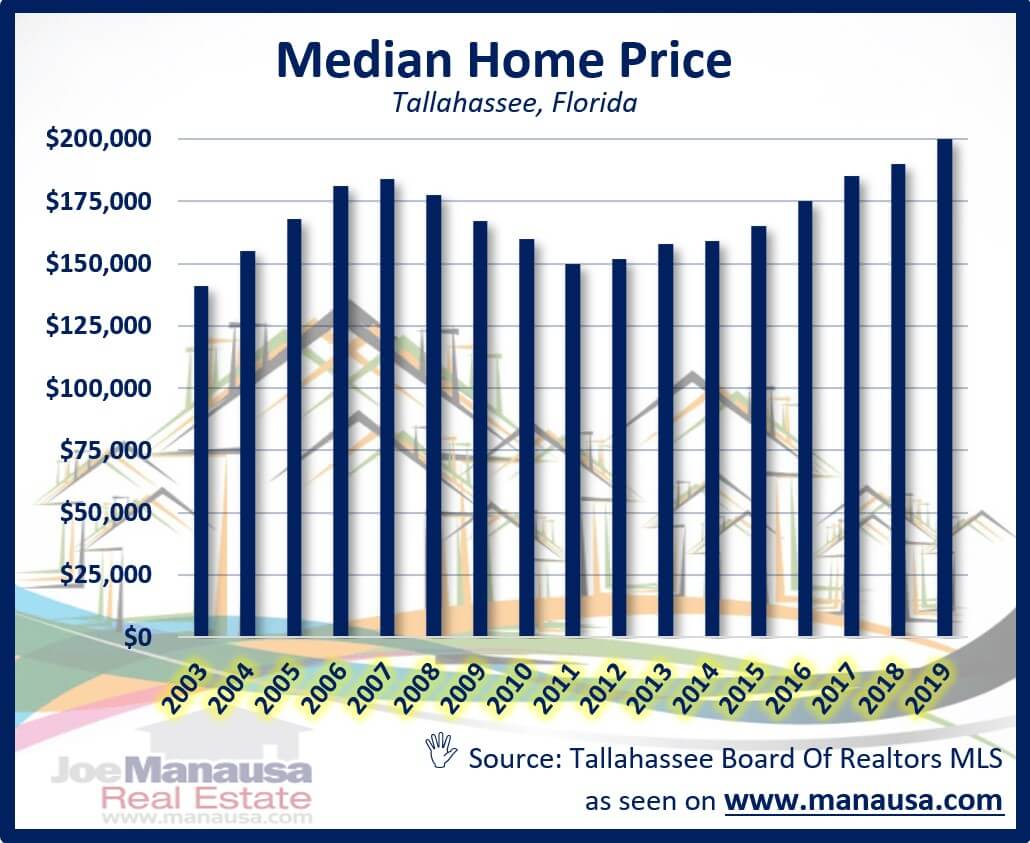 Low mortgage interest rates continue to buoy buyers' spending power, so we've seen the median home price continue to rise. With the cost of land, labor, and materials rising, don't expect to see homes get cheaper any time in the near future.
Median Existing Home Price In Tallahassee
When we just look at the resale side of the market (existing home sales), we see that a new high has been found in 2019. Currently, the median existing-home price in Tallahassee is $189,900.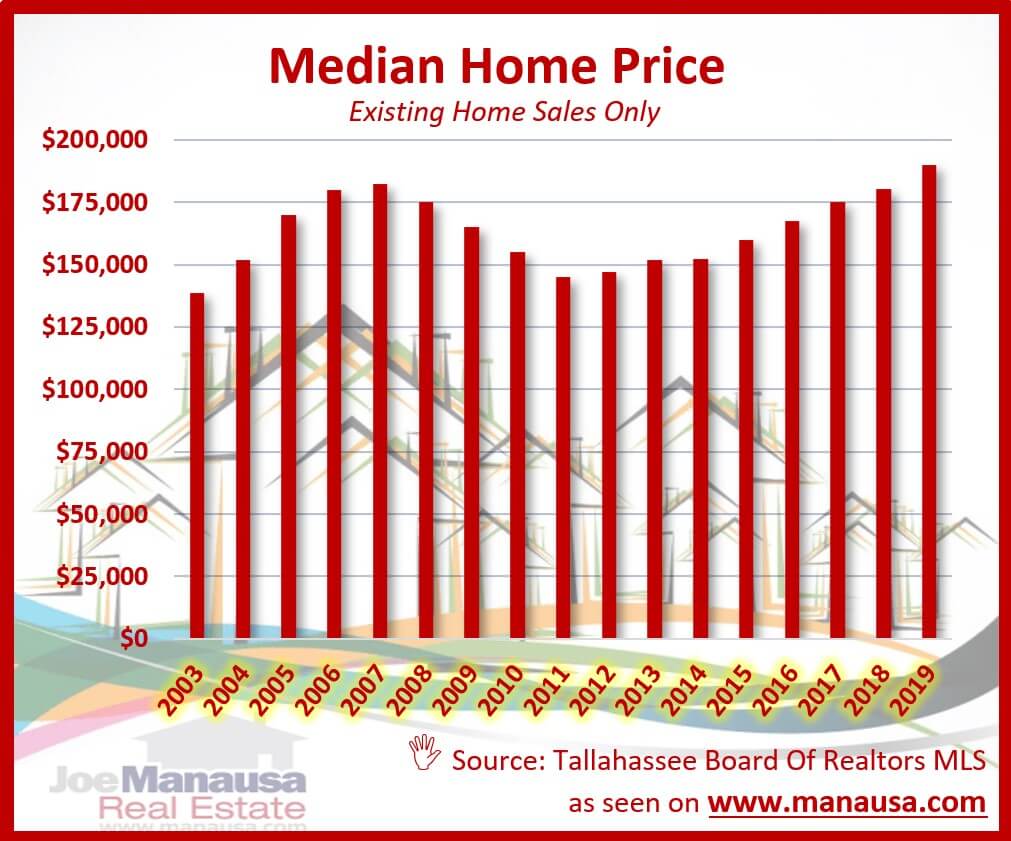 The supply of homes for sale in Tallahassee is still too low in the bottom 95% of the market (meaning all but the top 5%!). With supply low and demand still strong, we should expect rising prices to continue.
Median New Home Price In Tallahassee
When we examine the median new home price, we find a different looking graph than the previous two. Notice how prices have been fairly stable for the past 8 years?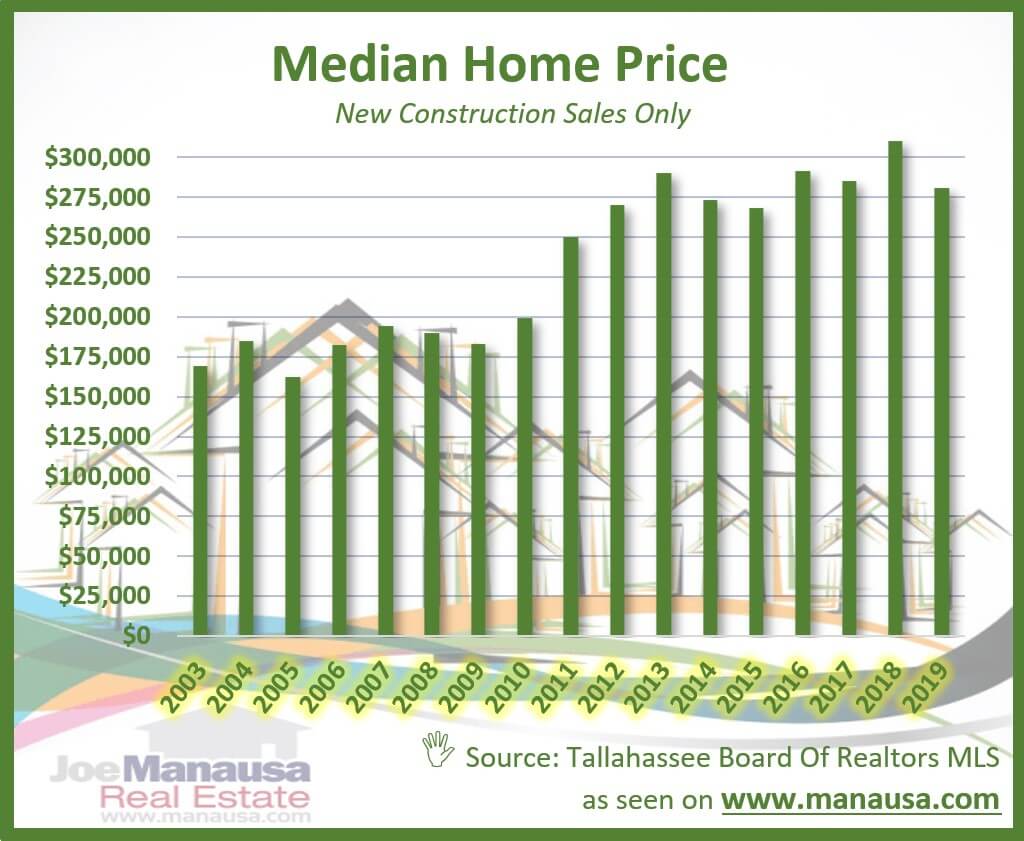 This is all about affordability, not cost. What we do not see in the graph above is the size of homes being built or the break-down between attached and detached homes. Builders understand what buyers can afford, and that is what they are building.
Expect to see a continued move towards attached housing for builders as they try to deliver a product that Tallahassee's buyers can afford. Also, surrounding counties will continue to grow as many of today's buyers get priced out of Leon County.
There are a lot of people who endorse Joe for the job of selling your home, from Barbara Corcoran (Star of ABC's Shark Tank) to Preston Scott (host of Tallahassee's top daily "Audio Magazine," as well as the thousands of happy customers Joe has helped in the past. Listen why!
I recently stumbled upon your latest Carrabelle listing. I must say, a home on Florida's Forgotten Coast is bound to be snatched up quickly. Best of luck with getting it under contract soon!

Posted by Barbara Corcoran on Thursday, June 15, 2023
Median Home Price By Type
Our final graph segments the residential market by property type. We see the median home price for single-family detached homes, condominiums, and townhomes.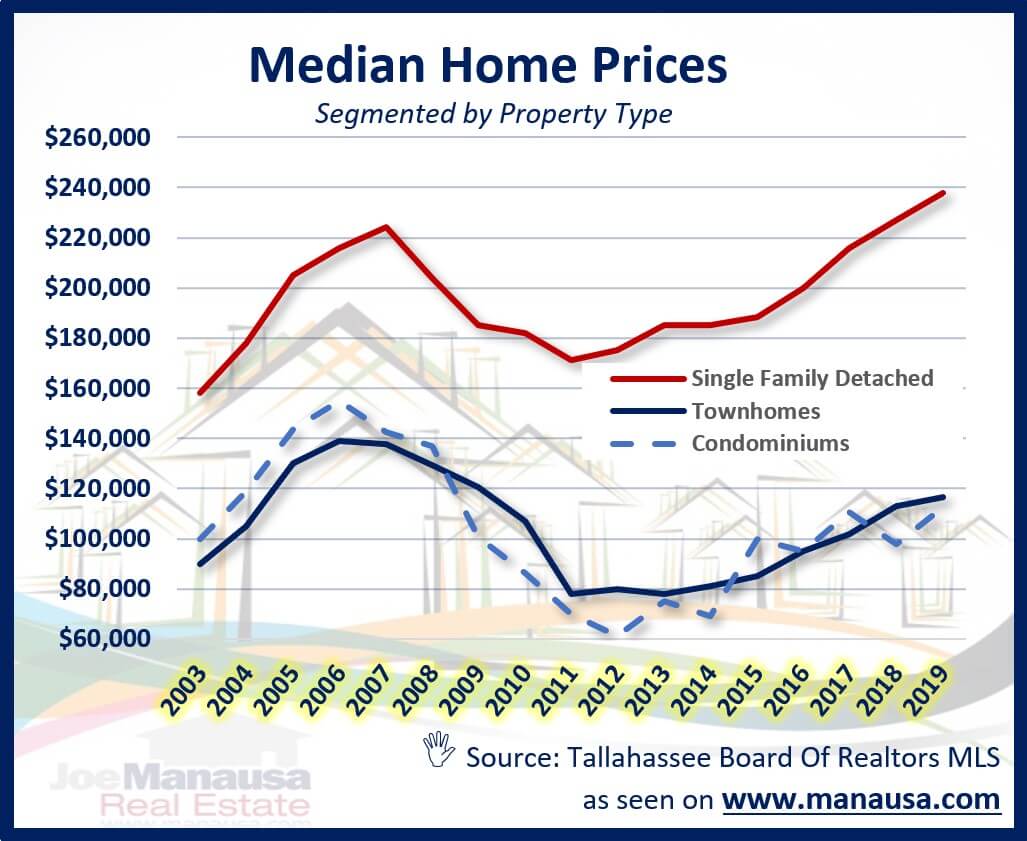 The graph above shows that the housing market recovery has been far better for single-family detached homeowners than it has for "attached" property type homeowners. Here's where we stand for 2019 right now:
The median single-family detached home price in Tallahassee has risen to $237,750.
The median townhome price in Tallahassee is $116,750.
The median condominium price in Tallahassee is $112,700.
The graph clearly shows that single-family detached homes have risen to new highs, while condominiums and townhomes are still available at prices lower than those of the past.
I believe this means that there remains more upside for attached homes than detached homes, and I think we'll see attached units outperform detached units over the next five years.
How To Use This Information
If you are planning a move, keep in mind that different segments, areas, and price ranges are going to appreciate at different rates. Work with an expert and you'll have the guidance you need to make the best decisions possible during your next move.
I hope our October 2019 report on median home prices has given you the information for which you were looking. If not, you can give us a call at (850) 366-8917 or drop us a note and we'll help you with your specific Tallahassee real estate needs.
As a local born and raised in Tallahassee with a focus on customer service, I promise you'll find great success when working with Joe Manausa Real Estate, just as have our past customers. You can thousands of their reviews reported on Google, Facebook and Zillow right here: Real Estate Agent Reviews Tallahassee.
Get Our Free Market Update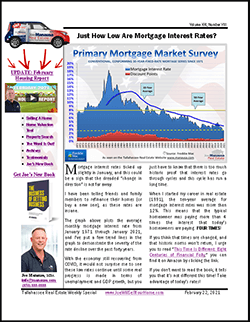 Other buyers, sellers, lenders, and real estate agents have this critical information, and now you can too!
Get immediate access to our most recent newsletter.
Let more than 30 years of experience work for you with charts, graphs, and analysis of the Tallahassee housing market.
Each Monday morning we send out a simple, one-page report that provides a snapshot of the Tallahassee housing market. It only takes 2 minutes to read, but it gives you better market intelligence than most real estate agents possess. Just tell us where to send it below!