Median Home Price Report Going In To June 2022
Posted by Joe Manausa on Monday, May 30, 2022 at 5:51 AM
By Joe Manausa / May 30, 2022
Comment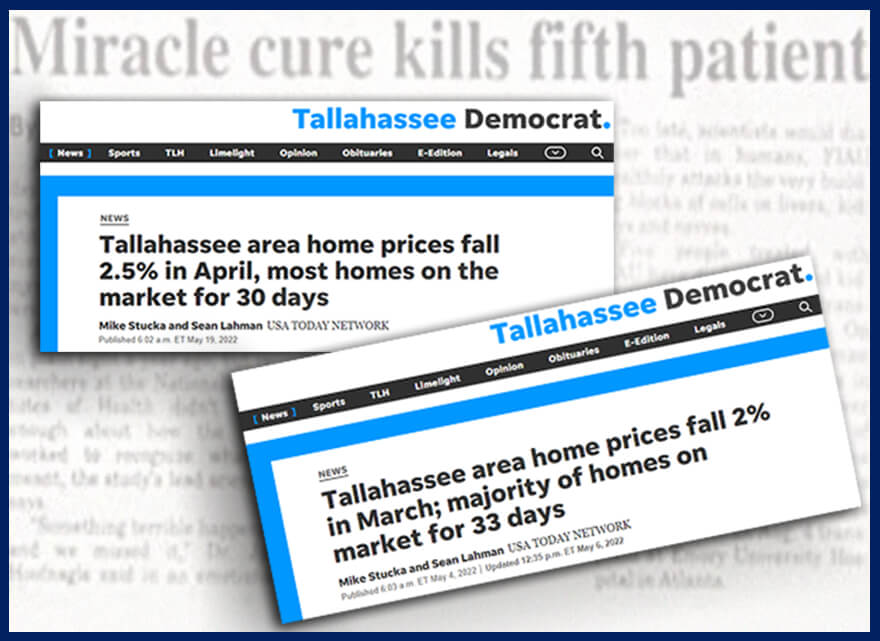 There is an interesting trend brewing if you have been following the median home price locally and in the overall US housing market. In fact, this trend has apparently confused our local newspaper (the Tallahassee Democrat) and its parent company (The USA Today Network) which ignorantly warned of falling home prices.
Today's study of the median home will explain what is really going on in the housing market. We use data from multiple sources to examine the median home price, the median home value, and some interesting results in the new construction premium that buyers are paying today.
Today's report begins with a look at the active listings priced near today's median home price. Note how many of them are already under contract with a buyer. The market (in the middle) remains inundated with active buyers!
Median Priced Homes For Sale In Tallahassee
USA Today Deception?
Median Home Price Comparison
I have been advising for years that home affordability will become the most important topic related to the economy and to the real estate market. Low inventories in both the "for sale" and the "for rent" markets has both prices and rents soaring.
I often explain to our readers (from outside of Tallahassee) that the Tallahassee housing market is a fair bellwether for the overall US housing market. In order to test or prove this statement, let's compare the median home price in Tallahassee with that of the overall US housing market for the past 31 years.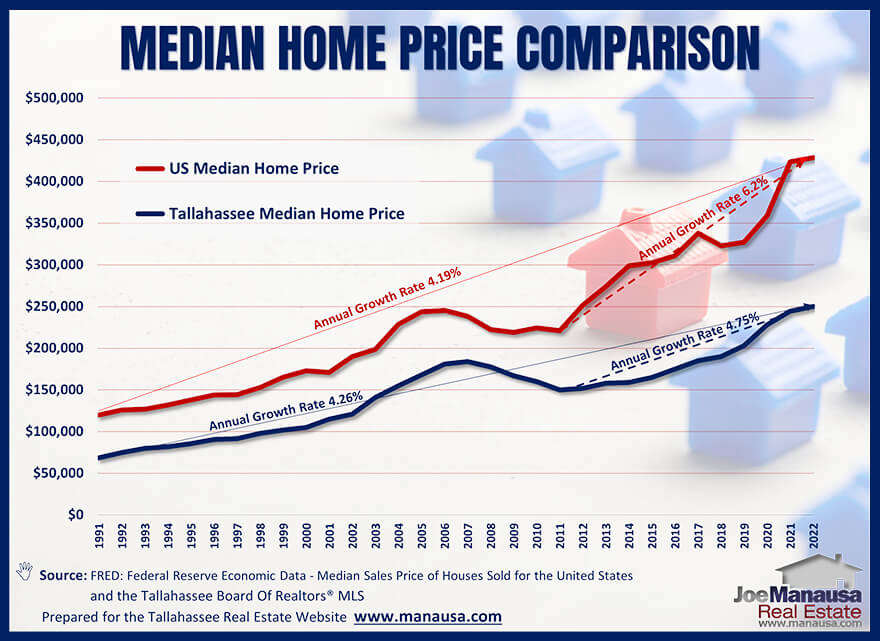 Over the past 31 years, the median home price in the US has risen 4.19% annually, while the median price of homes in Tallahassee over the same period has risen 4.26% annually.
Tallahassee usually has a bit of a lag in the results when compared to the US. For example, the median US home price peaked in 2006, whereas the median home price in Tallahassee peaked a little later in 2007.
Overall, the median home price in the US fell further than did the median home price in Tallahassee, and I believe that is why we've seen the bounce-back from the bottom to be stronger in the US overall (at 6.2%) than in Tallahassee (at 4.75%).
Whether you are in Tallahassee and you are viewing my US housing reports, or you are elsewhere reading my Tallahassee housing reports, you should know that the information will parallel eachother (with prices and values adjusted) for nearly all US housing markets.
Keep Up With New Trends In Tallahassee!
Get The Tallahassee Real Estate Newsletter
Don't be the one that doesn't know what's going on when you sell a home or buy a home in Tallahassee.
Other buyers, sellers, lenders, and real estate agents have this critical information, and now you can too!
Get immediate access to our most recent newsletter.
Let more than 30 years of experience work for you with charts, graphs, and analysis of the Tallahassee housing market.
When reporting on single-family homes, most real estate reports combine the sales of single-family detached homes, townhomes, and condominiums. We're going to dig a little deeper to uncover that each home type is performing differently. The first set of graphs segments the market by property type, while the second set separates new homes from existing homes.
The Median Home Price In Tallahassee
This graph examines the median home price, segmented by property type. What it reveals is that the median single-family detached home price is moving higher at a faster rate than is the median single-family attached home price.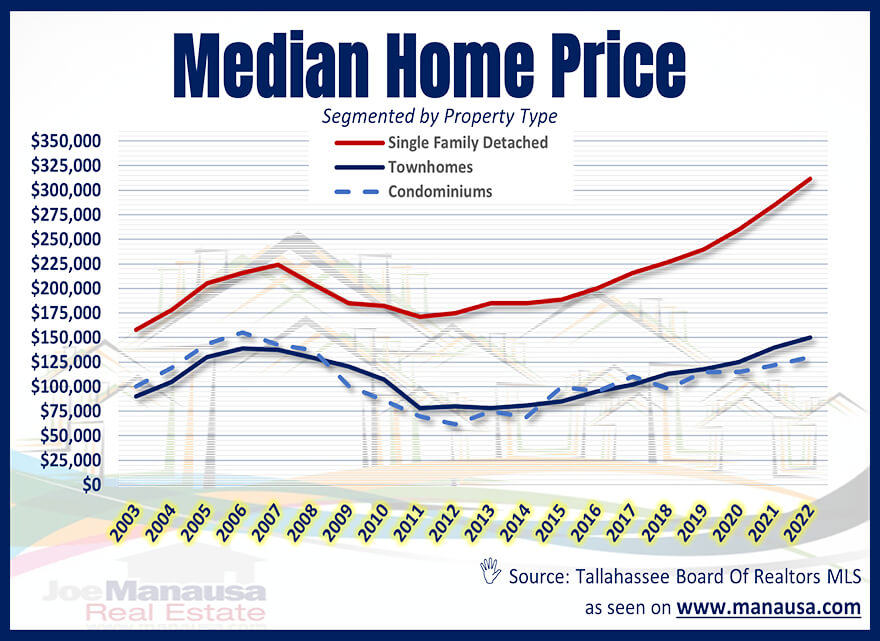 In the graph above, detached homes are plotted in red, while attached homes are plotted in blue (solid line for townhomes and dashed line for condominiums).
The median home price for single-family detached homes continues to set new all-time highs, leaving the past high years well behind it. Townhomes have also reached new all-time highs, but that is not the case for condominiums. The median condominium price continues to struggle due to the oversupply of high-rise units downtown.
Here's how the median home price has changed since the previous market peaks in 2006 and 2007:
Single-Family Detached Homes: UP 38% since 2007
Townhomes: UP 8% since 2006
Condominiums: DOWN 13% since 2006
It really is just the detached homes that have exploded higher, but you can expect the rest to follow suit as detached inventories shrink. Low mortgage interest rate loans had enabled buyers to increase the amount they pay for homes without increasing their monthly mortgage payments. This fuel for the market has been thinning out as interest rates have already moved more than 2% higher in 2022, a change of nearly 65%!
The relative supply of homes for sale continues near an all-time low, allowing sellers to demand more money for their homes. How prices move this year (I believe) is set in stone. Higher! The rate at which they move will be impacted by the pace at which mortgage interest rates rise, though the huge jump earlier this year has not slowed down value growth at all.
Tallahassee Median Home Value
Much like the median home price, the median home value is moving higher rapidly for two of the three property types.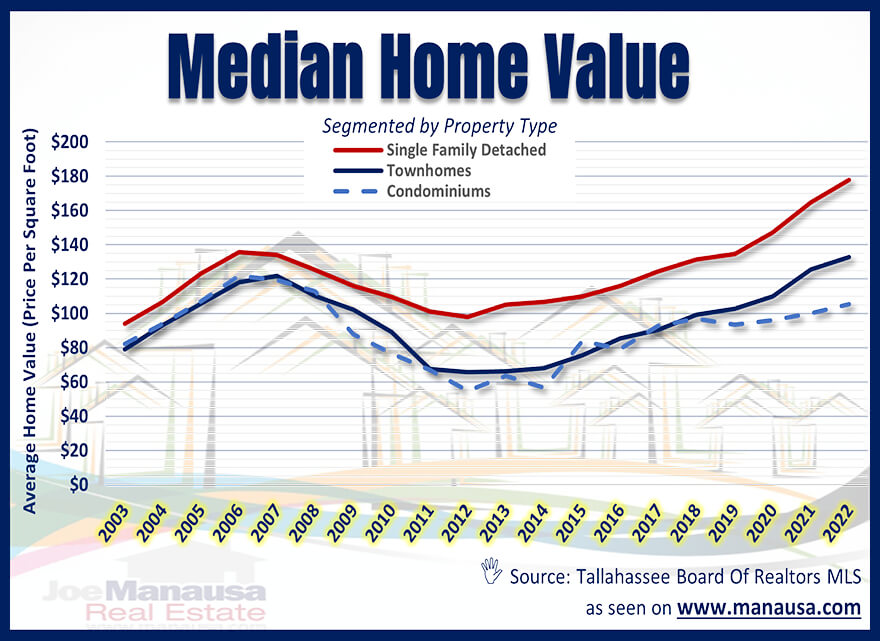 Single-family detached homes and townhomes are finding new highs while condominium units are still struggling.
Here's how the median home value has changed since the previous market peak in 2006:
Single-Family Detached Homes: UP 31% since 2006
Townhomes: UP 9% since 2006
Condominiums: DOWN 12% since 2006
The market has always favored detached homes, but the disparity in the recovery in values (I believe) relates to the type of buyers in the market. Back in 2006, there was an unhealthy percentage of inorganic buyers (people who were not buying to use the property, rather they were speculating on flipping homes for profit).
Plenty of buildings were converted to condominiums and the speculators found great returns until the market was glutted with supply and values started falling. This is clear in the graph.
Due to the unattainability of detached homes, townhomes have started moving higher, while the road to recovery for condominiums is much bumpier. The downtown condominium market still has a glut of supply and now 15+ years after their birth, there has not been a strong sign from the market that there is significant demand for this product.
I do expect to see a shift in the market however. As single-family detached homes become unaffordable for many buyers, they will be pushed towards the "attached" homes market. This increased demand will accelerate the value growth of both condominiums and townhomes.
Median Home Size
This next graph tracks the median home size by property type.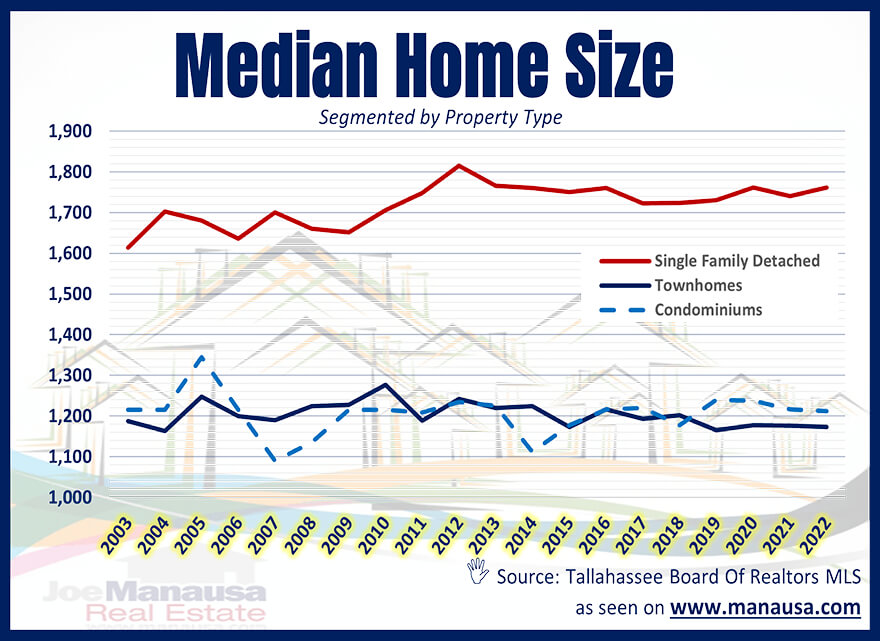 I always like to include "size" graphs whenever we study prices and values. A change in the median home size is usually the difference between what buyers are spending and what sellers are getting.
It's common for prices and values to move at different paces. For example, now that mortgage interest rates are moving higher fairly rapidly, it's going to create some sticker shock and home affordability issues among buyers. This means that demand should weaken.
But at the same time, inventory is near record-lows, builders are not producing at historically-normal rates, so the supply of homes for sale will still be too low for the new lowered demand. Homes will still be appreciating in value all the while buyers will be unable to spend more. When the year is over, I expect home prices will have moved higher, but home values will have moved higher at a faster rate. This suggests that we'll see the median home size decline by year's end. Home sizes have not yet fallen due to the lower mortgage interest rates buyers enjoyed in the first quarter of the year, but you can bank on them falling because rates are now much higher.
Over the long haul, prices and values typically move along similar growth lines, just with variances along the way. But during the short-term (like what we're seeing in 2022), it's very helpful to see how prices and values vary and then use the current trends to forecast the near future.
The median home size graph shows that today's buyer is purchasing larger single-family detached homes than they were during much of the housing bubble formation, though smaller condos and townhouses during that same period of time.
With the strength of available low mortgage interest rate loans, buyers had been spending more money, buying bigger homes than they could if interest rates were higher. Now that rates have moved higher, we can expect to see the median home size get smaller. This is a normal fluctuation in the market and it is why we use values, not prices, to inform consumers about the affordability of homes in the market today.
The first portion of our report focused on property type, but the next three graphs segment the market between new construction and existing homes. This critical view of housing formations makes it clear why we are seeing such extreme market conditions today.
Median Home Price
This graph shows the median home price of new homes (blue), existing homes (red), and then the overall median home price (gray).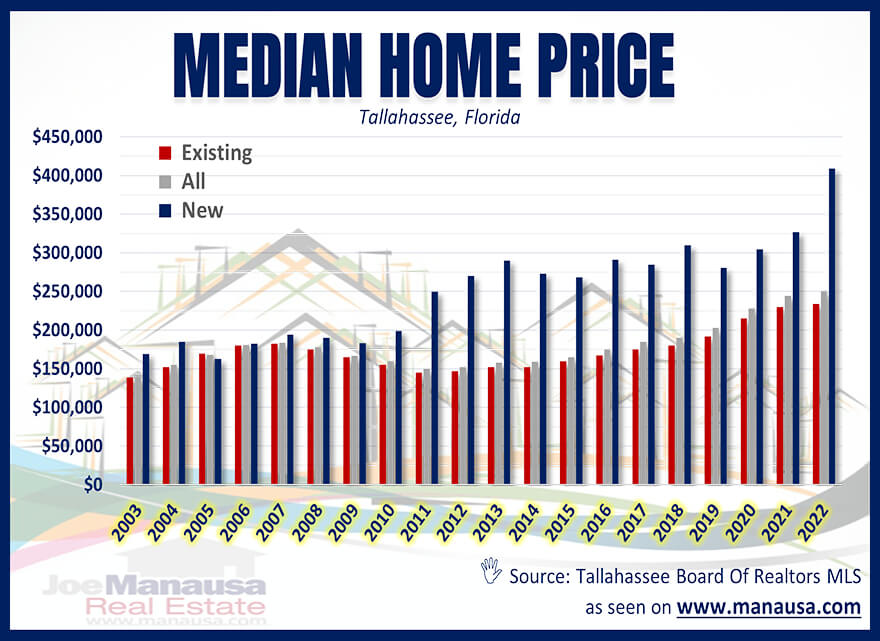 Through nearly five full months in 2022, we find that the median new home price has moved nearly 27% higher than last year's median. This is ample proof that the supply chain issues developed during COVID have rocked new home construction.
From 2013 through 2021, the median new home price grew by less than 13% total for an annual growth rate of 1.5%. But the median new home price has shot up 27% in just five months, which is perhaps the most disturbing trend we'll uncover in today's report. Can you see why home affordability is so threatened today?
So how will this impact the resale market? Existing homes saw the median home price move 51% higher from 2013 through 2021, which is an annual growth rate of more than 5.3%! But resale prices are up just over 1% since last year, and this is something that has confused the ignorant reporters of the USA Today network.
We have to remember that the change in the median (or average) home price reflects more about what buyers are spending than it does in what sellers are getting. Mortgage interest rates have shot up, home affordability has declined, so the amount that buyers can spend is under great pressure. But does that mean homes are not going up in value very fast right now?
Median Home Value
This next graph reports the median home value of new homes (blue), existing homes (red), and then the overall median home value (gray).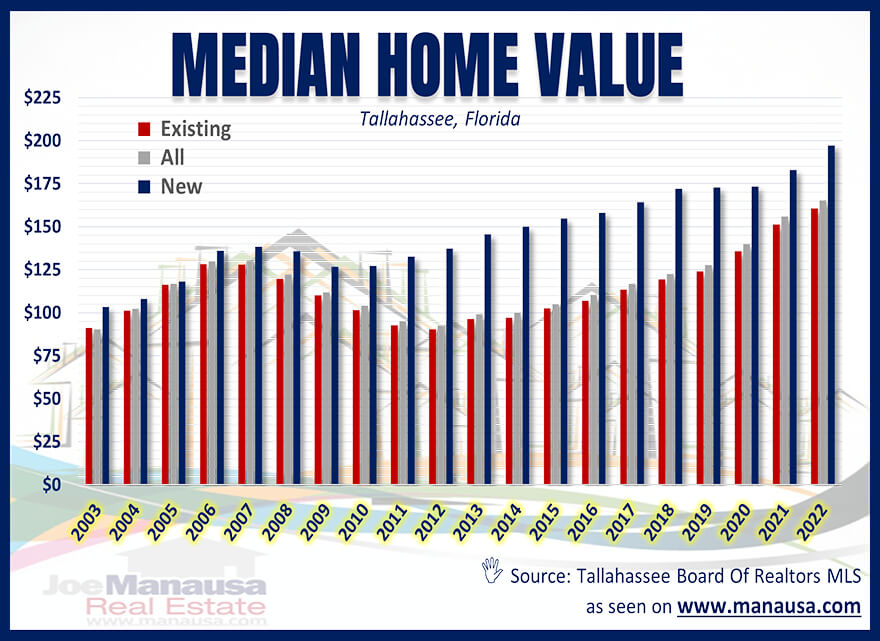 I believe the best measurement for real estate appreciation in a market with sufficient sales is the movement of the median existing-home value over time. In 2021, existing homes appreciated at 11.4%, more than three times the average we saw in the 1990s. This is alarming as it is toxic to home affordability
Note that the builders had been holding their costs fairly steady until 2020, but the issues we've been warning about seem to have new construction costs soaring. While some of these soaring costs are directly COVID-related and will soften, others are not. I'll be curious to see how the 75%+ increase in the minimum wage that Florida is undergoing does to the cost of new homes and how that impacts the production of the homes our market so badly needs. I am not optimistic.
Even though the median home price has only ticked slightly higher, the median home value has risen more than a full percentage point each month already in 2022. The median new home value is up 9.3%, while the median existing home value has pushed 6.6% higher. This is why we track values separate from prices, because prices do not always reflect appreciation in the housing market.
The USA Today Network's headlines would have been very different had they consulted an expert. Instead of misleading headlines reporting that the median home price has fallen (implying that homes are getting cheaper), they should have reported that home values are soaring at more than 1% each month!
New Construction Premium
Even with the recent surge in the cost of new construction, the "premium" that a buyer pays for a new home is falling closer to what a buyer would pay for the same size existing home.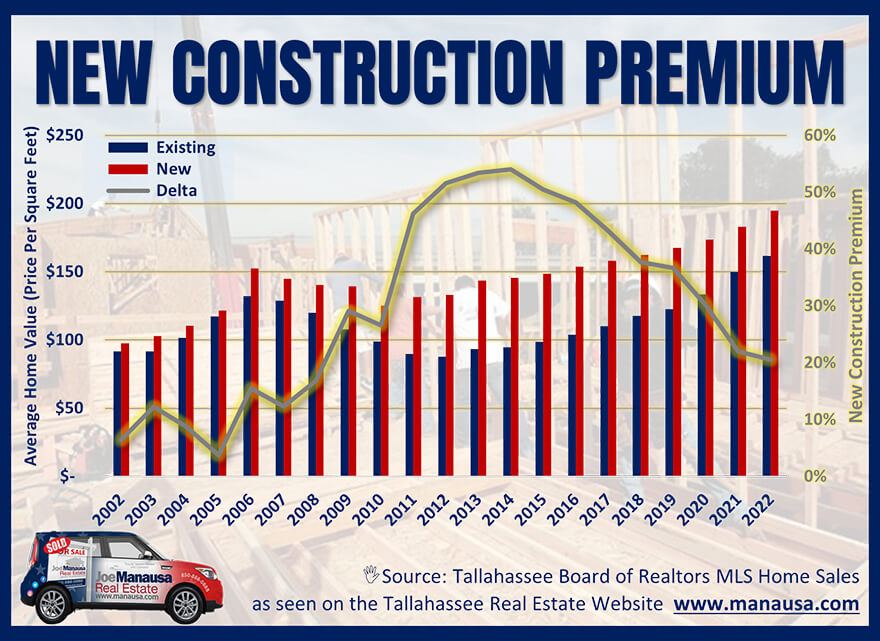 The graph above plots the median new home cost in red and the median existing-home value in blue (with each measured in price per square foot) for the past 30 years.
We measure the trend of the difference of the two in gray (highlighted in yellow) and plot this percentage on the right vertical axis. This gray line is something we refer to as the new construction premium, the "extra" percent that new home buyers are paying to get a brand new home.
During the 1990s, lots were fairly cheap, and so too were the sticks, bricks, and labor it took to bring a new home to the market. Thus, the median new home cost (on average) just 5% more than existing home values, though it was not uncommon to see this jump above 10% for small periods of time.
The graph above shows how things have changed over the past twenty years. As the market began to collapse in 2006, we saw the new construction premium rise. By 2011, it had pushed higher than 40% and continued even higher to more than 55% in 2014. When the market finally balanced in 2016, we saw the premium sitting near 45% (meaning the median new home cost 45% more dollars per square foot than did the median existing-home).
The huge difference between new and used home values left builders in a cautious state and the market began to move into a depleted inventory state, causing existing home values to move higher at a faster rate.
Since that time, with builders producing fewer homes than the market demanded, we've seen the premium drop to 20%. Right now, with the market containing far too few homes for today's heightened rate of demand, soaring new construction costs have created extra inflationary pressure on existing home values. This has been a major punch in the gut to home affordability in 2022.
Unlike what we saw in 2006 when cooling demand commenced in an oversupplied market, the cooling demand this year has begun with an undersupplied market. This means we're not seeing prices soften with falling demand, as even the lower rate of demand far exceeds the current supply of homes for sale.
Median Home Size
The next graph in today's report shows the median home size of new homes (blue), existing homes (red), and then the overall median home size (gray).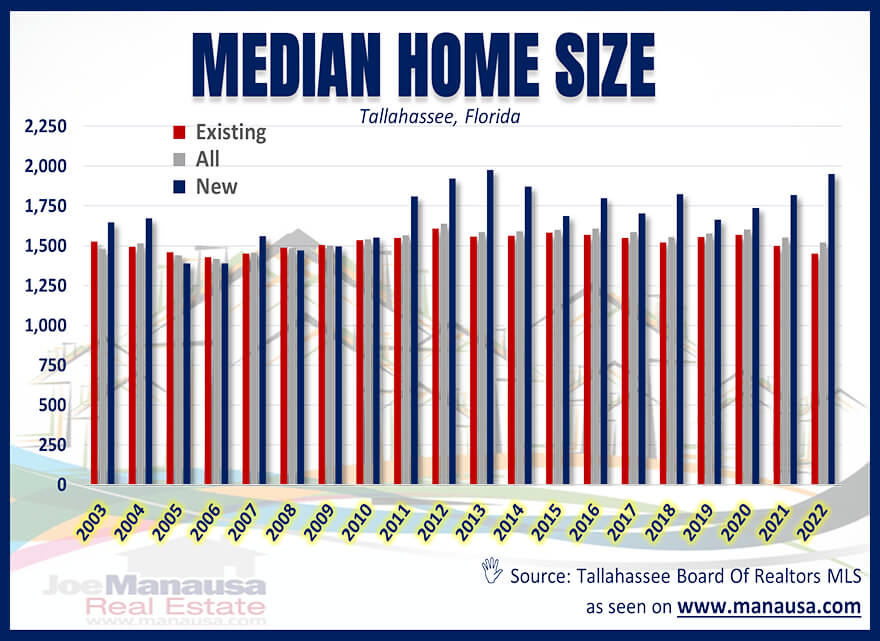 When I look at this graph, I immediately see how builders (blue bars) respond to changing market conditions. When the market was at its peak in 2006, the median home size was at its smallest. Following the market bottom in 2012, the homes in 2013 were the largest. Today, we're seeing new homes getting larger, which has me scratching my head. Perhaps it's related to the low mortgage interest rates that were available when they permitted the current crop of new construction homes.
Typically, when builders are struggling, they deliver more square feet for the money. And the opposite is true when times are good, the home you get for the dollar is smaller. With this in mind, I expect to see the median home size for new homes decline as today's higher mortgage interest rates push down home affordability.
Real Estate Appreciation
The final graph in today's report provides a great visual of how homes have appreciated in Tallahassee.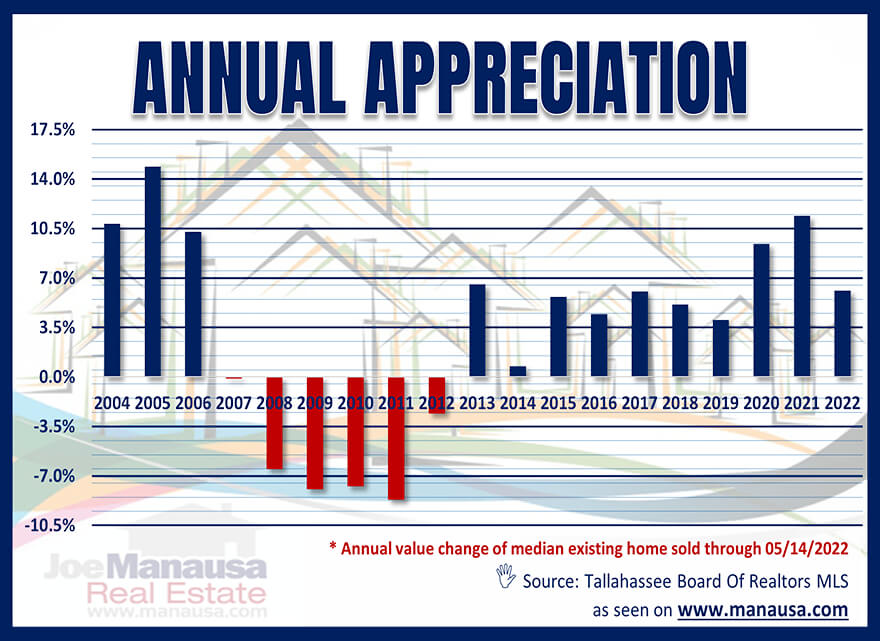 This graph plots the median existing-home value each year and reveals the impact that the diminished inventory of homes for sale is having on home values. Note that the scale on the left side of the graph shows increments of 3.5% (the historically normal rate of home value growth prior to the housing bubble). You can see that we'll have three years running where the overall appreciation will average triple the historic norm.
The market has been undersupplied since the end of 2016, so home values have been soaring at an accelerating rate. The demand for homes remains lower than the peak market years of 2005 and 2006, and probably lower than last year due to rate hikes in the mortgage market. With new construction representing only 10% of the inventory though, the declining demand will result in declining supply at the same time (as many buyers also have a home to sell).
The continuing inventory shortage is only going to increase the pressure on home values. Yes, it's nice to see home values rise, but double-digit appreciation has been eroding home affordability and could very well convert our market to one of haves and have nots.
The relative supply of homes have reached new lows in 2022, and the bidding wars have extended to more price ranges than we had seen in the past. I do not see bidding wars going away this year, but we'll likely see fewer of them at the higher price points.
Despite the movement of the market in the first five months of 2022, my advice remains unchanged. If you are happy where you are and believe it's the right home for you for the next ten years, stay and enjoy it. You might have missed your window of opportunity for refinancing, but I would still check with a mortgage lender to see if you can lower your payment (as today's rates are still comparatively low, below 1/2 of the 8-year average).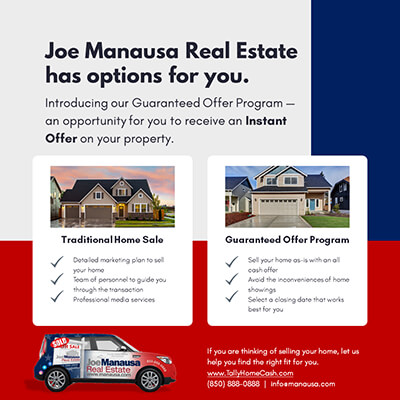 But if you think a move is something you'll need within the next ten years, you should aggressively pursue it today. I expect home prices to rise, and mortgage interest rates to rise too. Not only will homes become more expensive, so too will the money you'll need to borrow to buy the next home. This will price out many traditional move-up buyers in the future. Don't let this happen to you!
If you are concerned about selling your home and then not being able to buy one due to the scarcity of supply, you should check out our guaranteed offer program. It allows you to sell your home but not have to leave it until you close on a replacement home, removing all the stress of being homeless after selling your home.
Your Local Expert In Tallahassee
When moving to, in, or from Tallahassee, you will fare better if you work with a local expert. We are here to help. If you have further questions on the Tallahassee real estate market, you can leave a comment below, give us a call at (850) 366-8917, or drop us a note and we'll give you the local information needed to ensure a successful, smooth transaction.
As a local born and raised in Tallahassee with a focus on customer service, I promise you'll find great success when working with Joe Manausa Real Estate, just as have our past customers. You can read thousands of their reviews reported on Google, Facebook and Zillow right here: Real Estate Agent Reviews Tallahassee.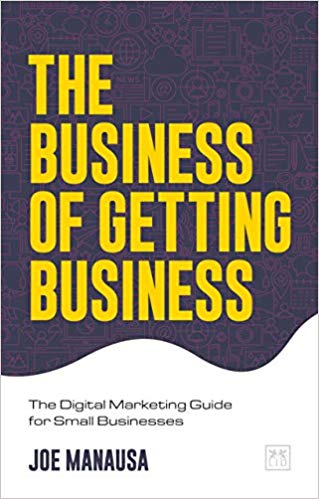 Have you heard about my new book "The Business of Getting Business?" It's a comprehensive guide for small businesses to help them make the move to digital. For those of us who want to survive and thrive in a world where large corporations are taking over, it is a must-read. It's also the perfect guide for how to sell a home in the digital age. You can find The Business Of Getting Business by clicking on any of the trusted retailers below.

Think all REALTORS are alike?
Read what people are saying about working with Joe Manausa Real Estate! You can see thousands of real customer reviews reported on Google, Facebook and Zillow at this link: CLICK HERE FOR REAL ESTATE AGENT REVIEWS.
I recently stumbled upon your latest Carrabelle listing. I must say, a home on Florida's Forgotten Coast is bound to be snatched up quickly. Best of luck with getting it under contract soon!

Posted by Barbara Corcoran on Thursday, June 15, 2023