Buy A New Construction Home Now Or Wait For Prices To Fall?
Posted by Joe Manausa on Monday, August 7, 2023 at 6:00 AM
By Joe Manausa / August 7, 2023
Comment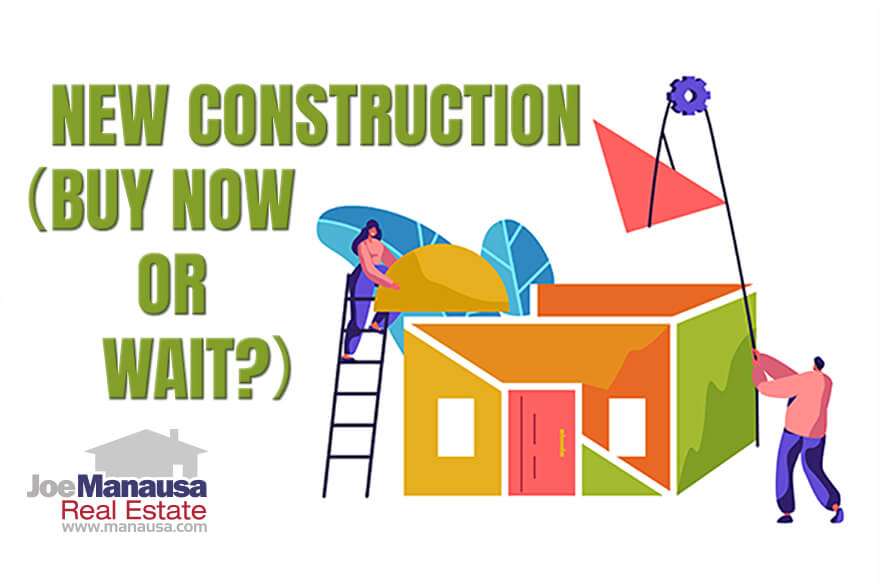 New construction homes are such a treat for homebuyers, offering the latest styles and amenities that home builders have to offer. If you are considering buying a newly built home, you are probably wondering if you should buy now or wait for a hopeful price decline in the coming months or years.
There has been a lot of talk and chatter about construction costs, specifically the expectation that costs should return to pre-pandemic levels. If that were to occur, many would expect the price of new homes to fall.
Today, we will look at this question at a national level, giving you a great perspective and analysis model to answer the same at your local level. I advise you to seek an experienced, highly active real estate buyers' agent who can help you decide on timing a new construction home purchase in your area.
Additionally, I'll reveal how I responded to a similar question for a specific neighborhood approximately a year ago. Despite significant shifts in the housing market, my controversial advice remains consistent - and we'll see if it was sound.
Let's get things started with a list of all new construction homes for sale in the Tallahassee MSA, ranging in price from as low as $180K in Wakulla County, Florida, to as high as $2.5M on the Gulf in Carrabelle, Florida. Each listing has plenty of pictures to show you what today's new homes feature.
New Construction Homes For Sale In The Tallahassee Area
Has The Cost Of Building New Homes Fallen?
This graph plots the Producer Price Index for construction materials in blue, and the year-over-year change is plotted in red.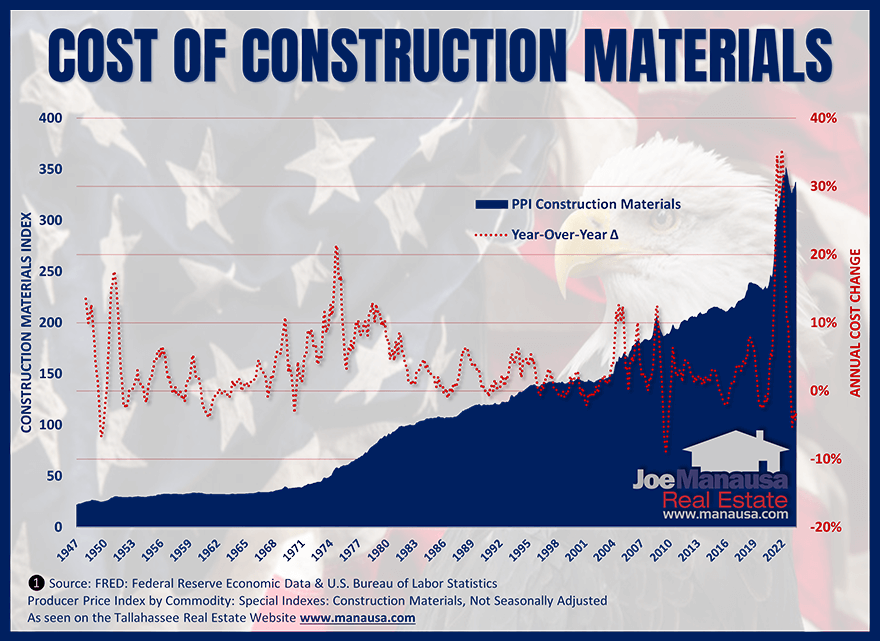 A year back, one of our readers was convinced that builder costs would decline and decided that waiting to purchase a new home was the best route. With building costs soaring by more than 50% since the pandemic began, he believed material costs had to drop significantly.
Tracking the red-dotted line, you'll note that builder material costs have dipped about 3.4% from their levels a year ago. They briefly dropped a little over 7% but are now on the upswing. Here's what I advised our reader last year:
Here's what we know. Construction materials moved higher from 2010 to 2020 at a rate of 1.94% annually, meaning a home built in 2020 cost 21.2% more to build than one built in 2010 (though the land moved at a higher rate). For the purpose of my answer, I'll stick with just material costs.

Then, thanks to growing wages and the COVID supply chain disruptions, construction materials increased 32.2% in just one year from 2020 to 2021, and another 10.0% from 2021 to 2022, for a two-year growth of 46.7%. With that being said, we are all hoping to see construction material costs come down as the supply-chain issues are unraveled (plus Amazon is getting into the construction materials game too).

How far will they come back? And in what time frame? That's beyond my pay grade. But with inflation as it is, I would guestimate that we might see a 10% to 20% slide. That would put construction material costs somewhere between 17.4% higher than 2020 to 32.0% higher than 2020 (I reached this conclusion after examining data from https://fred.stlouisfed.org/series/WPUSI012011).
While our reader strongly believed that builder material costs would fall significantly, I estimated only a 10% to 20% reduction. We were both wrong. From the peak recorded in May of last year, material costs fell as much as 7.5% but have since risen back to where they are now 3.4% lower than in June of last year.
How Does This Apply To A Specific Neighborhood?
Our reader was specifically interested in the new homes in "Oak Grove," which I construed to include Oak Grove Plantation, the Meadows At Oak Grove, and the Hammock At Oak Grove. He wanted an analytical answer: "Should I buy a new home in Oak Grove or wait for prices to fall?"
Referring back to my previous comments about my expectation on changes to builder costs, here is how I advised our reader:
Based upon those assumptions, we can now look at https://www.manausa.com/oak-grove/ to find that in 2020, 6 homes in Oak Grove sold at an average size of 3,855 sqft for $183 per square foot. So if Tallahassee Homes resumes building 3,855 square foot homes, we should expect them to sell for $215 to $242 per square foot. But wait ...

The average home size is shrinking so the builder can bring lower-priced homes to the market. In fact, the 3,855 average size has dropped down to 2,443, and this is important in your estimations. Smaller homes sell for a higher price per square foot than larger homes because the cost of the land, bathrooms, and kitchens are divided by a smaller denominator (sqft). Thus if Tallahassee Homes (the builder) produces smaller homes in the future, the price per square foot will be a bit higher than our estimates. So my final answer ...

If building what they are building today, you should expect a 2,443 sqft new home to go for about $550K to $615K, whereas if they resume building 3,855 homes, they should go for about $830K to $930K.
So that was my advice, how do you think I did?
The conclusion of today's report reveals the tale of the tape!
Oak Grove In Tallahassee, Florida
The following table shows the key analytics of size, cost, and price for the Oak Grove neighborhoods from January 2020 through July 2023:
| | | | | |
| --- | --- | --- | --- | --- |
| Oak Grove Analysis | 2020 | 2021 | 2022 | 2023 |
| Avg. Size | 3,855 | 3,518 | 2,432 | 2,287 |
| Avg. $/Sqft | $183 | $208 | $247 | $266 |
| Avg. Price | $674K | $718K | $602K | $605K |
I had advised our reader that is was highly likely that new home construction would cost more in the future than it did at the time of his question. It turns out that homes cost about 7.7% more. Had he purchased at the time of question, he would have saved about $19 per square foot. That's a range from $73K for the larger homes down to about $43K for the smaller homes.
Hire A Skilled Agent For New Construction Home Purchases
There is much more behind the scenes than picking out floor samples and paint colors when buying a new construction home. If you work with a highly active buyers' agent, you'll have experience and market knowledge on your side.
If you are curious to know more about Tallahassee's new home construction offerings, simple fill out the form below and we'll be in touch right away.