Average Home Price In Tallahassee Is Rising
Posted by Joe Manausa on Thursday, June 6, 2019 at 5:54 AM
By Joe Manausa / June 6, 2019
Comment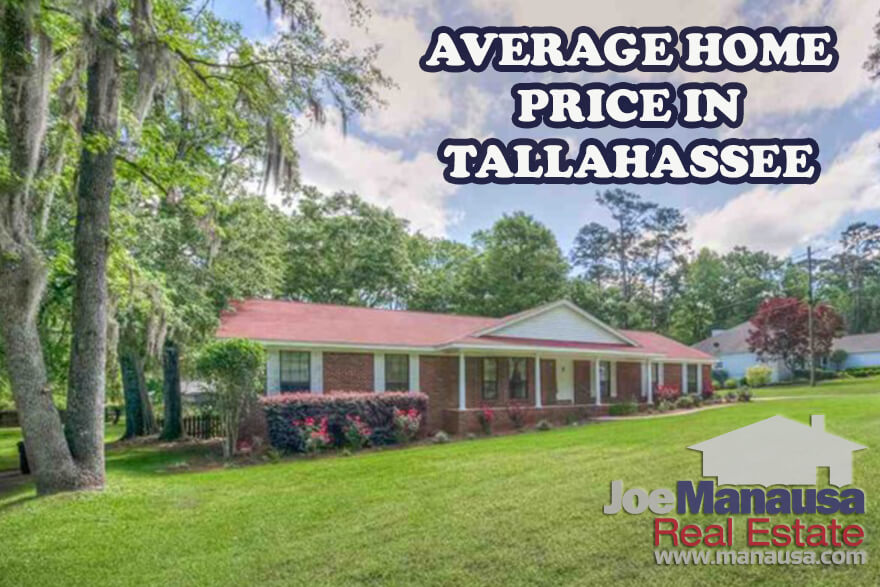 The average home price in Tallahassee is rising, meaning buyers today are spending more than ever for their slice of the American Dream.
Today's report unveils all the homes for sale in Tallahassee at our average price today as well as graphs and analysis of the average price for single-family detached homes, condominiums, and townhomes.
Tallahassee's Average Home Price
The graph below plots the average single-family detached home price (red), the average condominium/townhouse price (blue), the average residential lot price (yellow), and the average mobile home pice (purple).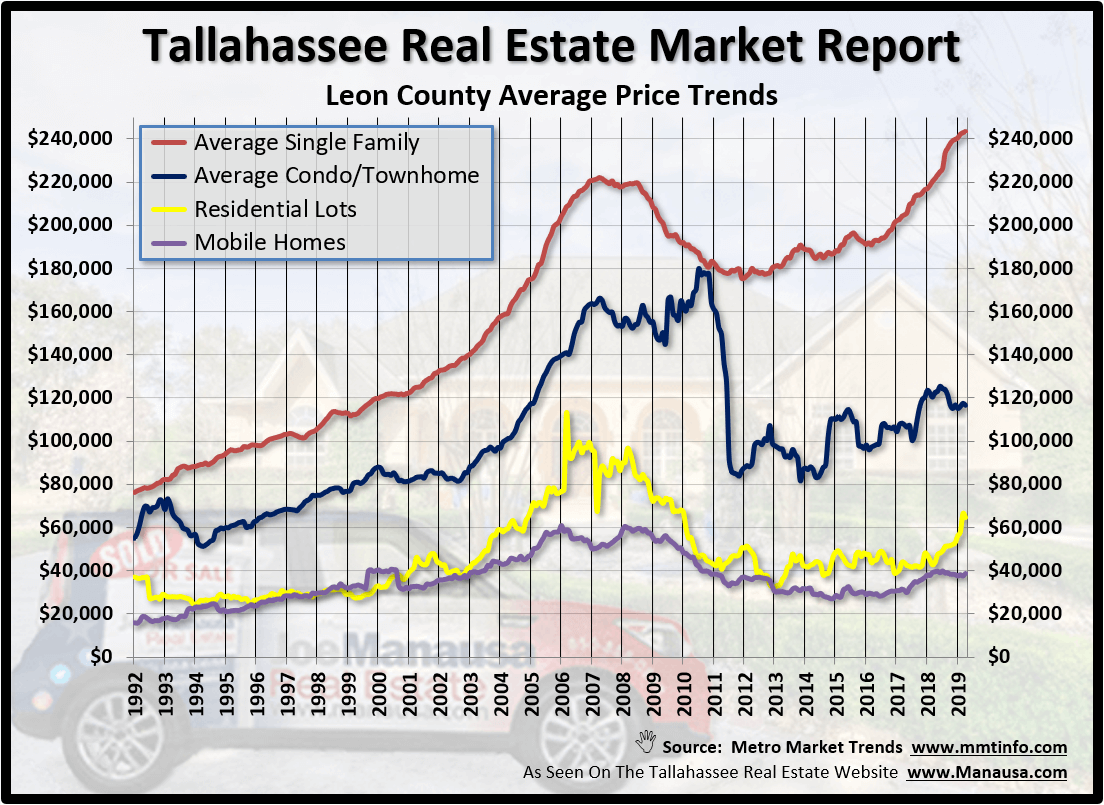 The first interesting thing that I see is that single-family detached homes have reached an all-time high, yet every other property type still remains below the peak of the market average prices from more than ten years ago.
The cost of construction has soared since the expansion-market of 2002 through 2006, and the result is new home prices are pulling up the average. The condominium market in downtown Tallahassee is holding back the attached homes market from seeing new highs too. Expect many more years before we see these units reach all-time highs.
Lot prices appear to be finally moving higher, after 13 years of over-supply that needed to be absorbed. The difference for lot and land prices now is that we are going to experience scarcity like never before, so don't be surprised to see lot prices post a new average high within the next few years.
Keep Up With New Trends In Tallahassee!
Get The Tallahassee Real Estate Newsletter
Don't be the one that doesn't know what's going on when you sell a home or buy a home in Tallahassee.
Other buyers, sellers, lenders, and real estate agents have this critical information, and now you can too!
Get immediate access to our most recent newsletter.
Let nearly 30 years of experience work for you with charts, graphs, and analysis
of the Tallahassee housing market.
Tallahassee's Average Existing Home Price
Another way to view average home prices in Tallahassee is to look at just the existing home sales, as buyers pay a premium for being the first to live in a home. This is far more helpful for existing homeowners to understand how market prices have moved for "used" homes.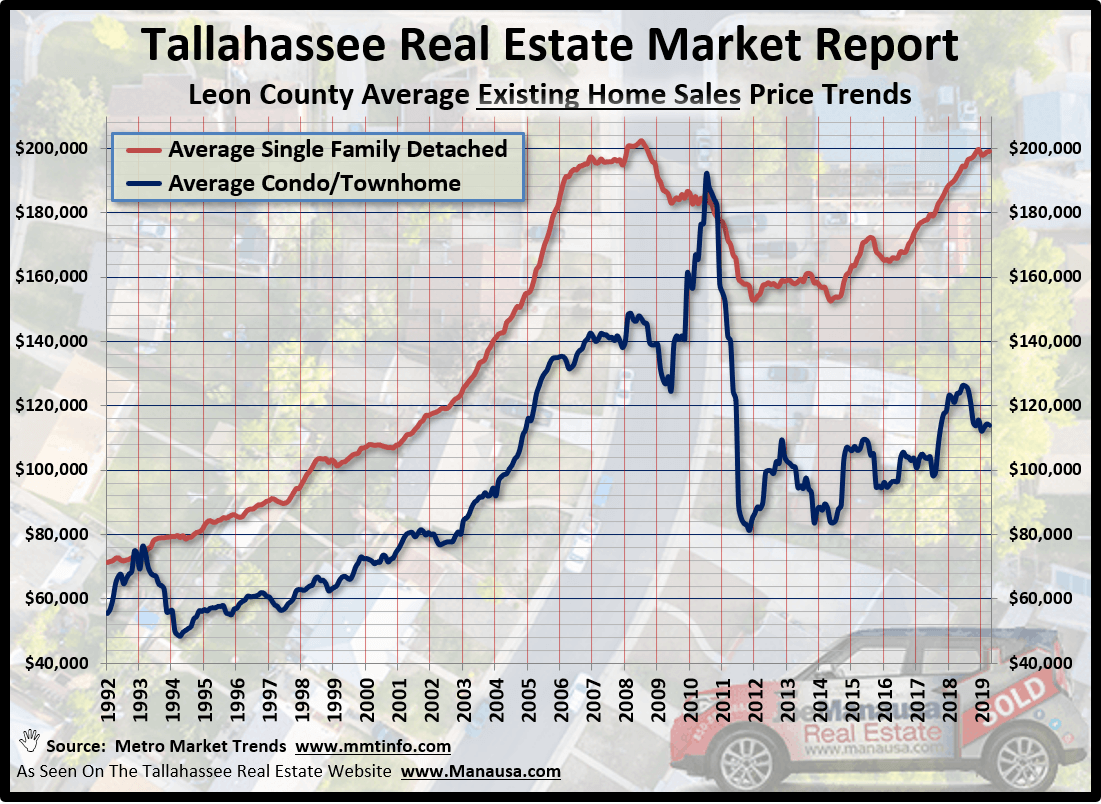 The average price of existing homes has not reached a new all-time high, but it's very close. Condos and townhomes are trailing significantly as explained above.
What To Expect Moving Forward
Average home prices will continue to rise, following rising costs associated with building and renovating homes. In fact, the minimum wage is nearly 60% higher today than it was during the last growth phase of the market, so we should expect this to impact every aspect of the housing market (except for supply and demand) and we'll see its greatest impact when Tallahassee hits the next expansion phase.
Tallahassee, as well as the rest of the US housing markets, needs to prepare for significant inflation in housing over the next ten years. This will result in diminished demand and an increase in multi-family housing solutions. Simply put, we can no longer build a $200,000 single-family detached home, and unless we see a significant change in our local employment opportunities, the housing market is going to become top-heavy.
The number of new homes built towards the higher-end of the housing market will create a glut that will be hard to absorb when mortgage interest rates move higher. Of course, if Tallahassee city leaders ever get serious about bringing industry here, then this will not be a problem without a solution.
Real Estate Market Information Can Be Overwhelming
That's why Joe breaks the data down into easy-to-understand concepts. Whether you're buying, selling, investing or just interested in the market, sign up for Joe's blog to get the latest Tallahassee real estate updates, straight to your inbox.