The Fallacy Of Affordable Housing: Why The Focus Should Be On Building More Homes
Posted by Joe Manausa on Monday, April 24, 2023 at 6:00 AM
By Joe Manausa / April 24, 2023
Comment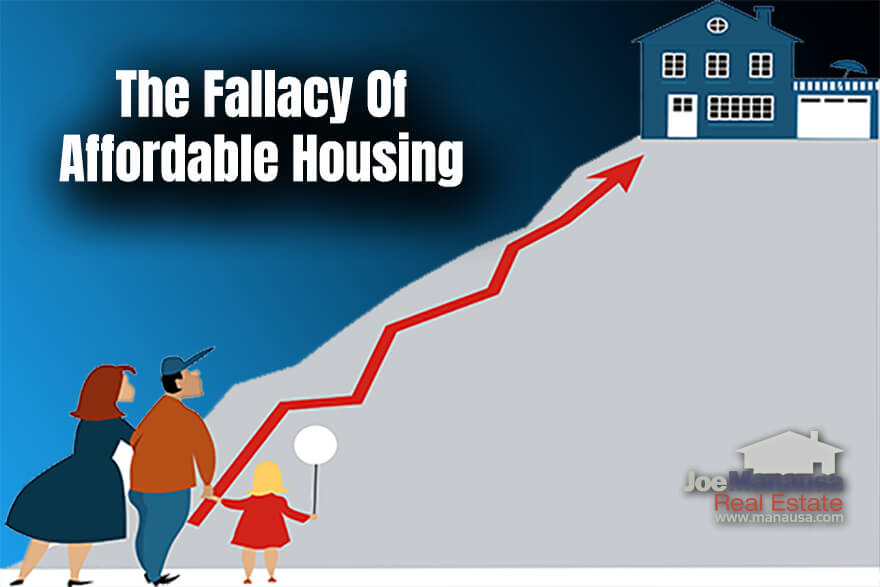 The idea of affordable housing is noble, but the reality is that building new low-end homes is not the solution to the housing crisis we're facing.
In fact, the emphasis on affordable housing may actually be hindering progress toward a more accessible housing market for all.
In today's blog post, we'll explore why the key to solving the housing crisis isn't just about making housing affordable, but rather, it's about building more homes.
Affordable Housing Defined
Here is how FLHousing.org defines affordable housing:
"Affordable housing is defined in terms of the income of the people living in the home. The family must be income eligible. Income eligibility is defined in terms of area median income, adjusted for family size.

Low income describes a family at or below 80% of area median income.

The median income is determined by the Department of Housing and Urban Development (HUD) by county or Metropolitan Statistical Areas (MSAs). Median incomes are updated annually by HUD."
To put this into perspective in Tallahassee, our median family income of roughly $81,400 makes our low-income families those that earn less than $65,120. Assuming they have strong credit and little debt, they can typically buy up to about $290K. In Tallahassee, our median home price is around $256K, so in theory, all is good, right?
As we'll see with the first graph in our report, all is not good!
The Supply Of Homes Remains Near An All-Time Low
This graph plots the real supply of existing homes for sale in the US in blue, calculates the months' supply of homes for sale in red (also known as the relative supply of homes), and then records the one-year average of the relative supply of homes for sale. Historically, market equilibrium (balanced market) is achieved when six months supply of homes exists.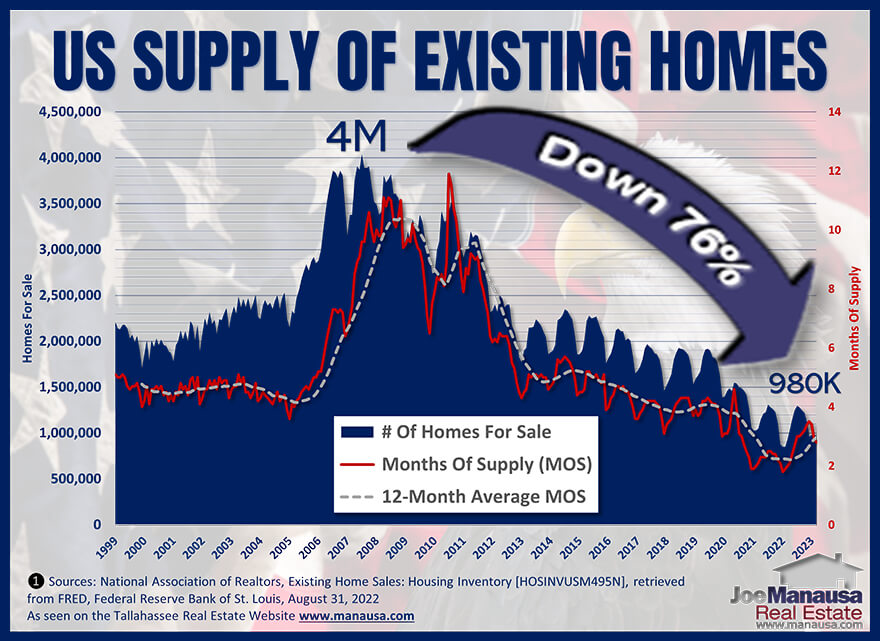 The first thing that jumps out of this graph is that only 980K existing homes are for sale in the US. That is 76% fewer homes than were available in 2006 when the housing market collapsed.
When mortgage interest rates soared after the first quarter last year, many self-appointed real estate experts claimed that inventories of unsold homes would pile up and home prices would plummet. Instead, we see supply falling (nearly) in line with demand. This means the relative supply of homes has not exploded above 6.0 months of supply. Instead, it has ticked up to its current "just off the bottom" level of 2.8 months of supply.
Home sales could very well heat back up as mortgage interest rates have stabilized, and that will only put more heat on the lack of supply of homes for sale in our local housing markets. We need to build more homes.
Get Our Free Market Update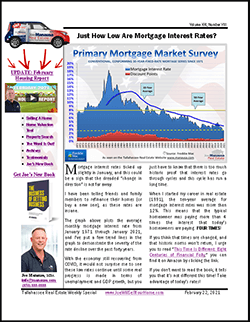 Other buyers, sellers, lenders, and real estate agents have this critical information, and now you can too!
Get immediate access to our most recent newsletter.
Let more than 30 years of experience work for you with charts, graphs, and analysis of the Tallahassee housing market.
Each Monday morning we send out a simple, one-page report that provides a snapshot of the Tallahassee housing market. It only takes 2 minutes to read, but it gives you better market intelligence than most real estate agents possess. Just tell us where to send it below!
Why The US Is Not Building Homes
This graph explains why home construction is not happening in America. Although the data is from the Tallahassee real estate market, it reflects trends in most other US housing markets when focused on the relationship between new and resale price ratios. Tallahassee's absolute values are similar to the national average.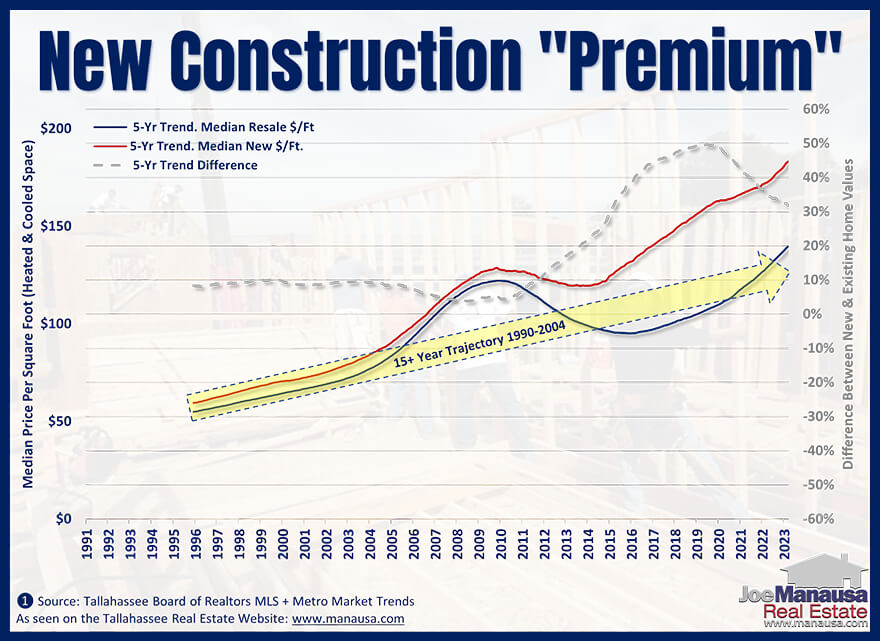 This graph was designed to display the long-term cost trends for US housing to understand the additional cost a new home buyer pays when compared to an existing homebuyer.
The red line plots the five-year average of the median price per square foot of new homes, while the blue line plots the five-year average of the median price per square foot of existing homes. The gray line measures the "premium" that new home buyers pay to be the first to own a home. This gray line explains why home construction is not happening in America.
For the twenty-two (22) years ending in 2012, the difference between the cost of new and existing homes was typically just under 10%. This means that a new home that was valued at $100 per square foot in 1995 would be the same size as an existing home valued at $90 per foot. Generally speaking, speculative builders had little risk if they were building quality homes, as "brand new" was only 10% more expensive than "used."
With a relative abundance of shelter in America, the spread between new and used was pretty tight. But then the federal government got involved as it felt the need to crash the housing market. When the housing market was screaming along at warp speed in 2007, the federal government stepped in and eliminated loan opportunities for home buyers with lower credit scores.
With a mass of buyers removed from the market, builder inventory stacked up, and builders were crushed. Builders with inventory lost everything, while builders without inventory had no buyers to sell to. So they stopped building homes. The cessation of homebuilding has created a void in the US housing inventory of anywhere from 5 million to 10 million homes.
So why doesn't somebody fill the void with new homes?
Just look at the graph. The cost to build new homes soared while the value of existing homes was still reeling from the Federal Government's intervention in 2007. The ten percent differential between new and used homes reached as high as 81% in 2015, while for five years, the difference averaged over fifty percent. In other words, builders could not compete with the cheaper existing homes market, so they were cautious and did not build at historically normal rates.
The yellow arrow highlights the fact that both new and existing home values are higher today than their trajectory would have been forecast in 2005. The cost of new construction materials, buildable land, and wages have taken new construction prices through the roof. The resulting effect is that new home values are pulling up existing home values, and we'll soon be to a point where most families will no longer be able to afford a home.
As I see it, there are only a few ways to fix the housing problem in the US. We either need more shelter, we need to put more people per unit, or we need fewer people.
Tricke Up Or Trickle Down For Housing?
Trickle-up and trickle-down economics are two different approaches to housing policy that focus on different parts of the housing market.
Trickle-down economics is based on the idea that by building more high-end homes, the increased supply will eventually decrease prices as people move into these homes and free up existing homes for lower-income buyers. Proponents of trickle-down economics believe that by increasing the supply of high-end homes, the market will eventually filter down to more affordable homes, making them more accessible to lower-income buyers.
On the other hand, trickle-up economics focuses on building more affordable housing units. Proponents of trickle-up economics believe that by increasing the supply of affordable housing units, it will help increase demand for higher-end homes as people move up the housing ladder.
So which is the likelier method of producing enough affordable homes?
It has to be trickle-down.
The cost of land, sticks, bricks, and labor have risen to where we can no longer profitably produce affordable homes. I can only imagine producing them today through government subsidies (and how could that possibly go wrong?).
We need to embrace the trickle-down solution. Every local housing market must solve this on its own (as poor local governance created the housing problem). They need to figure out the lowest price they can produce homes and then work to help developers and builders flood the market with homes at these prices and higher until the shortage of homes is solved in their market areas. This means incentivizing all forms of housing production, as the supply of housing has been ignored and caused home prices and rents to soar.
I can hear the detractors now. They will say, "Sure, build more McMansions; that won't help the homeless. All you are doing is helping the rich!"
But they are wrong. Very wrong.
Here's a simplified explanation of the trickle-down housing solution. Building more million-dollar homes than are needed will add to the supply of homes that are not needed, so million-dollar home values will begin to fall. These fallen homes will increase the supply of $900K homes, so they will fall in value and become $800K homes. 800 will become 700, and so on. The market forces of supply and demand do work when we allow them.
Ideally, homes that can be produced profitably will be the starting point, and flooding the market with those homes will create a compression zone where home appreciation stagnates and then falls. With the right amount of production, coupled with the wage inflation already in progress, we'll again see the homes we once considered affordable become so again.
The housing problem will not just go away on its own, and the supply shortage will continue to increase the imbalance between the "haves" and "have-nots." We need to work aggressively to solve this national problem, but the work will be required at the local level. Keep this in mind when elections roll around, and you are wondering which candidate deserves your vote. The one that campaigns to fix housing will certainly gain my attention.
Your Local Expert In Tallahassee
When moving to, in, or from Tallahassee, you will fare better if you work with a local expert. We are here to help. If you have further questions on the Tallahassee real estate market, you can leave a comment below, give us a call at (850) 366-8917, or drop us a note and we'll give you the local information needed to ensure a successful, smooth transaction.
As a local born and raised in Tallahassee with a focus on customer service, I promise you'll find great success when working with Joe Manausa Real Estate, just as have our past customers. You can read thousands of their reviews reported on Google, Facebook and Zillow right here: Real Estate Agent Reviews Tallahassee.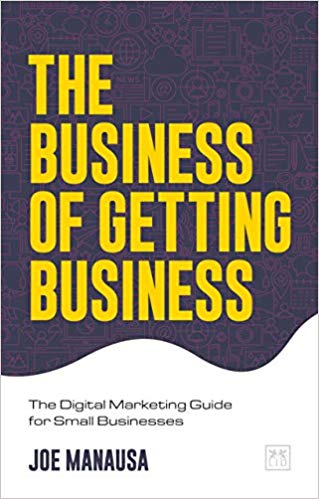 Have you heard about my new book "The Business of Getting Business?" It's a comprehensive guide for small businesses to help them make the move to digital. For those of us who want to survive and thrive in a world where large corporations are taking over, it is a must-read. It's also the perfect guide for how to sell a home in the digital age. You can find The Business Of Getting Business by clicking on any of the trusted retailers below.

Think all REALTORS are alike?
Read what people are saying about working with Joe Manausa Real Estate! You can see thousands of real customer reviews reported on Google, Facebook and Zillow at this link: CLICK HERE FOR REAL ESTATE AGENT REVIEWS.