192 Reasons To Buy A Home On Acreage
Posted by Joe Manausa on Thursday, September 12, 2019 at 5:50 AM
By Joe Manausa / September 12, 2019
Comment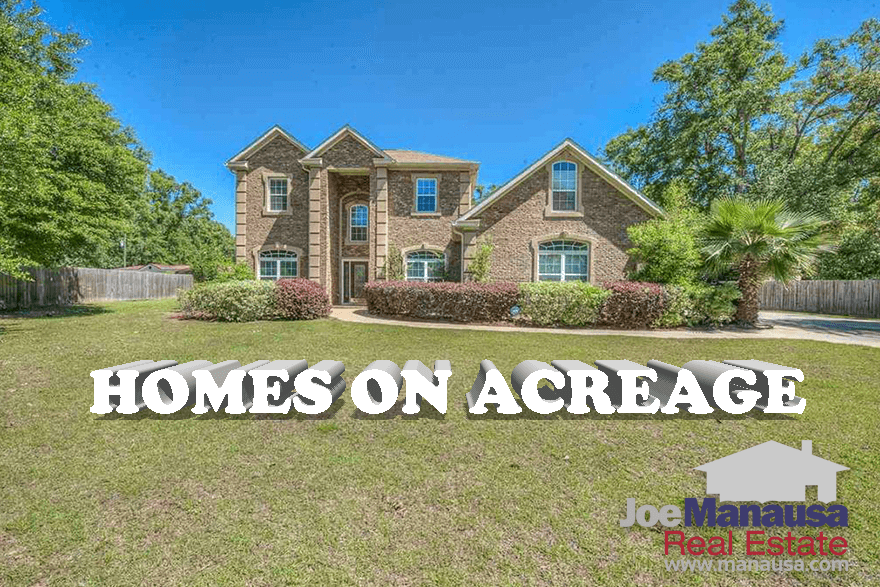 Whether you crave privacy and seclusion or perhaps you own a horse or love extensive gardening, there are 192 homes for sale on acreage in Tallahassee that provide the land you crave.
First, take a look at a complete list of all homes for sale on acreage in Leon County and then follow along with our report on 15 years of large-tract home sales.
Homes For Sale On Acreage
Why Buy A Home On Acreage?
If you are in the market to buy a home, there are numerous reasons to consider one with more than just a subdivided lot below it. The first reason that comes to mind is privacy, as you will likely live in an area where homes have significant separation from each other. Wouldn't it be nice to know that you can't see or hear your neighbors' daily activities?
Additionally, if you buy in the right area, you might be able to have horses or other animals on your property. You could plant large gardens, install a pool or tennis court, build a small or large pond for fish and wildlife, and most likely be able to add-on to your home without too many hassles.
How Many Homes On Acreage Are Selling?
When we look at the market for homes on acreage, we find one that has grown differently than those homes that sold on subdivided smaller lots. The graph below plots all homes sold on acreage during the first eight months of each year from 2004 through 2019.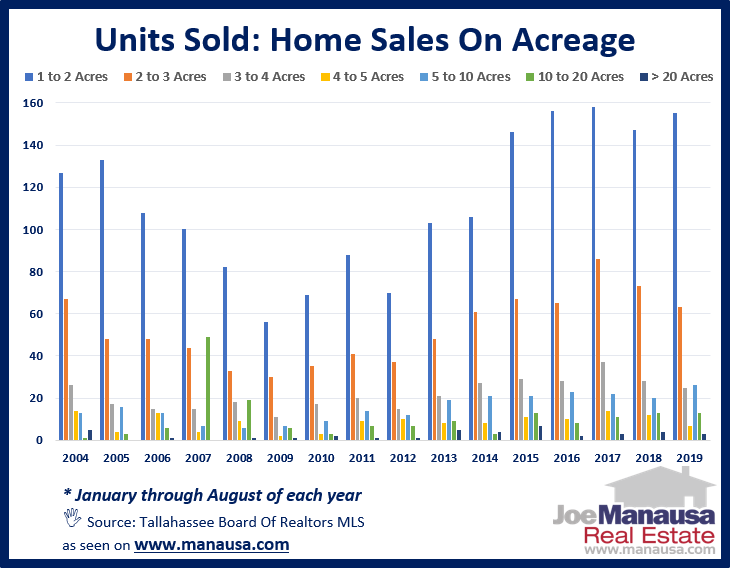 The past five years have seen homes on acreage sell more often than they did even during the large housing expansion from 2004 through 2006.
How Are Homes On Acreage Valued?
If you own a home on acreage, you can see how values have moved for you over the past fifteen years.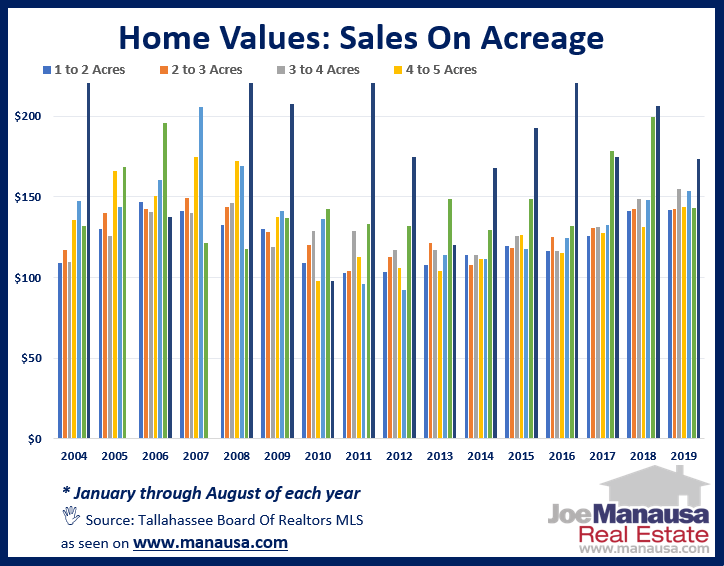 Much like homes not on acreage, values have been steadily climbing over the past seven years. In 2019, the average value of all homes sold and closed in the Tallahassee MLS has been $127 per square foot.
Homes on smaller than an acre have averaged $125 per square foot, while homes on more than an acre have averaged $144 per square foot. This goes to show that acreage does impact the value of the property, but perhaps not as significantly as the underlying cost of the land.

Speak To An Expert!
Joe has created a process that was designed to save you money on the purchase of a new home.
His past customers speak volumes (you will see Joe's buyer reviews after you submit the form) on why you should have Joe be your buyer's agent.
Talk to us today about helping you negotiate a better deal, with better terms, when buying your new home. You'll be glad you did!
What Do Homes On Acreage Cost?
The average price of a home on acreage depends on numerous variables including the size of the land, the features and amenities of the home and neighborhood, and the age of the home.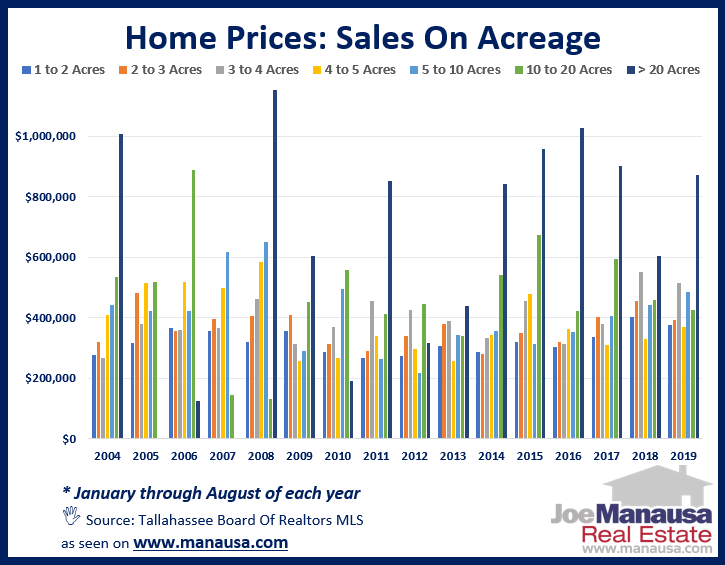 The graph above shows that there has not been as much movement in average prices as we have seen with average values. In 2019, the average home price overall has been $226K, yet we find the following information about home prices on acreage:
Less than 1 acre - $204K
1 to 2 acres - $403K
2 to 3 acres - $459K
3 to 4 acres - $456K
4 to 5 acres - $551K
5 to 10 acres - $330K
10 to 20 acres - $441K
More than 20 acres - $605K
The average prices reveal that just as in all things real estate, location-location-location really matter. The fact that the average home price for a home on 10 acres is less than one on 5 acres shows that it really matters where those acres are!
I hope our report on homes for sale on acreage has given you the information for which you were looking. If not, you can give us a call at (850) 366-8917 or drop us a note, and we'll help you with your specific Tallahassee real estate needs.
As a locally born and raised Realtor in Tallahassee with a focus on customer service, I promise you'll find great success when working with Joe Manausa Real Estate, just as have our past customers. You can find thousands of their reviews reported on Google, Facebook, and Zillow right here: Real Estate Agent Reviews Tallahassee.
Real Estate Market Information Can Be Overwhelming
That's why Joe breaks the data down into easy-to-understand concepts. Whether you're buying, selling, investing or just interested in the market, sign up for Joe's blog to get the latest Tallahassee real estate updates, straight to your inbox.