Today's Special: Buy A Home And Get The Pool Free?
Posted by Joe Manausa on Thursday, August 15, 2019 at 5:50 AM
By Joe Manausa / August 15, 2019
Comment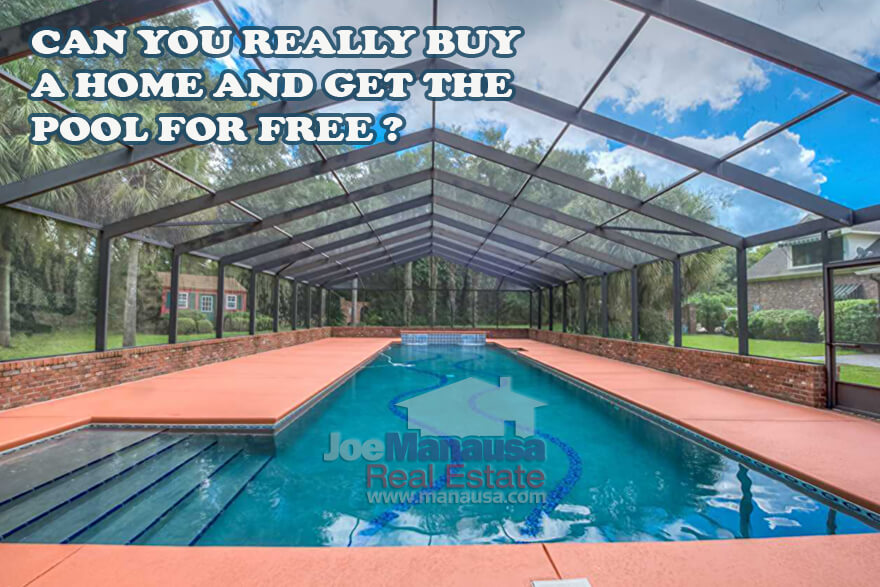 It's August, it's hot, don't you wish you had a home with a swimming pool?
Believe it or not, there are some great buys available among the homes with pools, and there is no reason you can't have a great backyard oasis of your own.
If you check out the report that we've included at the end of this post, you'll see that it's the right market cycle to buy a home with a pool. Start by looking at what's available below!
Homes With Swimming Pools Listed For Sale
If you want to know more about the swimming pool homes for sale in Tallahassee, we write about them quite often. Many of our readers are grateful that we divide the market by area and property type so that they can always have a fresh perspective on what's available in the Tallahassee MLS.
The following articles were written recently and are worth reading if you want to broaden your knowledge about pool homes:
While all the articles featured above include listings of homes for sale with swimming pools, several also provide insight into owning a home with pool, pool home resale values, and more. If you have ever contemplated buying a home with a pool, make yourself an expert and check them all out. It will be well worth the 1/2 hour it takes to read them all.

Speak To An Expert!
The average agent in Tallahassee sells fewer than 6 homes per year.
Joe and his team (led by military Veterans) are on track to sell 600 homes this year.
Don't you want that kind of dedicated commitment working for you?
Why You Should Buy A Home With A Pool Now
We monitor so many statistics in the Tallahassee real estate market, and we find that certain property types go through cycles. Currently, we're finding that homes with a swimming pool are undervalued and will very likely appreciate at a higher rate than will similar homes that do not have a pool.
Take a look at the graph below, it compares the average value of homes with pools that have sold recently to those that have sold without a pool.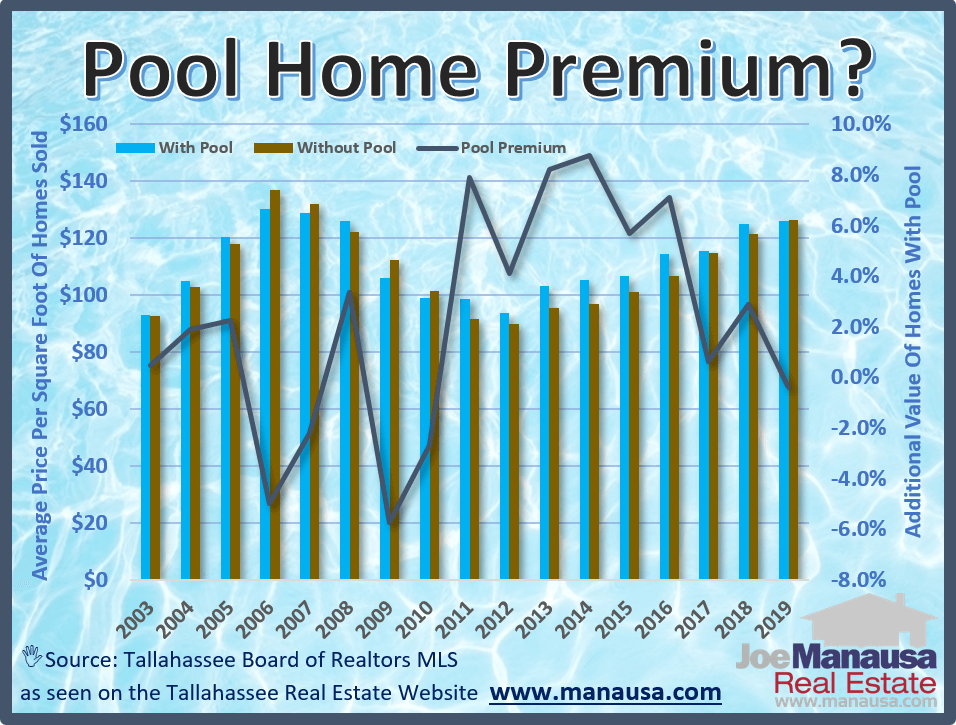 The graph shows the average value of a pool home sold each year (blue bars) as well as the average value of non-pool homes (brown bar). The difference in value between the two is plotted with the dark line and measured on the right vertical axis.
Right now, the average pool home is selling for about the same as the average non-pool home, suggesting that now is a great time to buy a home with a pool. Buy a home, get the pool free!
I hope our August 2019 report on pool homes in Tallahassee has given you some valuable insight. If not, you can give us a call at (850) 366-8917 or drop us a note and we'll help you with your specific Tallahassee real estate needs.
As a local born and raised in Tallahassee with a focus on customer service, I promise you'll find great success when working with Joe Manausa Real Estate, just as have our past customers. You can thousands of their reviews reported on Google, Facebook and Zillow right here: Real Estate Agent Reviews Tallahassee.
Subscribe to Joe's Blog
Join 1000's of other subscribers that receive updates each day that we publish a new article. Filled with homes for sale, neighborhood analyses, and all the information home sellers and buyers need to make an informed decision. Just tell us who you are and where you'd like us to send new updates.