13 Great Pool Homes Under $400K In The 32308 Zip Code
Posted by Joe Manausa on Thursday, May 30, 2019 at 5:50 AM
By Joe Manausa / May 30, 2019
Comment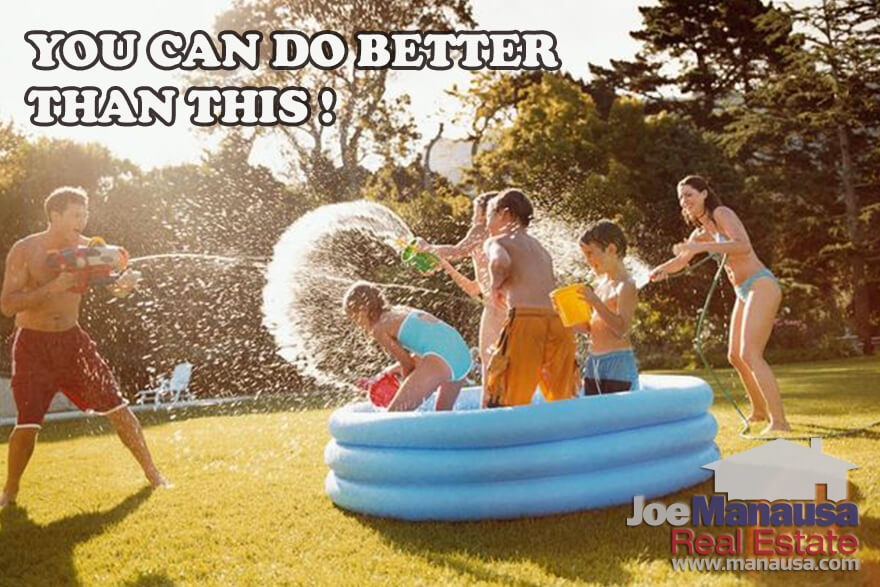 It's summertime in Tallahassee, how are you beating the heat?
We have corralled 13 of the coolest pool homes in the 32308 zip code, and they are all for sale for less than $400,000.
Which one do you want?
Pool Homes Under $400K In The 32308 Zip Code
Do Pools Add Value To A Home When Selling
There is a lot of confusion and misconception about the value a pool adds to a home. The simple reason is that very few people measure this using all the data available in the housing market. Fortunately, I do.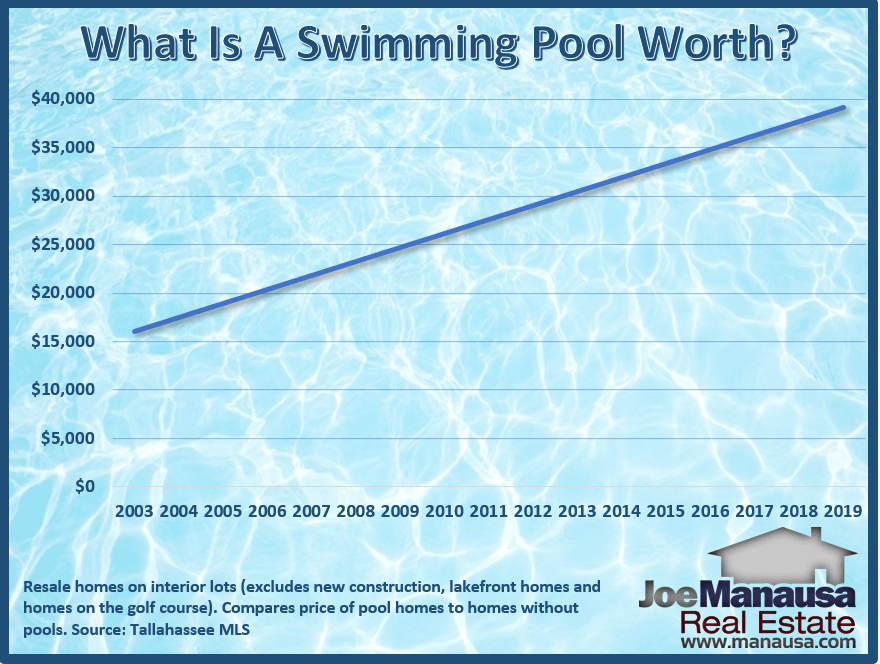 The graph above shows the trendline of the valuation difference between similar homes with and without pools. Currently, on average, buyers are paying nearly $40K more for a house that has a pool (compared to those around it that do not have pools).
This is important to know if you are a home seller. You might be told that your home is worth something based upon how it compares with recent sales, but it is highly unlikely that the real estate agent considered the pool at all. So if you do have a pool, your home is probably worth more. Of course, if you do not have a swimming pool, it is probably worth less. It just depends on how your home compares with the properties selected in its evaluation.
Appraisers are making this mistake too. I see it all the time. The typical adjustment by an appraiser in Tallahassee for a pool is $10K to $15K, even though market data shows that is far too low. The data does not lie, buyers are willing to pay more for a home with a pool.

Speak To An Expert!
Joe has created a process that was designed to save you money on the purchase of a new home.
His past customers speak volumes (you will see Joe's buyer reviews after you submit the form) on why you should have Joe be your buyer's agent.
Talk to us today about helping you negotiate a better deal, with better terms, when buying your new home. You'll be glad you did!
Buying A Home With A Pool
If you plan on buying a home with a pool in the 32308 zip code, you need to understand that they are relatively rare (only 13 on the market below $400K right now) and highly prized. I suspect an analysis like the above one, but restricted to 32308 would show even more of an added value.
You might be tempted to buy a home with no pool and add that later, but the cost of that will be far higher (both in money, time, and anguish) than just getting a home with a pool already.
If you find the right home, be prepared to make a smart bid, as there remain more buyers than sellers for pool homes in the 32308 zip code.
This concludes our report on pool homes in the 32308 zip code, please give us a call at (850) 366-8917 or drop us a note if you have questions about pool homes not covered in this report.
If you are planning to move, please listen to what our past clients say about our 5-star service, you can see thousands of our customer reviews reported on Google, Facebook and Zillow right here: http://www.manausa.com/testimonials.
Real Estate Market Information Can Be Overwhelming
That's why Joe breaks the data down into easy-to-understand concepts. Whether you're buying, selling, investing or just interested in the market, sign up for Joe's blog to get the latest Tallahassee real estate updates, straight to your inbox.